Discover more from The Signal
The Signal is a daily curated newsletter that helps you understand the latest developments in business, tech, finance, economy, and policy with sharp analysis and crisp insights thats fun to read arriving at 8AM daily in your inbox.
Over 81,000 subscribers
A steamroller named Microsoft
Also in today's edition: Visa, Mastercard get UPI relief; Regulation is a-coming for live shopping; Cricket's tech sponsors get bowled out; China's hydrogen advantage
Good morning! The meme stock rally is back, and this time, it's come for Bed, Bath & Beyond (BBBY). Reuters reports that shares of the embattled home goods retailer surged 35% on Monday. Just last week, BBBY, whose stock cratered 83% in 2022, announced that it may go bankrupt. BBBY is one of the most heavily-shorted stocks on Wall Street, but online forums such as r/WallStreetBets—which also propped up GameStop and AMC Entertainment—are betting that the company is ripe for a merger or acquisition.
There's a good chance this email may have gone to Spam because of our move to a new platform. In case you've not received The Signal yet, please check the Promotions tab or Spam. In case we are placed in Promotions or landed up in the Spam folder, please move us back to where we belong: your Inbox.
🎧The US FTC is now targeting big retail. The Signal Daily is available on Spotify, Apple Podcasts, Amazon Music, and Google Podcasts, or wherever you listen to your podcasts.
If you enjoy reading us, why not give us a follow at @thesignaldotco on Twitter and Instagram.
The Market Signal*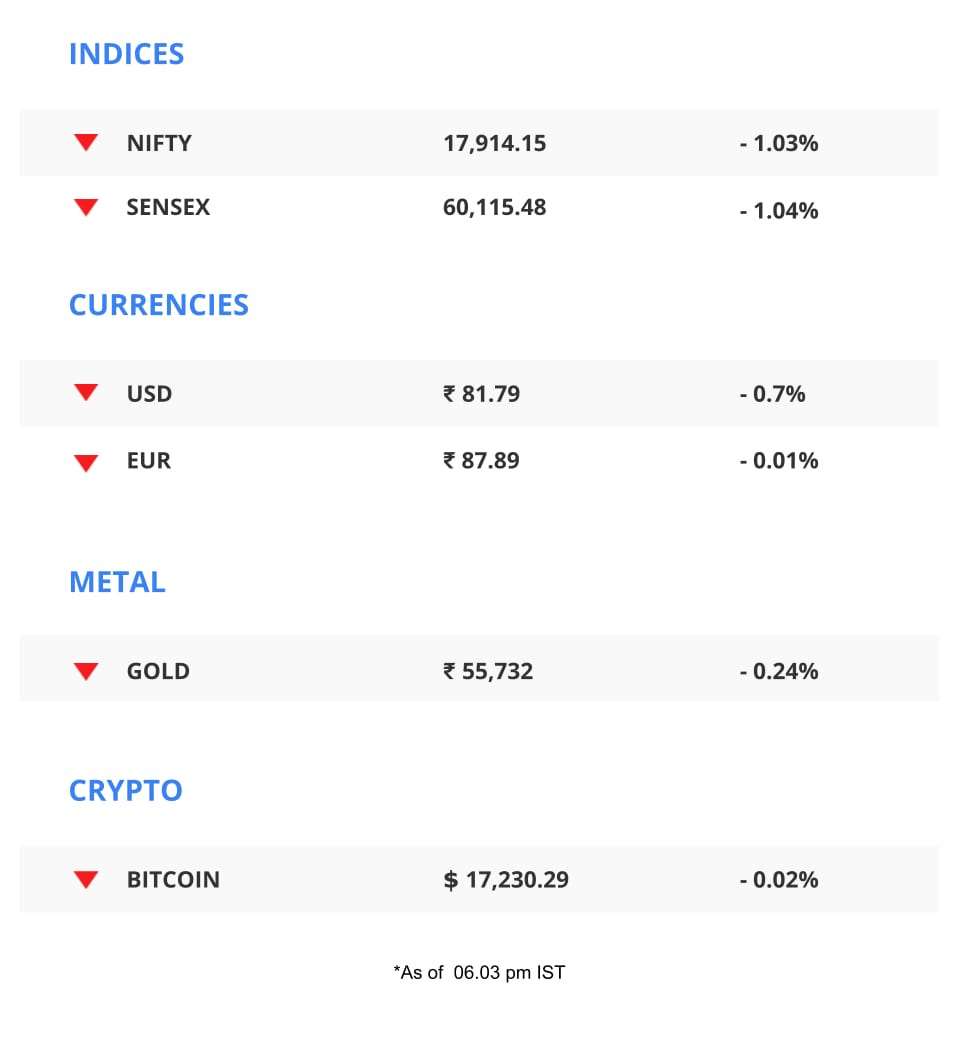 Stocks & Economy: Investment banker Jefferies revealed that its profit fell 57% to $140.2 million in the quarter ended November 2022. Its earnings offer a hint as to how Wall Street's biggest banks might have fared in the last quarter of 2022. Investors will be looking for cues as US Federal Reserve Chair Jerome Powell was due to speak at a conference in Sweden.
Back home, there was no respite for investors as domestic indices dragged.
The World Bank has, meanwhile, cut global growth forecast for 2023 and warned of a recession, Bloomberg reports. It, however, maintains that India will grow at 6.6% in FY24, says the Business Standard.
Early Asia: The SGX Nifty rose +0.02% at 7.30 am India time. The Hang Seng Index (+1.46%) and Nikkei 225 (+1.12%) advanced ahead.
PAYMENTS
UPI 🤝 Visa, Mastercard
After getting the short shrift for a long time, Visa and Mastercard may get to board India's Unified Payments Interface (UPI).
The Reserve Bank of India (RBI) is planning to let the global card issuers in through UPI's doors, until now reserved for the National Payments Corporation of India's RuPay cards.
The prep: The move is expected to defray some of the cost of running UPI as a public good since credit card use could attract a fee, unlike UPI payments from bank accounts. It would also require recalibrating the payments system, already the world's largest by volume, to accommodate both debit (customers' own money) and credit (bank lending) flows.
Impact: Credit card issuers had hit a kind of hurdle with RBI's authentication norms and caused significant disruption in recurring payments. Apple, for instance, does not accept Indian credit cards but does UPI. This linkage should smoothen such issues.
LIVE COMMERCE
Coming Soon: The Shopping Police
This was bound to happen. The Bureau of Indian Standards (BIS) is working on a regulatory framework for live commerce in India.
Why "bound to happen"?: The BIS is a member of the International Organization for Standardization (ISO), the federation of national standards bodies. The ISO itself is developing global standards for live commerce.
Live commerce relies on social media influencers, who either have contracts with the platforms or promote brands and products there. Regulating live commerce is a natural progression for the Indian government, which has been pushing for influencer accountability. Markets regulator Sebi is developing regulations for financial influencers.
Postscript: Southeast Asians have quadrupled live shopping spending on TikTok, while e-commerce volumes on Douyin—the Chinese version of TikTok—surged 76% to $206 billion in 2022. YouTube will start sharing ad revenue with Shorts creators. And Instagram is removing the Shop tab from the home feed.
ARTIFICIAL INTELLIGENCE
Microsoft Goes Hammer And Tongs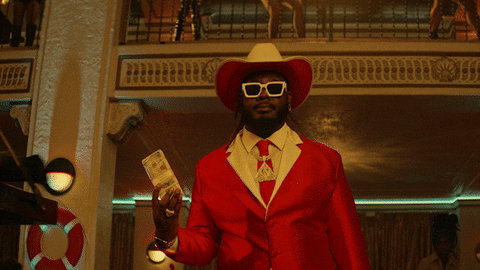 Last week, we told you about The Big Bing Theory. Soon after came the news that Microsoft wants to integrate AI chatbot ChatGPT with Microsoft 365, which comprises Word, Excel, PowerPoint, etc. Semafor now says Microsoft may invest $10 billion in OpenAI, which operates both ChatGPT and text-to-image generator DALL-E 2. The deal will value OpenAI at $29 billion.
If OpenAI monetises ChatGPT and DALL-E, Microsoft will get 75% of the profits until it recoups its $10 billion investment. After that, it'll own 49% of OpenAI.
Flashback: Microsoft invested $1 billion in OpenAI in 2019 in what was a cash-and-credits deal for its cloud business, Azure. OpenAI would get computing power, while Microsoft would have serious heft in AI-everything.
The Signal
As Stratechery's Ben Thompson details, Microsoft—headquartered in the Seattle metropolitan area—is better placed than Seattle rival Amazon and California-based Apple, Google, and Meta to lead the AI epoch. That's because OpenAI paved the way in making AI tools free/freemium for end users, meaning it could be at the forefront of tomorrow's consumer tech. And Azure is OpenAI's exclusive cloud partner. This partnership gives Microsoft incentive to develop its own AI tools and acquire data infrastructure startups whose innovations will bolster its cloud business.
All that said, Apple wants to deploy DALL-E 2 competitor Stable Diffusion onto its devices (aka a privacy-preserving ecosystem). This could disrupt the server-based approach. It's early days though, and we can't wait to see how the Big Five jostle to dominate tech's new frontier.
BUSINESS OF SPORT
VCs No Longer Want To Play Bat And Ball
We're now officially in the World Cup year in cricket. However, hosts India are struggling to keep sponsors and partners on board.
On the one hand, broadcaster Disney Star is haggling with the Board of Control for Cricket in India (BCCI) over how much it needs to pay for a series that was postponed due to the pandemic. On the other, beleaguered tech companies BYJU's, Mobile Premier League (MPL), and Paytm have either pulled out of their BCCI sponsorship contracts or are on their way out.
What's happening?: With VC funding drying up due to a looming recession, startups no longer have the advertising 💰 to spend on cricket sponsorship. It doesn't help that the Indian team has failed to win a major world tournament since 2013. As a result, we're now seeing established companies such as Mastercard and Kewal Kiran Clothing (maker of Killer Jeans), which replaced Paytm and MPL respectively, enter the fray.
🎧 No more VC money for cricket? The Signal Daily is available on Spotify, Apple Podcasts, Amazon Music, and Google Podcasts, or wherever you listen to your podcasts.
PS: For more insight and analysis on the business of sports, check out our weekly newsletter The Playbook. It lands in your inbox every Friday at 4 pm IST. You can sign up here.
GREEN ENERGY
China's Solar System Has Hydrogen In Its Orbit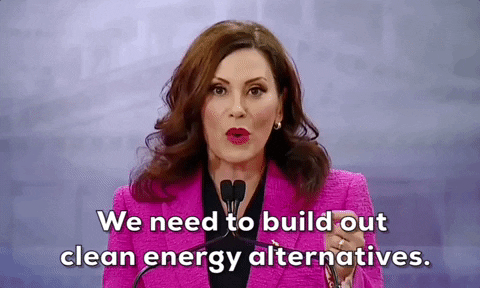 By which we mean that Beijing could dominate the energy of the future. Bloomberg says China's hegemony in the solar supply chain could spill over to green hydrogen. For one, Longi Green Energy Technology Co—the world's largest solar equipment maker—is expecting foreign markets to account for half its electrolyser sales by 2026.
Over 40% of all electrolysers already come from China. Though not as electricity-efficient as American and European counterparts, they're far cheaper.
Hold up, what's an electrolyser?: A system that uses electricity to split hydrogen and oxygen; hence critical for the production of clean hydrogen.
K, what now?: Expect US president Joe Biden to dole out generous subsidies to local American suppliers. Belgian engineering company John Cockerill Group may set up an electrolyser factory in India.
Speaking of India, will the central government's green hydrogen mission and the Adani-Ambani combine boost local electrolyser manufacturing? We'd hope so.
FYI
Bought: Global investment group Carlyle has acquired a 65%-70% stake in homegrown beauty, wellness, and personal care brand VLCC for ₹2,255 crore-2,460 crore ($275 million-300 million).
Exit: Arjun Mohan has stepped down as CEO of edtech company UpGrad.
First iPhone, now Pixel?: A Business Standard report claims Google is looking to assemble Pixel phones in India for export purposes.
Summer bonanza: The Indian Express reports that Apple will open its first couple of flagship stores in India in Bandra Kurla Complex, Mumbai, and Saket, Delhi, as soon as April this year.
Blockade: Ohio and New Jersey have joined other US states (19 at last count) in either limiting or banning TikTok from government devices.
Ball and (block)chain: Coinbase is slashing one-fifth of its workforce, or 950 jobs; the crypto exchange had cut 18% of its workforce in June 2022.
Age no a bar: French president Emmanuel Macron has proposed raising the retirement age in France from 62 to 65, as part of a widely-criticised pension reform plan.
THE DAILY DIGIT
$100 billion
The value of remittances sent to India by overseas Indians in 2022, an increase of 12% over the previous year. (The Economic Times)
FWIW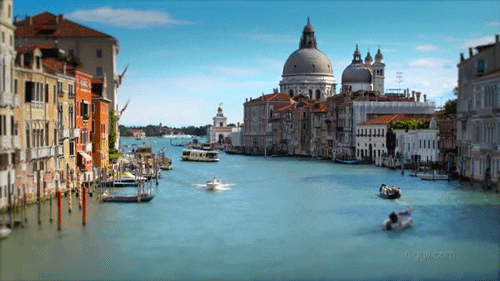 A landfill on water: Venice may be known for its extensive waterways, gondola rides, and everything nice, but it has a problem lurking in its backyard. The city's lagoons are adrift with abandoned boats, some from at least two to three decades ago. Boats and vessels were increasingly abandoned in the lagoon after trucks became commonplace in the 1950s. Marine life has been bearing the brunt ever since. Modern boats are even worse, given that they take their time to decompose, and release chemicals that pollute the water.
Out of fizz: New year, old problems. Carbon dioxide (CO2), the magic ingredient used in fizzy drinks, packaging, and at hospitals, is in low supply in New Zealand. The country's only food-grade CO2 production facility shut down last year; another liquid CO2 plant was closed just before Christmas. And so, it is being doled out for more pressing matters such as medical, and safety needs. The repercussions: Beer brewers remain the victim once again, who will have to make do with small batches of CO2.
On the low: His tell-all has probably come at a price. Turns out Prince Harry isn't quite liked in the UK. According to a YouGov survey, it's at a record low—64%. The number could go lower after Prince Harry releases his memoir, Spare. His brother Prince William, heir to the throne, also saw his popularity dip to 69%. Prince Harry, who has been living in the United States with his wife Meghan Markle, maintains that he had to come on record for "historical fact and significance." Okay, then.