Discover more from The Signal
The Signal is a daily curated newsletter that helps you understand the latest developments in business, tech, finance, economy, and policy with sharp analysis and crisp insights thats fun to read arriving at 8AM daily in your inbox.
Over 81,000 subscribers
Modi's glocal problem
Also in today's edition: Fortnite sneaks back into iPhones; Testing times for unicorns; Crypto exchanges one up on security; Conglomerates get a war boost
Good morning! Chelsea joined Manchester United, Liverpool, and Arsenal in becoming the latest Premier League club to get Yank ownership. The new owners include Californian equity firm Clearlake Capital, businessman Mark Walter, and Todd Boehly. Boehly has a foothold in the very American sport of baseball and owns the LA Dodgers. He also co-owns one of the world's biggest sports franchises: the LA Lakers. Former Chelsea owner Roman Abramovich had once rejected Boehly's bid for the Blues. Guess who's having the last laugh now?
The Market Signal*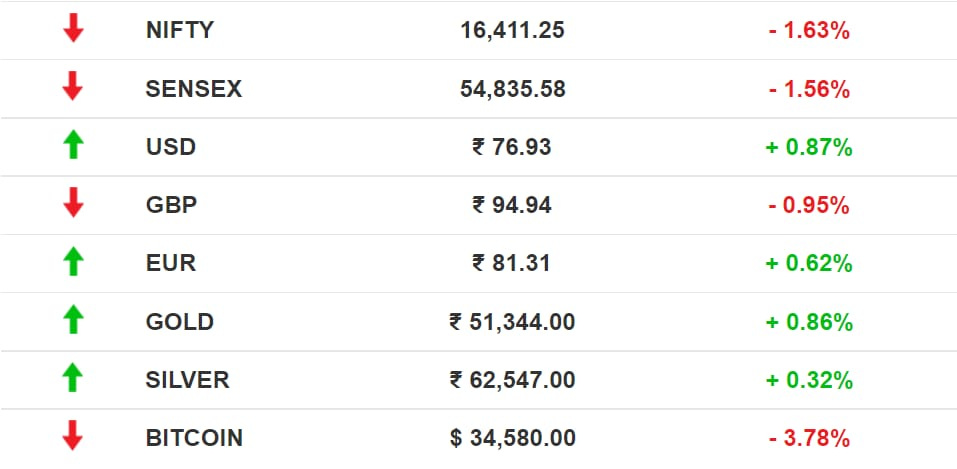 Stocks: Fighting price rise is currently the top priority of the world's monetary authorities. Rate setters in the US, England and India came out all guns blazing last week, making clear their intentions to battle price rise at any cost. The stock markets in India took a plunge after the RBI's surprise hike. Foreign investors took out ₹6,400 crore from Indian equities in May.
Early Asia: US index and stock futures plunged as Asia opened nervously on Monday morning. The Nikkei 225 and Hang Seng were swimming in red while the Nifty was down 0.83% in Singapore at 7:30 am India time.
INFLATION
India's Hope To Be Global Wheat Supplier Is Melting
India's hope of becoming a food supplier to the world, as Prime Minister Narendra Modi wishes, could be dashed by the harsh realities of climate change and international trade pressures.
The record-breaking heatwave sweeping through India is incinerating wheat crops in many parts of the country. The damage is up to 50% in some places. 
Food protectionism: India stepped in with 15 million tonnes of wheat when the war in Ukraine hit global supplies. But it also depends on public grain stocks to feed its population in times of crisis such as the Covid-19 pandemic. As Indonesia did with palm oil, a steep drop in yields may force India to stop exports to ensure its citizens' food security. 
That, however, clashes with multilateral agendas (which India is party to) such as WTO's, which want to create resilient supply chains to deter global price spikes and disruptions. Influential members have sought curbs on government financing of public food stocks and definite commitments on supplies to international markets. 
GAMING
Microsoft Guest Stars In Epic App Store Drama
Epic Games' Fortnite has returned to iOS and Android nearly two years after Apple and Google banned the free-to-play (F2P) game from their app stores. But not in the way you think. Users will need a Microsoft account to access Xbox Cloud Gaming and stream the game to browsers on iPhones, iPads, and Android devices.
Context: Apple booted out Fortnite from the App Store after Epic Games circumvented its 30% commission. Google's Play Store followed suit. Epic and Apple have been locked in a fierce legal battle since, with the former filing a separate case against Google. Both app stores are under antitrust scrutiny by the EU, US, and other countries.
U-turn: Epic once disallowed making Fortnite available on Xbox Cloud Gaming because it considered the service a competitor. The latest development also signals Microsoft's probable strategy of using disaffected Fortnite players to push its full-service subscription. Fortnite is the first F2P game on Xbox Cloud Gaming.
🎧 Apple and Epic are still fighting it out in courts but the game is back on iOS, thanks to Microsoft. Quick, grab those headphones!
STARTUPS
New Measure For Unicorns: Profits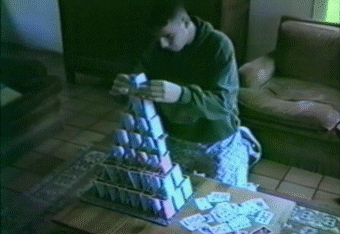 Only 23 out of 100 Indian unicorns are profitable; seven of which are fintech companies, reports Moneycontrol.com. 
Valuation over? These startups have collectively raised more than $80 billion from investors and are currently valued at about $300 billion. 
Almost all unicorns rely on burning capital to amass customers in the hope of converting that base into profits sometime in the future. How far does the rainbow with the promise of gold at its end stretch? 
The Signal
The ratio of profitable companies in the unicorn universe is consistent with the industry norm. Private pools of capital bet on multiple startups expecting about one in five to succeed; the manifold returns of one justifying the losses in others. That works well during exuberant periods but may not anymore as the music is about to stop. Tech companies are going through one of the worst periods ever.
Private equity titans gathered at a global conference worried that a recession may be  approaching fast. The string of weekly losses in the US markets is the longest in a decade. Many can't see the bottom yet. The rout in public markets also means exit options for private investors will be few. That will discourage new investments as well. 
In India, companies such as Paytm that sold shares to the public at a steep premium have been clobbered on the exchanges. This week will be yet another unicorn test when logistics startup Delhivery goes public with a ₹5,235 crore IPO.
🎧 The valuation game is slowly losing its charm and unicorns will be under pressure to show profitability. With global markets in turmoil, that will be a tough ask. Dive in!
CRYPTOCURRENCIES
Hubs Are Burning DeFi Bridges
Centralised platforms—read: crypto exchanges—are filling the Wormhole-sized gap in blockchain bridge security.
English, please: Bridges or sidechains allow users to swap assets from one blockchain to another. The objective is to enable easy cryptocurrency exchange (such as Ethereum to Solana, or stablecoins to native tokens). But while attractive in theory, bridges have lax security and accountability in case of a breach. Some of the biggest hacks took place on decentralised bridges such as the Poly Network, Wormhole, and Ronin.
Advantage exchange: Since licensing and regulation for exchanges is picking up worldwide, such platforms are doubling as secure alternatives. Ease of use is another benefit: users can now swap currencies on FTX, Coinbase, and Maple Finance without leaving those ecosystems. This offers a glimpse into the gradual centralisation of much-hyped DeFi everything.
EARNINGS
A Good War For Them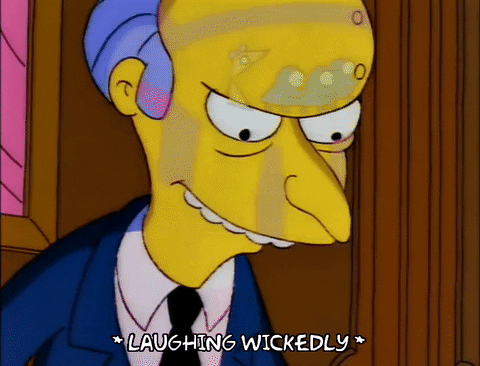 Reliance Industries (RIL) reported lower-than-expected profit in Q4 of FY2022 due to tax liabilities and costs in other parts of the group. But its refineries raked in the moolah thanks to the war in Ukraine.
India bought 40 million barrels of discounted crude from Russia. RIL's diesel margins rose 71%, while petrol's were 17%. The going was so good that the company postponed a scheduled maintenance shutdown. 
Other oil: RIL is not the only one benefiting from the disruption caused by the war. Adani Wilmar too benefited as edible oil shortage in the global market boosted its business. A tax adjustment suppressed its profit growth. Disregarding that, the company's profits rose nearly 40% on revenues that jumped 40% too. 
Shining metals: Tata Steel became the most profitable company in the Tata Group after steel prices rose in Europe due to the war. Its European revenues shot up 54%. 
Dalal Street is expecting AV Birla Group's Hindalco to also post bumper profits. 
FYI
Ready for take off: Jet Airways could be up in the air soon as it has got a crucial security clearance to begin operations again. 
Skirting bankruptcy: The Future Group is selling its stakes in multiple insurance ventures to raise ₹3,000 crore in a bid to avoid bankruptcy.
Historic win: The flagbearer of nationalism and associate of the once-feared Irish Republican Army, Sinn Féin, has won in Northern Ireland elections.
Irony died: In what would be a first, Donald Trump's son in law Jared Kushner's fund has raised $2 billion Saudi money to invest in Israeli startups.
Meta moves: Instagram will soon support NFTs and integrate Metamask wallets. Meanwhile, Whatsapp is piloting 2GB file sharing and the ability to add up to 512 people to a group.
Bye bye, Ola: Amid a crisis of its scooters catching fire, chief technology officer of Ola Electric, Dinesh Radhakrishnan, has quit. Arun Sirdeshmukh, CEO of Ola Cars had resigned last week.
Beijing's choice: John Lee, a former cop who helped in the crackdown on pro-democracy demonstrators, is the new leader of Hong Kong. He won uncontested.
FWIW
Dark horse: The 148th Kentucky Derby on Saturday delivered stuff on which movies are made. Rich Strike made a spot in the race only because another horse, Ethereal, dropped out at the last minute. Rich Strike had odds of 80-1 as the horse, jockey, trainer and owner were all little known. And then it coolly won. Bonus: Kentucky Derby is the birthplace of what is known as Gonzo journalism and its distinct, immersive, and sometimes disruptive style of storytelling. American journalist Hunter S Thompson wrote his pioneering piece The Kentucky Derby is Decadent and Depraved for Scanlan monthly on the 1970 race. 
Dorothy's dress turns Sunday best: The iconic Gingham dress from 1939's The Wizard of Oz is the object of a legal tussle between The Catholic University of America and the estate of a high-profile priest. While the priest who was gifted the dress is no more, his niece insists that the vital piece of Americana remain in the public realm. The Catholic University, however, wants to auction it to the highest bidder.
Void melody: The densest objects in the known universe have a penchant for singing. Well, not really, but they can be heard. Researchers from NASA's Chandra Observatory first recorded pressure ripples from a black hole in the Perseus constellation and turned it into an intergalactic song. Other astronomers are now following suit. The result is a haunting set of moans not unlike whale songs.
Want to advertise with us? We'd love to hear from you.
Write to us here for feedback on The Signal.