Discover more from The Signal
The Signal is a daily curated newsletter that helps you understand the latest developments in business, tech, finance, economy, and policy with sharp analysis and crisp insights thats fun to read arriving at 8AM daily in your inbox.
Over 81,000 subscribers
Another Sequoia company loses its mojo
Also in today's edition: The gaming inception; Adani gets Trainman; Whales threaten Lankan shipping; Tiger's stripes are fading
Good morning! The news in Free Press Journal over the weekend had the sensational touch of a heist movie. It was a claim by an activist, Manoranjan Roy, that about ₹88,000 crore ($10.7 billion) went missing in transit from government mints to the Reserve Bank of India. Roy said he compared the number of ₹500 notes printed at mints in Nashik, Bengaluru and Dewas (information he got through the Right to Information Act) and those reported in the RBI's annual report and found the discrepancy. The RBI, on its part, says the RTI reply was wrongly interpreted and all notes are accounted for. For a brief while we thought we had the Diane Keaton and Queen Latifah-starrer Mad Money going live in India.
The Signal is now on Telegram! We've launched a group — The Signal Forum — where we share what we're reading and listening through the day. Join us to be a part of the conversation!
Today's edition also features pieces by Jaideep Vaidya, Srijonee Bhattacharjee, and Julie Koshy Sam.
If you enjoy reading us, why not give us a follow at @thesignaldotco on Twitter and Instagram.
The Market Signal*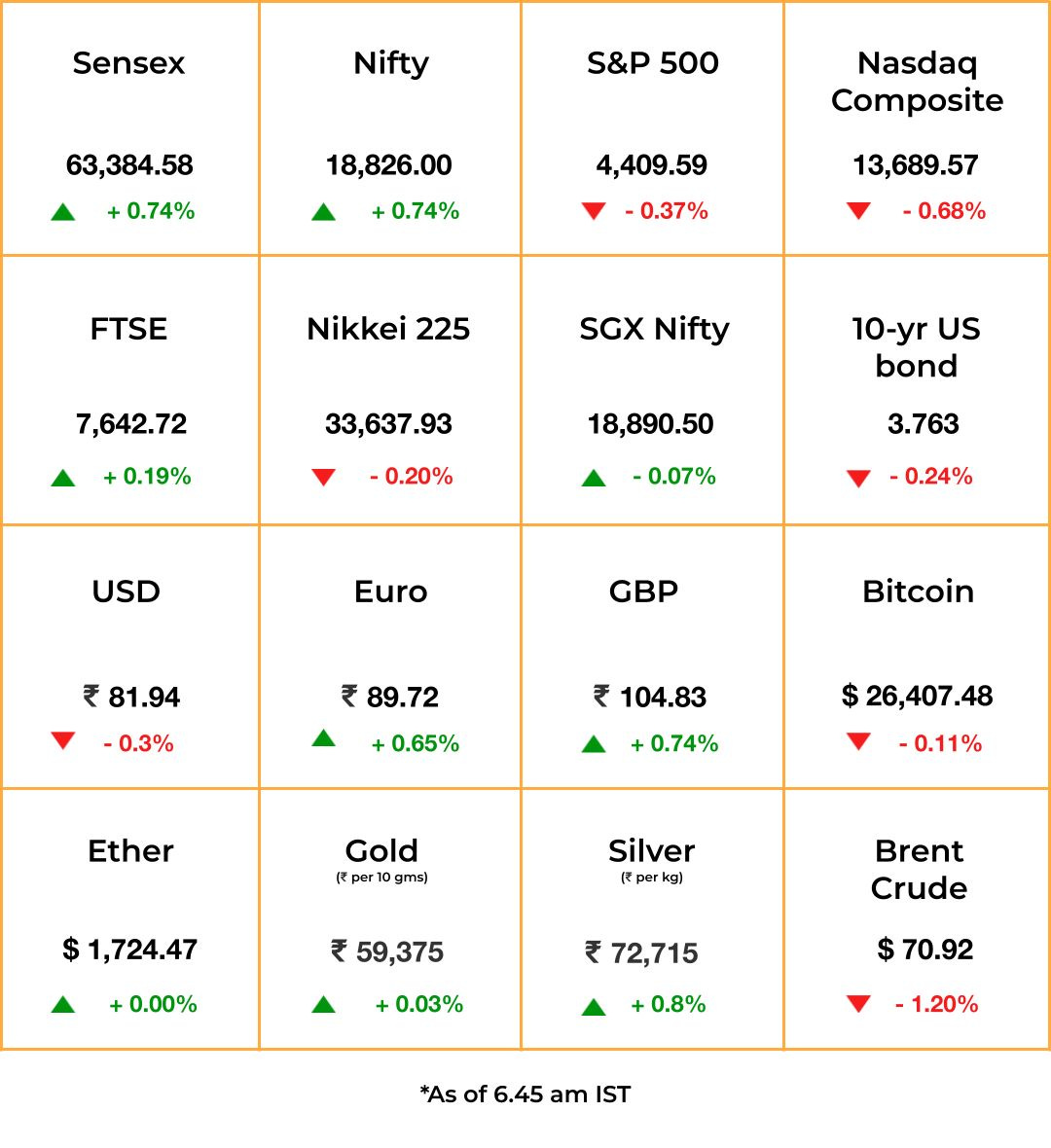 Stocks & Economy: Asian equities were tepid in early trade as investors assessed the US State Department and China's Foreign Ministry's respective (and cautiously positive) readouts on the meeting between the visiting US Secretary of State Anthony Blinken and his Chinese counterpart Qin Gang turned out. Indian equities may start out flat and stay in a tight range since US markets will be shut today.
Investors will have several opportunities to analyse where global rates are headed with a few US Fed officials lined up to speak this week. Chairman Jerome Powell will speak on Wednesday. The rally in US stocks may be close to overdone but sentiment for Asian equities is positive as there is hope that China will ease policy further on Tuesday to support the flagging economy.
After touching lifetime highs the Nifty is poised to rise further. It may see a quick correction as traders lighten their portfolios before placing fresh bets.
STARTUPS
Another One Bites The Dust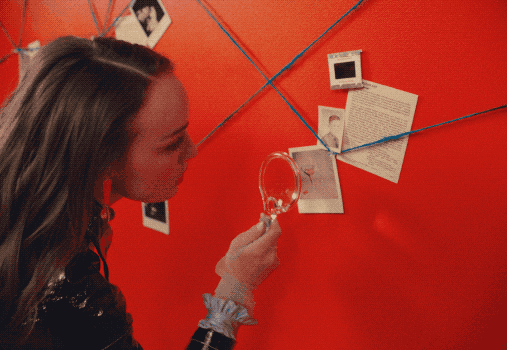 Yet another startup backed by blue-chip investors has gone belly up. The Morning Context reports that investors found health-tech startup Mojocare cooking books and have frozen its funds and operations.
Who: The company, founded by Ashwin Swaminathan and Rajat Gupta, abruptly laid off nearly all its employees last Friday. Mojocare had raised $20 million at a valuation of ~$75 million in August last year. Its investors include Chiratae Ventures, Peak XV Partners' (formerly Sequoia India) Surge, Better Capital and angel investors Kunal Shah of CRED and Vineet Jain of the Times Group.
When the tide went out after hitting the high watermark in the pandemic-affected years, the Indian startup industry found itself covered in mud. Several investors discovered that the soaring metrics in excel sheets presented by trusted founders were conjured from thin air. Sequoia found several rotten apples in its basket, including BharatPe, GoMechanic, Zilingo, Trell and now Mojocare.
SHIPPING
Fishy Affair
Sri Lanka has a whale of a problem. A clutch of international maritime organisations want the island nation to reroute ships to protect the endangered blue whale's feeding grounds in the Indian Ocean south of its coast.
Sri Lankan experts say it's an attempt to undercut the country's growing importance on the world's busiest east-west trade route. Lankan ports lost business when some ships that voluntarily veered away from the feeding grounds did not dock in the country. A mandatory rerouting could wean away business to Dubai, Singapore or India.
Competing interests: Marine biologists say southern Sri Lankan waters are crucial feeding and nursing grounds for blue whales. But high trade traffic means the risk of collision with whales is also high. Some shipping executives have questioned the scientific conclusions, while others say slowing ships down in the area instead of rerouting would protect the giant marine mammals.
RAILWAYS
Adani's Choo Choo Train Whistling Loud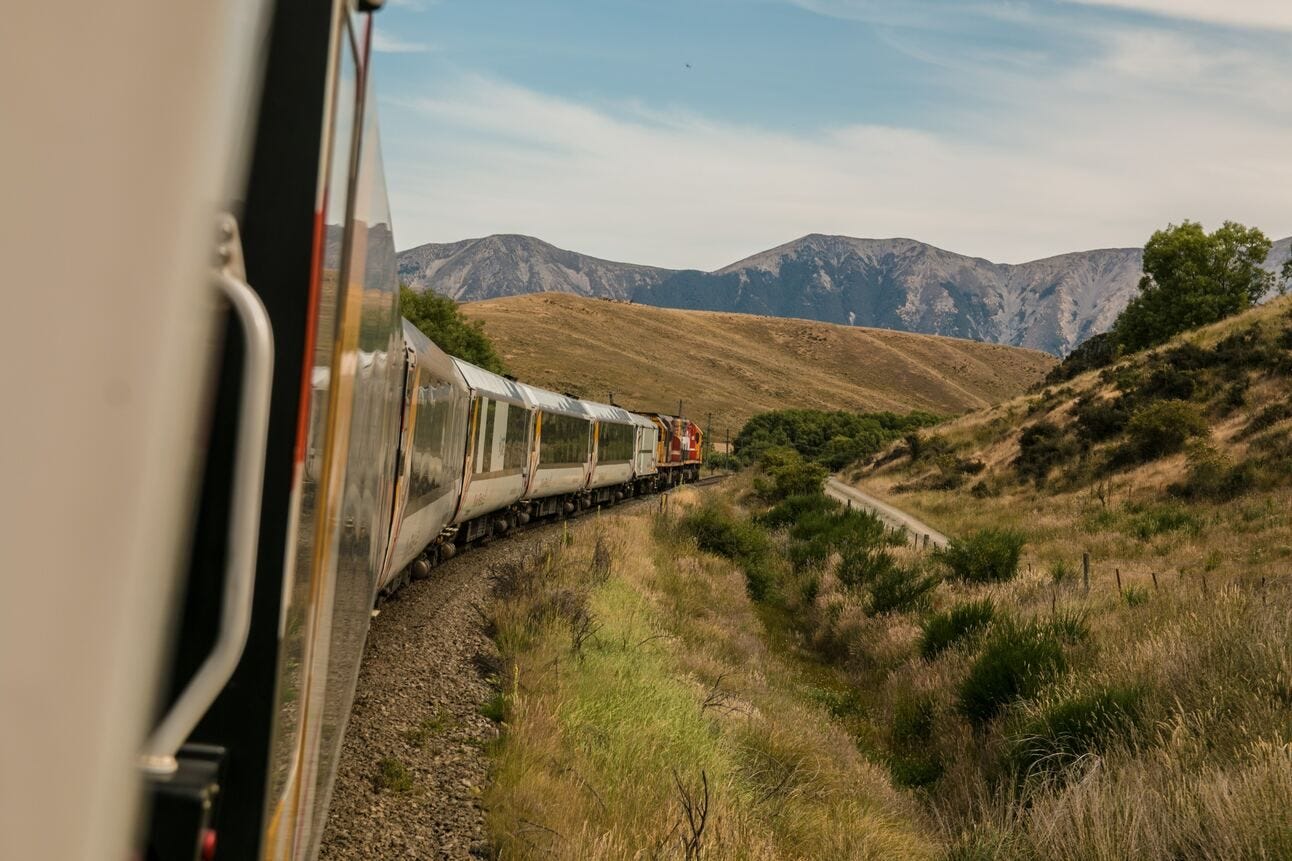 Photo by Josh Nezon on Unsplash
After letting go of aeroplane maintenance and repair company Air Works and thermal power producer DB Power, the Adani Group has purchased travel commerce startup Stark Enterprises Ltd (SEL).
Founded by IITians Vineet Chirania and Karan Kumar and funded by US investors, SEL runs railway ticketing platform Trainman. Adani, which entirely bought out the current owners through its subsidiary Adani Digital Labs, had earlier picked up a 20% stake in Cleartrip, the flight and hotel bookings platform part-owned by Walmart.
The Railways ticketing and catering monopoly, Indian Railway Catering and Tourism Corporation, popularly known by its acronym IRCTC, allows private e-commerce players to operate on its platform.
The Signal
Adani, which is India's biggest logistics player, also owns and operates railroads, but mostly for moving goods from ports. The conglomerate could be a significant railroad operator in future when India allows private companies to run new and existing passenger trains. It had already consolidated its rail assets for heft to bid for projects in public-private partnerships. About 400 railway stations and 150 trains were proposed (pdf) to be handed over to the private sector to operate by 2025 under the National Monetisation Pipeline (NMP). The NMP target for the year ended March 2023 was ₹1.62 lakh crore ($19.8 billion), of which ₹1.52 lakh crore ($18.5 billion) was the Railways'. That was not met. If it were to operate trains and stations, Adani would straddle the entire value chain of mass mobility and travel commerce.
VENTURE CAPITAL
Wrap it Up
The party is over. After private investors fuelled a prolonged tech investment binge, everybody is heading home. Three major venture capital funds—Tiger Global, Insight Partners, and TCV—are cutting the size of their newest funds. Tiger Global has slashed its latest fundraise by half to just $6 billion, the Financial Times reported; it has managed to raise only about a third of its target. Insight Partners cut its fund size from $20 billion to $15 billion, and TCV has raised less than half of its new fund target of $5.5 billion, The Information reported.
No appetite: Private capital is cutting back on risky, illiquid bets in unlisted tech companies because interest rates are rising, and tech stocks had a terrible 2022. Facebook, Google, and Amazon have been laying off people at unprecedented scale, and pandemic darlings like Zoom are trading at pre-pandemic prices.
GAMING
The Ad Cheat Code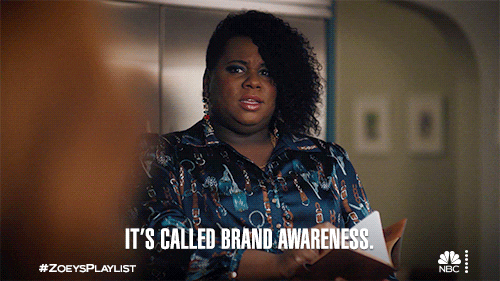 From just ads within a game, companies are now upgrading to having a branded game within a game. In a world of ad blockers and declining television viewership, brands like PepsiCo, L'Oréal, and others are investing in game development to reach new audiences, reports The Wall Street Journal.
Pepsi and L'Oréal have both developed mini-games within popular titles NBA2K and Candy Crush Saga, respectively. Brands such as PUMA, Nike, Gucci, and Samsung have also created virtual worlds inside online game creation platform Roblox. They're hoping to tap the estimated 3.2 billion people who play video games worldwide, per gaming market research firm Newzoo.
Challenges: It's difficult to make a mark among hundreds of games that launch every year. Building gameplay mechanics is not easy, and the game also needs to be regularly updated with new content to keep users hooked. Marketing the game is an added, substantial cost.
FYI
Talking peace: US secretary of state Antony Blinken has arrived in Beijing to make sure rivalry with China does not end in conflict. He will also prepare the ground for a meeting of the presidents of the two countries.
Come one, come all: Russia's energy-rich region Sakhalin has invited Indian companies to fill the gap left by western firms in its oil and gas industry.
Chipping in: Intel will invest $25 billion to build a factory in Israel. Memory chipmaker Micron may invest $1 billion in a US packaging plant to strengthen its global supply chain.
Pay up: Chinese telecom equipment maker Huawei has asked about 30 Japanese companies to pay royalties for using its patented tech.
Channelling error: Markets regulator Sebi has alleged that Zee Group's Subhash Chandra and son Punit Goenka syphoned off public money to their private companies.
Tailwind: Lifted by GoFirst's insolvency, IndiGo captured 61% of India's domestic market share in May.
#NowStreaming: Talk about capitalising on its IP. Streaming giant Netflix will release a reality TV spinoff of its hit show Squid Games this November.
THE DAILY DIGIT
101 million
The number of Indians living with diabetes, per a study by the Indian Council of Medical Research. (The Indian Express)
FWIW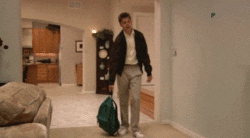 Bag of tricks: Australian airline Qantas is trying to fight jet lag. In an effort to reduce the disorder on its upcoming direct flights from New York and London to Sydney in 2025, Qantas may have found some solutions, including tailored in-flight menus, adjusted lighting, and light workouts. Chili, chocolate, and caffeine induce alertness (no shit, Sherlock), and comfort foods like soups and milk-based desserts will aid sleep. Don't need a panel of experts to come up with the conclusion that having more room to sleep would address some of these problems immediately.
Not without my AirTag: Backpack: check. Headphones: check. AirTags: check. Apple's item tracker has now become an indispensable travel favourite. The device, which makes luggage tracking easier, has stepped up. It adds up. According to data from air transport communications company SITA, the bag mishandling rate stood at 74.7% last year. It's no wonder, then, that Google too plans to launch a similar tracker device, currently codenamed Grogu. Are we even surprised?
Babe wake up...: New handout for graduates on how to behave at the workplace just dropped. As the class of 2023 makes its way to workplaces, help is on the way. Universities and recruiters are shelling out guidelines on how to make small talk in the elevator, apart from dining etiquette, dressing up, and even writing email. One of Michigan State University's business school career centre handouts reads, "STOP! Let them tell you their name." Somebody tell them: No book on small talk will help turn on the charm faucet.