Discover more from The Signal
The Signal is a daily curated newsletter that helps you understand the latest developments in business, tech, finance, economy, and policy with sharp analysis and crisp insights thats fun to read arriving at 8AM daily in your inbox.
Over 81,000 subscribers
Murthy's musings
Also in today's edition: Indians don't care for group buying; Tesla spirals out of control; WhatsApp India can't get it together; RIP live audio
Good morning! The US SEC has slapped charges against eight individuals who masterminded a pump and dump scheme on Twitter and Discord. Each of them had over 100,000 Twitter followers (if you're worried about being one of them, head to the SEC's press release section and check the handles) and inflated penny stocks to the tune of a $100 million fraud. The crooks ran an online community called Atlas Trading and also had a podcast called Pennies: Going in Raw. Consider this today's edition of "be wary of finfluencers".
🎧 A group of finfluencers turned out to be modern-day con artists. What happened? The Signal Daily is available on Spotify, Apple Podcasts, Amazon Music, and Google Podcasts, or wherever you listen to your podcasts.
If you enjoy reading us, why not give us a follow at @thesignaldotco on Twitter and Instagram.
The Market Signal*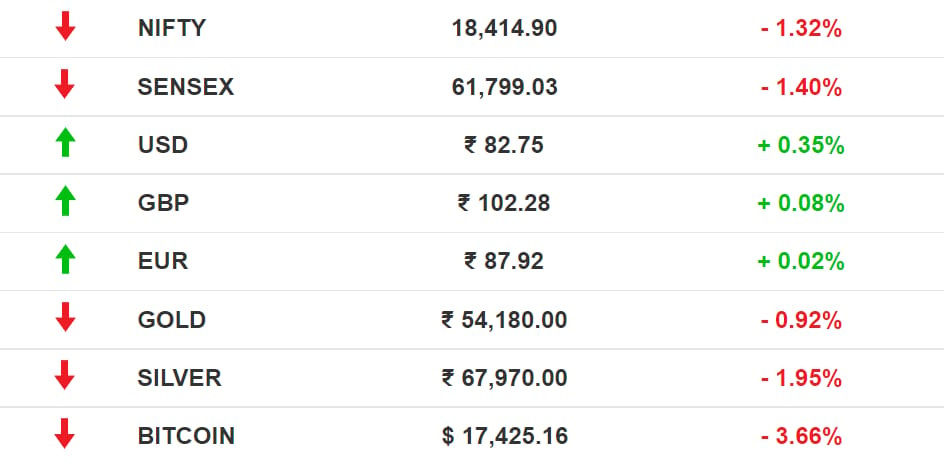 Economy & stocks: The European Central Bank and the Bank of England followed the US Federal Reserve in raising rates by a half a percentage point. Although the hikes were of a lower magnitude, the regulators have not shifted their hawkish position inflation. The Fed Reserve also indicated that the peak next year could be higher than earlier anticipated. 
In an attempt to level the playing field for retail and institutional investors, the US Securities and Exchange Commission has proposed far-reaching changes to the way stock markets operate, the Financial Times reports. The SEC began the overhaul after wild movements in Gamestop and AMC shares driven by Reddit groups.
Indian equities were hit by selling pressure as investors took their cue from weak global markets. IT and bank stocks were the worst sufferers.
Early Asia: The SGX Nifty slid -0.35% from its previous close at 7.30 am.  Hang Seng Index: -1.17% Nikkei 225: -1.62%
E-COMMERCE
India Gives Group Buying The Thumbs Down
Online grocers were once gung-ho about 'community buying', where an intermediary like a kirana or local influencer places bulk (and therefore discounted) orders on behalf of a community. The concept was popularised by Pinduoduo, and Indian techies' penchant for aping China-everything created a flurry of activity in this space. Even BigBasket and MyGate—which acquired MyCommunity Genie in its bid to become a one-stop solutions provider for gated communities—joined the bandwagon.
It didn't age well. Everybody who was enthusiastic about group buying has shuttered the vertical, while Dealshare has tweaked its model.
Reasons: Indians either buy individually or already aggregate orders from kiranas. Then there's the still-stubborn cash on delivery (COD) culture; companies are vulnerable to losses even if one person returns something from a bulk order without having paid for it. It doesn't help that discount-led models don't last in sectors with wafer-thin margins.
A MESSAGE FROM OUR PARTNER
Invest Like The Ultra-wealthy In 2023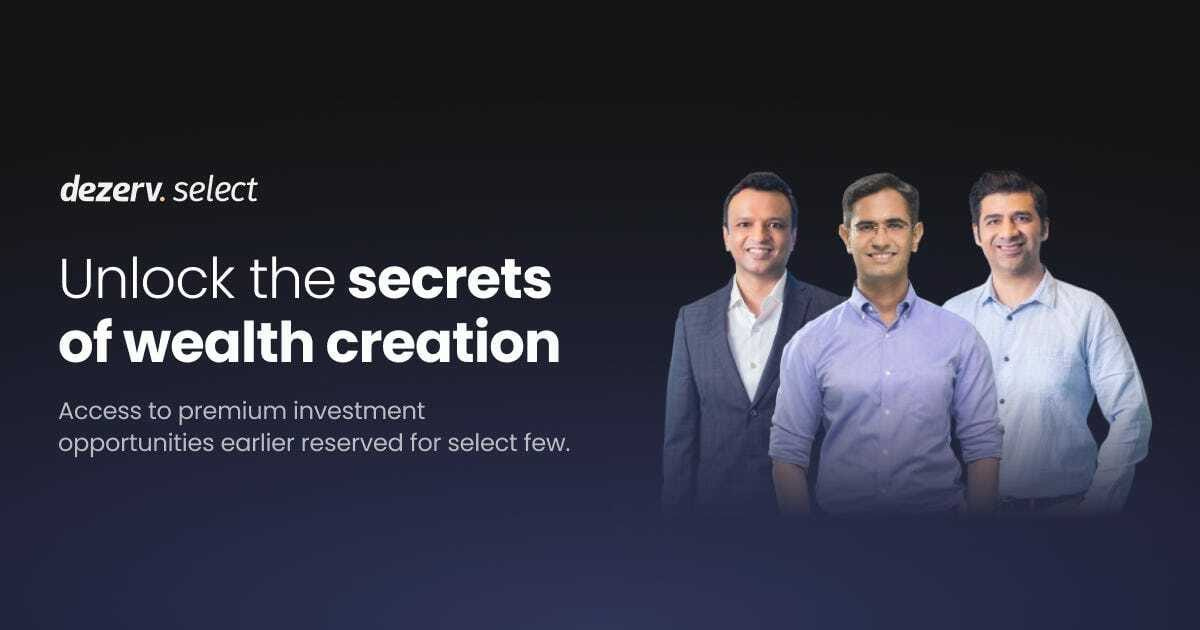 Kicking off 2022, investors' expectations were high. The same cannot be said as we exit this year. Finding sound financial advice remains as scarce as ever & yet new investment opportunities are born every day.
To solve this, the team at dezerv., a wealth tech company founded by Ex-IIFL partners, has introduced an exclusive wealth management program, dezerv. select.
With this program, they intend to cut the clutter & offer access to premium investment opportunities earlier reserved for the ultra-wealthy, like:
Dynamic PMS: Where experienced professionals continuously monitor and rebalance your portfolio in accordance with the market.
Angel Investing: Get a seat at the table alongside established venture capitalists in high-growth startups
Market-linked debentures: Top option to make high fixed returns in a secure & tax efficient manner
Additionally, members also get comprehensive reviews of all their investments every quarter.
EV
Tesla Needs A New Road (Maybe CEO Too)
Twitter CEO, Elon Musk, sold more Tesla shares. Oh wait, he is CEO of Tesla too. Filings say he sold shares worth $3.6 billion.  
Musk has sold shares worth ~$23 billion so far this year at an average $243 apiece. The Tesla stock, which peaked at $402 in April, 2022, closed Wednesday at $156.80. 
Speed bumps: When Musk was merely hawking Dogecoin on Twitter in 2020, the EV maker did exceptionally well, becoming profitable for the first time in its 18 years of existence. Competition is catching up with new models and better tech while Musk is busy swinging the wrecking ball at Twitter. Chinese BYD has already overtaken it as the world's top electric car seller.
Tesla has not expanded its vehicle range this year. Its Cybertruck and Roadster are delayed. Earlier this month, it recalled 80,000 cars in China for faulty software and seatbelts. 
🎧 Elon Musk dropped Tesla shares worth $3.6 billion. Why tho? The Signal Daily is available on Spotify, Apple Podcasts, Amazon Music, and Google Podcasts, or wherever you listen to your podcasts.
ICYMI
For An Unsleeping Delhi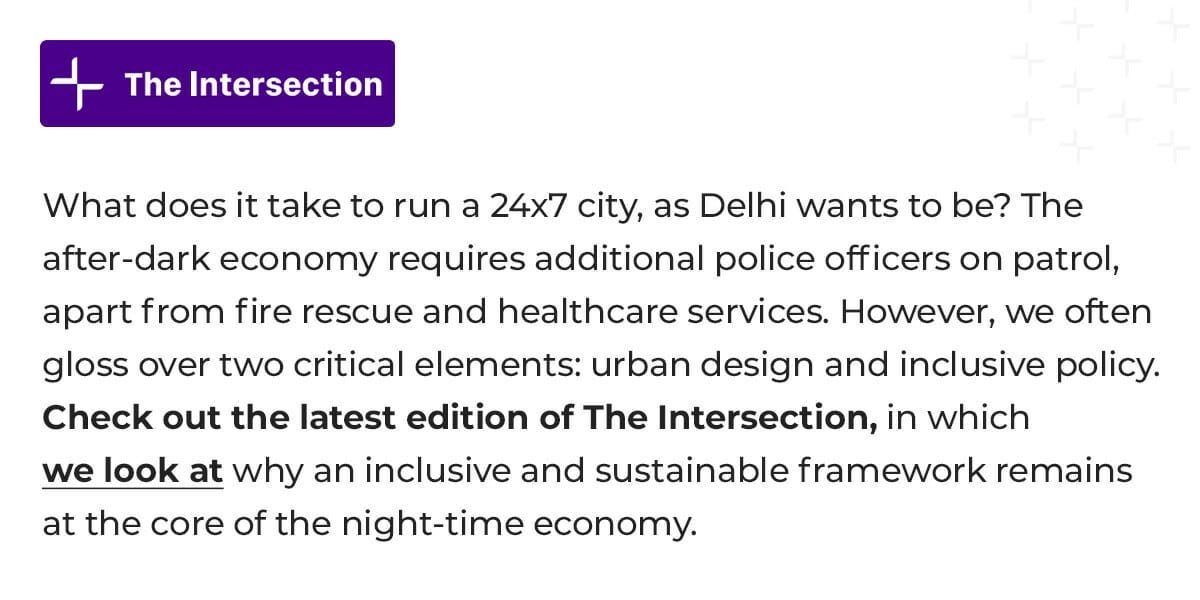 GOVERNANCE
Murthy Misses An Infy Dynasty
Infosys' succession planning was off kilter and currently has no Plan B, founders Narayana Murthy and Nandan Nilekani said at the company's 40th founding anniversary. 
Murthy said he did not allow founders' children into the company for fear some might've pushed "undeserving" candidates. 
Tag team: Nilekani said he will remain chairman "as long as required" and will hand over the charge to a non-promoter. There is no Plan B, he said and added that his job was to implement Murthy's vision for Infosys leadership before he exited. 
Ownership: At 13.1%, the seven founders and their families have only a minority stake in the company. 
The Signal 
Infosys has proven yet again that it is a prisoner to the 76-year-old Murthy's whims. In 2017, he displayed a penchant for control when he took on Infosys' independent board and forced the first non-promoter CEO Vishal Sikka out alleging governance issues. Murthy had earlier, in 2013, returned as executive chairman, son Rohan in tow, when the first non-promoter chairman, KV Kamath, quit.
His mea culpa was an apology to the founders' next generation for denying them an opportunity at Infosys. In doing so, did he betray a newly found dynastic bent and an abiding mistrust of independent professionals to steer Infosys? Despite the lip service to climbing up the ladder, he has not landed very far from an older generation of industrialists who believed that ownership and leadership are conjoined inheritance. Perhaps the speech foretells a next gen entry into Infosys.
TECH
WhatsApp's Missing Meta-morphosis
The revolving doors are in full swing at Meta's India office. Four months after the exit of WhatsApp India's former head of payments Manish Mahatme, his successor Vinay Choletti has also signed off.
The Meta muddle: Last month, we told you about WhatsApp's convoluted reporting structure. This includes payments, which rolls into a team based out of Menlo Park. This is in contrast to Amazon and Google, which have localised payment product teams in India.
Not enough: Traction. Barring the oft-talked about JioMart partnership, WhatsApp hasn't lit up the market with its payments offering (albeit to a capped base of 100 million users), while competitors PhonePe and Google Pay have surged ahead. 
Missing piece: Menlo Park's attention to scaling payments in India and fresh incentives to get users to not just chat and share, but pay using WhatsApp.
ENTERTAINMENT
This Pandemic-Era Fad Is Officially Dead
Even the world's largest audio streaming service can't make it work. Spotify has virtually given up on live programming <two years after acquiring Betty Labs (developer of Locker Room, the sports version of Clubhouse). The only survivors are The Ringer MMA Show and The Fantasy Footballers, both sports-themed.
Why?: Live audio was a bet Spotify—as also Facebook, Discord, Twitter, etc.—made thanks to peak-Covid Clubhouse frenzy. Cut to today, people aren't hooked to live audio like they were when confined indoors.
Spotify's quest to dominate audio-everything hasn't been smooth-sailing; in October, it cancelled 11 podcasts from in-house studios Gimlet and Parcast.
Aside: Speaking of cuts, Edward Scissorhands' David Zaslav's Warner Bros. Discovery is axing more originals and may licence them to third parties as the company faces an additional $1 billion in restructuring costs. The Verge bemoans that streamers' changing priorities marks the end of entertainment's golden age.
FYI
Fresh entry: Reliance Consumer Products has launched an FMCG brand called Independence in Gujarat, which it hopes will take on well-entrenched players such as HUL and ITC.
Plan B: Ernst and Young is prepping a backup plan for its proposed split, which included tapping private equity to raise money. The move comes amid rising costs and slowdown in growth.
Cancelled: @elonjet, a Twitter account that tracked chief twit Elon Musk's private jet, has been permanently banned. The platform also suspended accounts of several journalists, including some who had written about the Musk-@elonjet clash.
Coming home? The London High Court has denied fugitive jeweller Nirav Modi permission to appeal his extradition to India in the UK Supreme Court.
No point: iPhone-maker Foxconn will no longer require its workforce in Zhengzhou, China to restrict their daily movement using a "point-to-point" system. Foxconn's measures came in the wake of China's contentious covid zero plan.
Speaking of which: Chinese leaders, led by Chinese Communist Party politburo member He Lifeng, are looking at a GDP growth target of 5% in 2023.
Next? Product software company Freshworks may trim 2% of its workforce in an effort to cut costs.
THE DAILY DIGIT
1,600%
The rally of the world's best stock performer of 2022. The company is PT Adaro Minerals Indonesia, and its share price skyrocketed from 100 rupiah ($0.0064) in January to 1,700 rupiah ($0.11) as of Thursday. (Bloomberg)
FWIW
Fair weather fans: That K-pop fans are also some of the most influential social activists isn't up for debate. They've reportedly raised over $1 million for Black Lives Matter, sunk a Trump rally, and protested against the Myanmar junta. Now, they're calling out the very audio streaming services that platform their idols, under the banner of climate advocacy. Fans are demanding that Korean streaming giants such as Melon and Vibe use more renewable energy, and the companies are relenting. Their next goals: sustainable fashion and low emissions at music festivals.
Didn't sssssee that coming: Turns out male serpents were able to find what (human) herpetologists never could: a snake clitoris. Australian scientist Megan Folwell has discovered hemiclitores—that's two individual clitorises—and in doing so, also provided the first accurate anatomical descriptions of female snakes. Apparently it took this long because scientists were obsessed with studying hemipenes or snake penises instead. Folwell's discovery not only upends what we know about snake mating patterns, but also offers delightful titbits such as this: the female death adder has a heart-shaped clitoris!
Enjoy The Signal? Consider forwarding it to a friend, colleague, classmate or whoever you think might be interested. They can sign up here.
Do you want the world to know your story? Tell it in The Signal.
Write to us here for feedback on The Signal.