Discover more from The Signal
The Signal is a daily curated newsletter that helps you understand the latest developments in business, tech, finance, economy, and policy with sharp analysis and crisp insights thats fun to read arriving at 8AM daily in your inbox.
Over 81,000 subscribers
All family, no feud
Also in today's edition: Sharks are circling; Bus kar bhai; Citi planning; The AI bogey no one talks about
Good morning! The Indian box office seems to have broken free of the 2023 curse. Rajinikanth's Jailer has amassed more than ₹500 crore ($60 million) worldwide, per The Economic Times. Sunny Deol's Gadar 2 is just ₹100 crore ($12 million) behind Jailer. Akshay Kumar, who had five back-to-back flops, has bounced back with OMG 2. It has collected ₹101.61 crore ($12.2 million) at the Indian box office. According to the Multiplex Association of India and Producers Guild of India, the August 11-13 weekend was the highest-grossing in the history of the Indian film industry, with collections of ₹390 crore (~$47 million). Hope has returned for now, and we couldn't be happier.
The Signal is now on Telegram! We've launched a group — The Signal Forum — where we share what we're reading and listening through the day. Join us to be a part of the conversation!
🎧 Welcome to the world of sleep influencers. Also in today's episode: The BRICS nations are gathering for the first time since 2019. Listen to The Signal Daily on Spotify, Apple Podcasts, Amazon Music, Google Podcasts, or wherever you get your podcasts.
Today's edition also features pieces by Soumya Gupta, Julie Koshy Sam, Srijonee Bhattacharjee, and Jaideep Vaidya.
If you enjoy reading us, why not give us a follow at @thesignaldotco on Twitter Instagram and Threads.
The Market Signal*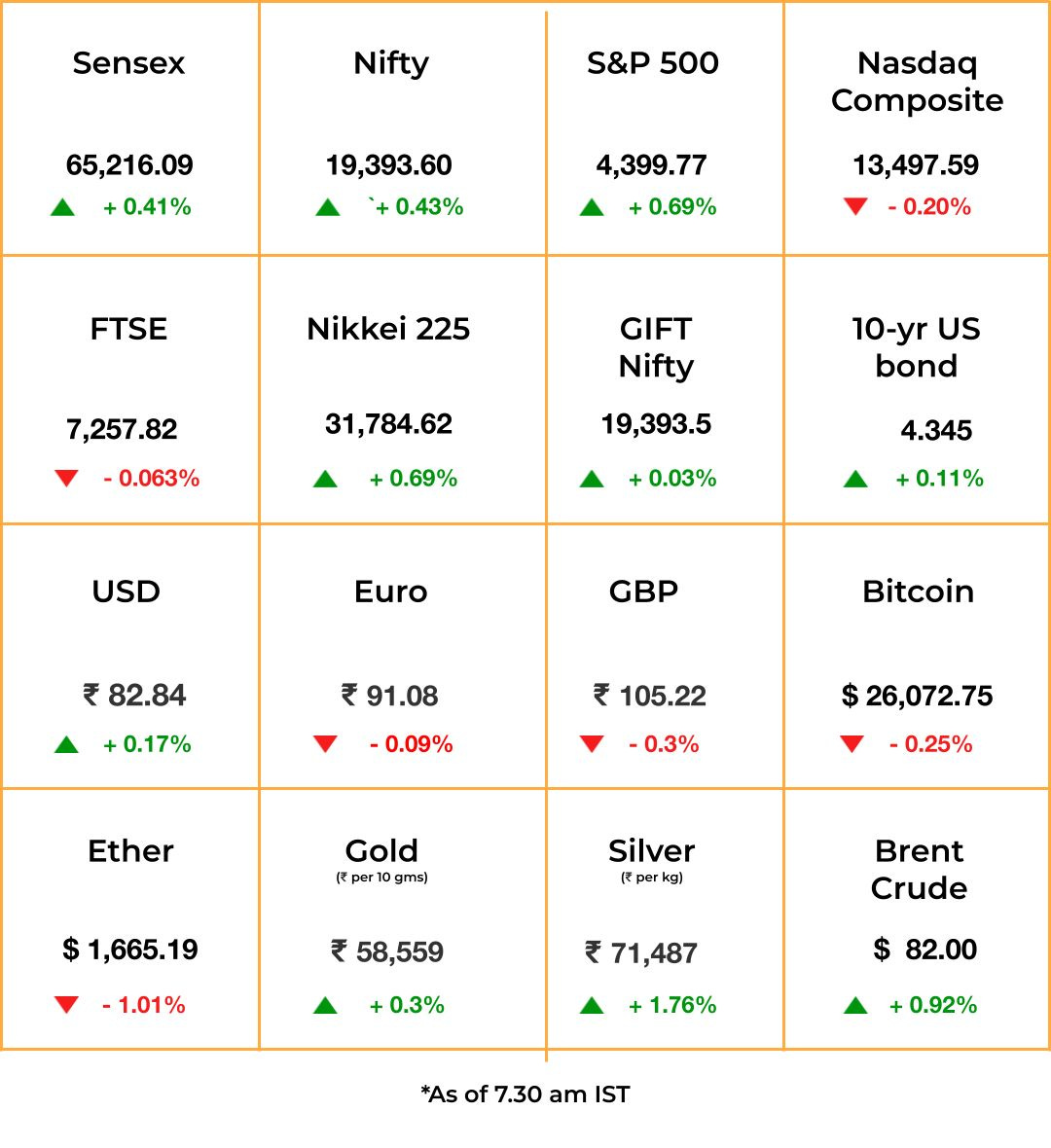 Shares and economy: Indian equities may find support as investors take cues from the US where appetite has improved. Big Tech stocks perked up led by Nvidia, which rose over 8% ahead of its earnings report on Wednesday where a 65% gain in revenue is expected.
Investors also took advantage of the recent sell-off, which corrected share prices.
Jio Financial Services' shares ended 5% lower after a lackluster debut on the exchanges. However, analysts are upbeat on smaller banks and financial services companies given low valuations and their large untapped market.
The rupee hovered near record lows despite RBI intervention. Reuters reported that the central bank has been nudging banks to settle trade with the UAE either in rupees or dirhams. The "BRICS Bank", meanwhile, would issue rupee bonds in October to augment local currency lending.
After a steady few months, cryptocurrencies have suddenly plunged, catching investors by surprise.
SUCCESSION
Was There A Win Here?
The Chennai-based Murugappa Group's promoter family members have patched up succession differences rooted in gender inequality. Although details of the peace treaty are scarce, Valli Arunachalam, who had dragged her relatives to court, has reportedly agreed to withdraw the cases.
The case: Arunachalam, a US-based nuclear scientist with experience at several Fortune 500 companies, wanted a board seat on the unlisted group holding company Ambadi Investments after the death of her father MV Murugappan in 2017. He had bequeathed his wealth to his wife and two daughters.
Arunachalam's demand wasn't well received by other members of the family, which counted among its ancestors a person who adopted a male heir despite having daughters. While the cases were dropped, the family did not specify whether Arunachalam would indeed join the Ambadi board.
A key influence could have been a 2020 Supreme Court ruling that upheld the rights of daughters.
ENTERTAINMENT
Nuvvu Entrepreneur-a
?
Are you an entrepreneur? If you speak Telugu, you no longer need to trudge up to Mumbai and pitch in Hindi. Streaming app aha has launched Telugu reality TV show Nenu Super Woman, along the lines of Shark Tank India, which first familiarised ordinary Hindi-speaking households with startups and their jargon.
Selling aspirations: Streaming platforms are selling small-town entrepreneurship dreams to a young audience. Amazon Prime will launch Mission Start Ab, where 10 Indian startups compete to become a "unicorn". Disney+ Hotstar released The Interviews, which puts contestants through tough job interviews.
Local-only: Not just contestants, the judges on these shows are handpicked local stars. Nenu Super Woman's lineup of 'angels' includes Hyderabad-based family businesses (such as Dodla Dairy and Bajaj Electronics) and startup founders from the city.
Clearly, regional success sells: nearly half of India's registered startups are from small towns.
ELECTRIC VEHICLES
All Aboard The Struggle Bus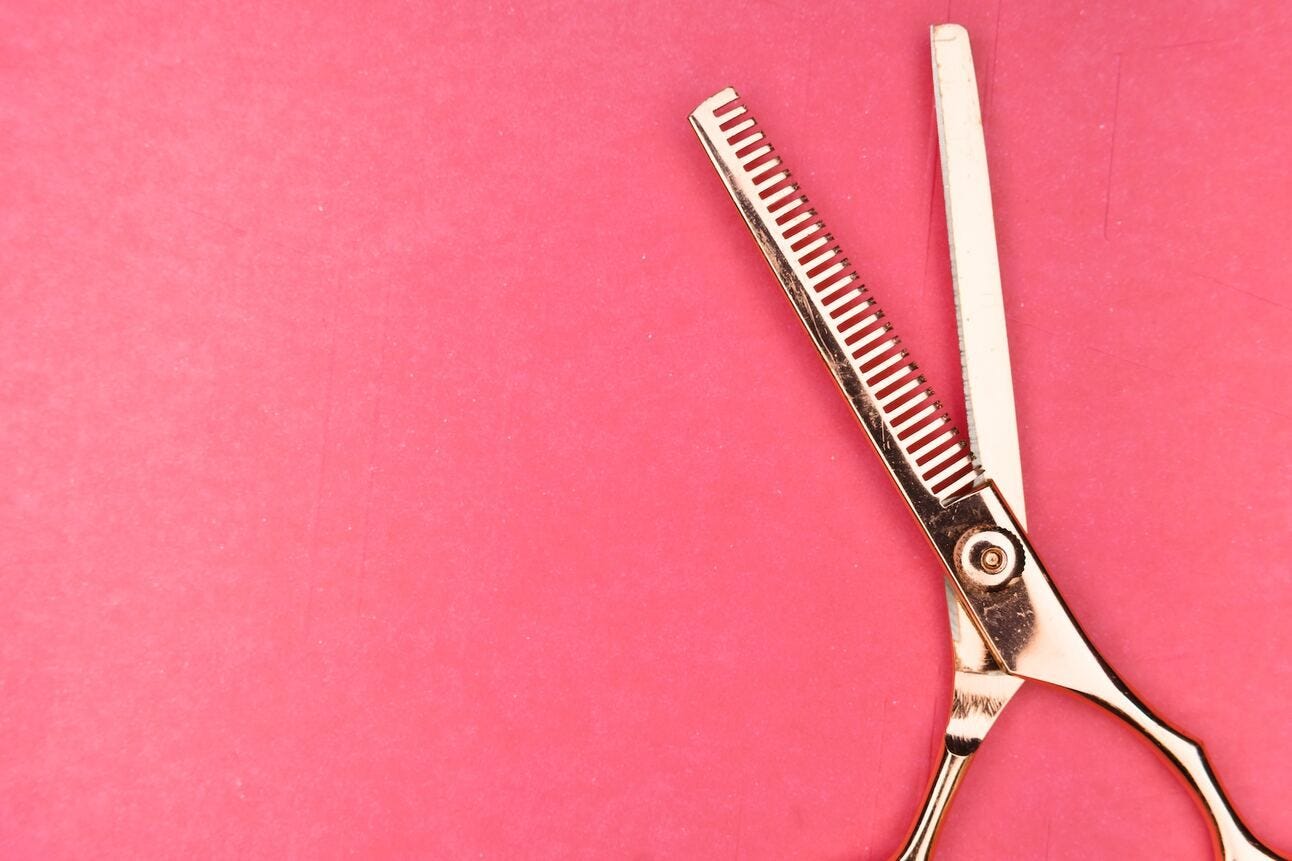 Photo by Markus Winkler on Unsplash
Electric two-wheeler sales have tanked after the Indian government reduced subsidies under Phase II of the Faster Adoption and Manufacturing of (Hybrid &) Electric Vehicles (FAME) scheme. The policy change was a result of alleged violations by the likes of Ola Electric, Ather Energy, Hero MotoCorp, and TVS.
On the heels of that development comes news that the government is considering phasing out FAME II sops for private two-wheelers altogether. It wants to prioritise financial assistance for public transport—especially e-buses—and charging infrastructure, reports Mint.
FAME II has a budget of ₹10,000 crore ($1.2 billion). Of this, ₹4,307 crore has been earmarked for e-buses. Despite that and schemes like the just-approved PM-eBus Sewa, <2% of all buses sold in FY23 in India were EVs. Blame the differences between original equipment manufacturers (OEMs) and the Centre over state transport undertakings (STUs). More below.
The Signal
Because road transport is a state subject, e-bus OEMs want a security fund in case STUs—most of which are financially unstable—default on payments. But the Centre isn't blinking. The result is a lukewarm response by companies such as Ashok Leyland and Tata Motors to tenders. OEMs also don't want STUs controlling e-bus operations; take the case of Delhi, where every one in three newly-launched e-buses are breaking down.
Stakeholders want FAME to also cover private bus fleets and other heavy vehicles. Unless that or a payment security mechanism for OEMs manifests, the goal to electrify public transport will remain a well-intentioned, ill-executed one.
BANKING
Divide And Rule
The Citi that never sleeps keeps changing too, it seems.
The American financial conglomerate, which has merged and demerged its arms from time to time, is set for another recast.
Jane Fraser, Citi's first-ever woman CEO, is planning an organisational shake-up that will see its Institutional Clients Group (ICG) divided into investment and corporate banking, global markets, and transaction services. The heads of each division will report directly to Fraser, consolidating her hold on operations. ICG head Paco Ybarra, who has been with Citi for 36 years, is set to leave next year.
This is the first big reorganisation after 2009 when, in the aftermath of the global financial crisis, Citi had hived off asset management and brokerage services. Over the past three years, it also exited consumer banking from 15 key markets, including India and the UK, and consolidated its wealth management business.
ARTIFICIAL INTELLIGENCE
Elementary, My Dear Watson
We curate nearly everything about AI, but we're a bit done with the hype cycle ourselves. Which is why this Axios analysis is a respite.
Get on with it: The immediate beneficiary of the AI gold rush is less likely to be that glitzy chatbot you've been reading about, and more likely to be the provider of boring old database software. That's because companies are inept with data management.
According to S&P Global's '2023 Global Trends in AI Report', which surveyed over 1,500 AI decision-makers, companies admitted that their troves are too unorganised or outdated to be AI-ready. The Intersection had touched upon this issue while reporting on AI in the Indian legal system.
Over 68% of survey respondents also voiced concerns over AI's energy-intensiveness challenging their internal climate targets.
Nvm tho: Demand for AI talent in Indian non-tech companies has increased by 50% compared to last year.
FYI
More BRICS: China will push to expand the bloc of the world's leading emerging nations for the first time since 2010 at its annual summit this week. Hosts South Africa and Russia are keen; India isn't.
Comeback: Chinese smartphone brand Honor will relaunch in India next year through a licensing deal with an Indian company, with plans to have local manufacturing, reports Reuters.
Joining the bandwagon: Korean internet giant Naver will launch several generative AI services later this week, including a ChatGPT competitor.
Red hot: A month after starting to sell tomatoes at discounted rates, India's Open Network for Digital Commerce (ONDC) has sold over 45,000 kg of the fruit.
Uptick: WeWork India's revenue grew by 40% to ₹400 crore ($48 million) in the quarter ended June 2023, according to CEO Karan Virwani.
Just you wait: Former US President Donald Trump has called India "tariff king" and threatened matching levies if he returns to the White House. Trump is set to surrender in Georgia where he faces charges of criminal conspiracy.
Riding AI hype: Softbank Group's phone chips designer Arm Holdings has filed for an IPO, which, at an expected valuation of $60 billion-$70 billion, is slated to be the US' biggest this year.
THE DAILY DIGIT
$15.5 trillion
What the global travel and tourism industry will be worth by 2033, according to data from the World Travel & Tourism Council. The sector could also employ 430 million people by then, up from 334 million in 2019. (Bloomberg)
FWIW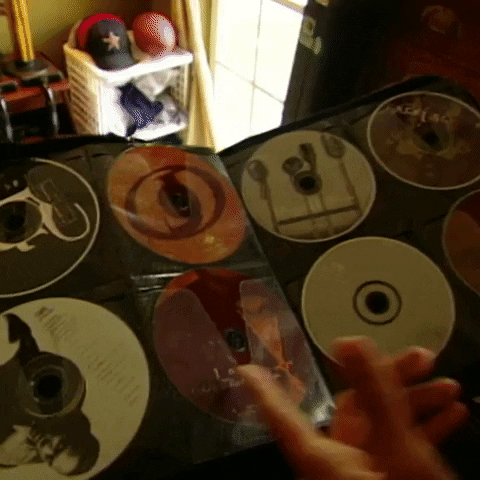 Set for a comeback?: What goes out of fashion always comes back. Gen-Zs are making CDs cool again. Compact discs accounted for just 3% of the music industry's earnings last year, down from 96% in 2002. These discs, more often than not, weren't even being put to use; they were purchased as collectibles rather than functional mediums for music consumption. But current sales have witnessed a significant uptick for the first time since 2004. Now that's music to our ears. Audio cassettes, anyone?
Finding Nessie: The biggest hunt for the Loch Ness monster in 50 years is on. The Loch Ness Centre is hosting a massive search next weekend to trace Scotland's famed mythical marine beast. Scientists and enthusiasts will scan the country's waters over a span of two days, this time with modern technology such as drones equipped with infrared cameras to capture thermal images. Also in tow: 'hydrophones' that pick up acoustic signals from beneath water. Our prediction: they will (still) find nothing.
Produce or perish: Fruit diplomacy is a thing. China has suspended imports of Taiwanese mangoes, citing mealybug pests as the reason. However, there's more to what meets the eye. Last week, China had launched military drills around Taiwan to send a stern warning following a recent trip by Taiwanese Vice President William Lai to the United States. Beijing has previously blocked pineapple wax apples, citrus fruits, and seafood from the country. 💀 Talk about being petty.
(This copy has been updated to reflect the correction from Hero Motors to Hero MotoCorp.)