Discover more from The Signal
The Signal is a daily curated newsletter that helps you understand the latest developments in business, tech, finance, economy, and policy with sharp analysis and crisp insights thats fun to read arriving at 8AM daily in your inbox.
Over 81,000 subscribers
Musk's umpteenth U-turn
Also in today's edition: JioCinema's sports ambitions; Will US-Venezuela ties thaw?
Good morning! Delhi is reverting to 21 dry days a year instead of just three, which was the case (pun unintended) during the 2021-2022 liquor policy. But this isn't about Delhi's excise drama. While politicians traded barbs and warrants, an artisanal cocktail bar in Greater Kailash II quietly made its way into the World's 50 Best Bars list. The name is Sidecar, and it's the only Indian bar in a list teeming with European and American establishments. Here's raising a house special (cognac, orange blossom water, sandalwood cordial, lemon juice) in its honour.
A quick programming note: This weekend's edition of The Intersection will not feature an original story. You will still get your weekly fix of some of the best curated reads from the internet. The Signal Daily podcast will resume on Monday.
If you enjoy reading us, why not give us a follow at @thesignaldotco on Twitter and Instagram.
The Market Signal*
Stocks: The World Bank has slashed India's GDP growth forecast to 6.5% from the previously estimated 7.5%. SpiceJet and IndiGo shares rose after the government raised the loan limit for airlines to ₹1,500 crore ($182 million). 
Early Asia: The SGX Nifty declined 0.20% at 7.30 am India time.The Hang Seng Index (-0.82%) and Nikkei 225 (-0.50%) slumped.
STREAMING
Voot Gets The Sports Boot
The quest for eyeballs just got more ambitious. In an unlikely crossover episode, the upcoming FIFA World Cup 2022 will stream on JioCinema instead of Voot. So will LaLiga (Spanish football), NBA (basketball), and ATP Masters (tennis), among others. 
Access is free for now. Doing so through JioCinema ensures downloads (and loyalty), which can be leveraged for paid content in the long run.
Under pressure: Zee Media won't participate in BARC ratings because of landing page data. Why? The first channel that appears when you switch on your TV collects ratings for viewership, which translates to better ad rates. Most news channels use this tactic to inflate ratings. 
Challenger: Amazon is betting on Freevee, the ad-supported version of Prime Video that will compete with Disney+ and Netflix's ad-supported tiers. It's also doubling down on originals. In India, Amazon has a free OTT service, miniTV.
GEOPOLITICS
Oil Slicks American Foreign Policy
The US may ease sanctions against Venezuela, home to the world's largest proven oil reserves, on the condition that president Nicolas Maduro resumes dialogue with the country's opposition. This is significant not only because former US president Donald Trump had imposed additional sanctions on Venezuela (including on state oil company PDVSA), but because of the timing.
Context: OPEC+—that's the Organisation of the Petroleum Exporting Countries (OPEC) and allies—just implemented production cuts to arrest falling oil prices. This was seen as pro-Russia by the US, which has been lobbying for more production since the Russia-Ukraine war.
The recent prisoner swap between US and Venezuela, facilitated after months of diplomacy, shows how critical oil is in geopolitics. If Maduro meets the conditions, American companies such as Chevron can resume business with PDVSA and have a say in Venezuelan exports. Except, Venezuela's oil industry is in desperate need of a pick-me-up.
SOCIAL MEDIA
The Muskian Rhapsody Enters Its Twilight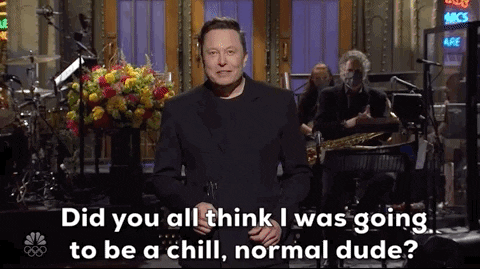 Elon Musk wants Twitter again. Then again, nothing is a given with Musk.
State of play: Two things (and deep distrust) stand in the way. The first is Musk's conditions to close the deal, namely, that Twitter must end its litigation. The second is that banks must come through on their funding commitments. Twitter wants a court-monitored closure, a guarantee against Musk's U-turns. Musk is not deposing for now.
Clock ticking: And now, we have a date. Musk has to close the deal by October 28. Else, see you in court, again!
Funding secured?: Not yet. Private equity companies Apollo and Sixth Street Partners, which were in talks to finance Musk's buyout offer, are no longer in. Banks too may be just as circumspect, given the broader economic shift. Musk's moneybag friends have also been conspicuously silent. Others have gained from Musk's reversal.
The Signal
All this while, the Muskian thesis (other than "free speech") was mainly about beating the deal price down. The bots clearly weren't as big of an issue as it was made out to be. The whistleblower wildcard too faded away. That Musk's lawyers reportedly wanted a cut-price deal—up to a 30% discount on the original price—illustrates that. 
Should the deal happen, Musk will inherit a company whose revenue declined last quarter. And that's just the business side of things. Should it not go through, Twitter could yet press ahead with the 2023 plans it was finalising when news of Musk's reversal broke. Fun times either way, but not if you're a Twitter employee or a Tesla investor.
FYI
Collab: Nykaa has entered a partnership with Dubai-based Apparel Group to establish a "multi-brand beauty retail business" across the Gulf countries.
Welcome aboard: Akasa Air will let passengers travel with their pet cats and dogs from November. One pet will be allowed in the cabin and the rest in the cargo. 
Expansion spree: WeWork India will add two more spaces to its roster in Bengaluru, spanning 362,000 sq ft in total.
Jail time: Joe Sullivan, Uber's former chief security officer, has been convicted by a federal jury in San Francisco of covering up a 2016 data hack that affected more than 57 million people.
Weeding out: Spotify has acquired Dublin-based content-moderation firm Kinzen to help it combat misinformation and harmful content. 
Tragic: WHO has warned four Maiden Pharmaceuticals-made cough syrups that can have serious effects on the kidney, after 66 children died in The Gambia.
New toys: Google announced a fresh line of smartphones to its Pixel series including a Pixel 7 and Pixel 7 Pro. The pair will include access to Google One's VPN services. Google also announced a smartwatch — the Pixel Watch.
FWIW
No ifs, just butts: Cigarette stubs are finding a new lease of life. Cleaned and bleached filters are being stuffed into soft toys and pillows. The remaining tobacco is repurposed into compost powder. The business model is the brainchild of Delhi-NCR native Naman Gupta, whose team of women workers turns stubs into 1,000 kg of fibre every day.  
Bad press: After shrinkflation comes skimpflation. Companies are scrimping down on costs in an effort to boost their bottom lines. A company reduced vegetable oil in its dairy-free butter by almost 40%. Another faced heat for the decline in the quality of toilet paper. Consumers are making a stink, and rightly so. Not a good look for manufacturers.
Reinventing Anna: Con artist Anna Sorokin is now a free bird. Well, in theory. She will be under 24-hour home confinement. Additionally, there's a permanent ban on accessing social media, including Instagram, Twitter, Facebook, and TikTok. She finally has something in common with Donald Trump. 
Enjoy The Signal? Consider forwarding it to a friend, colleague, classmate or whoever you think might be interested. They can sign up here.
Do you want the world to know your story? Tell it in The Signal.
Write to us here for feedback on The Signal.