Discover more from The Signal
The Signal is a daily curated newsletter that helps you understand the latest developments in business, tech, finance, economy, and policy with sharp analysis and crisp insights thats fun to read arriving at 8AM daily in your inbox.
Over 81,000 subscribers
The ESOP tax no one knew about
Also in today's edition: Biden calls Xi "dictator"; US' backbend; BCCI's climbdown; Fair disclosure
Good morning! Billionaire Anil Agarwal's Vedanta is liberal with political donations. So what if it is saddled with debt and desperately trying to raise funds? It gave away a mammoth ₹155 crore to political parties in FY23, higher than ₹123 crore donated in FY22. Per The Economic Times, the Agarwal-led company parted with a total of ₹457 crore via bonds in the last five years. We're speechless too.
🎧 We tell you all about Prime Minister Narendra Modi's ongoing US visit. Also in today's edition: another Indian startup—Mojocare—crumbles. Listen to The Signal Daily on Spotify, Apple Podcasts, Amazon Music, Google Podcasts, or wherever you get your podcasts.
Are you looking forward to the Tesla arriving in India? Share your views with us on Telegram! We've launched a group — The Signal Forum — where we share what we're reading and listening through the day. Join us to be a part of the conversation!
Today's edition also features pieces by Julie Koshy Sam, Srijonee Bhattacharjee, and Jaideep Vaidya.
If you enjoy reading us, why not give us a follow at @thesignaldotco on Twitter and Instagram.
The Market Signal*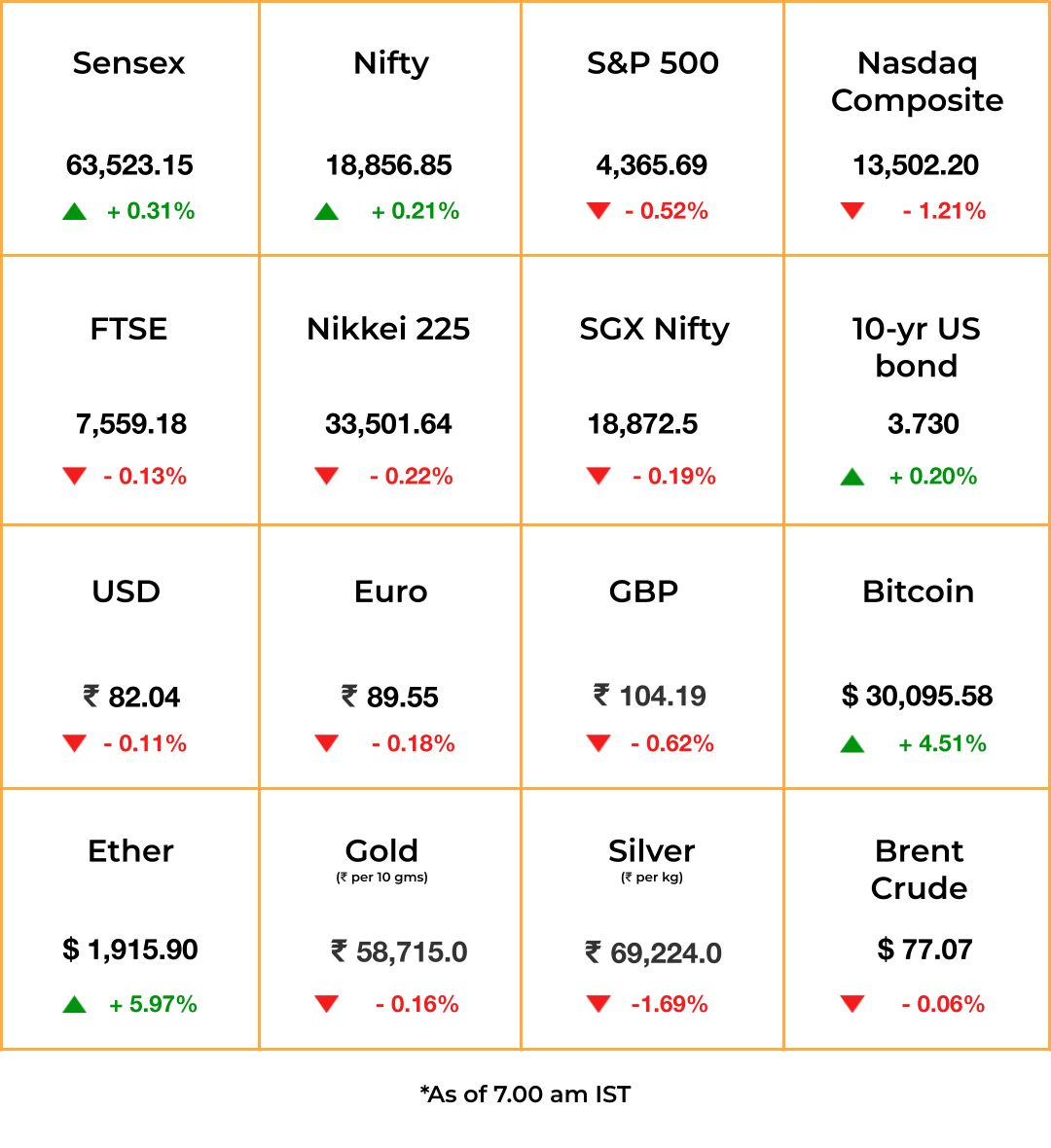 Stocks & economy: Bets against the rally in US equities are stacking up swiftly, and yields on bonds are signaling a recession. The US Fed Chair has made it clear that policy tightening is far from over. US indices were in the red and tech stocks skidded.
Some investors (more optimistic on US growth) insisted that it would need more rate hikes than currently projected to break the tech rally.
Indian equities, hovering near record highs, may open lower. Traders may adopt a sell-now-restock-later strategy. Indian shares and bonds continue to enjoy foreign investor interest. Optimism around opportunities that Prime Minister Narendra Modi's US tour may open up may keep shares supported.
Bitcoin gained on talk that BlackRock may have filed for a Bitcoin exchange-traded fund even as US regulators probe alleged irregularities at multiple platforms.
PERSONAL FINANCE
The Taxman Is Coming…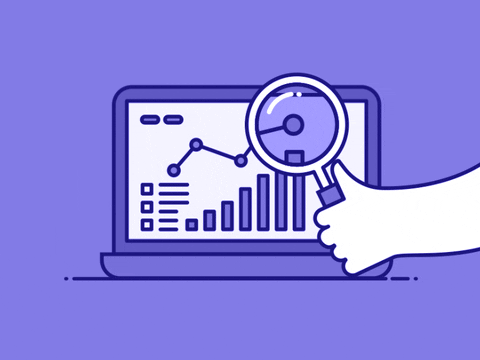 …and you won't even know. White-collar employees of multinational firms are finding out the hard way that allotted stock options, restricted stock units, and dividend income from these securities are taxable. Such employees are reportedly receiving notices for not disclosing the sale of shares in their name by foreign parent firms of their Indian employers, Mint reported. Most simply didn't know they had to.
Serious crimes: Chartered accountants differ on the right way to declare such assets. For example, some say ESOPs should be declared the moment they begin vesting, but others argue that's needed only when an employee exercises them. When undisclosed stock options are over ₹5 lakh (~$6,100) in value, tax authorities can pursue a case under the Black Money Act even though it applies only when someone wilfully hides assets. Looks like a game of technical hide and seek.
US-CHINA
Blinken Proposes, Biden Disposes
US Secretary of State Antony Blinken must be pulling his hair out. Barely had he landed in Washington after a damage control mission to Beijing that President Joe Biden called his Chinese counterpart Xi Jinping a "dictator", a comment China termed irresponsible and a "provocation".
Biden was telling a small gathering how Xi was unaware of the spy balloon until it became an issue. Meanwhile, the Wall Street Journal reported that private Chinese companies could be acting as state spies even as Forbes found that TikTok stores American creators' data in China.
The report said US intelligence spotted Huawei Technologies and ZTE employees at a Chinese eavesdropping base in Cuba. The US has long accused the two telecom equipment makers to be an integral part of the Chinese defence establishment.
Biden's comments can potentially unravel the thaw in US-China relations after Blinken's visit last week.
US-INDIA
Making A Visit Count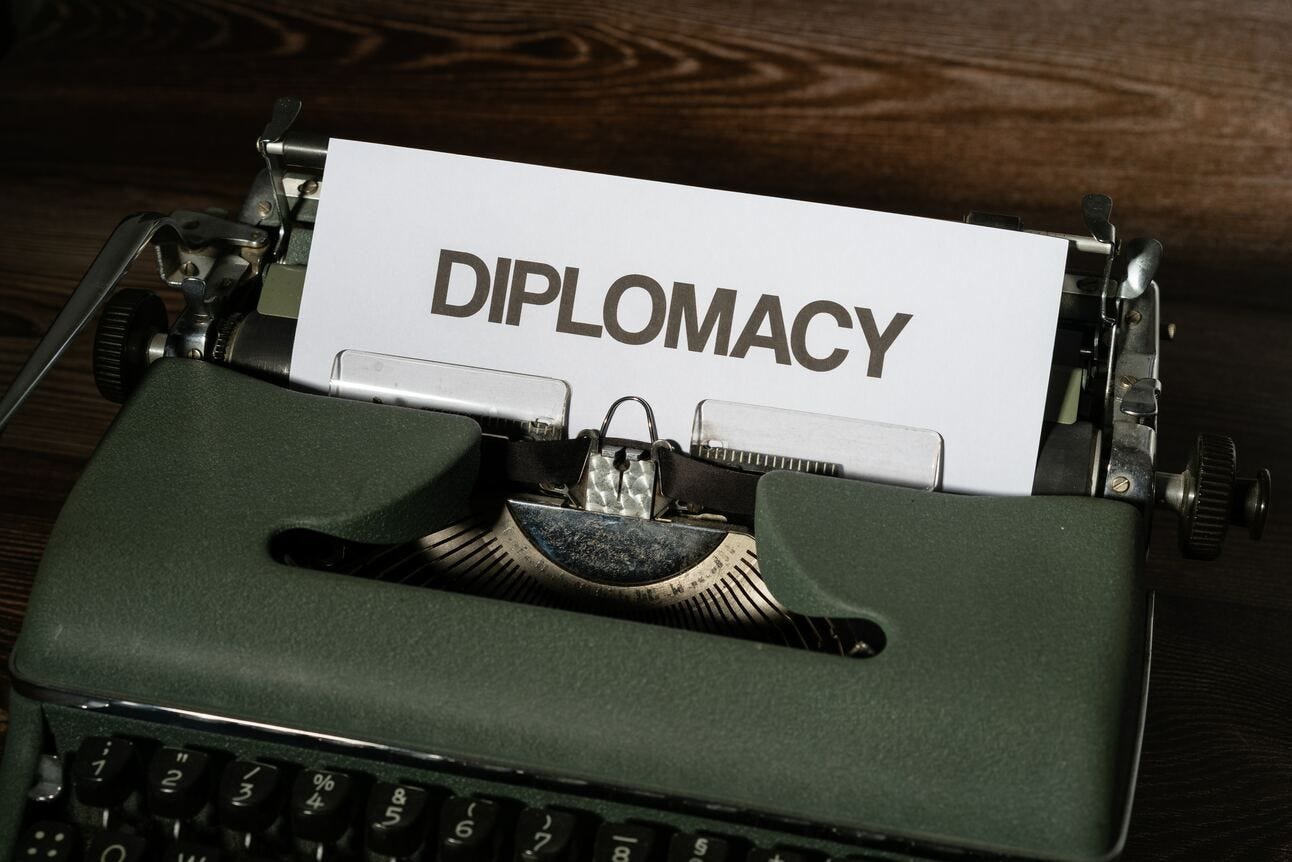 Photo by Markus Winkler on Unsplash
Indian diplomats will keep their fingers crossed that the fresh US-China row does not cast its shadow on Prime Minister Narendra Modi's state visit in any way. In Washington's long view, India is a counterweight to China.
Modi began his US trip in New York by meeting business leaders, including a gushing Tesla chief Elon Musk who reiterated his intention to set up a factory in India.
Before Modi boarded the plane from New Delhi, the union cabinet cleared a proposal from US chipmaker Micron Technologies to set up a $2.7 billion semiconductor testing and packaging plant in Gujarat. The approval came with production-linked incentives totalling $1.34 billion, Reuters reported, quoting government sources.
The Signal
The well-timed US visit is Modi's golden opportunity to woo big businesses looking to move away from China-centric supply chains. The clearance for Micron, which was chased out of China, is a signal to US businesses. Apple CEO Tim Cook's April visit to India could turn out to be the equivalent of the 2008 arrival of Ratan Tata with the Nano car in Modi's Gujarat, supercharging the business-friendly image of the state and opening an investment gusher. Tech giants such as Google and Tesla following Apple into India is more endorsement. The Joe Biden administration's willingness to bend backwards to accommodate India means it is in an economic sweet spot. But wrinkles remain, such as a lack of robust digital and privacy laws and overzealous enforcement agencies in India.
BUSINESS OF SPORT
BCCI Offers A Rare Discount
Stung by the premature exit of BYJU'S, the Board of Control for Cricket in India (BCCI) has reportedly set a low base price of ₹350 crore ($42.6 million) for its lead sponsor rights. In per-match terms, it's ₹3 crore ($366,000) for bilateral series and ₹1 crore ($122,000) for global tournaments, including World Cups and the Asia Cup, per The Economic Times.
BYJU'S, which was paying the BCCI >₹5 crore ($610,000) and ₹1.56 crore ($190,000) per match for the same categories, pulled out before its contract expired at the end of 2023 due to financial constraints. Two other partners, MPL Sports and Star India, have also either exited deals prematurely or asked for discounts.
So, who will come in now, considering new-age startups are still reeling from the funding winter? Perhaps it could be a legacy company, like Tata with the Indian Premier League.
PS: For more insight and analysis into the business of sports and gaming, subscribe to our free, weekly newsletter The Playbook: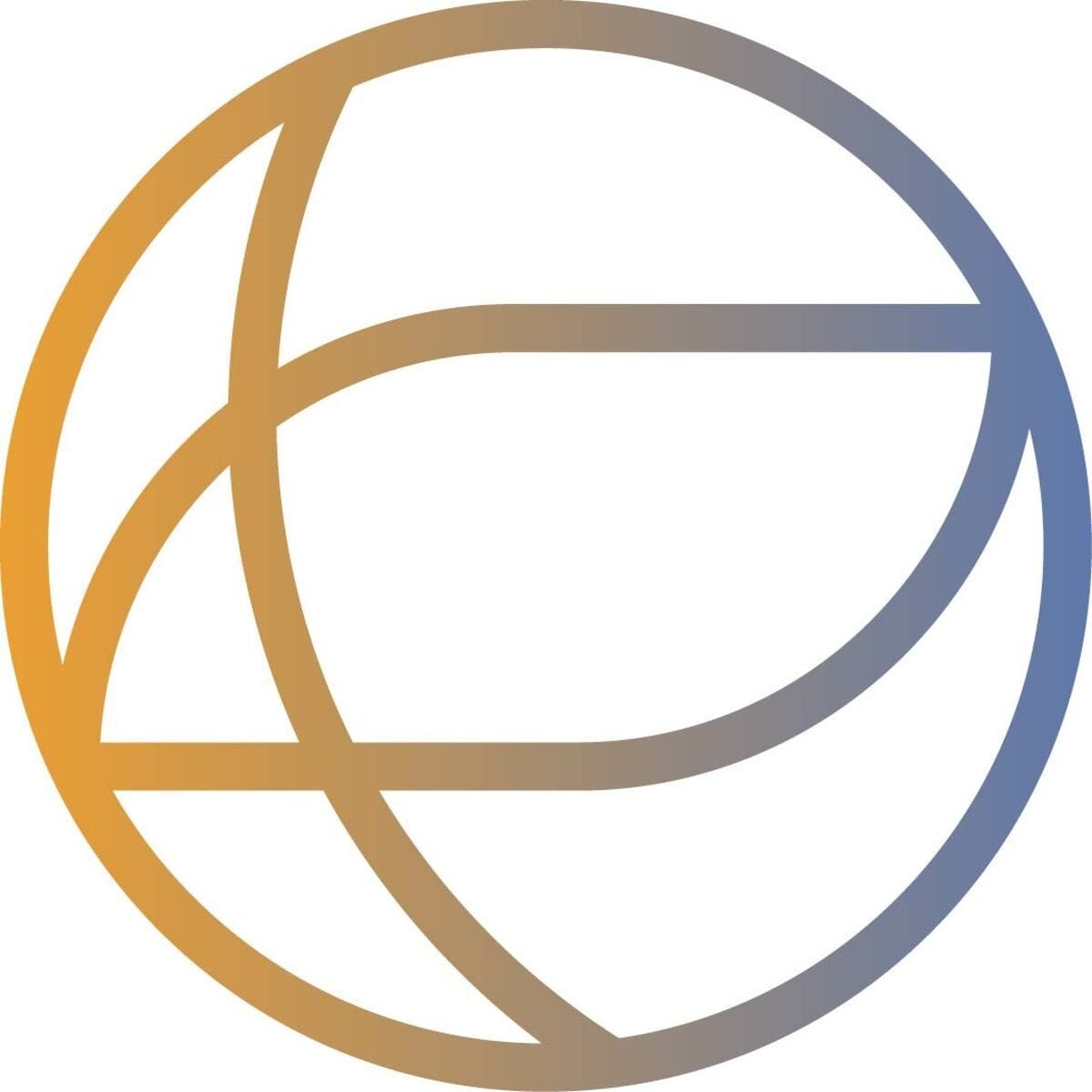 The Playbook
A weekly newsletter that deconstructs the business of sports and gaming.
CORPORATE
When Founders Fight Privately But Disclose Publicly
Once friends, now co-founders John Overdeck and David Siegel would know that.
There's a storm brewing inside the $60-billion Two Sigma, one of Wall Street's biggest hedge funds. Founder relations have soured so much that it is now a business risk, per the fund's March 31 filings with the US Securities and Exchange Commission.
Deets: The operating agreement, which carves out a company's financial and functional decisions, notes that the founders must agree on major decisions. But Overdeck and Siegel can't see eye to eye on defining roles and responsibilities for C-level executives, management structure, corporate governance, or succession plans.
No hiding: What's surprising is not that they are quarrelling but that they disclosed it publicly. They said the dispute could affect investors' returns over time and the fund may not be able to attract the best minds.
FYI
Easy H1B: Reuters reports that the US is ready to make it easy for a few Indian professionals to renew their work visas.
The mighty climbs down: Warner Bros. Discovery is in talks to stream its HBO content library on rival platform Netflix in the US.
Cashing out: US private equity firm Carlyle will sell 2.53% stake in Delhivery for $86 million.
Passes away: Advertising stalwart Sylvester daCunha, the man who created the famous mascot, Amul girl, in 1966, has died.
"Ultimate betrayal": A Manhattan court has convicted former Goldman Sachs banker Brijesh Goel for passing on confidential deals info to Barclays trader Akshay Niranjan, who turned prosecution witness.
In trouble: The US Federal Trade Commission has slapped a case against Amazon for tricking customers into signing up for its subscription service Prime without their consent.
Level up: Starting July 1, Indian-made pharmaceutical products will be inspected prior to shipment to Gambia.
THE DAILY DIGIT
25,805
The number of employees laid off by 94 Indian startups from 2022 till date. (Moneycontrol)
FWIW
No wash, no gain: Welcome to 2023. The no-wash movement is now live. A host of individuals are now doing away with detergents to wash away the grime from t-shirts and trousers for months together. The average wash cycle for undergarments too depends on whom you're asking. The environmentally conscious believe they're also saving up on time and money. Others believe it reduces the number of domestic tasks so they can instead focus on chores that matter the most. If you ask us, this is an excuse to commit to being filthy.
Off the walls: You know those inflatable castles that kids have at their birthday parties? Well, those very bounce houses have become an adult playtime activity in the US. Big Bounce America, a travelling inflatable event, now hosts adult-only sessions with DJ nights and food trucks. This is right after adults sought solace in colouring books and playing dodgeball. We hope those who've taken to the bouncy castles have a strong back (and health insurance).
Second chances: Hunter Wellington, the premium boots that had a stamp of approval from the Late Queen Elizabeth and regular festival goers, has gone bankrupt. Inflation and Brexit have also contributed to its woes. Although the company has faced roadblocks since 2019, one of the driest winters in the US that year meant few folks picked up the boots. The pandemic fast-tracked its problems. The boots may still walk. Authentic Brands picked up the company's intellectual property as part of the restructuring process. We guess it helps to be a crowd favourite.