Discover more from The Signal
The Signal is a daily curated newsletter that helps you understand the latest developments in business, tech, finance, economy, and policy with sharp analysis and crisp insights thats fun to read arriving at 8AM daily in your inbox.
Over 81,000 subscribers
No tadka for this dal
Also in today's edition: Succession with a touch of Hinduja; Your weekly geopolitical buffet; Foreign holiday will be taxing; Video rumble
Good morning! Ever heard of an *eight-month salary* bonus? If not, you'll hear read about it after this sentence. That's what Singapore Airlines is paying employees after it carried 26.5 million passengers for the year ending March 31, per Bloomberg. That's 79% of its pre-Covid occupancy, btw. Thing is, Singapore Airlines has a longstanding profit-sharing agreement with its staff unions, which also means that its senior (and by extension, well-off) management will receive 6.65 months' pay, but no ex-gratia bonus. We're well aware that the airline is no exemplar—for one, until 2022, it had a five-decade-old policy of firing pregnant cabin crew—but we'll take what we can get in the era of underpaid, dispensable labour.
The Signal is now on Telegram! We've launched a group — The Signal Forum — where we share what we're reading and listening through the day. Join us to be a part of the conversation!
Today's edition also features pieces by Soumya Gupta, Srijonee Bhattacharjee, and Dinesh Narayanan.
If you enjoy reading us, why not give us a follow at @thesignaldotco on Twitter and Instagram.
The Market Signal*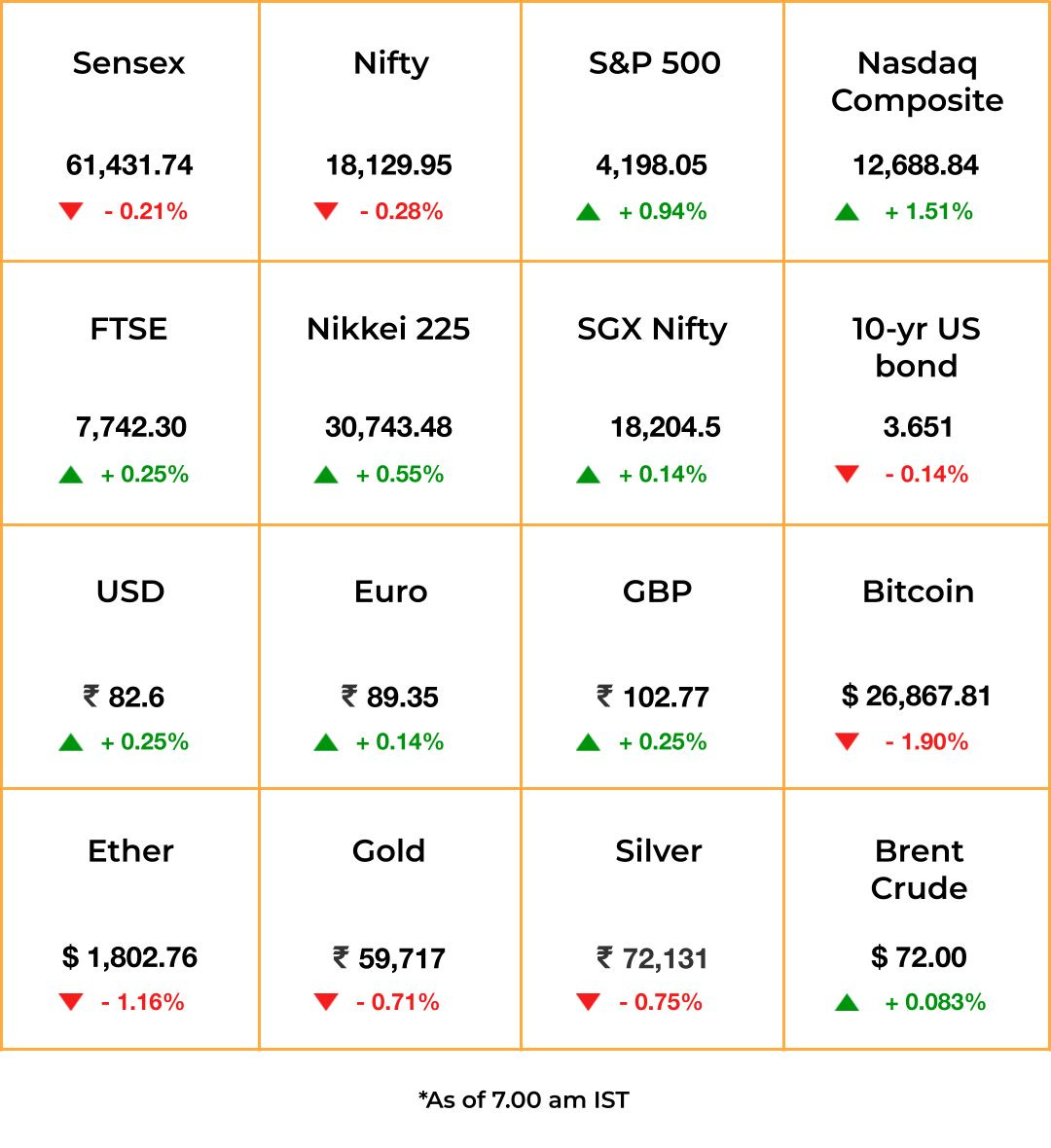 Stocks & economy: Indian equities may rise with investor sentiment improving after the US House Speaker reportedly said that a debt-ceiling deal could be reached in time for the house to vote on it next week.
The Chicago Board Options Exchange (Cboe) Volatility Index dropped as investor jitters receded and they bet on riskier assets sending US (gains led by tech stocks) and European share indices soaring.
While Indian indices may gain from the rally, traders will likely sell at higher levels in the day, staggering the rise.
Demand for US bonds subsided also because traders were unable to forecast whether the Fed would hike rates at its policy meeting next month. They are hoping for a rate cut later this year, but Fed officials continue to indicate that it isn't time yet.
Meanwhile, tepid recovery in China's economy post-Covid is weighing on global growth outlook.
CONSUMPTION
Tur
Tidings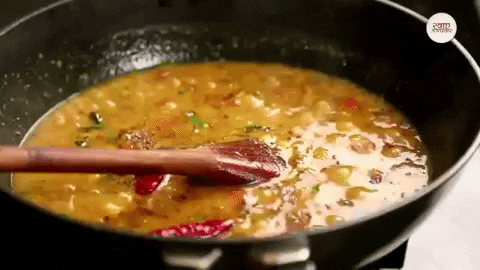 Dal-chawal is the best comfort food for dreary days. But tur dal's popularity with Indians is making traders worry. So much so that they're urging the Centre to promote the consumption of cheaper pulses such as chana, masoor, moong, and yellow peas in lieu of tur.
Why?: Long story short, there isn't enough tur dal to go around. Dal production has decreased by 14% over the past year, per government estimates. Blame inclement weather and farmers opting for cash crops.
Okay, so?: Per Mint, the government has tapped Myanmar to part with 250,000 tonnes of urad and 100,000 tonnes of tur as part of its MoU to ease domestic supply. In related news, the Indian government also requested Tamil Nadu, Andhra Pradesh, and Gujarat to procure chana and masoor dal to deal with the tur dal scarcity. 🥵
LEGACY
An Empire In Conflict
Srichand P Hinduja , patriarch of the London-based Hinduja group who passed away on Wednesday at 87, leaves behind a family feuding to divide the $14 billion empire, with assets ranging from the world's largest bus maker Ashok Leyland and a Swiss bank.
SP, as the billionaire was known, was suffering from dementia and was so marginalised by the family that a London court hearing the family dispute decided to open up the records to subject the family's behaviour to public scrutiny. Although the Hindujas—among England and Asia's richest and famous for remaining united as a family for over a century—have publicly called truce, the fighting is said to continue behind closed doors.
As the oldest in the family, SP led the group's expansion in the second half of the 20th century. He was also entangled in the Bofors case, arguably India's biggest military scandal.
🎧 A series of crypto crimes is forcing South Korea to push for tighter regulation. Also in today's edition: the Hinduja family finds itself entangled in a tussle over the $14 billion empire since the passing of SP Hinduja. Listen to The Signal Daily on Spotify, Apple Podcasts, Amazon Music, Google Podcasts, or wherever you get your podcasts.
GEOPOLITICS
Frenemies, Assemble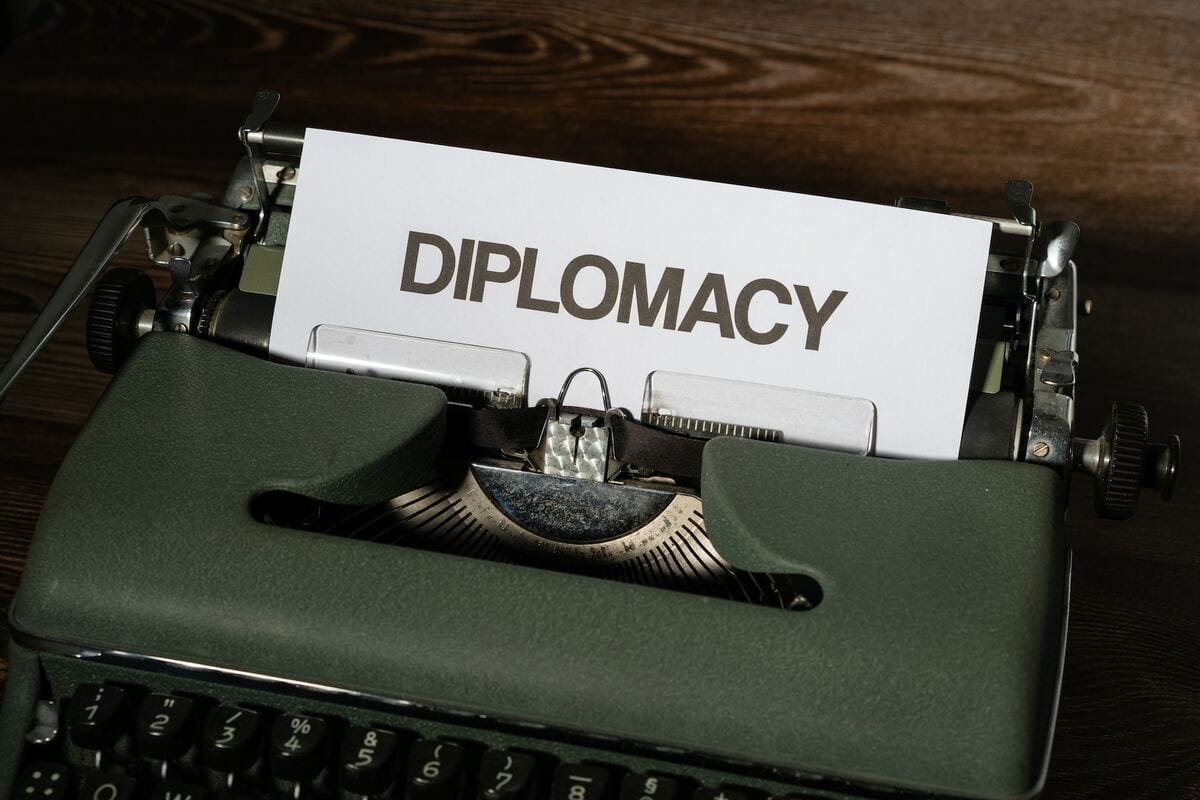 Phew, there's a lot to process.
Chinese president Xi Jinping is hosting Kazakhstan, Uzbekistan, Tajikistan, Kyrgyzstan, and Turkmenistan (C5) for a summit in Xi'an, China. This is the 10th year of China's Belt and Road Initiative. China wants to capitalise on the natural resources and geo-strategic importance of C5 in the backdrop of global hostility towards their former master, Moscow.
Arab League leaders, meanwhile, are converging in Jeddah, Saudi Arabia. It's the first after the 22-member League re-admitted Syria, much to the chagrin of the western world.
Speaking of the west, leaders of G7 (Japan, the US, Canada, Germany, France, Italy and the UK) are meeting in Hiroshima, Japan with counterweights to China—India, Brazil, Vietnam, and the African Union—watching from the sidelines.
Alarmingly for India, curbing Russian diamond trade is on the agenda.
Although not directly on the table, a key to contain the China strategy is the Indo-Pacific Economic Framework (IPEF) which found its way into the US-Japan bilateral.
The Signal
The IPEF is different from other free trade pacts, in that the US is dictating terms and conditions. And not all of them are amenable to an increasingly-important India. The latest US proposal is to incorporate enterprise-level investigations into companies for violations ranging from worker safety to human rights.
While they appear fair, such checks often turn into non-tariff barriers. Similarly, another proposal under "supply chains" may curb India's policy autonomy and competitive edge. All of it without any preferential access to the US market.
CURRENCY
Hawala
Operators' Dream
It was bowled in the Union Budget but the googly turned only now.
What: Credit card transactions in foreign currency will now fall under the RBI's liberalised remittances scheme (LRS), netting them in the 20% tax introduced (effective July 1) in the Union Budget 2023 for most LRS transactions. It moves one step closer to the taxation system of collecting at the point of expenditure than earning.
The 2004 vintage LRS was introduced when India had a comfortable forex pile to allow citizens to freely buy foreign currency. Gone were the Narayana Murthy days of dollar penury.
Shereen Bhan

@ShereenBhan
Fin Min clarifies: Payments by debit cards etc been treated as LRS even earlier. Expenditures through credit cards were not accounted for under LRS limit, led to some individuals exceeding LRS limits.Differential treatment between debit cards & credit cards needed to be removed
May 18, 2023
33 Likes   7 Retweets   1 Replies
What now: It plugs the plastic loophole, but the worst affected will be salaried travellers who will have to wait until filing returns to get the refunds. Indians took out over $22 billion under LRS in the 10 months up to February 2023.
Market grapevine says hawala rates have jumped sixfold.
ENTERTAINMENT
Show Me The Ads
Netflix told US media buyers in a pitch this week that it has five million monthly active users on its ad tier. But this includes people with multiple viewing profiles on the same Netflix account. The platform had just over 900,000 paying subscribers on its ad tier in the US as of March.
Eyeballs: Meanwhile, Indian users are hooked elsewhere. A report by Media Partners Asia found Indian users watched 6.1 trillion minutes of video between last January and this March. 88% of it was on YouTube. It's just as well that YouTube is launching unskippable 30 second ads on connected TVs, and will also inject ads whenever you pause a video (on TV).
In the premium crowd, Disney+Hotstar was the leader, with 38% share of total views. Prime Video and Netflix had just 10% share; viewers came to Netflix for its US titles, not Indian originals.
FYI
Hiding cash: Lenders alleged in a Delaware Court that Byju's Alpha spirited away $500 million out of the company. The edtech firm's lawyers countered that the company was safeguarding itself from predatory creditors.
Shein on you crazy diamond: The Wall Street Journal reports that Chinese fast fashion retailer Shein, whose app was banned by India in 2020, will make a comeback in the country in partnership with Reliance Retail.
Feeling blue: IndiGo, India's largest airline by market share, posted a profit of ₹919 crore ($111 million) for the January-March 2023 period, down 35% from the December 2022 quarter.
Law & Order: Special Victims Unit: India's law minister Kiren Rijiju has been replaced by Arjun Ram Meghwal in a Cabinet reshuffle and reassigned to the Ministry of Earth Sciences.
Hot air: A TechCrunch investigation finds that former OpenAI board member Elon Musk donated $50 million (of which $15 million is traceable) to the nonprofit AI startup, not $100 million, as he'd claimed.
Miniscule: Chinese tech major Alibaba missed analyst expectations with a 2% increase in quarterly revenue and announced that it'd spin off its cloud computing business over the coming year.
High high yeh majboori: The number of employees testing positive for marijuana and amphetamine use has reached a 25-year-high in the US.
THE DAILY DIGIT
$305 trillion
The near-record global debt in the first quarter of 2023, spurred by the worldwide debt pile increasing by $8.3 trillion in January-March this year. (CNBC)
FWIW
Food wars: Today we learnt that the phrase 'Taco Tuesday' is trademarked. We also learnt that US fast food chain Taco John's has owned the phrase in all US states, barring New Jersey, since 1989. Gregory's Restaurant in New Jersey holds the trademark rights for 40 years running. And now, Taco Bell is taking on the two. It wants legal permission to use 'Taco Tuesday', saying that it "simply seeks common sense for usage of a common term.". Taco John's is in no mood to taco about it: instead, it's rolled out a two-week-long Taco Tuesday deal. If you thought this was clamour enough, consider that basketball legend LeBron James also tried to claim the trademark in 2019. Will Taco Bell emerge lucky?
No "Aha!" moments here: Brainstorming sessions are a dud. According to Columbia professor Sheena Iyengar, workers should huddle together only after they've spent enough alone time fleshing out an idea. Alphabet's Google is motivating its workers to spend some time alone in an effort to encourage innovation. Of course, this doesn't mean you will be spared the blah-blah process anytime soon, since return-to-office mandates shill the joy of brainstorming. Anyway, here's your cue to turn this topic into office water cooler conversation.
Godly price: A little over $38 million. That's what the Codex Sasson, the earliest surviving copy of the Hebrew Bible, went for in a recent Sotheby's auction in New York. The sacred Jewish tome was once owned by David Solomon Sassoon—scion of the famed Baghdadi Jewish family that left an indelible mark on Mumbai and Pune—before it reached the British museum, the British Rail Pension Fund, and a Swiss investor, in that order. Current owner Alfred Moses (he who bought it at the Sotheby's auction) will donate the historical document, which was written on 200 sheepskins, to the Museum of the Jewish People in Tel Aviv. If that's not full circle, what is?