Discover more from The Signal
The Signal is a daily curated newsletter that helps you understand the latest developments in business, tech, finance, economy, and policy with sharp analysis and crisp insights thats fun to read arriving at 8AM daily in your inbox.
Over 81,000 subscribers
Tears for fears
Also in today's edition: Ride-hailing may go to hell; Tax havens no more; Reliance weighs Dunzo down; UAE's greenwashing frenzy
Good morning! The redesign of Adolf Hitler's birth house may go ahead as planned, per The Guardian. The house, in the Austrian town of Braunau am Inn near the German border, is being turned into a police station with a human rights training centre. While renovations are set to begin on October 2, the project is expected to be completed by 2025. With it, the Nazi dictator's long-lost wish may come to fruition. According to a local newspaper article from May 10, 1939, Hitler wanted to have his former home turned into an office for local authorities. The house was formerly a tourism site that attracted a wave of Nazi sympathisers. And that's why it is necessary to learn from history.
The Signal is now on Telegram! We've launched a group — The Signal Forum — where we share what we're reading and listening through the day. Join us to be a part of the conversation!
🎧 Robotaxis in the US has sparked a bit of chaos. Also in today's episode: AI-generated art can't be copyrighted. Listen to The Signal Daily on Spotify, Apple Podcasts, Amazon Music, Google Podcasts, or wherever you get your podcasts.
Today's edition also features pieces by Jaideep Vaidya, Srijonee Bhattacharjee, and Julie Koshy Sam.
If you enjoy reading us, why not give us a follow at @thesignaldotco on Twitter Instagram and Threads.
The Market Signal*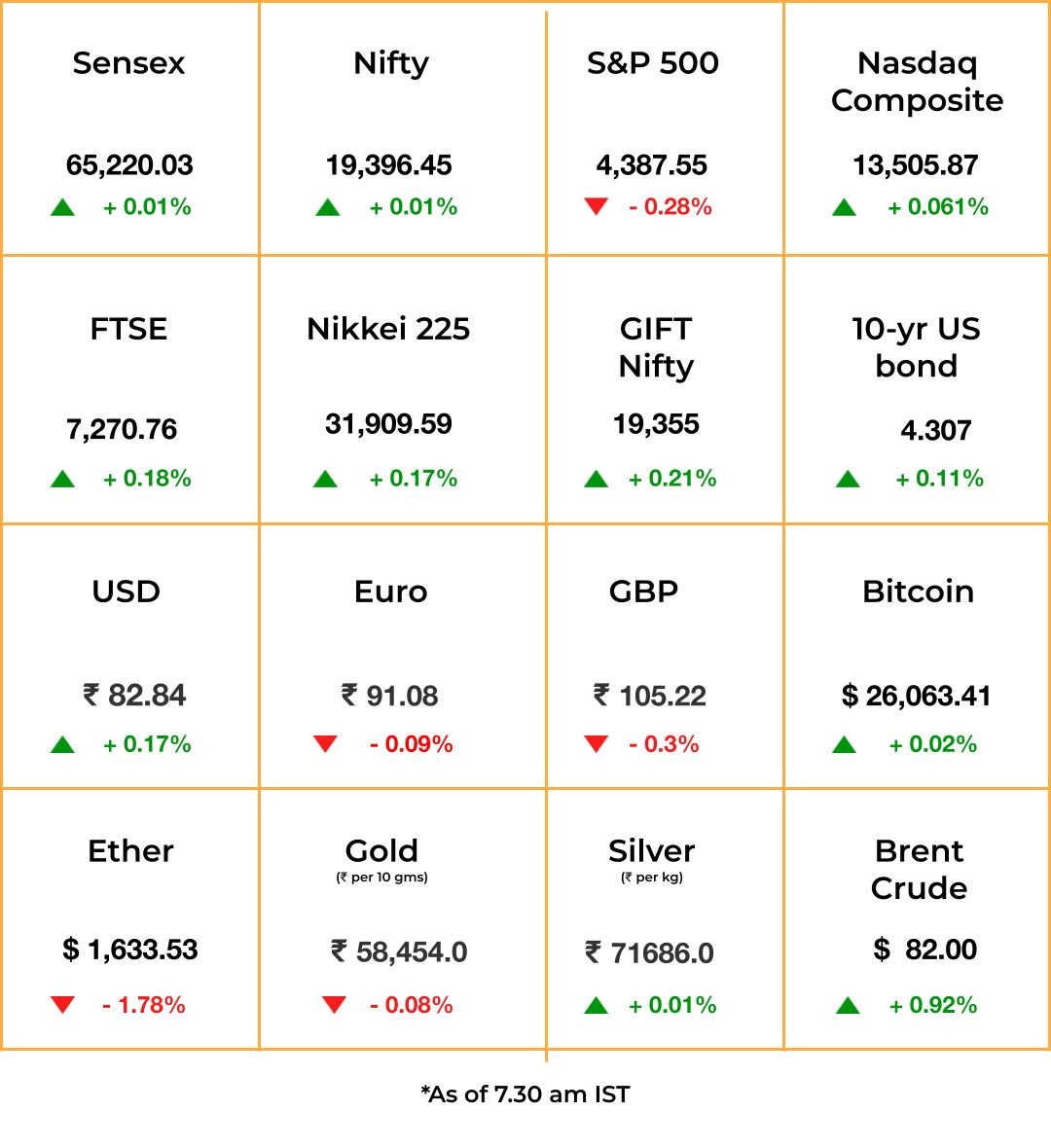 Stocks and economy: Indian equities may not take a decisive direction before US Fed Chair Jerome Powell's speech at the Jackson Hole Summit on Friday. Domestic indices are likely to mirror US counterparts, where investors grew more nervous as treasury yields refused to halt.
Volatility in currency trading has come off and trading desks, paralysed by the 'wait and watch' mode, took heavy losses.
A cocktail of shrinking global liquidity, risk-off sentiment and rupee weakness could lead to reversal in some foreign portfolio investments. However, domestic conditions could change as systemic liquidity has dried up and the RBI has begun injecting cash into the system. A survey of economists also estimated April-June GDP growth at 7.8%, higher than earlier anticipated.
Jio Financial Services slid more on Tuesday as index traded funds tried to get rid of their holdings before the imminent removal of the stock from benchmark indices.
PRICES
Sweet Sauce For Goose, Bitter Pill For Gander
Doesn't matter how the Indian government slices the issue, there will be tears. It hiked onion export duty to 40% to ensure local supply and soften the blow of rising prices on the middle class (read voters). But this has angered farmers (read miffed voters) who were hoping for a bonanza.
Maharashtra farmers, who grow 40% of the bulbs produced in the country, erupted in protest, prompting deputy chief minister Devendra Fadnavis to make frantic calls to the union home and commerce ministers. At least one ally of the ruling Bharatiya Janata Party has also joined the protest.
So, the government is doing what it does best: buy from farmers at a high price and sell to consumers, likely lower, making the taxpayer pay the difference. Else, prices will rise anyway because farmers won't release their produce.
MOBILITY
Licence To Kill…
…fleet operators and cab aggregators, at least in the short term. That's how the industry is interpreting a possible Supreme Court (SC) ruling, scheduled for September 13.
Details: The SC is hearing a case about light motor vehicle (LMV) licence holders driving transport vehicles. India has 400,000-500,000 drivers on platforms such as Ola and Uber, according to a fleet operator quoted by The Economic Times. Of these, 70% have LMV licences.
If the SC rules that such drivers should only operate on commercial licences, it'll put drivers in a tight spot. Commercial licences are cumbersome to obtain and renew. Migrant drivers will have to return to their hometowns to register, meaning they'll bear additional costs and lose out on earnings. The outcome: a severe driver shortage for aggregators and fleet operators.
Here's hoping your city or town has decent public transport in the event of an adverse hearing.
TAX HAVENS
Caribbean Sunshine No More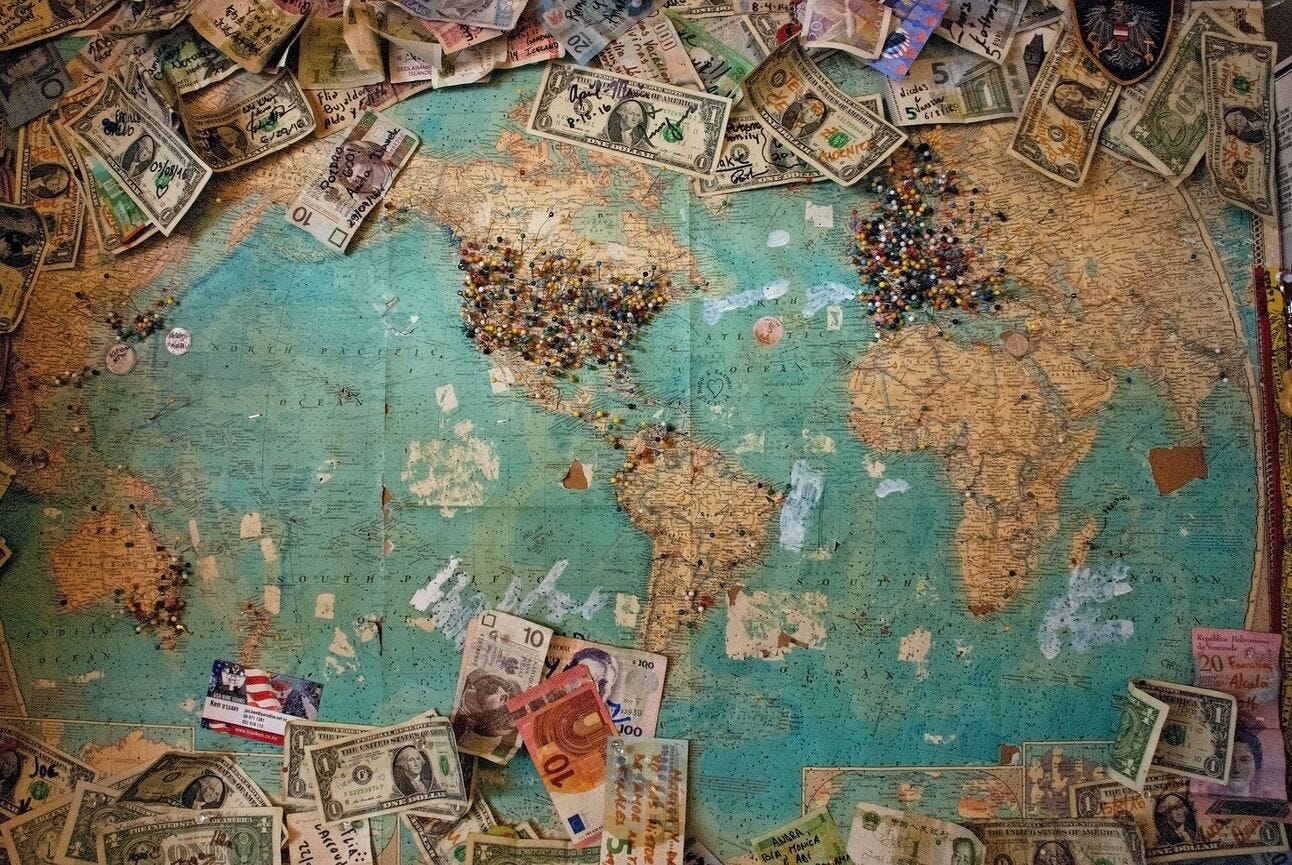 Photo by Christine Roy on Unsplash
The Economist reports that the British Virgin Islands (BVI) is losing its mojo as a tax haven. The population of companies registered there has dropped by a fifth since 2011. Other financial enclaves, such as the Cayman Islands, where hedge funds roost, and insurer-favourite Bermudas, have also lost their popularity. BVI was great for incorporation services.
While a global crackdown on money laundering alongside the United States' post-9/11 hunt for terror financiers played a part, the latest blow was an initiative by the Organisation for Economic Cooperation and Development (OECD) to introduce a global minimum corporate tax of 15%. It was largely driven by the US, which was smarting at several of its hugely profitable companies, such as Apple, Google, and Meta, hiding profits in tax havens.
The Signal
BVI is a readily recognisable location for Indians, too. The Caribbean islands have featured in quite a few sensational corporate revelations, including 2G telecom spectrum allocation, arms deals, and most recently in Hindenburg Research's report on the Adani Group. Media investigations such as the Swiss Leaks and Panama Papers about Indian stashes in secretive jurisdictions prompted the government to establish information treaties with them, reducing their lure. But money simply moved to other destinations with liberal tax regimes, such as Dubai and Singapore. Delaware in the US has emerged as a preferred destination for incorporation. OECD's global corporate tax is not yet final, and a change in the White House could set it back. Already, companies have wangled some concessions.
QUICK COMMERCE
Rock. Dunzo. Hard Place
The drowning quick-commerce startup has a potential lifeline in sight, but there's a humongous rock weighing it down. A rock called Reliance Retail.
The Economic Times reports that cash-strapped Dunzo has received a soft commitment for funding worth tens of millions of dollars from multiple investors, but only if its valuation is reduced by ~50%. And while the $800 million-valued startup is fine with that, since it desperately needs money to pay deferred salaries and clear vendor dues, its largest investor isn't.
Reliance Retail infused Dunzo with ~$200 million in January 2022 for a ~26% stake. A slashed valuation would mean a significant loss for India's largest retailer. While there is some hope that Reliance Retail will step in to save its investee, as we've written earlier, it might just be waiting for Dunzo to run out of gas completely before acquiring it.
CLIMATE CHANGE
From Sportswashing To Greenwashing
Over at The Playbook, we've written about the Gulf States, particularly Saudi Arabia and Qatar, indulging in sportswashing. Now the United Arab Emirates—whose ruling family too has fingers in the football pie—is reportedly mulling a green fund, worth at least $25 billion, to finance clean energy investments worldwide.
Nice timing: UAE is hosting COP28 starting November 30. The climate change summit's president-designate (and the Emirate's envoy for climate change) is Sultan al-Jaber, chief of the Abu Dhabi National Oil Company. Al-Jaber has long been criticised for burnishing oil-rich UAE's poor climate record.
The UAE also isn't known for offering concessional financing, which is what low-income countries need for energy transitions.
Elsewhere: Japan will release treated nuclear waste from the Fukushima plant into the Pacific Ocean, much to the ire of local fishing groups and China. And Ecuador voted in a landmark referendum to ban oil drilling in the Amazon.
FYI
Jio dhan dhana dhan: Reliance Jio is set to enter the fixed wireless access or FWA market—wireless broadband, in other words—in the upcoming quarter with a competitively priced offering, per The Economic Times.
Breakdown: Tiger Global and Peak XV Partners are among four investors of car-service startup GoMechanic that have requested the Economic Offences Wing to investigate the role of the company's four co-founders in misreporting financials.
Secret chips: US-based chipmakers' body, Semiconductor Industry Association, has warned that Huawei Technologies is building a secret network of chip fabs across China with $30 billion state funding.
Catapult bid: Torrent Pharma has joined the race to buy Cipla which is more than double its size by key metrics. A successful bid will make Torrent the second biggest Indian drugmaker by revenue.
Chomp: American private equity firm Roark Capital is reportedly close to winning the race to snap up the Subway restaurant chain, with a bid of $9.6 billion.
Compromise: To win over UK regulators, Microsoft is restructuring its Activision Blizzard deal to transfer the cloud gaming rights for the publisher's titles to Ubisoft.
Deadlock resolved: Three months after its general election, Thailand's Parliament picked real estate mogul Srettha Thavisin as the country's next prime minister.
THE DAILY DIGIT
$1.3 billion
The estimated value of watches reported missing or stolen in 2022. Pickpockets seem to have an affinity for Rolex; the brand accounted for 44% of all stolen watches. (Fortune)
FWIW
You're not alone: You're not the only one who can't figure out what characters are saying on streaming shows. Muddled audio is why 50% of Americans, surveyed by Preply, turn on subtitles for a better viewing experience. Turns out that the audio is compressed to ensure that sound is carried through relatively weak device speakers. Another culprit: modern flat TVs with speakers that point downward or are behind the screen. Thankfully, media and tech companies are wisening up. Amazon, for instance, has introduced the Dialogue Boost feature to increase the volume of speech in a scene. Until then, keep those subtitles on.
Salad and fries, anyone?: Diners in the US are ordering the combo and doing away with main courses altogether. Take New York City-based 54 Below, which has added more folks to its team to keep up with the demand for salad (?!). According to consulting firm Technomic, 15% of American patrons chose sides as their main course last year. This could also hint at people making cutbacks in their eating habits to save money. An associate director of consumer trends at market research firm Mintel, Diana Kelter, believes the salad-and-fries trend may also be an attempt at portion control while on a budget. We'd just call this girl dinner.
Speaking of food..: ...can a £22 ($28) loaf of bread cure irritable bowel syndrome? Apparently. The 16-ingredient gluten-free wonderloaf, which includes teff flour, chia seeds and 'generatively farmed' egg (whatever that means) has fans in Goop founder Gwyneth Paltrow and actress Goldie Hawn. Described as a '2 Day Soaked Wholegrain Chia Teff Loaf', The Happy Tummy Loaf hasn't won approval from nutritionists as yet. Professor Tom Sanders states: "…they consist of the weasel words of marketeers and are not based on robust science." Let's just call this thing word salad instead.