Discover more from The Signal
The Signal is a daily curated newsletter that helps you understand the latest developments in business, tech, finance, economy, and policy with sharp analysis and crisp insights thats fun to read arriving at 8AM daily in your inbox.
Over 81,000 subscribers
Omicron may not be the real worry
Also in today's edition: Future misses a payment, Apple faces fresh blow, China's real estate needs a pick-me-up, Stocks ace 2021
Good morning and a Happy New Year! It was not just a must-have accessory. The BlackBerry was the talisman of the financial world. Wall Street hotshots made deals on the Berry. Its instant messaging was the forerunner of the encrypted conversation that was groovy for the suits but drove snoopy governments up the wall. It will die on January 4, The Verge reported. Except those running Android. But that won't be the Berry, right?
The Market Signal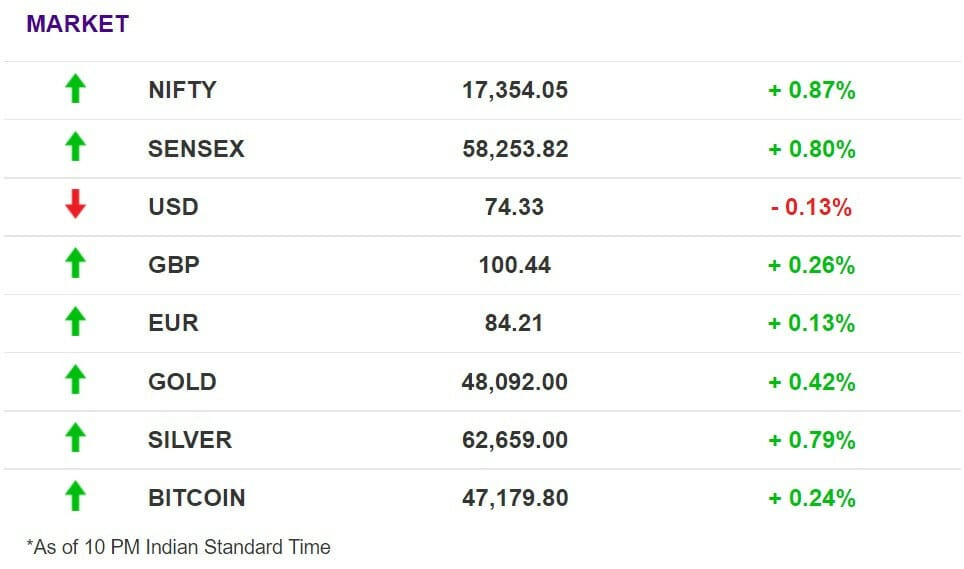 Stocks: Indian stocks ended 2021 on a four-year record. The NSE gained 24% and the BSE 22% as easy liquidity, record corporate earnings and millions of novice investors drove equity prices to new highs. The BSE crossed the 60,000 mark and the NSE topped 18,000 although the two benchmarks ended the year lower. 
Apple Begins 2022 On A Sticky Wicket
Apple may have ended 2021 with its stock hitting all-time highs, but it finds itself in a spot of bother in the New Year.
Triple whammy: Last week, a workers' protest shut down its contractor Foxconn's iPhone assembly unit in Sriperumbudur, Tamil Nadu over a food-poisoning outbreak and crowded dormitories. Apple has since put the plant in "probation" and launched an investigation. On New Year's Eve, the Competition Commission of India ordered a probe into the company's business practices. The government wants the company to make products worth $50 billion in India, rivalling China as a sourcing and exporting base.
What's Cook-ing? While Apple is China's top smartphone maker, the company is coming through on Tim Cook's secret deal with the Chinese government. It is working closely with local Chinese electronics companies such as Luxshare at the cost of its traditional Taiwanese assembler, Foxconn.
Elsewhere: Apple is also sparring (yet again) with Tumblr (yes, it's alive!) over "mature" content on its app—well, that includes hashtags with numbers like 69 and 420. Tumblr has now banned these terms to comply with App Store's rules.
Future Tense
Future Retail has been downgraded to 'default' after missing its deadline to repay lenders.
The repayment—which was due on December 31, 2021—is a critical obligation in Future Retail's one-time restructuring (OTR) scheme. The Kishore Biyani-led group is supposed to raise ₹3,000 crore by selling its small-format stores nationwide. The amount will go towards reducing a ₹6,278 crore debt, which the group owes to eight Indian banks.
A rock and a hard place: As per a 2020 agreement, Future Retail cannot sell its stores to anyone other than Reliance Industries. But this merger is itself stalled due to Future's dispute with Amazon.
Amazonian standoff: Amazon has a stake in Future Coupons and has been trying to block the Future-Reliance deal for over a year despite finding no favour with the Competition Commission of India. Whether Future will repay lenders soon while seeing Amazon off remains to be seen.
Omicron's Surging, So Are Previous Variants
While Omicron spread global panic in the dying weeks of 2021, the world ended the year on a hopeful note.
Wave ebbs: South Africa, where Omicron was first spotted, has eased curbs as data showed a 29.7% weekly drop in new cases detected in the week ending 25 December.
No respite: Covid-19, however, continued to play party pooper. The disease combined with bad weather to spoil the US New Year. The US reported 2,723 flight cancellations.
Resurgent: Covid-19, including Omicron, appears to be rearing its head again in India. The country had 27,553 new Covid-19 cases on January 1 and 284 deaths. The Omicron tally was at 1,525.
Delhi and Maharashtra recorded massive surges in daily infections. Delhi had 3,194 fresh cases on January 2 and Maharashtra found 9,170 new infections on January 1. The Capital's test positivity rate has jumped to 4.59% from 2.44% on December 31.
The Signal
The fast-transmitting Omicron is a cause for concern but more worryingly, Maharashtra and Delhi seem to indicate that the previous variants are still going strong. Although infections are rising steeply, Omicron numbers are still only a fraction of the total.
Meanwhile, the shields are going up. From January 10, those above 60 can get booster doses of vaccines. Children above the age of 15 will start getting vaccines from today. Companies are urging staff to get booster doses whenever they are available. There are niggles too. Hospitals in Karnataka may not start vaccinating children because about 6 lakh vials of Bharat Biotech's Covaxin are close to expiry as per their labels. The company, however, says they are good to use for up to one year.
Another Blockbuster Year For Stocks
It may appear like a paradox. The past three years have been among the worst for the world economy in decades but global equities delivered handsome returns to investors.
The rising: The FTSE All-World Share Index grew by 16.7% in dollar terms in 2021. It had risen 14.1% in 2020. In 2019, it had jumped 24%. The S&P 500 rose nearly 27% in 2021, led by oil and property stocks. It has doubled since 2018.
Ever since the Global Financial Crisis of 2008-09, central banks and governments often coordinated efforts to fight crises. Fiscal stimulus measures and easy monetary policies helped absorb the impact of Black Swan events. The same measures also insured corporate earnings and ensured steady flows into equities.
A Hill To Climb For Chinese Developers
It's a new year but China's property sector is hamstrung by old issues: debt maturities, falling home sales and uncertainty over a proposed property tax.
According to a Bloomberg report, the sector has to clear more than $197 billion debt this month in maturing offshore bonds and other payments. This can be hard unless the government steps in to help. Financiers are reluctant to lend or buy equity in property developers. Global liquidity will likely dry up as more central banks tighten monetary policy to fight inflation.
Stock investors lost more than $90 billion of market value from their holding in Chinese property stocks last year. Moreover, home sales are also likely to drop between 5% and 10% this year.
What Else Made The Signal?
Retail dust-up: Distributors in Maharashtra will stop supplying Colgate Palmolive products in the state to highlight the price disparity between traditional and organised B2B distributors. They had already stopped supplying Hindustan Unilever items.
Busted: Tax police raided major domestic cryptocurrency exchanges, uncovering reportedly ₹70 crore in tax evasion. Meanwhile, crypto platforms are also setting eyes on NFTs to scale up.
It'll rain IPOs: Twenty-three companies, including OYO and Delhivery, are expected to hit the market to raise a total of ₹44,000 crore in the first quarter of 2022. In 2021, 63 companies raised ₹1.2 lakh crore.
Shanghai-verse: Shiny Shanghai is headed to the metaverse. Local authorities have put out a five-year development plan to encourage metaverse in public services, offices and entertainment.
More money: Mobile-first credit card company OneCard secures $75 million in fresh funding, putting its valuation to $722 million. D2C start-up Mamaearth is the first unicorn of the year.
Pay up: You may have to pay more for your lunch. Food delivery apps Zomato and Swiggy are liable to pay 5% GST on services.
In top gear: Tata Motors beat Hyundai to become the second-largest seller of passenger vehicles in December 2021.
FWIW
Power up the dance floor: A nightclub in Glasgow, Scotland, has a rather novel way to reduce its carbon footprint. SWG3 wants you to put on your dancing shoes. The plan involves trapping body heat from the dancers on the floor to supply heat and hot water to the building. What's more? This energy can be stored for months, long after the party lights are out.
Lick and chill: A Japanese professor has created a "lickable" TV screen that can mimic food flavours. The device, Taste the TV (TTTV), employs flavour canisters that release in combination to imitate food. The flavour is sprayed over a sheet of film, which users can sample. We are not sure if we'd file this under a palatables' list.
Costly blunder: About 75,000 people received a Christmas miracle. The Spanish lender's UK bank* Santander gave away $175 million to customers on Christmas Day from its coffers. The scheduled payments were accidentally duplicated due to a technical glitch. Now, the bank is clamouring to get its money back.
* — The original version of the copy mentioned the UK bank. Santander is a Spanish bank, not a British one. We regret the error.
Want to advertise with us? We'd love to hear from you.
Write to us here for feedback on The Signal.