Discover more from The Signal
The Signal is a daily curated newsletter that helps you understand the latest developments in business, tech, finance, economy, and policy with sharp analysis and crisp insights thats fun to read arriving at 8AM daily in your inbox.
Over 81,000 subscribers
Netflix seizes its India moment
Also in today's edition: SVB saga continues; Apple leans on India; Grounded aircraft ail Indian aviation; Whose business is it anyway?
Good morning! In 1969, Sesame Street's tall yellow Big Bird confused the alphabet for a single "most remarkable word I've ever seen - ABCDEFGHIJKLMNOPQRSTUVWXYZ", and the iconic ABC song was born. Errors of comprehension happen to the best of us, but Google's parent Alphabet can ill-afford them. Its AI chatbot Bard already generated an inaccurate answer in a demo last month, dragging Alphabet's stock down. Google is now reportedly testing a smarter version of the bot, internally called Big Bard. As long as it gets the ABCs right and doesn't try to break up users' marriages (like Bing AI did), we should be good to go. Or maybe we'll stick to basic Googling for just a little bit longer.
Today's edition also features pieces by Jaideep Vaidya, Venkat Ananth, Srijonee Bhattacharjee, and Julie Koshy Sam.
If you enjoy reading us, why not give us a follow at @thesignaldotco on Twitter and Instagram.
The Market Signal*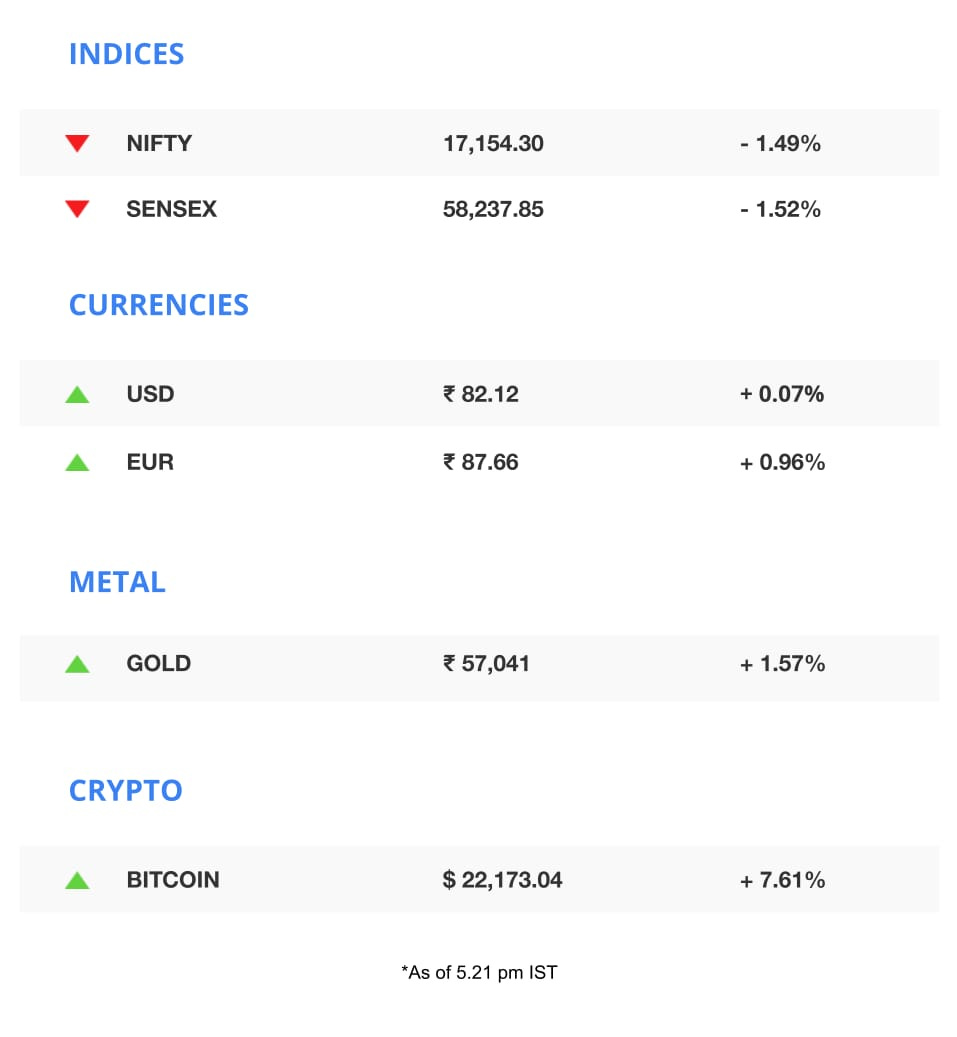 Stocks and economy: Indian equities will continue to be weighed by the loss of investor appetite for risk globally over fears that the Silicon Valley Bank debacle may swiftly turn into a broader financial system crisis. While share indices across Asia slid, the SGX Nifty indicated a muted start for the index that lost 1.5% on Monday.
Fears of a contagion in the US persisted and shares of another regional bank, First Republic plummeted even as it met withdrawal demands by securing additional funding.
Banking stocks are under fire across economies. Shares of HSBC London fell as it announced the acquisition of SVB Bank's UK subsidiary for a token amount of a pound.
While US regulators take measures to assuage concerns, investors now see less than 60% possibility of the US Fed hiking rates by even a quarter basis point next week. The dollar lost ground as investors fled to the safety of gold and silver.
ENTERTAINMENT
Oscar Wins Firm Up Netflix India's Pitch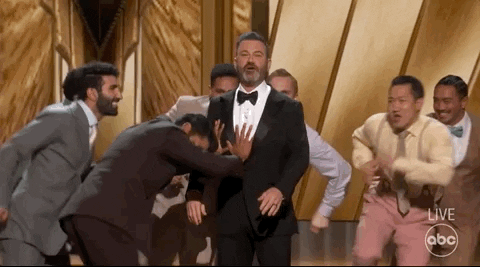 India made a splash at the 2023 Oscars, all thanks to RRR's song Naatu Naatu and documentary short The Elephant Whisperers. And Netflix is cashing in on the hype.
Guneet Monga

@guneetm
Tonight is historic as this is the first ever Oscar for an Indian production.
Thank you Mom Dad Guruji Shukrana 🙏🏾 To my Co-Producer Achin Jain, Team Sikhya, Netlflix, Aloke, Sarafina, WME Bash Sanjana.  My lovely Husband Sunny.
Kartiki for bringing & weaving this story http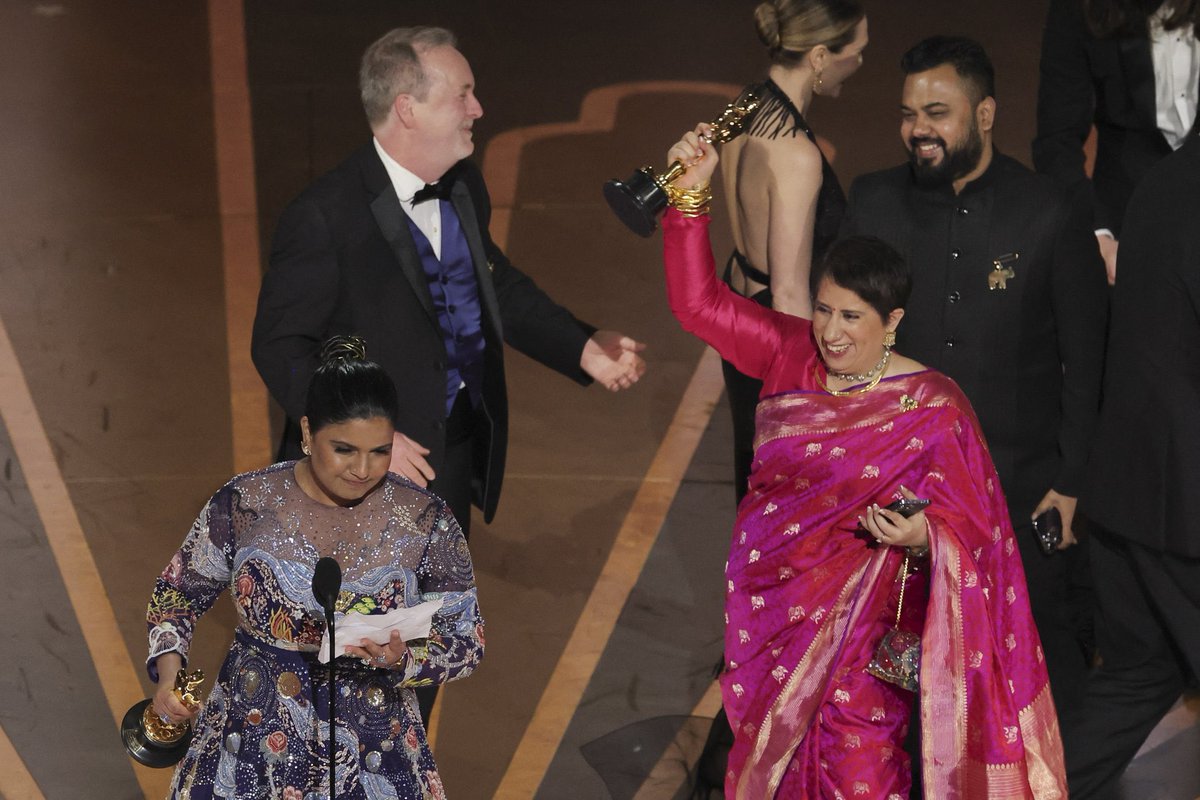 Mar 13, 2023
27.9K Likes   3.03K Retweets   385 Replies
Ticking boxes: Last January, Netflix was scrambling to get its India strategy right. It finally began pivoting from being the American streaming service in India to a conduit of 'rooted' Indian stories at home and abroad.
As part of its focus on regional content, Netflix grabbed the Hindi dub of RRR, which became one of its most-watched titles in 2022 globally. Two non-Bollywood Oscar winners will cement this pivot for Netflix, which made hefty investments in India last year, including opening a post-production facility in Mumbai. It possibly explains why Netflix has earmarked a bigger content budget for India.
If it plays its cards right, Netflix could front an Indian version of the Korean wave—it dedicated $500 million for its biggest-ever Korean content slate this year.
🎧 We give you the lowdown on the Silicon Valley Bank collapse. Also in today's edition: Oscar nods could work in Netflix India's favour. Listen to The Signal Daily on Spotify, Apple Podcasts, Amazon Music, Google Podcasts, or wherever you get your podcasts.
BANKING
Skirting The Doom Loop
Rishi Sunak put on his investment banker cloak for a night. The British prime minister pulled an all-nighter with the Bank of England to find a buyer for Silicon Valley Bank's (SVB) UK operations. They convinced HSBC to buy it for £1.
A win: The sweeteners in the deal, if any, are not yet known, but the speed with which the UK government acted will surely soothe frayed nerves in the market. It also gives Sunak the prized halo of a problem solver.
No win yet: The Joe Biden administration in the US was still scrambling to find a buyer for SVB to avoid a costly taxpayer-funded bailout. Another auction is in the offing.
Rep. Jeff Jackson

@JeffJacksonNC
Last night we had an emergency Zoom call with most of Congress to stop a bank run.
Here's the situation: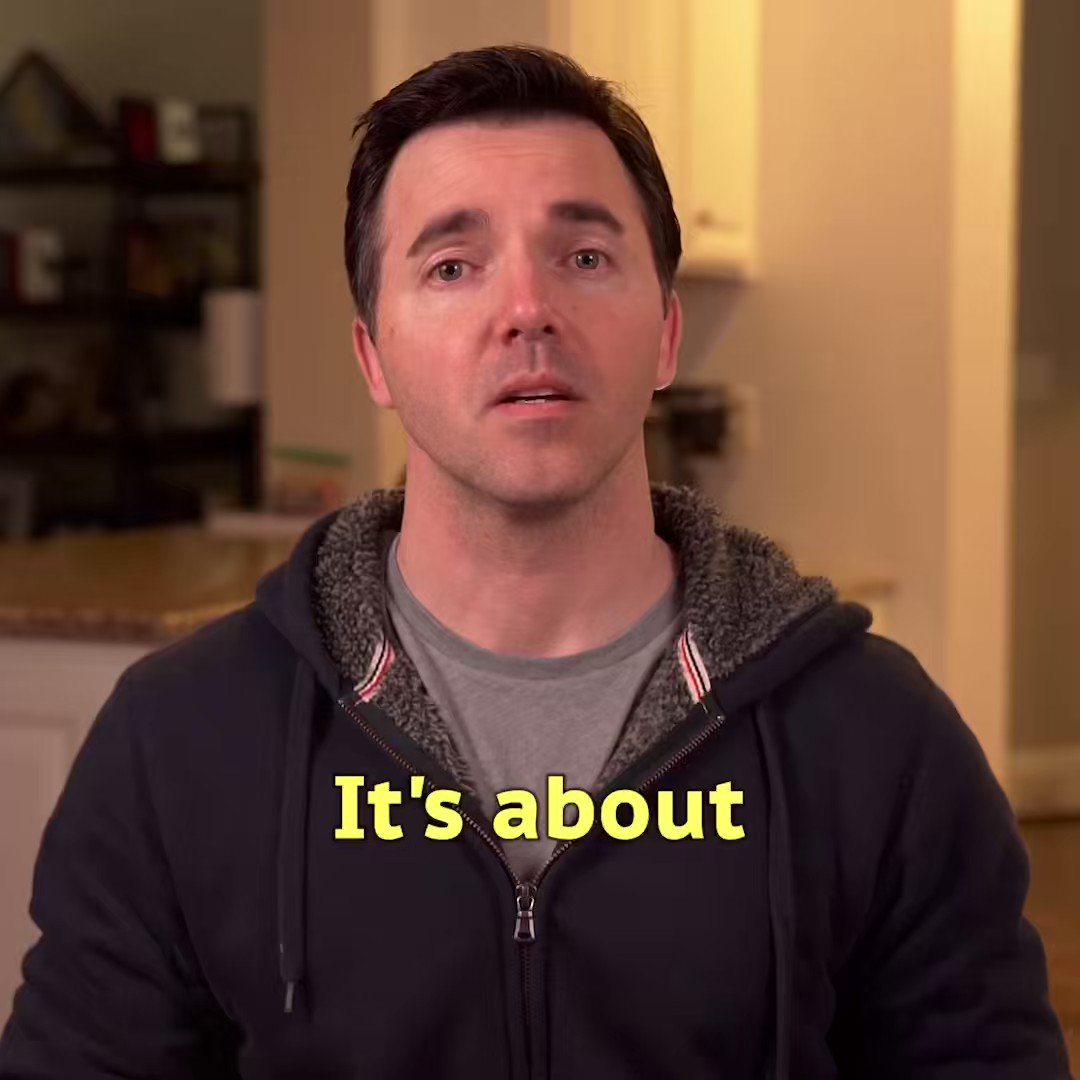 Mar 13, 2023
4.59K Likes   1.38K Retweets   388 Replies
Some founders and VCs got lucky. Indian startups that have deposits with SVB are, meanwhile, mulling en masse withdrawals.
TECHNOLOGY
Apple's Growing India Appetite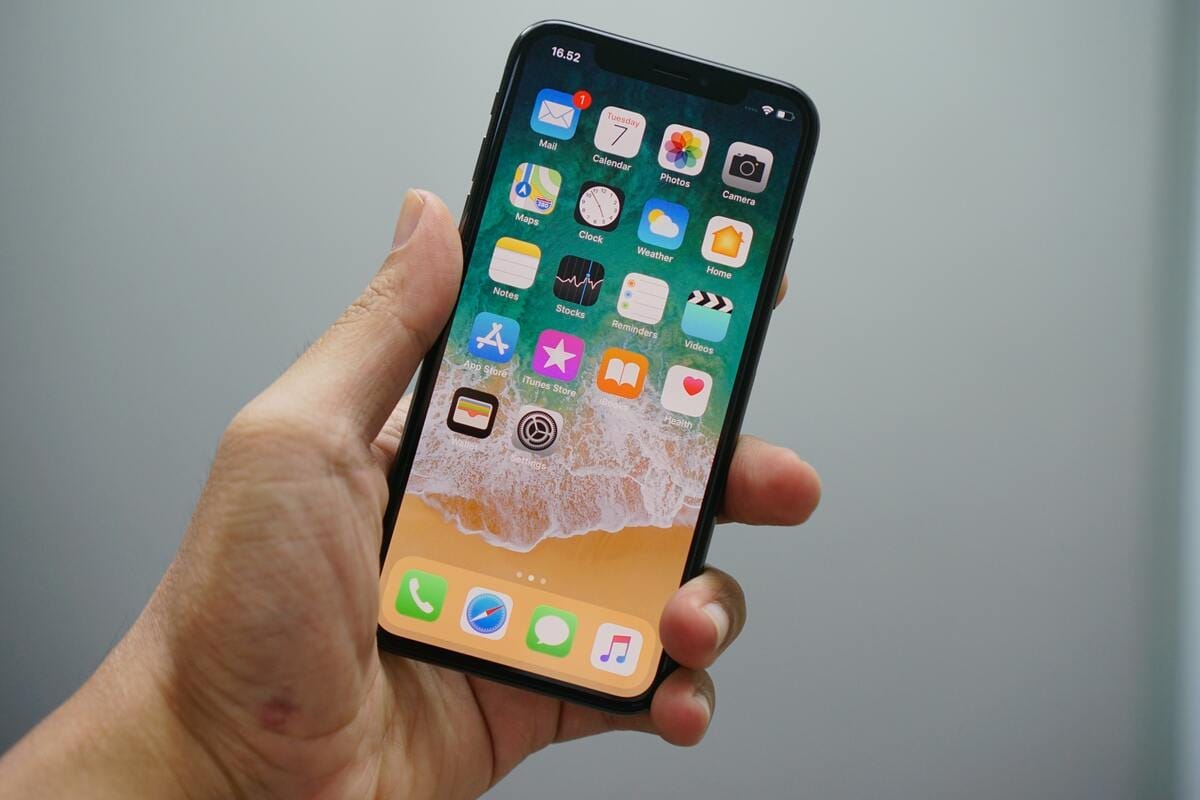 Bagus Hernawan/Unsplash.com
The tech behemoth has been trying to move some manufacturing from China to India for a while; its top supplier Foxconn has successfully lobbied for a new labour legislation in Karnataka, allowing it to run its facilities in the state in double shifts, akin to China.
India is also lapping up more iPhones—sales rose 16% year on year in 2022, giving Apple the lead in the premium (>₹30,000) and ultra premium (>₹45,000) smartphone segments. iPhone 13 was India's best-selling smartphone last year.
Centre-stage: Apple also plans to break India out as a separate sales region, per Bloomberg. Its India head Ashish Chowdhary will report directly to the company's head of product sales. And the first Apple stores in Mumbai and Delhi will reportedly come up sometime early this year.
The Signal
Apple's interested in India's consumers and manufacturers, but what's in it for us? A number of factors must come together for its India plans to be mutually beneficial. While sales and instalment schemes helped Apple boost device sales in India last year, the burden of making things affordable was put on banks (such as HDFC) and e-commerce companies (like Flipkart). While Apple held its margins, its sales declined by 5% in the December quarter.
Also: will Apple finally offer services like Fitness+ and News+ here? Apple is also known to negotiate hard with its suppliers, and Foxconn is trying to diversify out of iPhones so it can boost its paltry 6% margin. It'll have to work hard to find sustainable scale for India operations.
AVIATION
Aircraft Are Hang(ar)ing On
India might have scorched the outbound airline charts in Asia-Pacific in February, but 102 commercial aircraft of Indian carriers are stuck in the hangar, according to data from aviation analytics firm Cirium. If these aircraft were fit and flying, it could potentially translate to 400 daily flights between Mumbai and Delhi, reported Business Standard.
But why? In Indigo and Go First's case, delays in the supply of engines by their provider Pratt & Whitney are somewhat responsible for over 50 of their grounded planes. Spicejet's takeoff woes (including deregistering of aircraft) are due to its evolving financial situation.
New bird: Saudi Arabia's crown prince just launched a new international airline—Riyadh Air. It'll be owned by Saudi Arabia's sovereign wealth fund, Public Investment Fund (PIF), which is closing in on a $35 billion deal with Boeing for 100+ jets, including some wide-body ones.
CONGLOMERATE
The Skeletons Keep Tumbling Out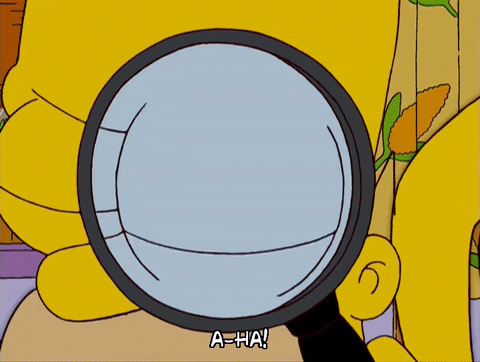 The Adani Group has completed the prepayment of margin-linked, share-backed loans worth $2.15 billion before a March 31 deadline. The founders have prepaid $2.65 billion within six weeks, a company statement said, including a $500 million loan taken to acquire Ambuja Cements last year.
But here's where things get interesting. Even as Adani is looking to sell a 4.5% stake in the cement company to raise funds, regulatory filings show that the group doesn't even own Ambuja Cements and ACC. The ultimate beneficiaries of the special purpose vehicle that acquired the two companies are Vinod Adani, group chairman Gautam Adani's brother, and his wife Ranjanben through multiple offshore entities, reports The Morning Context.
This aligns with US-based short-seller Hindenburg Research's claims in its January report. The Adani Group had denied that Vinod Adani holds a managerial position in any of its listed entities or their subsidiaries.
FYI
Done deals: Pharma major Pfizer will acquire oncology-focused biotechnology company SeaGen in a $43 billion deal. American private equity firm Silver Lake led a consortium to buy out software company Qualtrics for $12.5 billion and take it private.
Moving up: India's Supreme Court has referred petitions related to legalising the marriage of same-sex couples to a five-member constitution bench. The matter will be heard from next month.
Going down: India's retail inflation marginally declined to 6.44% in February from 6.52% in January, according to government data. However, the inflation rate continues to remain above the Reserve Bank of India's upper tolerance level of 6%.
Quick change: Tim Mayopoulos, the former head of Fannie Mae, has been appointed to head a newly-created bridge entity called Silicon Valley Bank NA. Meanwhile, German authorities have moved to impose a moratorium on SVB's German branch.
Enough: Bali is banning foreign tourists from using motorcycles on the island after multiple—and even fatal—incidents.
Gloves off: Tech giant Microsoft laid off its ethics and society team within AI, as part of the recent round of layoffs, Platformer reported. The move comes amid Microsoft's renewed and aggressive AI push.
Full stop: US tech startup accelerator, Y Combinator, is cutting down on late-stage funding, according to The Information. This development has cost roughly 20% of the workforce—17 employees—their jobs.
THE DAILY DIGIT
$52.1 billion
The amount raised by 3,198 AI startups in 2022. But the VC funding deal volume in the AI space fell by 4% compared with 2021. (Livemint)
FWIW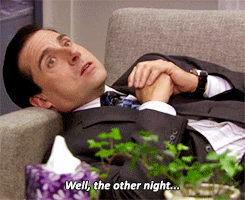 Open up: We don't know if this is guilt, but corporate is bringing the therapist's couch to their offices. Top law firms in the UK, such as Hogan Lovells and Linklaters, and US banks JPMorgan Chase and Goldman Sachs, are offering free therapy sessions as a corporate perk. About 30% of US employers already either offered or were seriously considering this as an option in 2022, up from 25% at the start of the pandemic. If you ask us, sharing a therapist with your boss doesn't sound like an encouraging idea (remember, boundaries?).
Split milk?: Lab-grown diary is now a thing. Involving a process called precision fermentation, which is also responsible for brewing your beer BTW, cowless dairy is made using yeasts or fungi. This is still no respite for people with dairy allergies, though. A handful of companies are already selling yoghurt, cheese, and ice cream made by precision fermentation across grocery shelves in the US. Of course, food giants such as Nestlé, Starbucks, and General Mills are queueing up to milk the trend. Much like lab-grown meat, we wonder if we will witness its descent into irrelevance.
Test of time: Second-hand luxury watches are having their time in the sun. Investment returns on brands such as Rolex and Patek Philippe are outpacing the US stock market. It is all about the money here, with numbers going 2x or 3x the original price. Rolex jumped onto the bandwagon by officially selling its used watches in December 2022. Second-hand platforms and millennials, who are into preowned luxury goods, are fueling the trend. We get it: rather a bulletproof investment than a persistent headache.