Discover more from The Signal
The Signal is a daily curated newsletter that helps you understand the latest developments in business, tech, finance, economy, and policy with sharp analysis and crisp insights thats fun to read arriving at 8AM daily in your inbox.
Over 81,000 subscribers
How to train your dragon
Also in today's edition: Paytm on sound footing; a16z is ageing like milk; Apple's webtoon bet; Bling brigade
Good morning! The world's most influential sporting body seems to have caved in to fan pressure. Eurogamer reports that the International Olympic Committee (IOC) has added battle royale shooter Fortnite at the last minute to its Olympic Esports Series. It's a significant U-turn for the IOC, which had chosen Tic Tac Bow, Just Dance, Virtual Taekwondo, and mostly virtual analogues of real sports over "violent" shooter games. Looks like IOC members belatedly realised that shooting is a legitimate Olympic sport. Whatever the reason, Fortnite will now have a specially-designed island for the Esports Series.
🎧 Post-pandemic music concerts are a hit. Also in today's edition: tech giant Apple is getting into South Korean webtoons. Listen to The Signal Daily on Spotify, Apple Podcasts, Amazon Music, Google Podcasts, or wherever you get your podcasts.
The Signal is now on Telegram! We've launched a group — The Signal Forum — where we share what we're reading and listening through the day. Join us to be a part of the conversation!
Today's edition also features pieces by Roshni P. Nair, Venkat Ananth, Srijonee Bhattacharjee, and Julie Koshy Sam.
If you enjoy reading us, why not give us a follow at @thesignaldotco on Twitter and Instagram.
The Market Signal*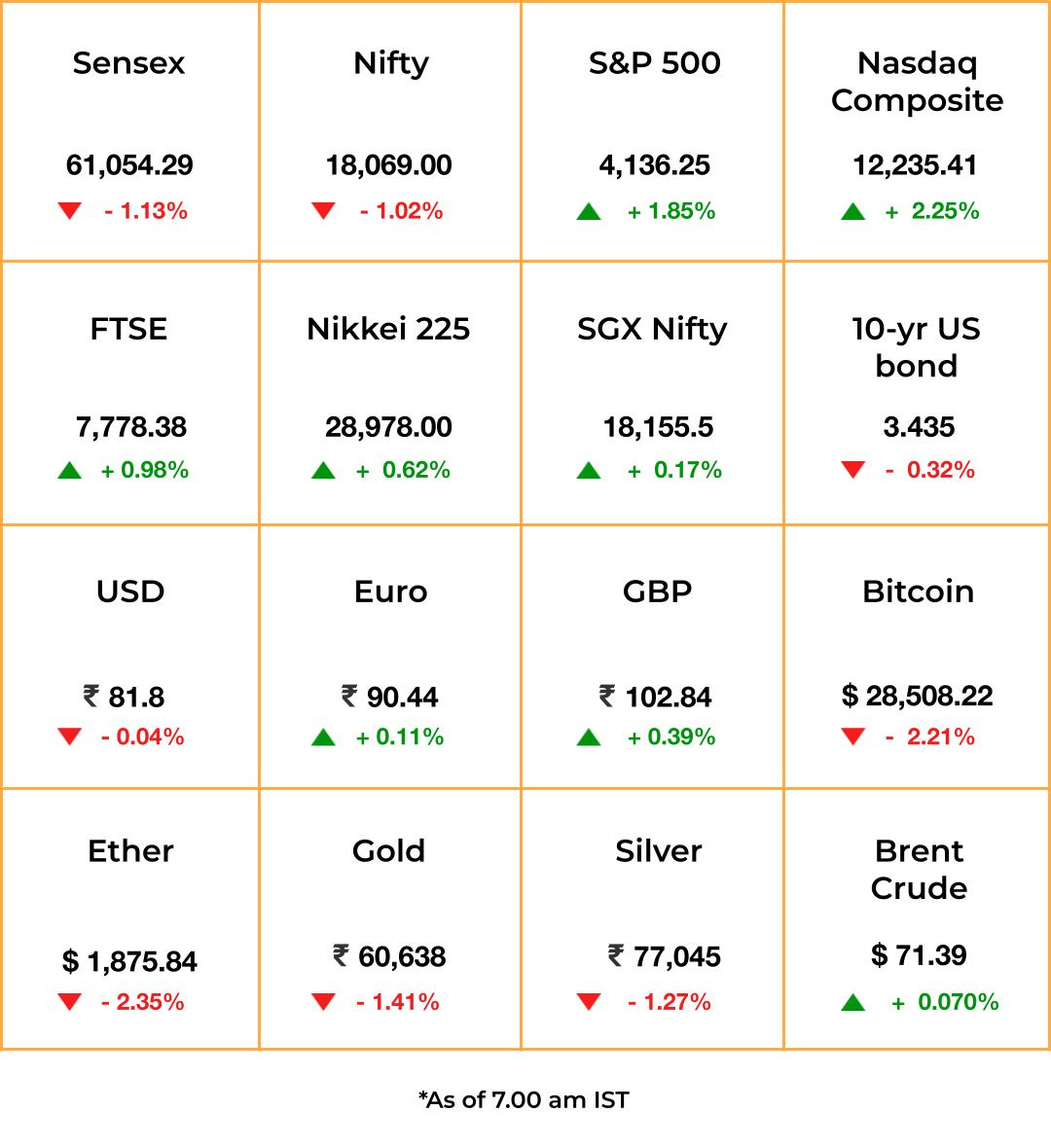 Stocks & economy: Indian equities may climb as appetite for riskier assets improved globally.
Resilience in the US jobs market, perky technology shares (led by a surge in Apple) and a rebound in financials' shares helped US stocks break a spell of losses. Investors appeared less skittish, the volatility gauge retreated and safe-haven treasuries lost appeal.
Labour market strength will keep US rates higher for longer (the credit crunch becoming more acute) and traders are bracing for an abrupt policy shift. A default by the US government—the possibility growing with every passing day of the debt ceiling deadlock—will have unprecedented repercussions.
In a telling sign, Berkshire Hathaway trimmed investment in US stocks significantly in January-March.
Indian markets may retain their appeal, the country considered an engine of growth. Bloomberg reported that global funds are already redirected from Taiwan to Indian markets.
FINTECH
Sound Of Money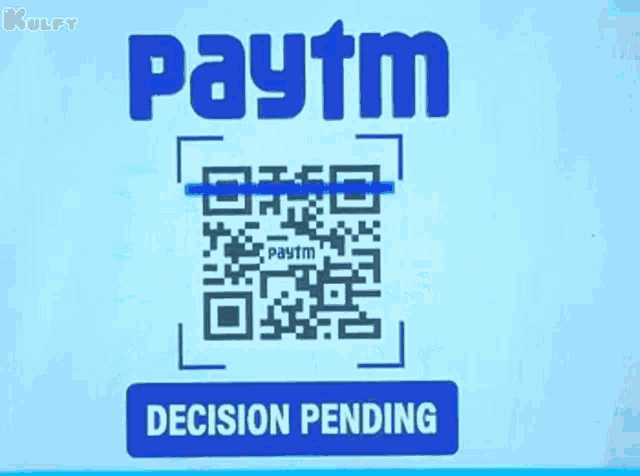 Paytm may finally be turning its ship around. Last week, the fintech reported a sharp 78% decline in losses to ₹168 crore ($20.5 million) for the March 2023 quarter (pdf). Revenue from operations was up 51% year-on-year, led by an increase in services sales to merchants and other financial services (mostly Paytm's loans business). After being routed since its IPO, Paytm shares are up ~30% year to date as of last Friday.
Akshat Jain

@Akjain7353
Paytm Soundbox business blows my mind. 68 lakh devices earning Rs. 100+/month.
That's 68 crores a month and annualized 816 crores ($100MN).
Insanely good!
Is it the highest subscription revenue business in India?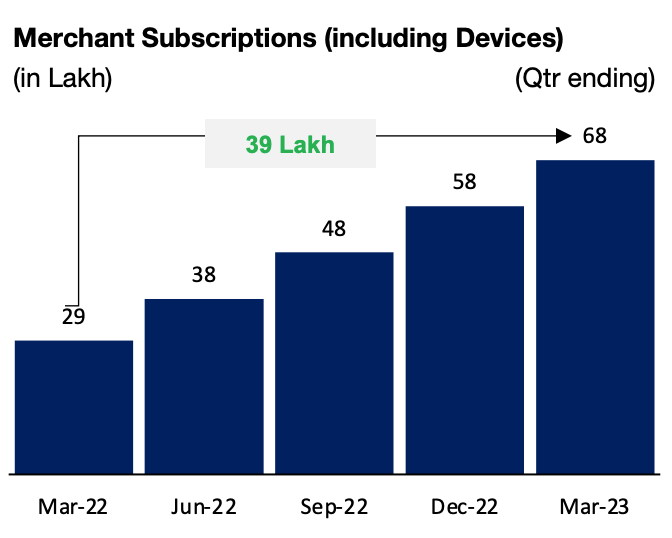 May 6, 2023
205 Likes   15 Retweets   9 Replies
Soundbox supremacy: While Paytm is struggling to find a profitable moat in the payments business, its soundbox has been a success. The speaker device lets busy shopkeepers know that they have received a payment as they go about their business. Starting from 290,000 units a year ago, Paytm has scaled up this business to 680,000 devices in the March quarter. The soundbox has opened a new front in the war between payments companies, particularly Paytm and PhonePe.
VENTURE CAPITAL
Is a16z Future-Ready?
For a storied venture capital firm whose hype-based investing playbook in the 2010s was all about betting on tomorrow, a16z is falling behind.
"Future of the Internet": a16z overleveraged on web3/crypto amid a downturn, pegging it as the "future of the internet". That was a mistake: last year, its crypto fund plunged 40% in value, much more than other VC funds.
Now that artificial intelligence, not software, is eating the world, a16z has been cutting checks to OpenAI, Character.ai, and others in the sector. Perhaps as a failsafe, it's also eyeing investments from West Asian sovereign funds amid rising interest rates and growing techno-scepticism.
Sequoia's Squeeze: The VC firm has, to quote The Information's deep dive, seen "unprecedented levels of tumult" over the last year. It saw billions washed out in the public market, and its private portfolio has come under multiple squeezes: down rounds, implosions, and geopolitical tensions.
GEOPOLITICS
Yet Another Railroad Story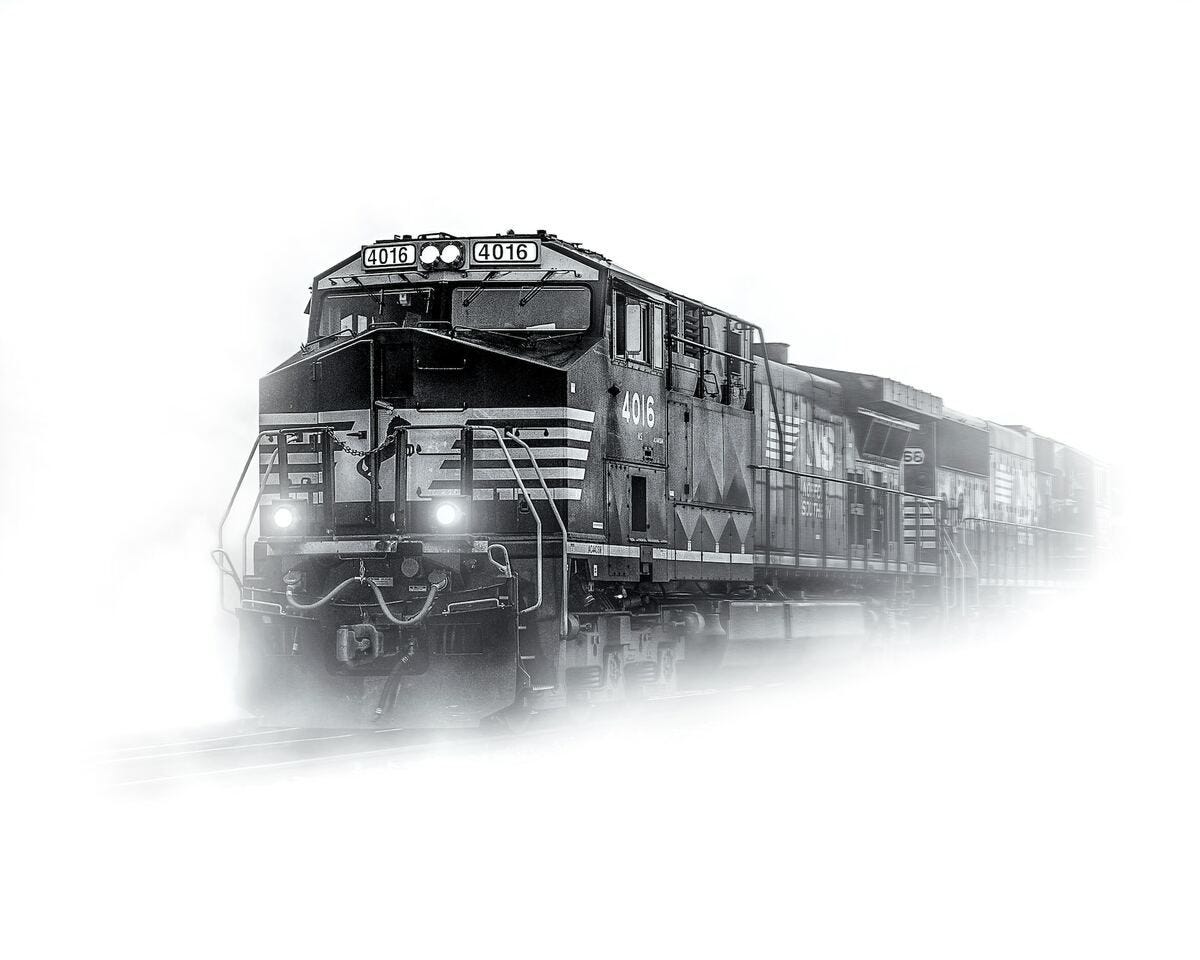 In an era where interplanetary travel doesn't seem like an outrageous proposition, railways still dominate the imagination on terra firma—as transport and strategy.
What now: The US, Saudi Arabia, United Arab Emirates, and India are planning a rail network in West Asia that will also connect to ports from where India-bound ships set sail. Israel may join in later. The idea germinated in the I2U2 forum comprising India, Israel, the US, and the UAE.
Diplomatic dustup: Meanwhile, the Shanghai Cooperation Organisation's meeting in Goa ended over the weekend, with Pakistan foreign minister Bilawal Bhutto Zardari and his Indian counterpart, S Jaishankar, trading barbs. The China-Pakistan Economic Corridor passing through Pakistan-occupied Kashmir was the hot-button topic. A day later, Chinese foreign minister Qin Gang, who travelled to Islamabad, issued a joint stinker against India on Kashmir.
The Signal
Although left unsaid, it's crystal clear that the railway project is targeted at containing China's Belt and Road Initiative, using oil windfall and Gulf rulers' unabashed personal ambition to make a mark on the global high table. China already operates one of the most extensive railway networks connecting its western provinces with Europe. The railway winds through central Asia and Russia. It is also investing heavily in West Asian infrastructure projects. Another ambitious project, the 1,28,000-km, 28-country Trans-Asian Railway, under the auspices of the United Nations, is still mostly talk. While disparate networks exist, interconnection is plagued by non-standard systems.
ENTERTAINMENT
Weird Flex, But K
Netflix isn't the only American company sold on the Hallyu wave. Apple is betting on the medium that's given Netflix shows such as All of Us Are Dead, Hellbound, Business Proposal, and Itaewon Class: webtoons.
ICYMI, we'd told you about the edge Korean webtoons have over Japanese mangas. Known as tate-yomi-manga (vertically-read manga) in Japanese, they consist of smartphone-friendly, bite-sized 'episodes' you can digest in a single scroll.
Why Apple wants in: To inject life into the otherwise-meh Apple Books. Bloomberg reports that Apple signed a three-year deal with South Korean webtoon company Kenaz. About 30% of Kenaz content may be published on Apple Books—serving as a potential source of original IP.
Fwiw, Amazon already has Fliptoons for Kindle users in Japan.
Tangent: Apple stock hit a nine-month high despite the company reporting lower profits and revenue for its latest quarter; surging iPhone sales have much to do with it.
CORPORATE
Tata Versus Tata
Singapore's sovereign wealth fund Temasek Holdings may invest $100 million for a 20% stake in BlueStone. The valuation of the Ratan Tata-backed omnichannel jewellery retailer could jump to $500 million. Bluestone had bagged $30 million in fresh funding in 2022 at a valuation of $410 million and was planning a ₹1,500 crore ($180 million) IPO.
All that glitters: Tata Group-owned Titan has four jewellery brands under its umbrella: flagship Tanishq, luxury-focussed Zoya, online portal CaratLane (in which Tata acquired a controlling stake in 2016), and GenZ-focussed Mia.
Lightweight, affordable jewellery is an attractive proposition, especially for Titan, which is going all out to disrupt the otherwise unorganised sector in the hinterland. But VC-funded platforms are eyeing this segment too. Melorra, founded by a former Tanishq veteran, has raised ~$71 million.
FWIW, Titan's jewellery division reported nearly ₹32,000 crore ($3.9 billion) revenue in FY23.
FYI
Done deal: Aditya Birla Fashion will acquire a 51% stake in women's branded ethnic wear retailer TCNS Clothing, which owns brands such as W, Elleven, and Aurelia.
Revamp: Google will make its core search product more "visual, snackable, personal, and human" with AI chatbots and video clips, in a bid to attract younger users, per The Wall Street Journal.
Red signal: India's largest online gaming companies such as Dream11 and MPL have come out against a self-regulatory body backed by the Internet and Mobile Association of India, The Economic Times reported.
Full cream: WestBridge Capital will reportedly infuse ₹800 crore (~$98 million) into Tamil Nadu-based dairy products company Milky Mist, valuing it at nearly ₹7,000 crore (~$856 million).
Fresh dough: Indian early-stage venture capital firm 3One4 Capital has raised $200 million for its new fund to back startups across sectors.
Green signal: Berkshire Hathaway chairman Warren Buffett reaffirmed during the firm's annual meeting that Greg Abel, the vice chair for non-insurance operations, will succeed him.
Lovin' it: Connaught Plaza Restaurants, McDonald's franchise owner for north and east India, plans to invest ₹400 crore-₹600 crore ($50 million-$73 million) to double the number of outlets from 170 and modernise existing ones over the next three years.
THE DAILY DIGIT
139,690+
The number of workers laid off from US tech companies in 2023. (Crunchbase)
FWIW
Got swag?: It may be the second-biggest bank failure in US history, but First Republic Bank did have one of the most successful marketing strategies. An immediate casualty of its collapse is the sturdy green umbrella it handed out to its wealthy clients as freebies. The sightings of the umbrella were even endorsed across its social media pages, which had clients across San Francisco and Rome. Customers were also handed chocolate chip cookies, and new clients were gifted a bottle of bubbly. JP Morgan has been requested to part with the cookie recipe. Now that's some legacy.
Dial down: If you're a millennial reading this, you may want to thank your stars that you're the last generation that enjoyed life before the internet. Location-sharing apps such as Snapchat's Snap Map, Apple's Find My or Life360 make it possible for teens to share and track their peers' moves in real-time. Understandably, teens are experiencing anxiety when they realise that cliques exist without them. If you ask us, it is time to bring back the landlines. ☎️
Wake up, babe: New 3D object just dropped. An Israeli food-tech company is up to some fishy business. Literally. It collaborated with Singapore-based Umami Meats to create 3D-printed fish fillets from cells cultivated in a lab. Blech. If things go according to plan, the product may hit the shelves in Singapore next year. Who will bite the bait? If there's any indication, plant-based meat has been a flop, and lab-grown meat is yet to hit the shelves. We're gonna file this under Frankenfood. Thank you very much.