Discover more from The Signal
The Signal is a daily curated newsletter that helps you understand the latest developments in business, tech, finance, economy, and policy with sharp analysis and crisp insights thats fun to read arriving at 8AM daily in your inbox.
Over 81,000 subscribers
Paytm wakes up the bears
Also in today's edition: Google to remain rooted in search, Tata to fly one airline, Baking bread
Good morning! Grammarly, the app which helps us write this newsletter, is raising $200 million at a staggering valuation of $13 billion. It's an interesting time to raise this massive sum of money. Especially, when the conversation now is restricted to emojis and gifs. The art of language isn't dead yet.
Btw, our podcast has been going strong for two months now. Tune in on your daily jog, drive to the office, or even as you WFH-ers have breakfast in bed. We promise it'll be music to your ears.
The Market Signal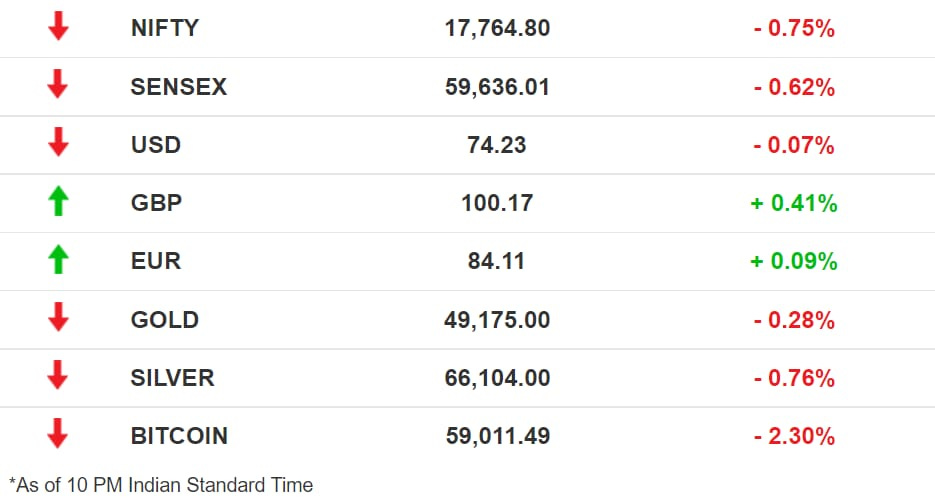 Stocks: Indian benchmarks registered losses for the third straight session in a row, keeping in line with global cues. With the Nifty having crossed below the 50-day moving average and no crucial support levels closely below, a major recovery seems unlikely at present. With today being a market holiday, it remains to be seen whether any news will break over the weekend that can stem the slide.
For Google, Search > Metaverse
Google CEO Sundar Pichai isn't quite falling for Silicon Valley's (and Wall Street's) favourite buzzword yet. Pichai didn't call it by name but made a tortuous reference to the "evolving computing in an immersive way with augmented reality", with "immersive, interactive virtual worlds". The whole you-know-who-shan't-be-named came in a Bloomberg interview.
Back to basics: Yet, Pichai anchored Google's future in its most basic and oldest offering: search, with a little extra. Voice and "multimodal experiences", for instance This of course, should not rule out Google's involvement in AR. After all, it was the OG of smart glasses, while also recently launching a division called Google Labs to oversee its AR ambitions.
Go local: While Google's secret AR project may not come to India just yet, the company announced a slew of product updates in its annual 'Google for India' event. This typically means marginal improvements in highly localised features that are built first for India, but taken globally. This year, some of these included Google Pay in Hinglish with a bill-split feature and speak-out-loud search results.
AirAsia Readies For An AI Union
The Tata Group is ready to begin restructuring its aviation business. After winning the Air India takeover bid, Tata Sons has begun the merger process of its low-cost airline AirAsia India with Air India Express. 
Consolidation game: The merger is the first step to creating a single airline entity within the group and help cut operational costs. Tata Sons is also planning to buy out partner AirAsia Berhad's 16.33% stake in AirAsia India for $19 million. Vistara will also be integrated at a later stage. 
Expansion in mind: While the Air India acquisition is expected to be completed by the end of 2021. The Economic Times reports that the Tatas are looking to optimize costs by redeploying staff and hiring top managerial talent. 
Paytm's Listing Blues
Vijay Shekhar Sharma wept. So did thousands of investors. Paytm founder Sharma shed tears of joy as his 11-year-old baby, inspired and funded by Alibaba's Jack Ma, listed on the Bombay stock exchange with his son sounding the customary gong. Investors, who bought into Paytm's promise, cried in despair as they saw their wealth erode by ₹35,000 crore within hours. The BSE, fittingly, had turned out in blue.
Dud on arrival: At the issue price of ₹2,150 apiece, Paytm shares were valued at about ₹1.40 lakh crore. It dropped 23% immediately on listing and to the day's low of ₹1,586.25 by afternoon. At that price, its market capitalisation dropped below Zomato's and Nykaa's. Equity analysts have forecast it to go down further. India's biggest initial public offering delivered a dud on listing.
The Signal
The Paytm bloodbath is likely to hit investor sentiment and draw regulatory scrutiny. In the cross-hairs would be private equity (PE) and venture capitalists (VCs) who invested a whopping $28 billion in Indian startups in the first nine months of 2021. The valuations of Indian equities, to borrow from a recent Reserve Bank of India report, are not justified by any conventional yardstick. Nykaa, for instance, listed at 1600 times its earnings. Its profit fell 96% to a mere ₹1.2 crore in the September quarter which was revealed days after its blockbuster listing. Yet-to-IPO companies such as Cars24 and Udaan have returned negative 53% and negative 80% respectively on capital invested. Meanwhile, there is despair in the informal pre-IPO market as well. Paytm shares were reportedly sold by some private investors at prices as high as ₹3,600 per share. The mauling it has got today is likely to take the wind out of the gray market as well.
Come, Work, Stay
Japan is keeping aside its immigration taboo to allow foreign blue-collar workers to stay on for longer than currently allowed as the ageing country struggles with a labour shortage worsened by the pandemic.
Need more hands: A 2019 law allowed certain categories of skilled workers in 14 sectors to stay for five years but they were not allowed to bring their families with them. A revision of the law, expected to take effect in FY 2022 itself, is likely to allow family members in and let them stay indefinitely. As of late 2020, Japan had 1.72 million foreign workers or just 2.5% of its working population.
Hello India: Although the revision is expected to benefit many Vietnamese and Chinese workers, it may also help India. Early this year, Delhi had signed an agreement with Tokyo to send skilled Indian workers under the "Specified Skilled Worker" scheme created in 2019. But knowledge of Japanese is necessary. 
Gods' Own Food
Chocolates can be uppers, downers or uppers when down. Not just chocolates, a spongy praline or a cream-filled éclair could lift your spirits too. The pandemic was a time when many people turned to baking. Those who could not, ordered it in. And it gave a lift to premium bakers such as Theobroma and Magnolia who had in the past few years established a niche for themselves. 
Capital-backed: Almost every city in India has its favourite baker but the retail bakery business is generally unorganised and only a handful of them dominate the premium market, reports The Economic Times. Think Iyengar bakery of Bangalore, Flurys of Kolkata or Wenger's of Delhi. But private capital and a changing food culture is giving a boost to chains such as Theobroma that started in Mumbai 17 years ago, and Magnolia Bakery from New York. 
Theobroma was eyeing only a certain section of customers. But with rising popularity, it expanded to four other cities. New York-based Magnolia, which opened its first franchise in India two years ago, is also rapidly becoming popular.
What Else Made The Signal?
Big raise: Beleaguered Chinese property developers raised $2.4 billion in a single day. Meanwhile, asset manager Huarong got a $6.6 billion state bailout. 
Grocery shopping: Zomato is likely to make an investment of $500 million into grocery platform Grofers, its largest so far, in a bid to expand the quick commerce play.
Tourism deal boost: EaseMyTrip has made its second acquisition by buying Spree Hospitality to expand its presence in the hotels and holiday space.
Apollo Go: Baidu's driverless robo taxi service, aims to be in 65 cities by 2025 and 100 cities by 2030.
Beauty mergers: E-commerce firm Purplle, which deals with beauty and personal care products, is in talks to buy a stake in premium beauty product brand Faces Cosmetics.
Closure: The Centre has buried the hatchet over retrospective tax with Cairn Energy by allowing refund of taxes in exchange for the company dropping all legal action across the world.
FWIW
Missing in China: Professional tennis player Peng Shuai, who had alleged that a former Chinese official had assaulted her sexually, is nowhere to be found. The Women's Tennis Association tried to reach her with no success. It is not uncommon for famous people to go missing in China. Late last year, Alibaba founder Jack Ma had gone missing. His whereabouts remained unclear for three months until he surfaced at a live-streaming conference. Lawyer-turned citizen journalist Chen Qiushi, the eyes and ears of the coronavirus outbreak at ground zero in Wuhan China too went missing for 600 days.
Costly drink: Two American tourists were having beer. They were caught having beer and the police fined them 800 euros. Oh, they were having the beer on the second level of the Colosseum in Rome at 5.30 in the morning. The fine was not for having beer. It was for illegally entering the ancient stadium.
Bye Bye American pie: Literally. Americans can't have their pie because of climate change. Drought and wildfires have badly hit the supply of berries, honey and other ingredients that go into making that typical American dish. Add to that labour and supply chain mayhem that have sent prices soaring. That's a humble pie.
Want to advertise with us? We'd love to hear from you.
Write to us here for feedback on The Signal.