Discover more from The Signal
The Signal is a daily curated newsletter that helps you understand the latest developments in business, tech, finance, economy, and policy with sharp analysis and crisp insights thats fun to read arriving at 8AM daily in your inbox.
Over 81,000 subscribers
Putin fulfils his war lust
Also in today's edition: Step into the sneaker culture; Two icons unite for an ad; DuckDuckGo is getting infamous; Musicians are TikTok-weary
Good morning! TikTok's parent company just stepped into the world's most cutthroat comic market. A report in Beijing-based tech media platform Pandaily says ByteDance has launched manga platform Fizzotoon in Japan. The move marks ByteDance's transformation into an entertainment company: apart from its social media and gaming businesses, it owns web novel apps Fizzo and Mytopia, comic app Yizhikan, and movie ticketing platform Leyinghui.
22nd September 2021 seems like a long time ago since we launched The Signal Daily, our flagship daily audio podcast. Yesterday, we crossed a little milestone along the way: our 100th episode. We thank our listeners for tuning in. 
On that note, over to today's episode, where Farheen Khan talks about the sneakerheads phenomenon in India, particularly among the so-called Gen Z and millennial demographic. Plus, she also charts the rise of Thums Up into a billion-dollar cola brand, now with Shah Rukh Khan as its latest face. Tune in to episode 101, and have a great prekend!
The Market Signal*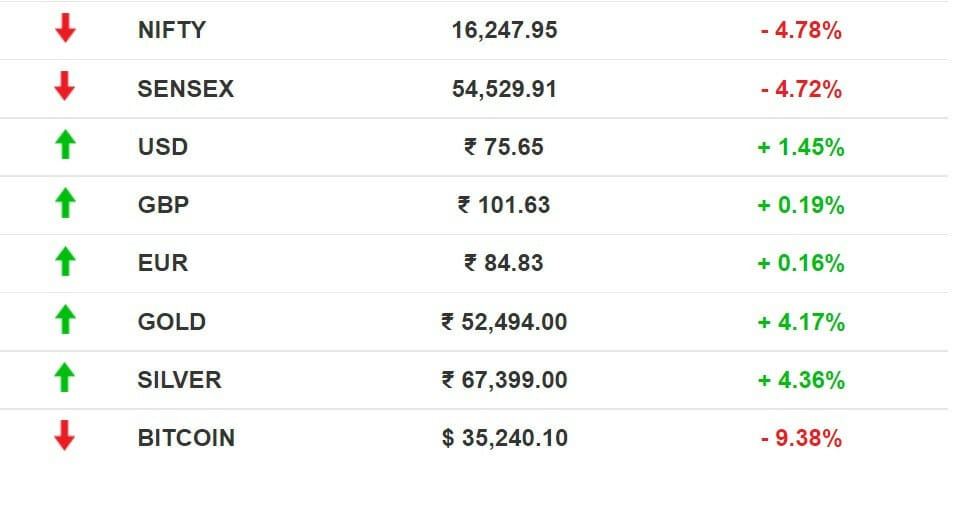 Stocks: In one word, a bloodbath. 
Cryptocurrency: Over a 24-hour period, Bitcoin tanked nearly 9.38%, trading around $35,240, largely due to hostilities between Russia and the West. Ethereum also plunged 12.32%, hovering around the $2400 mark. The bloodbath in the crypto saw its market value erased by over $150 billion. (All data as of 8:18 pm IST, sourced from Coindesk)
Sneakers Are Kicking Up A Storm
Sneakers are having their day in the sun. It propelled Bata India's growth last quarter; Japanese sports apparel brand ASICS is expanding its casual footwear range; and sneaker reselling platform The Mainstreet Marketplace made more money in the first two months of the 2020 lockdown than it did through its stores.
Global fave: The world's biggest artists—Beyonce, Drake, Rihanna, and Kanye West—have sneaker lines. Rihanna's PUMA Fentys, Kanye West's Yeezys, and Nike Air Jordans attract eBay bids ranging from $999 to $10,000. No wonder the online marketplace—which recently reported lacklustre financial results—is bullish on sneakers. And despite mounting losses, sustainable sneaker brand Allbirds reported a 23% jump in sales.
There's tremendous value in expressing oneself through sneaker culture. It's why Nike sued sneaker exchange StockX for selling NFTs of its kicks, and a sneaker company bagged a deal on Shark Tank India.
SRK Gets A Thumbs Up
Shah Rukh Khan is back on the train. This time, as a brand endorser for billion-dollar Thums Up. The deal is a reminder of SRK's brand value despite Byju's dropping him after the Aryan Khan fiasco.  
Fizzy fuzz: Parle Agro's Ramesh Chauhan founded Thums Up in 1977, after George Fernandes banished Coca-Cola from India. It outlived homegrown brands such as Campa Cola, Double Seven and Thril. 
Comeback: Coca-Cola and Pepsi returned to India in 1993, and that's when the bidding wars began. Thums Up, Maaza, Limca, Citra and GoldSpot were acquired by Coca-Cola. There were talks to kill Thums Up so that Coke could rule the roost. But Thums Up remains Coke's meal ticket to date; Citra and GoldSpot are distant memories.
It's probably why SRK's association with Thums Up holds water. Both have stood their test of time. 
Of Russian Oligarchs and China's Helping Hand
Russia invaded Ukraine in the early hours of February 24, 2022 and struck the country's military and government facilities, including the capital city of Kyiv. Tanks also rolled in from neighbouring Belarus, although Belarussian President Alexander Lukashenko denied any involvement.
The oligarch problem: As for global sanctions, Russian news agency TASS reports that 555 individuals and 52 entities will be affected. On the blacklist are state-owned banks and a handful of oligarchs, not least the CEO of Russia's largest social media platform.
But UK politician Layla Moran demanded that London—nicknamed 'Moscow on Thames' for its concentration of Russian oligarchs—sanction as many as 35 businessmen with ties to Russian President Vladimir Putin. This includes Chelsea owner Roman Abramovich. He played a significant role in shaping Premier League football.
Haggis_UK 🇬🇧 🇪🇺

@Haggis_UK
Layla Moran uses parliamentary privilege to name 35 Russian oligarchs that she thinks should be sanctioned. 👏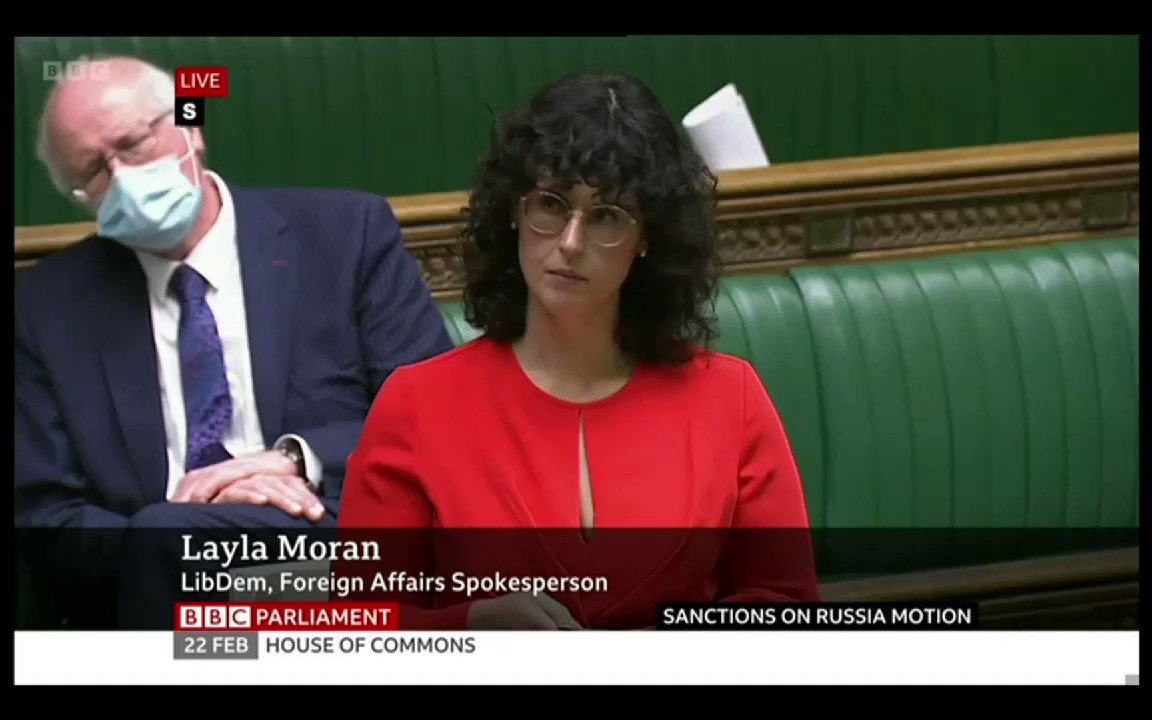 Feb 22, 2022
36.5K Likes   10.7K Retweets   927 Replies
The Signal
The ruble has hit a record low. Russian stocks are floundering, and oil prices are the highest since 2014.
Yet, the penalties so far are nominal in context of Russia's economic fortressing since 2014. US sanctions are effective because the dollar is the world's reserve currency and used by a sizeable chunk of Russian trade; but how effective is the question. Deepening Russia-China ties point to possible reprieves: China is Russia's largest lender and trading partner, the two are weaning off the dollar, and both have digital national currencies that can be used for bilateral trade.
Then there's cryptocurrency, which Russia can use to bypass global banking chokeholds. That option alone has the US Treasury Department worried sick.
What The Duck?
Hailed as a privacy-oriented search engine, DuckDuckGo is a favourite among an unlikely fan base: the right-wing communities in the US. 
Deets: DuckDuckGo has more misinformation on its engine than Google. The search engine can't game the algorithm since it is provided by Microsoft Bing. The New York Times conducted a misinformation review across Google, Bing and DuckDuckGo. Only Google passed the test. 
Rumours everywhere: It doesn't help that misinformation podcaster-controversy courter Joe Rogan endorsed DuckDuckGo in one of his episodes. 
At a time when conspiracy theories and rumours rule the algorithm, it's time for a gentle reminder: take everything you read online with a pinch of salt.
Social Media Is Burning Out Musicians
Viral clips on TikTok may have helped musicians climb the charts, but they're slowly burning out turning their lives into content. Their grouse? The pressure to self-promote takes time away from what they do best: songwriting and performing.
Under pressure: Accomplished musicians are now competing with aspiring ones who are looking at TikTok to showcase their talent. Case in point: Rapper Lil Nas X first went viral on the platform in 2019. An overload in choice for users means artists need to stay on top of their game. This inadvertently means…more posts.
Even Adele was asked to get onto TikTok to connect with teens. She didn't give in. US country artist Priscilla Block concurs that the pressure to cater to TikTok is real. Here's hoping the digital burnout turns mainstream. Soon.
FYI
More dough: Neobanking platform Niyo raised a $100 million Series C round led by Accel and Lightrock India.
Appointed: Samiran Gupta has been named Twitter's head of public policy and philanthropy for India and South Asia.
Change of guard: Ikea India now has a woman CEO. Bath & Body Works' top executive has stepped down. And Barclays' former honcho is under the scanner for his links with Jeffrey Epstein.  
Massive: The New York-based private equity and venture capital fund Insight Partners has raised $20 billion in its latest round. Insight has invested in Indian startups such as BharatPe, Apna, and Slice among others.
Strategic: SaaS company Chargebee has launched Chargebee Receivables and acquired numberz, a collection management company.
Sluggish: Alibaba reported its slowest quarterly revenue growth (Q3) since its 2014 IPO owing to the regulatory crackdown in China.
Refunded: The Indian government has refunded ₹7900 crore ($1.06 billion) to British company Cairn Energy (now called Capricorn Energy) as part of a retrospective tax dispute settlement. 
FWIW
Game on: Ja Rule embodies the true spirit of entrepreneurship. Even the Fyre Fest debacle couldn't bog him down. Now, he is trying his hand at Club Cards, a collection of NFT trading cards. It includes an all-expenses-paid trip to New York City to see the rapper perform. The audacity.
Trap hole: The real estate market in London has bounced back, and how. An apartment in London—all of 75 square feet—has found an expensive taker. Eventually sold at an auction for £90,000, the microflat has a bunk bed placed on top of shelves. 
Sidelined: All the makeup and hairstyling—think Gandhi, Amadeus, and Elizabeth—that helped actors transform for their Oscar-winning roles? It's been given a short shrift. The Academy of Motion Picture Arts and Sciences, which governs the Oscars, has scrapped the category and seven others from the March 2022 telecast. Category nominees were informed of the development in a virtual town hall. Naturally, they are furious.
Want to advertise with us? We'd love to hear from you.
Write to us here for feedback on The Signal.