Discover more from The Signal
The Signal is a daily curated newsletter that helps you understand the latest developments in business, tech, finance, economy, and policy with sharp analysis and crisp insights thats fun to read arriving at 8AM daily in your inbox.
Over 81,000 subscribers
Apple's Vision goes Pro
Also in today's edition: Rebel Foods rebels against conventional wisdom; Crunch time for BYJU'S; Indian screenwriters want their due; Climate finance blacklist
Good morning! Last month, we informed you about Singapore Airlines forking out eight-month salary bonuses for its employees. Now, we geddit if you'll be green with envy after reading this next bit. Per Bloomberg, Taiwanese shipping company Yang Ming Marine Transport will dole out 30 months' salary as a mid-year bonus for its workers. That's $75 million earmarked from its kitty. The company's mandate includes handing "1 per cent of its previous year's profit to employees as compensation". Why the generosity, you wonder? Because shipping companies are still reaping pandemic-era rewards. Sigh.
The Signal is now on Telegram! We've launched a group — The Signal Forum — where we share what we're reading and listening through the day. Join us to be a part of the conversation!
🎧 What's trending in India's aviation sector? Also in today's edition: Saudi Arabia slashed oil output by 1 million barrels per day in an attempt to drive prices. Listen to The Signal Daily on Spotify, Apple Podcasts, Amazon Music, Google Podcasts, or wherever you get your podcasts.
Today's edition also features pieces by Soumya Gupta, Srijonee Bhattacharjee, and Julie Koshy Sam.
If you enjoy reading us, why not give us a follow at @thesignaldotco on Twitter and Instagram.
The Market Signal*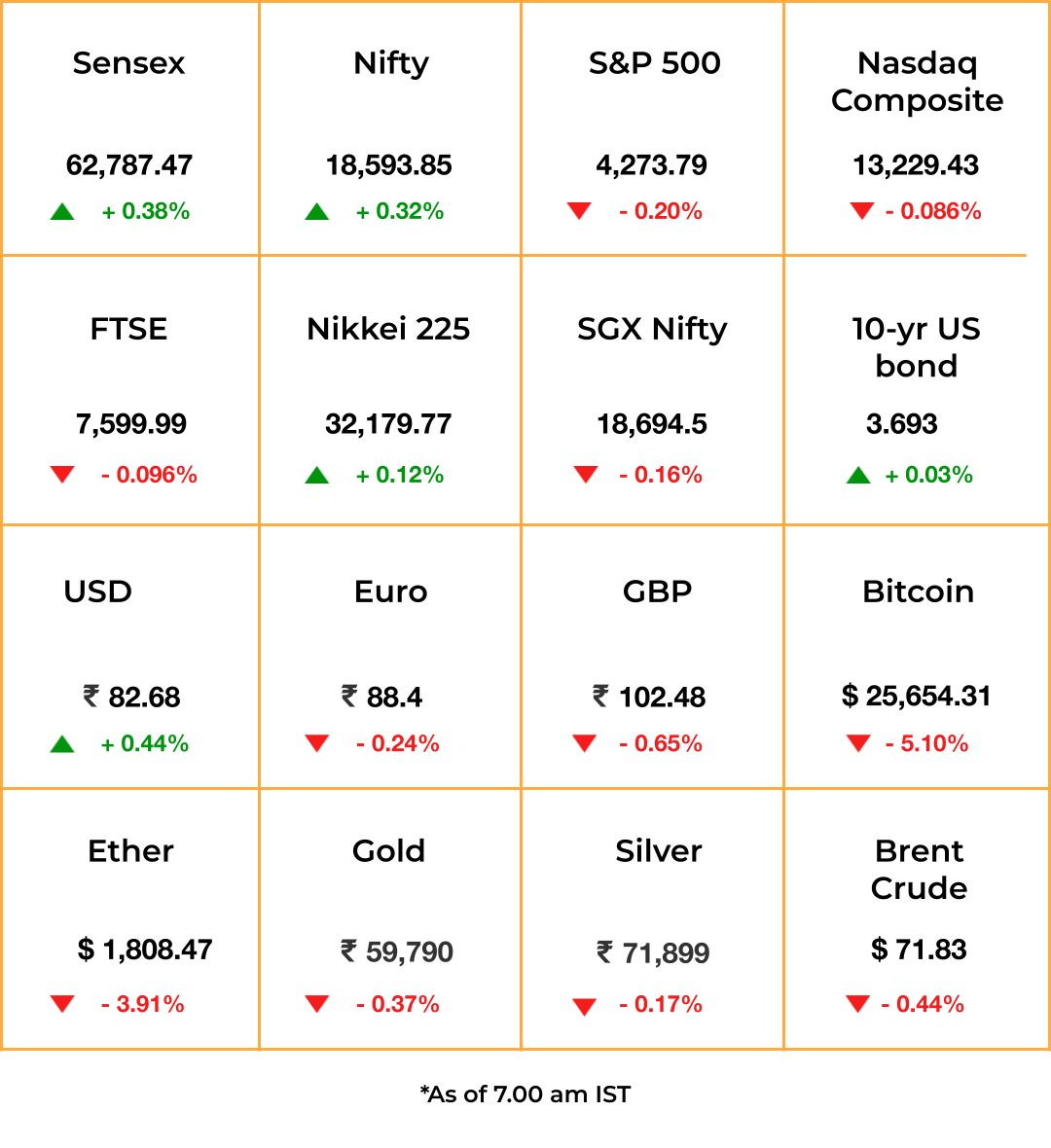 Stocks & economy: Indian equities may begin the day a tad lower as US equities slumped.
While US stocks ended in the red, the expectation that the Federal Reserve may pause on rate hikes next week was reinforced by signs of emerging weakness in the services sector. Apple shares hit record highs ahead of the unveiling of its first innovation in the multi-reality space but fell when traders booked profits later.
Cryptocurrencies fell steeply after the US Securities Commission accused Binance of mishandling funds and lying to regulators. They recovered some lost ground.
Indian indices may rise later in the day but trading will likely remain dull. Traders are awaiting the first rains of the season to hit Kerala to make an assessment of crop output, Abhay Agarwal of Piper Serica Advisors says. An impending monsoon rally in Nifty will spread to the small-cap and mid-cap segment, he added.
FOOD & BEVERAGE
Offline → Online → Offline
Rebel Foods is ditching its 'cloud kitchen' identity to open 100 physical restaurants over the next few years, which it's been wanting to do for a while. It signed a 20-year deal to open American fast food chain Wendy's in India. Rather than operating smaller outlets serving mostly online orders, it wants to open dine-in outlets in high street shopping areas. Domino's, for example, makes over 60% of its revenue from deliveries (pdf).
Chopped: Some expand, others retreat. Cafe Coffee Day has reduced its store count by 73% in five years to just 469 cafes. The parent firm has been struggling with debt and losses.
Sweet enough: Surprise, surprise. Cola makers are pushing back against the World Health Organisation. They say WHO's warning against artificial sweeteners is scientifically unsound. India's food regulator FSSAI is evaluating sweeteners widely used in diet colas.
EDTECH
Who's Buying This?
BYJU'S has announced that its test-prep arm Aakash Educational Services will go public by mid-2024.
Timing: The announcement came on BYJU'S interest payment D-Day. The edtech major, whose valuation is down by 62%, is due for a quarterly payment of $40 million on a $1.2 billion loan that's now a thorn in its side.
Aakash reportedly has an operational profit of ₹900 crore (~$109 million) for the 2023-2024 fiscal year. But the claim comes from a parent company that's yet to file its FY22 financials and is the subject of an Enforcement Directorate probe.
Madhav (thearcweb.com - sign up!)

@madhavchanchani
🚨 Byju's is now suing term loan B (TLB) lenders in New York Supreme Court for "predatory tactics"
The company says it will not make any payments to the TLB lenders till the dispute is decided 🔥
Jun 6, 2023
3 Likes   5 Retweets   0 Replies
Borrowing from Peter to pay Paul: BYJU'S creditors recently scrapped negotiations to restructure the loan following allegations that the company's US unit, BYJU'S Alpha, "hid" $500 million. If BYJU'S pays the $40 million, it may get "a large capital infusion" to help pay off the loan. But it hasn't done so yet.
TECH
The Era Of Fancy Ski Goggles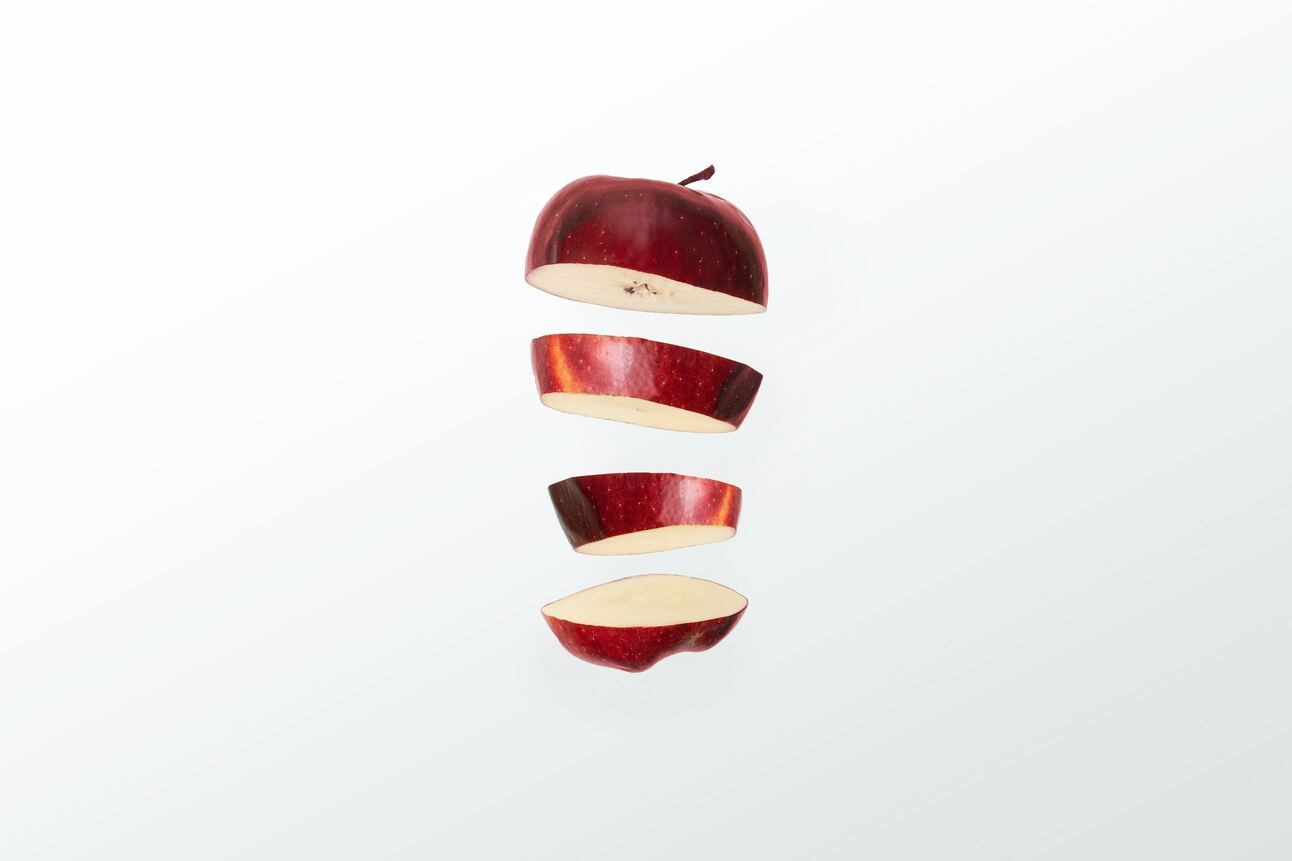 With zero mentions of the metaverse, virtual reality (VR), or battery life but a very visible wired battery pack, Apple launched the $3,499 Apple Vision Pro headset during its annual Worldwide Developers Conference (WWDC23). Disney CEO Bob Iger shared the stage with Tim Cook—a great endorsement, given that the House of Mouse laid off its metaverse team.
The Cupertino-headquartered company dubbed this the "era of spatial computing", where digital content blends with the physical world (mixed reality). The product will first roll out in the US next year.
What else?: iOS 17, iPadOS 17, MacOS Sonoma and WatchOS 10 had a few updates. Nothing major.
The Signal
As Apple marks 15 years of the App Store, it's once again depending on its core developer base to build on a new platform—VisionOS—to create a vibrant ecosystem that can repeat the success of the iPhone.
This also marks Apple's foray into a second new product category under Tim Cook. The Apple Watch, launched in 2015, wasn't an overnight success, and the expectation is similar for Apple's most ambitious product yet. While Tim Cook leaves behind a legacy of taking the company to commanding heights, he will also be judged for the outcome of this vision.
North of Cupertino, Menlo Park-based Meta—maker of the far cheaper Oculus Quest and flagbearer of the derided metaverse—will be keenly watching Apple's moves, as the success or failure of this new world will depend on how both companies shape the future of AR/VR going forward.
ENTERTAINMENT
Peace Offering
At least one Hollywood strike is off. Studios reached a deal with a directors' union. Directors will get more royalties, and studios have promised not to try and replace them with generative AI. Writers' unions have similar demands. Back home, a survey found that 63% Indian screenwriters feel underpaid. More than 90% want a mix of fixed pay and bonuses. Over 50% also want more credit in film/series promotions.
Swan song: Studio Ghibli is releasing legendary director Miyazaki's last film, How Do You Live?,  with zero promotions. Producer Toshio Suzuki says too many trailers are turning audiences off. Besides, Miyazaki fans will line up to watch with or without marketing
Meanwhile, Spotify is losing Black voices. Sportscaster Jemele Hill is terminating her podcast deal. Last year, director Ava du Vernay ended hers in protest over Joe Rogan's anti-vaxxer and racist statements. Rogan is among the biggest creators on Spotify.
CLIMATE FINANCE
Named And Shamed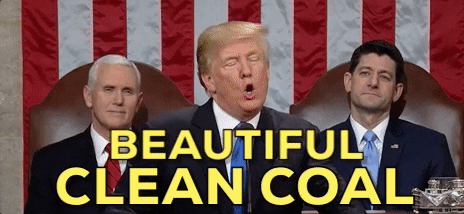 What's common between Goldman Sachs, Mitsubishi, UBS, Standard Chartered, JPMorgan Chase, Citigroup, and DBS? They continue to bankroll the burning of coal, says The Economist.
Why this matters: Coal accounted for 42% of energy-related emissions in 2022. Demand for it exceeded eight billion tonnes last year.
Over 200 financiers worldwide, including private equity firms, have announced funding restrictions for coal. In the banking sector, only 26 out of 426 institutions have coal-exit policies consistent with the 2050 net zero emissions scenario. Miners and traders are using vague timeframes and policy loopholes to get guarantees. India alone may expand its footprint to 1,400 coal terminals.
Not a joke: Reuters found that wealthy nations, specifically Japan, the US, Belgium, and Italy—which funnel $100 billion annually for climate action—are using climate finance money to back movies, airport expansions, hotels, gelato and chocolate shops, and even coal plants in developing countries.
FYI
Another one: Multiple wagons of a Bargarh-bound goods train, which was ferrying limestone, derailed in Odisha's Sambardhara. The Indian government has started its probe into last week's tragic rail disaster, while services have resumed after 51 hours.
Paring down: American retail giant Walmart has reduced its equity in Indian payments major PhonePe from 89% to 85%, owing to PhonePe's ongoing $1 billion raise led by General Atlantic.
Say what?: Apple analyst Ming-Chi Kuo reckons that investors are more excited about the iPhone maker's willingness to dip into generative artificial intelligence than the headset it launched on Monday.
Mind the gap: China isn't too pleased with the United States after a near collision between their respective military ships in the international waters of the Taiwan strait. The US termed the encounter an "unsafe interaction".
Perched: The Indian Institute of Technology-Madras (IIT-M) was ranked the best educational institute in the overall category in the National Institutional Ranking Framework for 2023. IIT-M was followed by the Indian Institute of Science in Bengaluru.
Soon: Swiss lender UBS is expected to conclude its takeover of Credit Suisse on June 12.
2.0: Beleaguered airline GoFirst has presented a plan to The Directorate General of Civil Aviation to restart its flights with 22 planes.
THE DAILY DIGIT
4
The number of leaders who have addressed the US Congress twice. Indian Prime Minister Narendra Modi will take to the stage for the second time. So far, former British Prime Minister Winston Churchill, Israeli prime minister Benjamin Netanyahu, and Ukrainian president Volodymyr Zelenskyy made it to the list. (Semafor)
FWIW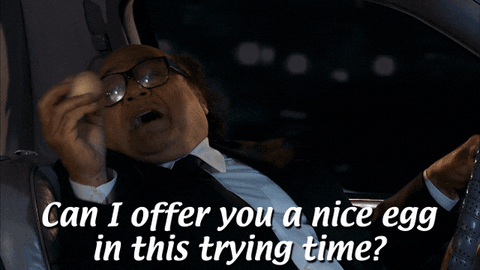 Eggconomics: Egg substitutes can finally take the day off. Eggs will be retail for less than $2 after an avian flu outbreak last year replaced eggs as the popular breakfast in the US. According to Insider, inflation also affected production, packaging, and shipping, which contributed to the high prices. The cases have since dwindled, and flocks of hens have repopulated. But according to industry officials, there's a chance of a bird flu resurgence. Until then, sunny sides up for breakfast every day.
Chamber pot: The 'Toilet Bowl Building' in Virginia, US, finally has a match. Edinburgh, Scotland is known for its monuments and spires. But the soon-to-open W Hotel, owned by Marriott International, is turning out to be an eyesore. The building resembles the poop emoji. Apparently, the makers were going for a coiled ribbon. So far, it has also been dubbed 2020's worst designed building on Twitter. Either way, this looks like a case of second hand embarrassment.
Rise of the cringe: CringeTok—satirical sketches popular on the internet—is a thing, and TikTok creators are making the most of it. Stanzi Potenza has been regularly posting cringe comedy since the pandemic and racked up 3.8 million followers on TikTok. That's helped her pocket $200,000 annually. Delta Air Lines, CashApp, Bubble Skincare, and Pluto TV, among other brands, have jumped on the bandwagon in an attempt to stay relevant. But hey, isn't TikTok mostly CringeTok by default, anyway?