Discover more from The Signal
The Signal is a daily curated newsletter that helps you understand the latest developments in business, tech, finance, economy, and policy with sharp analysis and crisp insights thats fun to read arriving at 8AM daily in your inbox.
Over 81,000 subscribers
Indian finfluencers run for cover
Also in today's edition: Reliance takes the two-way street; Fresh twist for a stalemate; AI's Naver flavour; A finale season like no other
Good morning! Mobster violence, billions of dollars in damage due to a hurricane, and a trashy, eponymous reality show on MTV in the early 2000s gave the coastal region of Jersey Shore in the United States a bad rep. But it's now a luxury hotspot, per Bloomberg, with major investments in the hospitality sector slowly but surely changing its identity. These include a series of high-end restaurants by Gordon Ramsay and Bobby Flay, and a Nobu hotel. Casinos have put in more than $1 billion to revive the region's iconic hotels, including Caesars. Real-estate developer Bart Blatstein will open the $100 million Island Waterpark in July, a 120,000 square feet family-friendly attraction. Now that's a plot twist we didn't see coming.
The Signal is now on Telegram! We've launched a group — The Signal Forum — where we share what we're reading and listening through the day. Join us to be a part of the conversation!
Today's edition also features pieces by Julie Koshy Sam, Soumya Gupta, Srijonee Bhattacharjee, and Jaideep Vaidya.
If you enjoy reading us, why not give us a follow at @thesignaldotco on Twitter and Instagram.
The Market Signal*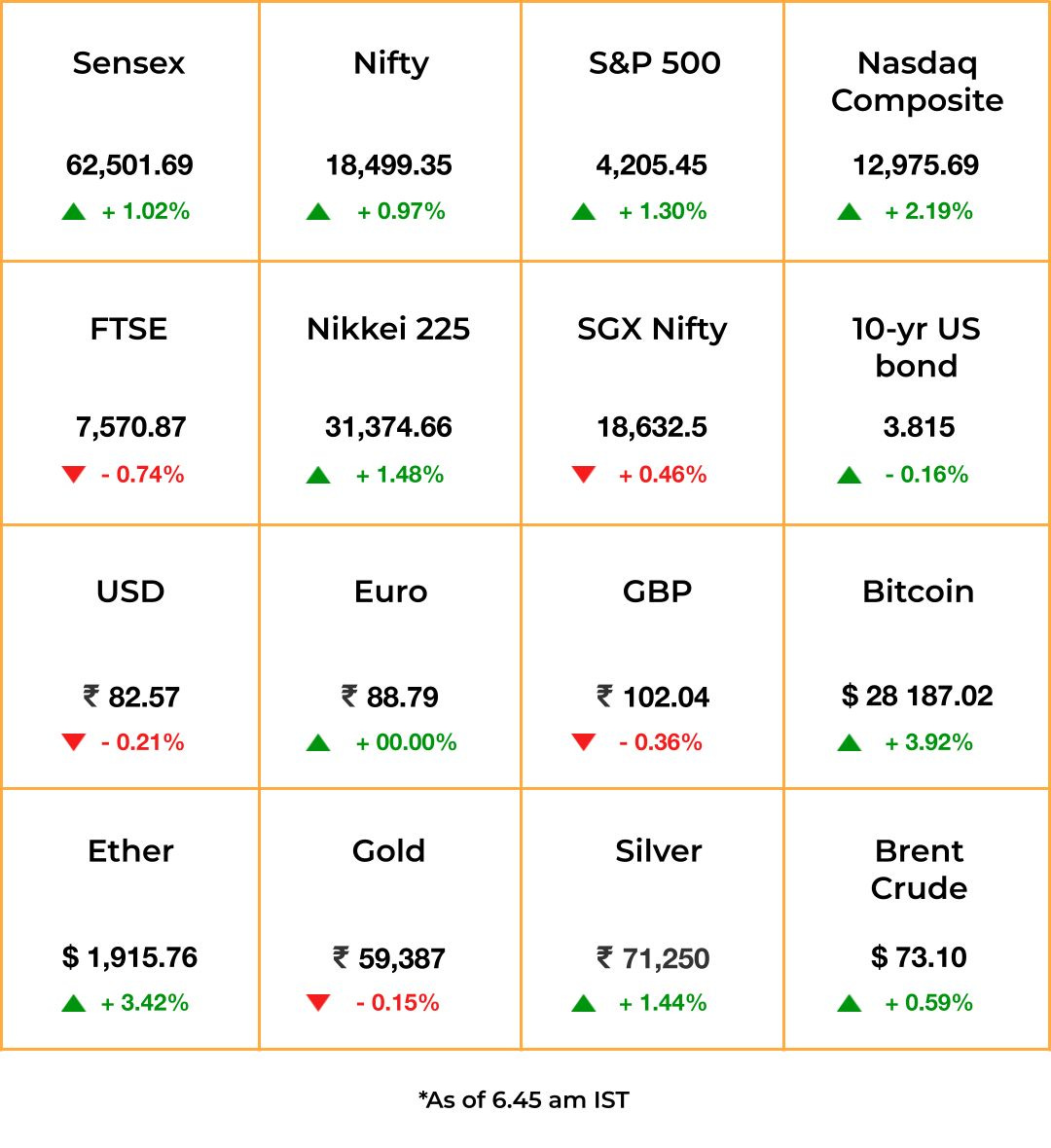 Stocks & economy: A relief rally for riskier assets globally could catapult Nifty to a higher orbit; it is only 2% away from a lifetime high.
The US seems to have averted a debt default, although the tentative deal remains to be passed by the House before June 5. Interest rates on government debt due for repayment around the beginning of June eased. They had crossed 7% amid the uncertainty.
However, the debacle underlined the US's role in the global financial set-up. The prospect of a sovereign default by the US only made its long-term treasury paper and the dollar dearer to risk-averse investors.
There are other reasons too for investors to worry. Banking sector liquidity and profitability will likely suffer as the government's debt issues spike. With inflation still a concern, the Fed may raise rates by 25 bps by July.
PERSONAL FINANCE
The Calm After The Storm
Finfluencers have become unusually quiet after Sebi's crackdown on PR Sundar. Sundar, his company Mansun Consulting, and co-promoter Mangayarkarasi Sundar have settled with the markets regulator and agreed to cough up ₹6 crore ($726,700). They have been banished from stock trading for a year, which is a long time in a finfluencer's career trajectory. Following this, self-styled financial gurus have deleted content from their social media channels, pages, and Telegram groups.
Why this matters: As we told you in an edition of The Impression, the finfluencer industry ran amok despite Sebi and bodies such as Advertising Standards Council of India issuing various (unenforceable) orders. Sebi has stringent norms for registered financial or investment advisors (RFAs or RIAs)—even to a fault. Its scrutiny against people such as Sundar is a significant step towards possible regulation.
E-COMMERCE
AJIO Hits the Streets
After wooing luxury and premium customers, Reliance is coming for the masses. Its e-commerce unit AJIO has launched AJIO Street, a low-cost clothing and accessories marketplace where prices start as low as ₹199 ($2.4). Reliance will not take any commission on the platform and promises to settle seller payments within 15 days, per The Economic Times. With a long tail of hard-to-find goods at rock-bottom prices, AJIO Street is positioned to compete with Meesho, which claims to be the e-commerce portal of choice for small-city shoppers.
Fashion, fast: Reliance is also bringing Shein, the world's largest fashion e-tailer, to India. The Chinese company will share profits from India sales with Reliance, according to Financial Times. This will be Reliance's first partnership with a fast-fashion brand; its sprawling fashion licensing partnerships are largely with luxury brands, including Burberry, Valentino, and Michael Kors.
🎧 A US lawyer used ChatGPT for legal research and is now facing sanctions. Also in today's edition: Reliance's Ajio Street is making inroads into smaller Tier II and Tier IV towns. Listen to The Signal Daily on Spotify, Apple Podcasts, Amazon Music, Google Podcasts, or wherever you get your podcasts.
DEBT CEILING
The Speaker Wins A Losing Deal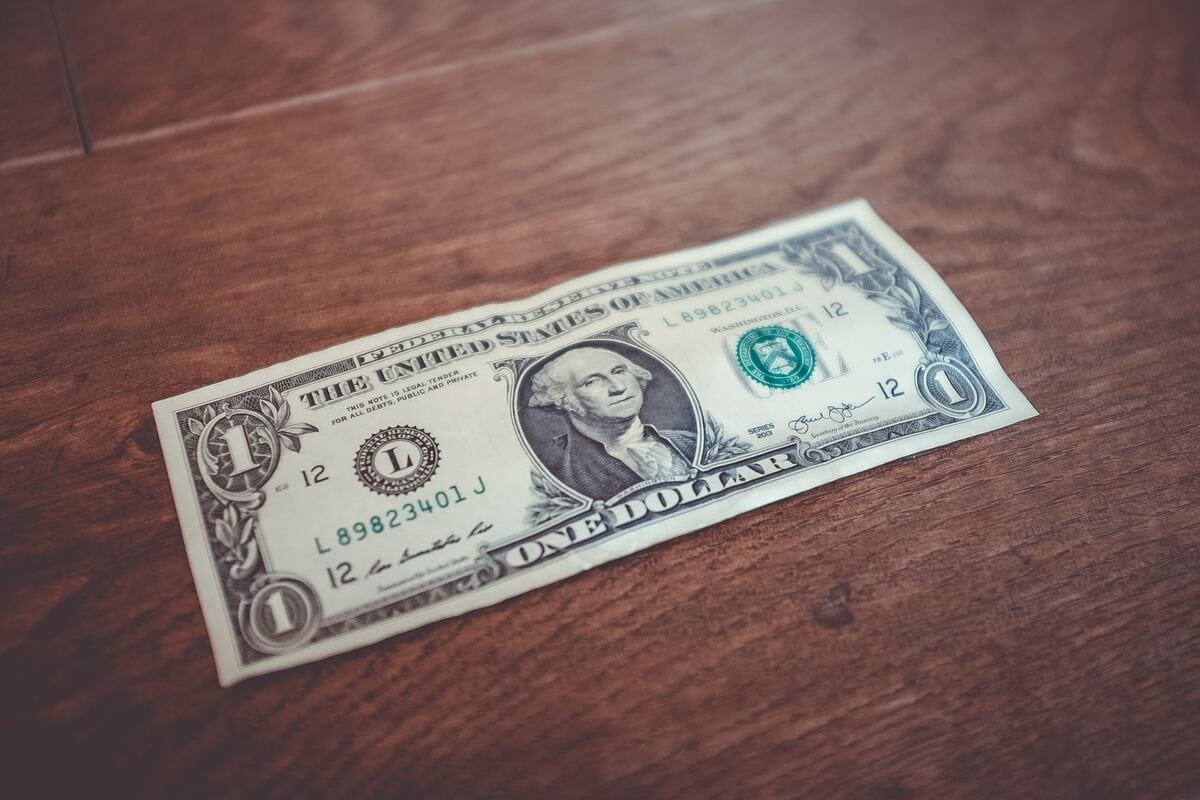 Photo by Kenny Eliason on Unsplash
In what will likely work as a balm for the jangled nerves of global investors, US President Joe Biden and House Speaker Kevin McCarthy nailed down a deal they can sell to both sides of the aisle. Or so they believe.
The deal: Details are still being worked out, but they've broadly agreed to raise the $31.4 trillion debt cap and more or less freeze non-defence spending for about two years. The deal will hold until January 2025, when the issue will come up anew.
The breakthrough cuts the chances of a potential US default leading to global market crashes and widespread job losses in the world's largest economy, whose debt is rated AAA.
Wall Street Silver

@WallStreetSilv
This is how bad Kevin McCarthy is at negotiating.
Kevin went in offering Biden an increase of $1.5 trillion and cuts.
Kevin walked out giving Biden an UNLIMITED debt ceiling increase and govt grows business as usual.
#DebtCeiling#DebtCeilingAgreemment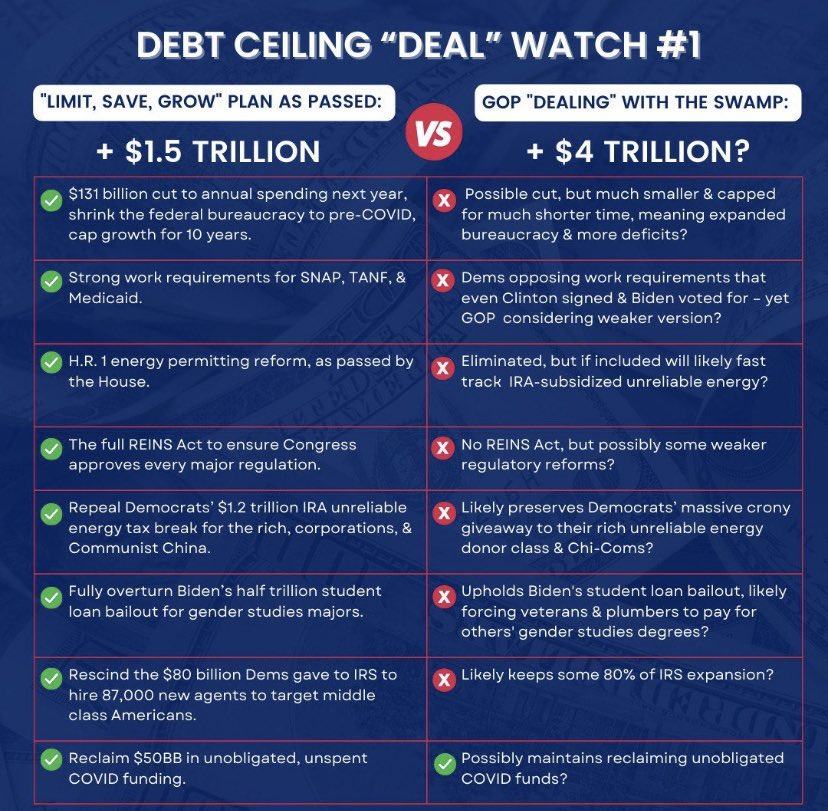 May 28, 2023
5.2K Likes   1.64K Retweets   501 Replies
The Signal
McCarthy and Biden will need to convince their respective parties, which are preparing for a presidential election in 2024. They have time only until June 5 to get a vote through even as McCarthy gets dragged over coals for caving in to Democrats.
Getting the debt deal through means overcoming resistance from Republican hardliners led by former President Donald Trump, who wanted to force a default and see whether the world will actually crash and burn. Hard-left Democrats, meanwhile, believe Biden has given away too much and may need quite a bit of convincing too.
ARTIFICIAL INTELLIGENCE
The Naver Ever Plan
South Korea's largest internet company by market cap has succeeded in stonewalling Google by commanding 61% of the local search engine market share. But the big G isn't one to slack off. By choosing Korean and Japanese as its first foreign languages for Bard, it's made its intent clear for the Korean-language AI market. In response, Naver, which operates the AI model HyperCLOVA X, is going global.
Details: Financial Times reports that Naver is betting on localised AI applications for varying cultural contexts and "political sensitivities", especially in the non-English speaking world. It's already got an agreement with Saudi Arabia to provide such services.
Why AI localisation is critical: Governments are becoming increasingly wary of sharing their citizens' data with other countries' tech giants.
Aside: OpenAI chief Sam Altman is India-bound in June, presumably to cajole the government into his idea for globally-regulated AI.
ENTERTAINMENT
Idiot Box → Empty Box
Are you all set for the series finale of Succession? You better lap it up, because it's likely you won't be watching anything as good for a while.
Other popular English shows such as Ted Lasso and The Marvelous Mrs. Maisel are also airing their final episodes soon. And while shows always come to an end, the problem is the Hollywood writers' strike has thrown a spanner in the supply chain. Filming of movies has also been delayed. It's unknown when the strike will end, and there's a chance actors and directors could join in. Shoots in Los Angeles have already dropped by 52% in mid-May compared with the same period last year.
Media behemoths such as Disney and Warner Bros. Discovery have also been cancelling shows and cutting budgets as they strive to achieve profitability. Meanwhile, streaming platforms have been raising prices, with Netflix cracking down on password sharing.
FYI
New birds: The C919, China's homegrown passenger jet, undertook its first commercial flight on Sunday. A China Eastern Airlines flight carrying 130 passengers took off from Shanghai and landed in Beijing nearly two hours later.
Welcome: An influential Congressional committee wants to include India in the 'Nato Plus' security bloc, which includes key allies such as Australia, Japan, South Korea, and Israel, among others. The calls for inclusion come ahead of Indian Prime Minister Narendra Modi's US trip.
I am in: In another sign of its growing proximity to China, Saudi Arabia is in talks to join the Beijing-based New Development Bank (or the BRICS Bank) as its ninth member, and help boost its fundraising efforts.
New home: PM Narendra Modi inaugurated India's new parliament in a ceremony that included the installation of the sengol, a sceptre from Tamil Nadu, in the Lok Sabha.
Pay up: Google will have to cough up $32.5 million in fines after a California federal jury found the search giant to be infringing on a patent held by Sonos.
Turkish delight (for some): Recep Tayyip Erdogan will stay as Turkey's President after defeating Kemal Kilicdaroglu in a run-off election on Sunday.
In the works: Global private equity firms General Atlantic and Advent International are close to snagging Everstone Capital's 40.9% stake in Restaurant Brands Asia, which runs Burger King in India.
THE DAILY DIGIT
$84 trillion
What global economies may end up paying by 2099 because of El Niño-spurred climate change. (Business Insider)
FWIW
What in the chutzpah?: Rajesh Vishwas, a bureaucrat from Chhattisgarh, drained two million litres of water from a dam to recover his lost phone. The food inspector also employed local divers for the mission, insisting that the device contained sensitive government data. Did we mention the official dropped his phone while taking a damn selfie? We don't need Sherlock to conclude that the smartphone didn't even work after it was retrieved days later. Vishwas has been suspended since. Aside, India is one of the most water-stressed countries in the world, per the World Bank. Remember folks, no selfie is worth the embarrassment. 
Toy Story: Adults these days are into furry business. Jellycats, a UK-based brand that makes stuffed toys for babies and toddlers, also caters to adults. The Amuseable collection, launched in 2018, includes fruits, vegetables, plants, and foods with droopy legs and a non-creepy smile. The hype is real. There's a Twitter bot account dedicated to Jellycats; at times, the plushies create enough resale buzz on eBay. The multigenerational appeal is probably because it also doubles up as ta-da home decor. One thing's for sure: embracing the inner child has worked well for toymakers. It's why LEGO kits and even McDonald's Happy Meal toys continue to have a cult following among adults. Is it too early to dock this under Capitalism 101?
And so it begins: Just in case you thought ChatGPT is coming for your job, here's your Monday Motivation. Steven A. Schwartz, a lawyer suing the Colombian airline Avianca, decided to use ChatGPT to bolster his case. Unforch for Schwartz, the chatbot manufactured six cases that don't exist. 🤦‍♂️ The personal injury lawyer will now face a sanctions hearing on June 8. Moral of the story: don't be like Schwartz. In related news, we'd told you about the Punjab and Haryana High Court using ChatGPT to decide a bail plea in March this year. What are the future implications? Read here to find out.