Discover more from The Signal
The Signal is a daily curated newsletter that helps you understand the latest developments in business, tech, finance, economy, and policy with sharp analysis and crisp insights thats fun to read arriving at 8AM daily in your inbox.
Over 81,000 subscribers
Reliance laces up for knicker wars
Also in today's edition: India's tense neighbourhood, Ikea's desi success pitch, Chelsea's bids are in, why EVs are betting on battery swapping
Good morning! Record temperatures are thawing the coldest place on earth. Berkeley Earth's lead scientist Robert Rohde tweeted that east Antarctica sizzled at 38°C above normal on March 18 – that's warmer than Delhi right now. The high comes on the back of an ongoing heatwave that's raising temperatures on the frigid continent by over 40°C. Scientists are flabbergasted. We are too.
You are likely reading this on a smartphone. But circle back your memories to 15 years ago, when you twiddled your thumbs on a dark blue Nokia 3310. Guess what? These phones are making a comeback. Our host Farheen will tell you how and why. Speaking of which Reliance Retail just gobbled up yet another lingerie brand — Clovia. So, what's the big deal? That's what we are diving deep into in today's episode of The Signal Daily! Tune in.
The Market Signal* 
Stocks: While there were no positive domestic cues, global factors continued to weigh on equities. Indices slipped as Russia-Ukraine talks failed and Saudi Arabia indicated that Yemeni attacks could impact oil production. In Hong Kong, trading in Evergrande stock was suspended. 
FOREIGN AFFAIRS
Beware The Ides Of March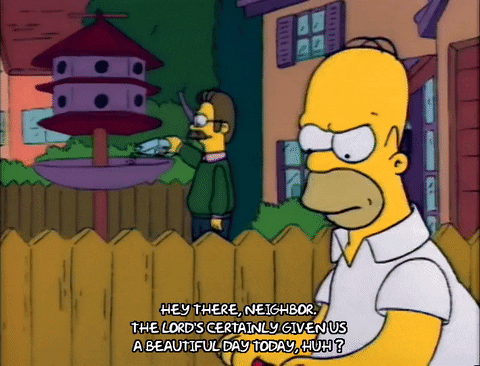 Even as India grapples with the tailend of the pandemic, global headwinds and fledgling economic recovery, its neighbourhood is slipping into chaos.
West: Across the border, arch-rival Pakistan is in political turmoil. Prime Minister Imran Khan is on the verge of losing power as he faces a no-confidence motion this week. Khan, once a favourite of the country's all-powerful military, has fallen out of favour. So much so that he praised India's independent foreign policy.
Further north, Afghanistan is as unstable as ever and has now accused the United States of "kind of" campaigning for ISIS. 
East: The Biden administration is about to declare that the military junta in Myanmar committed genocide of Rohingya Muslims, which will lead to the US clamping sanctions on the country.
South: Emerald island Sri Lanka is in a deep economic crisis with dwindling foreign exchange reserves, precarious agriculture and a restive population. The invasion of Ukraine has deprived it of Russian tourist arrivals and tea exports to that country.
All these countries also have very close political and economic relations with China, which is engaged in a war of attrition with the United States. Amid rising global stakes, the heads of the two superpowers had a tense two-hour conversation last week.
A MESSAGE FROM OUR PARTNER
How should you track your sales and customer interactions? Excel isn't the answer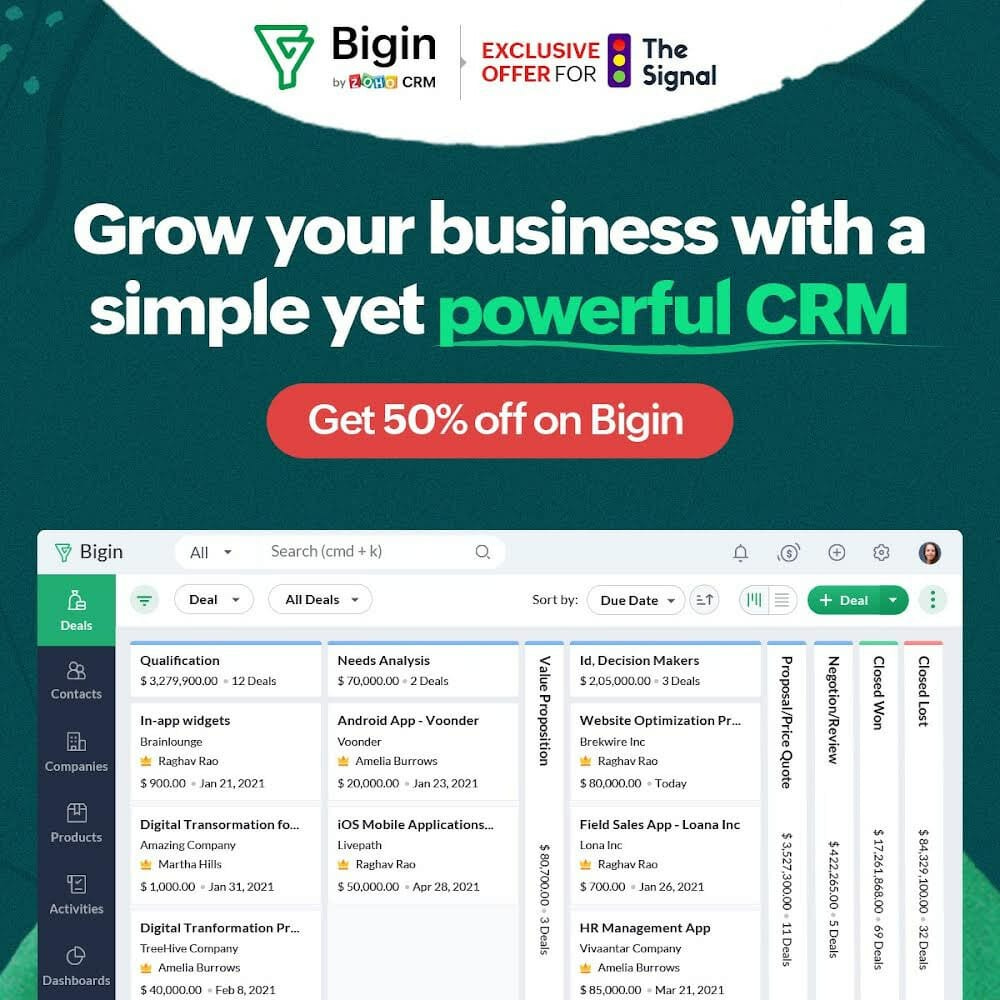 Are you a small business such as a freelancer, solopreneur, or a startup tired of juggling your sales and customer data across multiple platforms?
Get rid of chaos and manage customer relationships better with Bigin: a simple sales CRM tool from Zoho that helps you organize customer information and focus more on what's important—winning more deals. 
Bigin simplifies your customer communication with reminders, analytics, and performance tracking. Plus, it automates daily tasks to convert leads into happy customers.
Don't just listen to us—sign up for the free trial and check out Bigin for yourself today! 
Better yet: Readers of The Signal get a 50% discount—up to ₹7,500 off—on a Bigin subscription.
STRATEGY
Ikea Takes The Aloo Tikki Route In India
When a global brand enters India, there is predictably, a lot of excitement. But if there's one learning for these brands, it is that to crack this market, you need to localise and understand the Indian psyche. Swedish furniture retailer Ikea has seemingly mastered that.
Research, baby: To gain an insight into how middle-class India lives, IKEA visited over 2,000 Indian homes. These mostly included cramped apartments in Indian cities known for their tropical weather. Then came the hard task of localing its products.. For instance, selling spice boxes, idli-makers and a slim ledge to block water spilling from the washbasin are classic Indian problems. This is the same way IKEA had personalised products in Spain with paella pans. Studying potential Indian consumers also helped it deliver a bestseller: locally-made firm mattresses.
Following the footsteps: McDonald's mastered the art of Indianising its offerings ever since it introduced Maharaja Mac as the replacement of its signature Big Mac beef burger. Even Starbucks serves local snacks such as chole paneer kulcha and bhuna murgh pie. Back in 2005, GE also adapted to the Indian market by introducing a low-cost ECG machine. 
STRATEGY
Reliance Goes All Out For Innerwear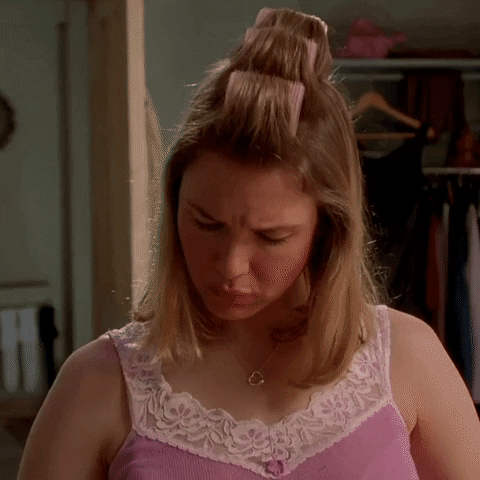 Reliance Retail has acquired an 89% stake in Purple Panda Fashions—the parent company of D2C lingerie and loungewear brand Clovia—for $125 million.
In June 2021, Clovia had appointed a former Victoria's Secret CEO as an advisor for strategy and expansion. A bulk of the Zivame competitor's revenues come from Tier II and Tier III cities.
Trio: This is Reliance Retail's third acquisition in the innerwear segment. In 2020, it bought out producer-entrepreneur Ronnie Screwvala's stake in Actoserba Active Wholesale, which owns Zivame. It then acquired Amanté, the retail lingerie label once owned by Sri Lanka-based MAS Holdings. Reliance also holds the India licences for international brands Hunkemoller and Marks & Spencer innerwear.
The Signal
Reliance Retail has gobbled 25 companies over the last three years, spanning online furniture retail (Urban Ladder) to high fashion. The ambitions of an omnichannel retail empire are clear as day.
Consider Zivame, a portfolio company of Kalaari Capital. Since 2018, Reliance bought four Kalaari-backed startups at depressed valuations and became a limited partner in the VC firm's fund through Jio Platforms, its holding company for digital assets. Reliance is now integrating the acquired brands into its ecommerce platform, JioMart.
But innerwear is tricky business even for a steamrolling conglomerate. Zivame's declining sales are catalysing a B2B pivot. There's also competition by Modenik Lifestyle, the merged entity of Dixcy and market leader Enamor. Biggies such as Jockey, Lovable, and La Senza also hold fort.
These brands, however, are offline-driven. Which is why Clovia's digital-first, small city focus fits neatly into Reliance Retail's omnichannel strategy.
ELECTRIC VEHICLES
EV Makers' Maggi Challenge
The electrification of mobility is picking up speed as companies experiment with different technologies to boost EV adoption. Some are betting on battery swapping as a cost-effective solution, especially for public transport.
Why? Instead of charging, which takes time, vehicle owners can swap the battery in just a few minutes. The cost is low and customers won't have to worry about its longevity. Finance Minister Nirmala Sitharaman also spoke about a battery-swapping policy in her Budget speech.
Three-wheeler startup Bounce and Sun Mobility are investing heavily in battery-charging stations. In the West, companies such as Tesla and Volvo are testing wireless charging technology.
Hurdles: Just like mobile phones, batteries and charging devices are not standardised. EV makers need interoperable charging infrastructure, which is essential for quick, large-scale customer adoption.
BUSINESS OF SPORT
Chelsea Buyout Blues To Be Over Soon
The bids are in, and very soon, Chelsea will have a new owner, replacing the sanctioned Roman Abramovich.
State of play: As of now, multiple consortiums have placed their bids for the £3 billion London club. These include real estate developers, private equity funds, and American sporting team owners, among others.
The Mumbai connection: Apollo Global Management co-founder Josh Harris and former Liverpool chairman Martin Broughton have put together a consortium that also includes Vivek Ranadivé, the Mumbai-born co-owner of Sacramento Kings (NBA). (Fun fact: Harris co-owns Premier League club Crystal Palace, which Chelsea will face in the FA Cup semifinal soon). 
A similar quirk also follows the consortium led by LA Dodgers owner Todd Boehly, which includes Jonathan Goldstein, a British real estate developer. Goldstein previously made a bid for Chelsea's rival London club Tottenham Hotspur in 2014. Indian-origin technology entrepreneur and Chelsea fan Anand Sambasivan is part of a £2 billion bid by Nick Candy. 
FYI
Tragedy: A Boeing 737-800NG aircraft belonging to Chinese Eastern Airlines Corp. with over 130 passengers on board crashed in China's southern Guangxi province. The airline was en route from Kunming to Guangzhou. China Eastern will now ground its Boeing 737-800 jets after the crash.
Australia vs. Big Tech: After suing Meta for allowing scam crypto ads, Australian regulators will ask large internet platforms to provide data about their handling of mis/disinformation.
Fresh war chest: Early-stage investing fund Inflection Point Ventures has launched a $50 million fund called Physis Capital. Meanwhile, Tiger Global has closed $12.7 billion for its latest fund. CommerceIQ, a SaaS company has turned 🦄 after a $115 million fundraising round led by SoftBank Vision Fund.
Different takes: Malaysia's communication ministry has proposed that non-fungible tokens (NFTs) and crypto mining be legalised, while Australia is moving to regulate cryptocurrency.
Take a hike: Petrol and diesel prices have been hiked for the first time since November 2021. The price of both fuels were increased by 80 paise per litre.
Adding to cart: Digital payments company PhonePe has acquired gig economy marketplace GigIndia, while Tiger-backed Bizongo acquired Mumbai-based internet of things startup Clean Slate.
Russian justice: Putin-baiter Alexei Navalny is scheduled to be sentenced today. Here is a thread.
FWIW
Knot on my watch: When Mike Jackness and Dave Bryant bought the domain knitting.com, they wanted to disrupt what they thought is an unsophisticated space filled with timid grandmas. They couldn't be more wrong. The entrepreneurs are facing resistance by a knitting community that wants no tech bros in their corner. So fierce is the blowback that the duo has compared the experience to "witch trials" and "high school bullying".
Thorny affair: The man who made millions from millennials' favourite houseplant is having his day in court. Byungsu Kim, who poached over 120,000 succulents from the US and South Africa, is facing jail time for trafficking threatened dudleya species to collectors. Some plants fetched as much as $600,000. Reminds us of Susan Orlean's Orchid Fever, a paean to the bizarre world of orchid collectors.
McCopy: Move over Ronald McDonald. There's a new burger ambassador in town, and his name is Uncle Vanya. Named after a character in a Chekhov play, Uncle Vanya is filling the McDonald's void in Russia– so much so that it's even using a logo identical to the fast-food giant's. Considering Russia is allowing local businesses to ignore patents owned by entities from "hostile countries", Uncle Vanya could be unscathed by impending lawsuits.
Want to advertise with us? We'd love to hear from you.
Write to us here for feedback on The Signal.