Discover more from The Signal
The Signal is a daily curated newsletter that helps you understand the latest developments in business, tech, finance, economy, and policy with sharp analysis and crisp insights thats fun to read arriving at 8AM daily in your inbox.
Over 81,000 subscribers
Reliance has lending dreams
Also in today's edition: Peloton has a great fall; Bike sales slow down; Netflix eyes Academy Awards
Good morning! What do you get when the world's largest conservation organisation courts the flashiest thing on the block(chain)? Backlash. The World Wide Fund for Nature attracted a firestorm for its 'Tokens for Nature' NFT drop. So much so that it's now cancelled the fundraising project. If a climate action organisation minting energy-guzzling NFTs and literally tokenising endangered species isn't a laughable paradox, what is?
In today's episode on The Signal Daily, we cover the hottest topic in Hollywood: Oscar nominations. It's worth noting that streaming services such as Netflix and Apple are making it to the Academy Awards stronger than ever. We also look at how the Indian two-wheeler market is faring. Tune in to find out why and more!
The Market Signal*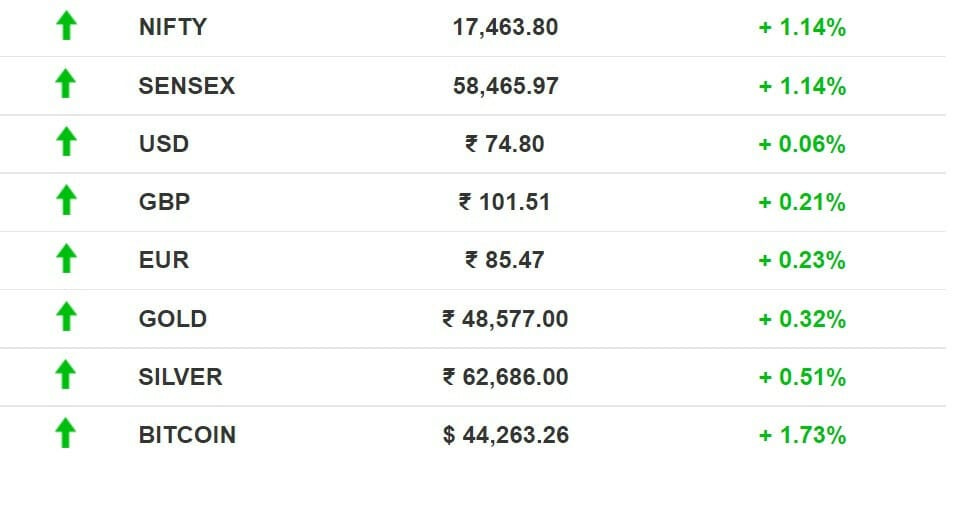 Stocks: Benchmark indices rose for the second straight day. Maruti led the rally with a gain of 4%. Bharti Airtel touched a high despite Q3 profit showing a dip albeit on higher revenues. Prices of gold and silver surged. Markets are bracing for a US rate hike.
Peloton Spins Out Of Control
Connected fitness and exercise equipment maker Peloton has laid off 2,800 employees and replaced co-founder and CEO John Foley. The development comes just days after news about Amazon and Nike eyeing a buyout.
Former Spotify CFO Barry McCarthy will step into Foley's shoes.
Backfoot: The pandemic darling has been treading on eggshells ever since gyms reopened in the US and rivals such as Hydrow and Tonal piggybacked on its connected fitness concept. That Big Tech companies are also building their own health platforms didn't help its case. Neither did its management.
Investor heat: In a scathing 65-page presentation (pdf), activist investor Blackwells Capital held Peloton management responsible for a $40 billion loss in shareholder value. It deemed the company performance "abysmal" and pushed for a sale. Suffice to say, Blackwells is not content with an executive reshuffle.
Sore spot: In a piddling effort, Foley offered complimentary Peloton memberships to fired employees. The small mercy is that Silicon Valley recruiters have their backs.
A MESSAGE FROM OUR PARTNER
It Works With That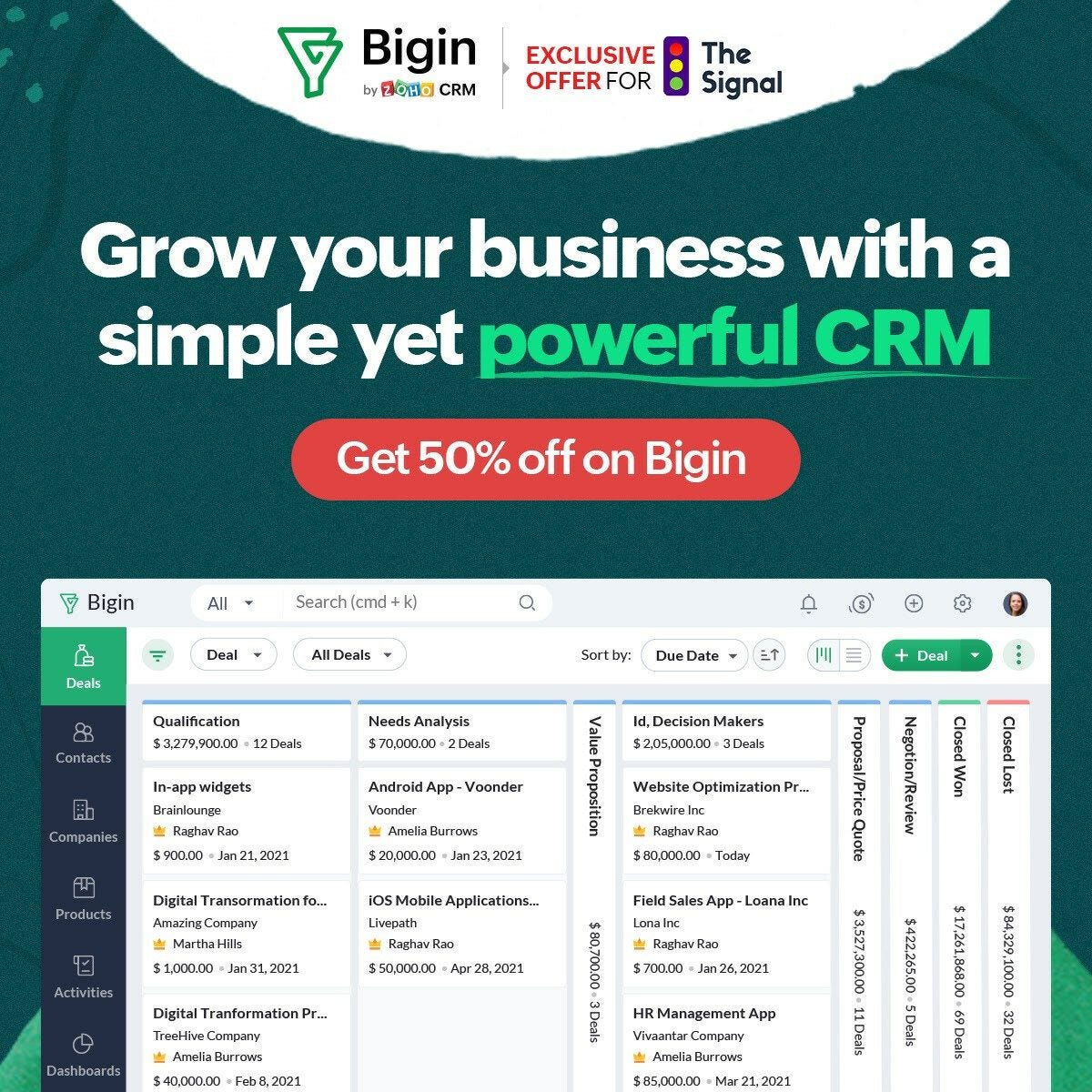 Seamless collaboration is an absolute must for top-class performance. For this to work, business apps need to work in tandem.
Enter Bigin. Hassle-free and simple to use, Bigin is a CRM for small businesses to ensure work runs smoothly.
What's more? It can be set up in just 30 minutes. It can bring your customer information together, automate daily tasks, centralise sales pipelines, analyse results and measure performance–all in one place.
Did we mention? It even integrates easily with apps like Google Workspace, Microsoft 365, Zoom, Mailchimp, Zoho Books, and more than 2000+ apps through Zapier and Zoho Flow.
The Signal readers get 50% off upto ₹7,500. Don't think, just Bigin now.
Will Reliance Be The Bull In A China Shop Again?
Billionaire Mukesh Ambani's Reliance group is planning to muscle into the highly competitive retail lending business currently divvied up by private and shadow banks.
The vehicle is Reliance Retail Finance (RRF), an unlisted subsidiary that was until three years ago an investment manager for group companies.
It started life in January 2000 as Tex-Style Synthetics but was renamed Reliance Power Ventures five months later and acquired an NBFC licence. It later became a Jio phone financier.
The Signal
Financing is a tempting business for companies with access to cheap capital.
Reliance Jio made the first foray into banking through payments with SBI. But that is delayed. The new initiative is eyeing the customer base of its retail businesses for consumer loans. It is jumping into an arena dominated by the likes of HDFC Bank, ICICI Bank and Axis Bank and NBFCs such as Bajaj Finance. The timing is, however, crucial as interest rates are set to rise.
Reliance has deep pockets and its flagships in the petrochemical and energy businesses are cash gushers. A bonanza is likely this quarter because of a global gas supply crunch. If it supports RRF with cheap capital, it could give the entrenched players a run for their money. It could disrupt the market the same way Jio churned the telecom business back in 2016, forcing rivals Airtel and Vodafone into a bruising competition for market share that brought the latter to the verge of bankruptcy.
As it owns most of the pieces of the retail business, including supply and distribution, it could easily own end-to-end financing–from producers to consumers–of the chain as well.
Two-wheeler Sales Hit A Pothole
The ubiquitous two-wheeler in India balances more than just riders on its narrow seat. Motorcycles and scooters are personal transport but also double up as key entrepreneurial accessories.
A record drop in their sales, especially at a time when home-delivery businesses are booming, does not augur well for the economy.
Speed bump: While high-performance motorcycles and spiffy scooters are largely preferred by city dwellers, the sturdy ones with long ranges are usually in high demand in villages. Rural areas have a well-paved roads network after two decades of village-road building but poor public transport. Most people rely on personal vehicles, predominantly motorcycles. Small rural businesses, trade and services heavily depend on two-wheelers.
The fall in two-wheeler sales points to sluggish economic recovery and continuing income distress.
Will Streaming Services Strike Gold?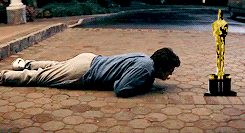 The Oscar noms have just been released, but there's already a clear winner: streaming platforms. Netflix is leading the race with 27 Oscar nods. Power of the Dog earned it a dozen bids, including best picture and best director. Disney+ trails close with 23; Apple TV has six nods.
Break the jinx: Streaming platforms have never picked the coveted honour for the best picture. This year, five out of 10 film contenders come from them.
Netflix has been wanting to make an Oscar for some time now. So much so, it associated with big-ticket filmmakers, A-list stars, and blitz campaigns in recent years. Typically, films vying for the Oscars qualified only if they had a theatrical running for at least a week. But times have changed. 
What to watch next: Hollywood's next stack of films seem to be on popular tech names. There's The Dropout based on Elizabeth Holmes; Super Pumped on former Uber CEO Travis Kalanick; WeCrashed, inspired by the WeWork founder Adam Newmann, and Doomsday Machine, a limited Facebook series. Take your pick.
FYI
It's raining cash: Fintech startup Cred will reportedly collect $300 million in a fresh funding round, taking its valuation to $6 billion. Sequoia Capital India is looking to raise $2.8 billion in funds from its US parent to support Indian and Southeast Asian start-ups.
Big effing deal: Lupa Systems, the private investment company of Uday Shankar and James Murdoch, will raise $1.5 billion from the Qatar Investment Authority.
Sued: Meta and digital banking company Chime have joined forces to go after two phishing scammers in Nigeria.
Worried: India's upcoming privacy legislation which implements data protection is also on Meta's mind.
Clone: Sri Lanka will replicate India's Aadhaar digital scheme based on biometric data for its citizens.
Numbers game: Nykaa logged in a consolidated net profit of ₹29 crore in its December quarter, a 58% plunge from the last quarter.
Slashed: Oyo will reportedly raise less than its intended $1.2 billion in its upcoming IPO.
Up: Airtel is mulling over another round of tariff hikes in 2022.
FWIW
Eye of the storm: It's a rather expensive setback for Elon Musk's satellite internet service StarLink. Forty of the 49 satellites launched last week will be destroyed because of a geomagnetic storm. These will make their way back home but pose no risk since it is designed to disintegrate. This piece of news probably spells small joys for astronomers.
Almost famous: Croatia was gearing to adopt the Euro as its currency by 2023. After holding a contest inviting designs, a logo was even zeroed in. Turns out, the winning design was a plagarised image taken by a British photographer. The design now stands withdrawn. The artist has earned a bad look and lost his bragging rights.
Busted: A NY couple have been arrested for scheming to launder $4.5 billion worth of bitcoin. This was part of the 2016 crypto exchange hack. It's called the "largest financial seizure ever". Authorities have recovered $3.6 billion.
Want to advertise with us? We'd love to hear from you.
Write to us here for feedback on The Signal.