Discover more from The Signal
The Signal is a daily curated newsletter that helps you understand the latest developments in business, tech, finance, economy, and policy with sharp analysis and crisp insights thats fun to read arriving at 8AM daily in your inbox.
Over 81,000 subscribers
[The Impression] Snapchat's India Story
Snapchat claims to have doubled its Indian user base in a year. What should it do next to succeed here?
Good afternoon!

Welcome to The Impression, your weekly primer on the business of media, entertainment, and content.
If you're a subscriber of The Signal, you've received this edition of The Impression automatically. From next week, you'll have to sign up separately to receive The Impression.
If you like what you read, hit the button below to subscribe now—it's free!
Back in 2012, Snapchat was the hot new thing on American college campuses, including mine. Everyone was busy on their phones between classes and during meal times, maintaining their 'streak'—an unbroken chain of disappearing photos/videos DM'd to one another. And, of course, sending risqué snaps to that cute person in your class, which is what Snapchat was supposedly invented for.
That was more than 10 years ago. Snap is a listed company now, and its closest competitor, Facebook-owned Instagram, has built much of its success on copying some of Snapchat's innovative features, such as Stories. This past weekend, I cranked up my nearly decade-old Snapchat account to find out what's changed.
In India, Snapchat has hit a milestone. Last week, founder Evan Spiegel said the platform had "more than doubled" both its user base (up from 100 million) and engagement rates. Where does it go from here?
The next chapter in Snapchat's India story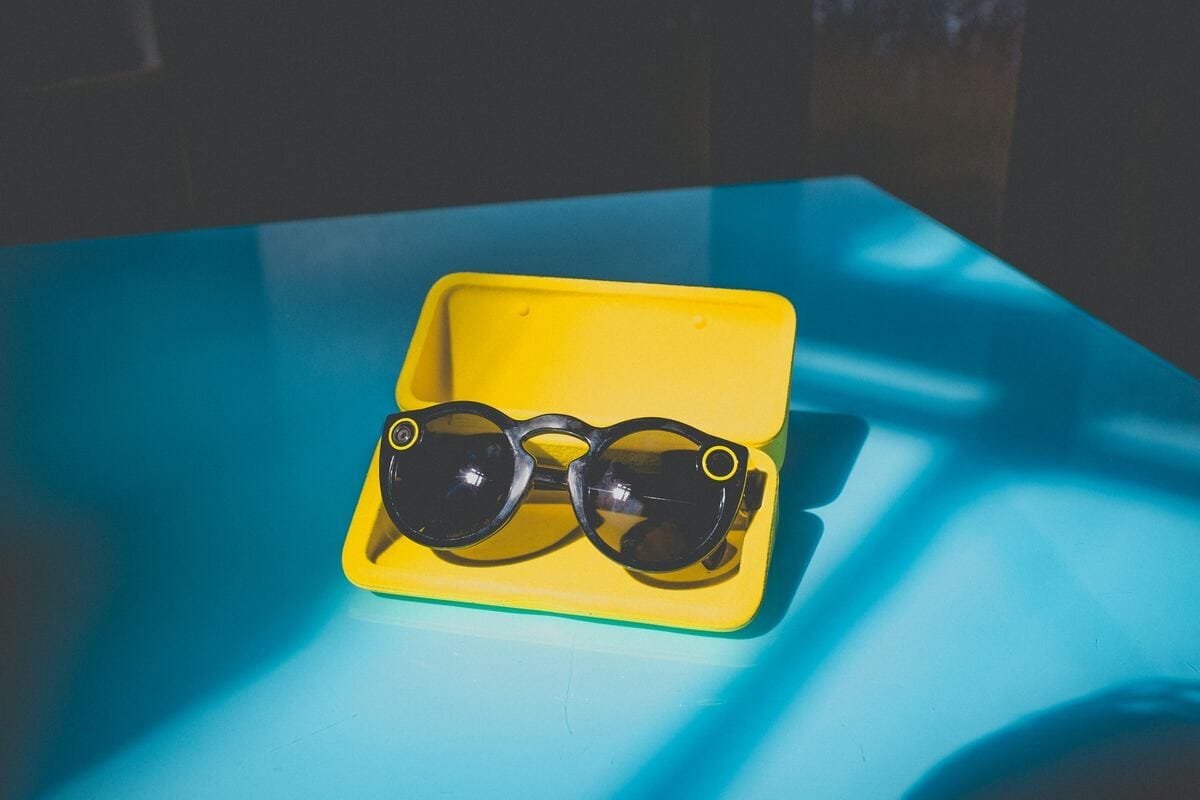 Snap Inc's 'Spectacles'/ Kenny Eliason for Unsplash
First, a look under the hood. As per Spiegel, Snapchat now has over 200 million active users in India. That would mean it's still lagging behind Instagram, which reportedly has over 400 million (total) users in the country as of August last year.
And most of its revenue, even globally, comes from ads. The company introduced a subscription tier called Snapchat+ last July, rolled it out in India a month later, and then announced it had over a million subscribers worldwide. But this revenue was still negligible, at least in 2022, per Snap Inc's latest annual report (pdf).
In India, Snapchat made about ₹65 crore (~$8 million) in revenue from operations and a modest ₹6.22 crore in net profits after tax in the financial year ended March 2022. Most of its expenses go into paying employees and spending on advertising and promotions (A&P). And while Snap's A&P spends are up 5x since the year ended March 2020, employee-benefit expenses are up more than 13x in the same period. Makes sense that Snapchat India would scale up its team here, especially in ad sales and creator partnerships. Ajit Mohan, Snap Inc's head of the Asia-Pacific region, is currently hunting for a new India general manager.
Harish Arjun/The Signal
Also, Snapchat India earns all of its reported revenue from operations from a fellow subsidiary in the UK called Snap Group Ltd, per company filings. Why would that be? One possible explanation is that Snapchat bills its ad clients in India from its UK entity, and pays its Indian subsidiary to execute those contracts. This is a fairly common arrangement among global technology companies operating in the country, and is often set up to reduce tax outgo. Snapchat's representatives did not respond to requests for comment.
Cracking ads in India
Snapchat ads are served between Snapchat Stories and short-video content in Snapchat Spotlight. There are also a few sponsored lenses that people can use, something Snap Inc. calls AR Ads. But a majority of these ads in India are bottom-of-the-funnel, conversion-focused, performance-marketing campaigns that drive users to click on a link that allows them to buy a product or sample a service.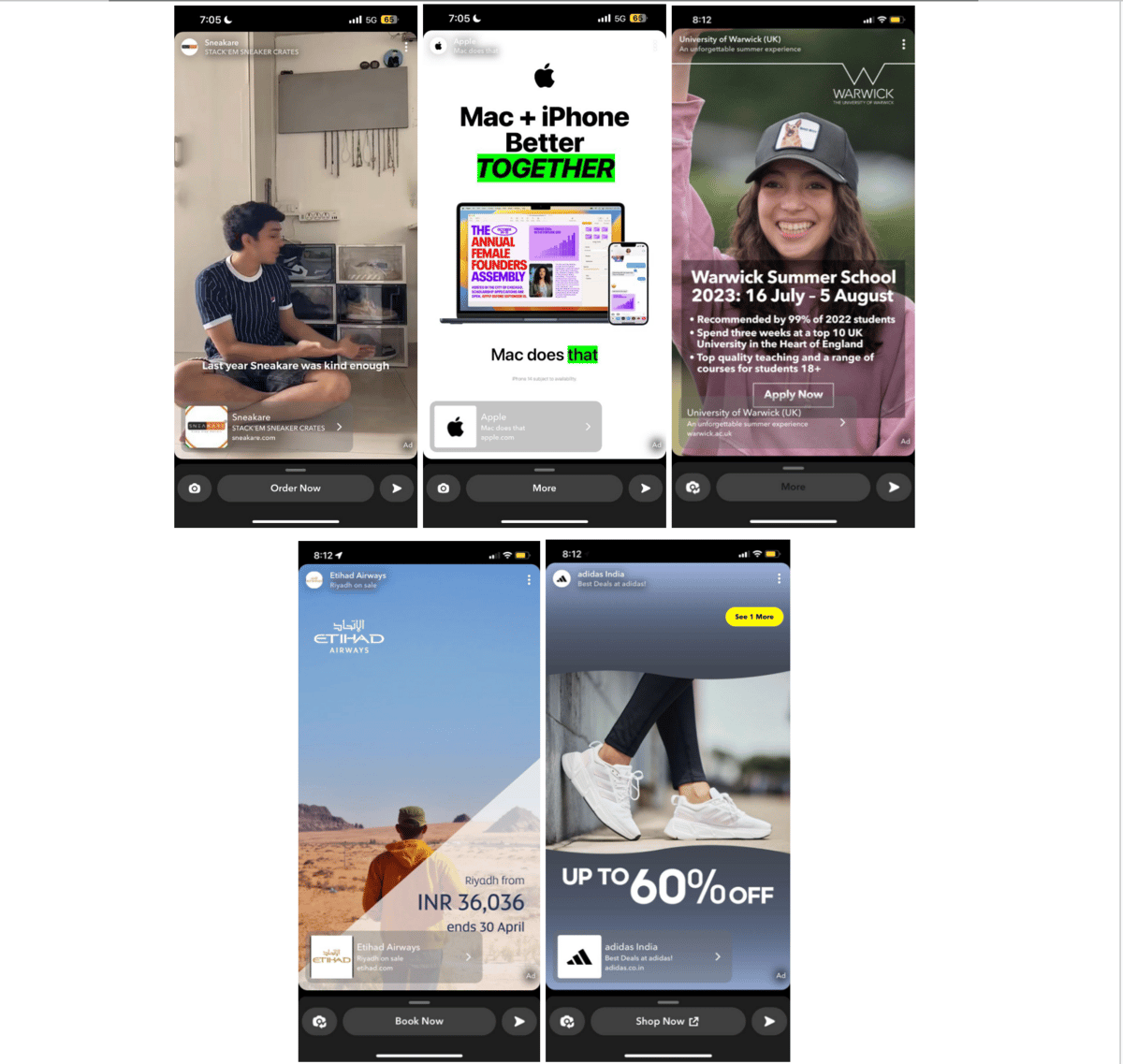 Snapchat ads in India
"Most of Snapchat's ads [in India] are performance marketing; there's not much content- or influencer-marketing going on right now," Ayush Shukla, founder of influencer marketing firm Finnet Media, told The Impression. Shukla is a content creator himself, and his firm manages a roster of mostly young finance content creators. "I don't use Snapchat, and neither do the others [managed by Finnet]. There is an audience there, but it is also very female-dominated and a very interpersonal thing. Like, I would never add a colleague or my employer to my Snapchat." For now, there are no ads in Snapchat streaks (just like there aren't any in Instagram DMs).
Besides stories and streaks, Snapchat's Spotlight does not yet have enough big-name celebrities and influencers creating lots of content. "Snapchat has a lot of users, but not much UGC (user generated content), Finnet's Shukla said. "The Spotlight programme is off to a slow start. They need creators first; then the brands will come."
To partially get around that problem, Snapchat announced the launch of vertical video programming, called Snap Originals, in June 2021. Just last month, it released its first original, a reality show called Phone Swap India.
A few brands have run big brand marketing campaigns on Snapchat in India using branded Snapchat 'Lens' or AR filters. These include fragrance brand Park Avenue (2022) and e-commerce company Flipkart (2023). Ad-tech firms Httpool and Tyroo are handling Snapchat's ad inventory sales in India.
Among influencer marketing professionals, Snapchat's edge (over Instagram) is that it has a more affluent and much younger audience (teenagers to under-25-year-olds). But several small hiccups make Instagram still more attractive to these marketers over Snapchat.
"Meta apps (Facebook, Instagram) have always had much better targeting than other social media. Snapchat doesn't let you do precise geotargeting for your ads in India," a social media marketing executive of a Mumbai-based boutique marketing agency told The Impression, requesting anonymity. Geotargeting is a practice that lets a marketer target an audience located in a specific area down to a city, district, or even neighbourhood. For offline businesses (such as, say, a new restaurant or store), geotargeting is a crucial tool to ensure their ads reach only those who can actually visit them.
Besides, Snapchat ad inventory tends to be more expensive than what Meta and Google offer, even in biddable ad inventory, this social media executive said. "Snapchat is seen as a luxe, young place for brands. And that's why CPMs (cost per mille, a monetary unit of ad inventory prices) are always much higher," she said. In the US last year, Snapchat alone reported a rise in CPMs among its social media peers—up 30% year-on-year, as per an Insider report. Despite a smaller audience than Google and Meta, Snap was charging a big premium on its ad inventory even in its home market.

In India, too, it looks like Snap wants to fix itself on top of the consumer pyramid.
The 'sex' thing
To make the ads business come together, Snapchat may also need to deal with perception. A couple of younger Snapchat users I spoke to said that in the under-25 age bracket, Snapchat is generally associated with sexting/flirting.
As one of them put it: "When you match with someone on [dating app] Hinge and they instantly ask you for your Snapchat, that's shady." Implying that Snapchat is usually a no-pressure channel to exchange sexual photos and messages that can't be recorded with someone you're only casually interested in. That's unlike Instagram, where people generally share 'safe' content in stories and posts that they're comfortable making public (with some exceptions, such as the Close Friends feature on Insta stories).
Now, the proliferation of inappropriate and sexual content is not exclusively a Snapchat problem—arguably, TikTok, Facebook/Instagram, and YouTube have it worse. Snapchat also introduced parental controls this year. But it's been dogged by an association with sexual content since its earliest years, not least because it was supposedly founded on a college campus by horny young men looking for a safe way to send nudes. This year, it launched a chatbot called My AI. The bot instructed a Washington Post columnist, posing as a teenager, on everything from how to hide the smell of alcohol and pot at a teen birthday party to how a 13-year-old may have sex with a 31-year-old. My AI is only available to Snapchat Plus subscribers.

So, there's a bevy of young, affluent users in India who are evidently using Snapchat. Is that enough to build a large enough ads (and eventually subscriber) business)? This is probably a chicken-and-egg problem. User behaviour on the platform needs to shift from just streaks among friends to publicly-available content that can be used by brands. But to do that, Snapchat will need to bring in a robust creator network whose content will shift their existing users' behaviour and help them acquire new ones. That means we will probably see Snap Inc. pump more money into its India operations—more hiring and hopefully, better content.
Last Scroll Down📲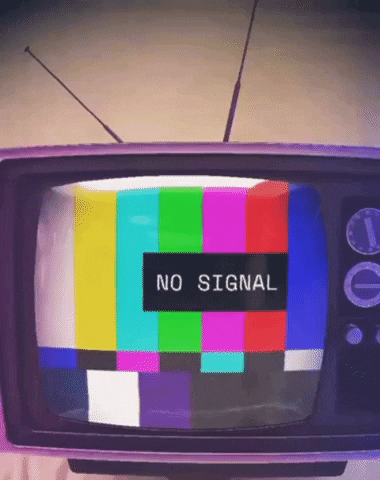 GIPHY
Fight, fight: Indian television broadcasters are fighting for spectrum. The government is planning to auction chunks of C-band spectrum to telecom companies for 5G and 6G networks. Broadcasters say this will reduce the spectrum available to them so much that it'll throttle their ability to broadcast without disruption. First, a news broadcasters' association wrote to the Department of Telecom asking it to stop the auction. A few days later, Disney Star president K Madhavan wrote a similar letter to the Ministry of Information and Broadcasting on behalf of other TV broadcasters.
Finish line: Zee Entertainment is trying to settle and restructure its outstanding debt with creditors who moved India's bankruptcy and insolvency court against the company over past defaults, per Bloomberg. Zee needs to tie these loose ends asap as it races to close its merger with Sony India.

Newer pastures: After music and movies, T-Series is branching out into the OTT business and greenlighting fewer films for cinemas. Two of its recent theatrical releases, Shehzada and An Action Hero, have flopped. The production house is working on two biographical shows—on choreographer Saroj Khan and Café Coffee Day founder VG Siddhartha, and one with director Hansal Mehta.

Fat trimmings: Music labels want broadcasters to pay more for using their songs on reality TV shows. So much so that TV execs say the rise in these fees may stall the launch of new music/dance reality shows. It could also mean only the biggest shows will survive; high music licensing fees can only make sense if you're as big as, say, Indian Idol.
Boss babies: CoComelon will now be an animated movie, courtesy DreamWorks. Characters of the wildly successful YouTube channel (158 million subscribers!) for kids have already been adapted into a Netflix show, and producers Moonbug Entertainment want to take the IP across formats, including a hotel playground and customised animated fan shoutouts. Its ambitions are in experienced hands: Disney acquired Moonbug Entertainment in November 2021 for $3 billion.
I verify dead people: Twitter has been reportedly reinstating blue ticks free of charge to accounts with over a million followers, but with a note claiming the user subscribed to Twitter Blue and verified a phone number. As a result, several accounts belonging to dead celebrities are now showing up with the blue tick again, with a misleading message that they've paid for it and verified their credentials. Fwiw, some fans, such as those of deceased actor Sushant Singh Rajput, are happy their favourite celeb's blue tick is back (see Twitter thread).
Trumpet 🎺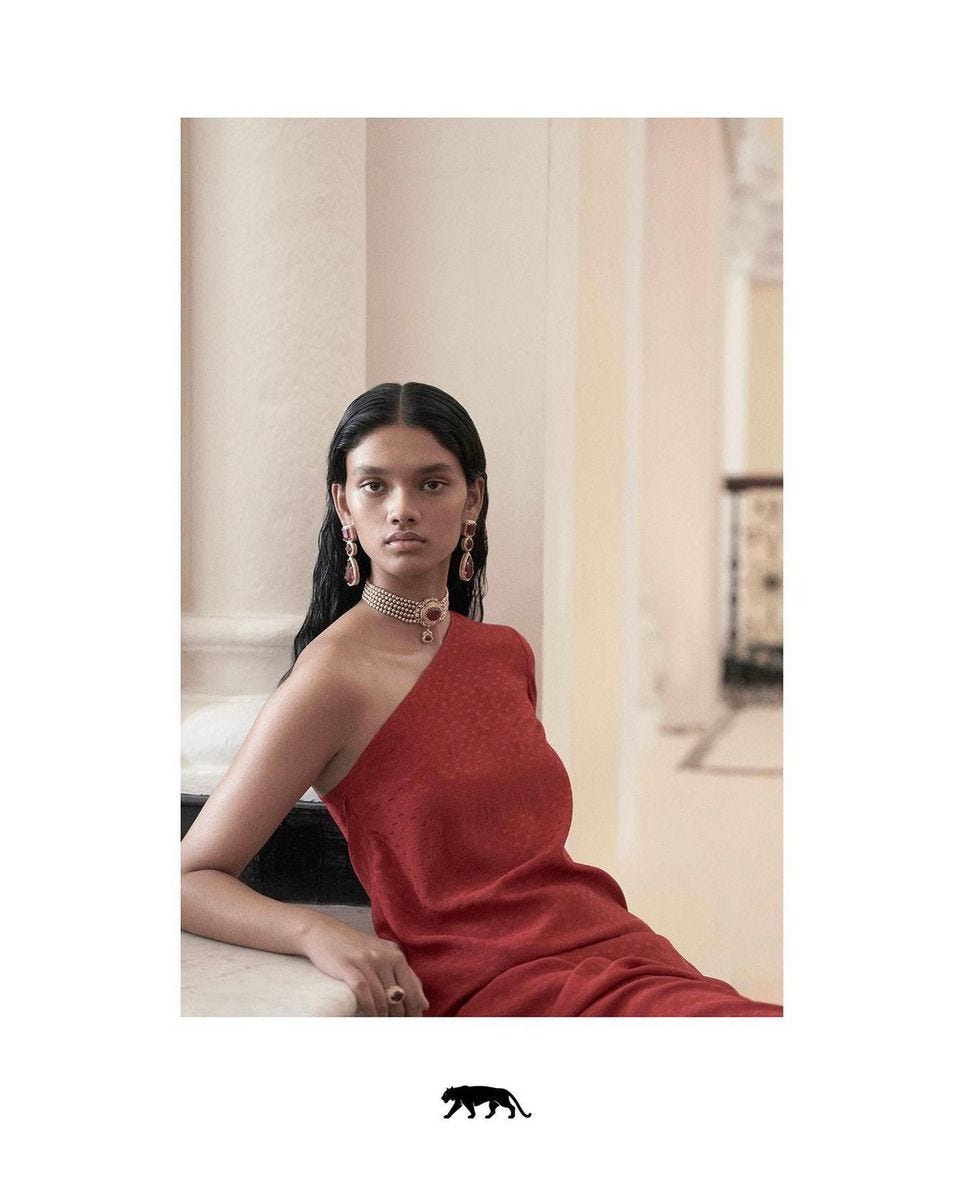 Sabyasachi/Instagram
Every year, someone tells Sabyasachi Mukherjee that his models are glum and depressing. This year's no exception. Comments on Twitter poured in after ads of his newest collection were plastered across national dailies. Arguments ranged from the models being off-putting to their expressions and clothing being inappropriate for happy occasions such as religious festivals or weddings.
I don't know if the man who virtually invented the contemporary Indian bridal look is paying attention. Maybe not, not least because he sold a controlling stake in the Sabyasachi brand to the Aditya Birla Group back in 2021. But models of haute couture or high fashion (such as Sabysachi) typically don't smile because of aristocratic convention: a haughty, mysterious, unattainable look signals luxury and exclusivity, the lifeblood of the fashion business. Could that change as social media democratises the industry more and more? I don't know, but apparently us regular folks aren't smiling much in selfies either.
That's all this week. If you enjoyed reading The Impression, please share it with your friends, family, and colleagues. And please write to me anytime at soumya@thesignal.co with thoughts, feedback, criticism or anything you'd like to see discussed in this space. I'd love to hear from you.
Thanks for reading, and see you again next Wednesday!
he