Discover more from The Signal
The Signal is a daily curated newsletter that helps you understand the latest developments in business, tech, finance, economy, and policy with sharp analysis and crisp insights thats fun to read arriving at 8AM daily in your inbox.
Over 81,000 subscribers
Your sneakers might not arrive
Also in today's edition: Online groceries launch private labels; NSE run by Himalayan yogi; LIC: India's biggest ever IPO; Chinese Big Tech chase metaverse
Good morning! Not all cryptocurrencies make hay while the sun shines. 'Let's Go Brandon' or LGB—the American alt right memecoin that was born as a slight to US president Joe Biden—is now worthless. At its height, LGB was endorsed by NASCAR driver Brandon Brown. That high point tumbled when NASCAR halted Brown's sponsorship. So much for playing the trump card.
In the latest episode of The Signal Daily, Farheen Khan talks about the Chinese Metaverse story. Tencent seems to be betting big on metaverse. We also discuss the global supply chain crisis and inflation. Listen in to find out which industries are the most impacted.
The Market Signal*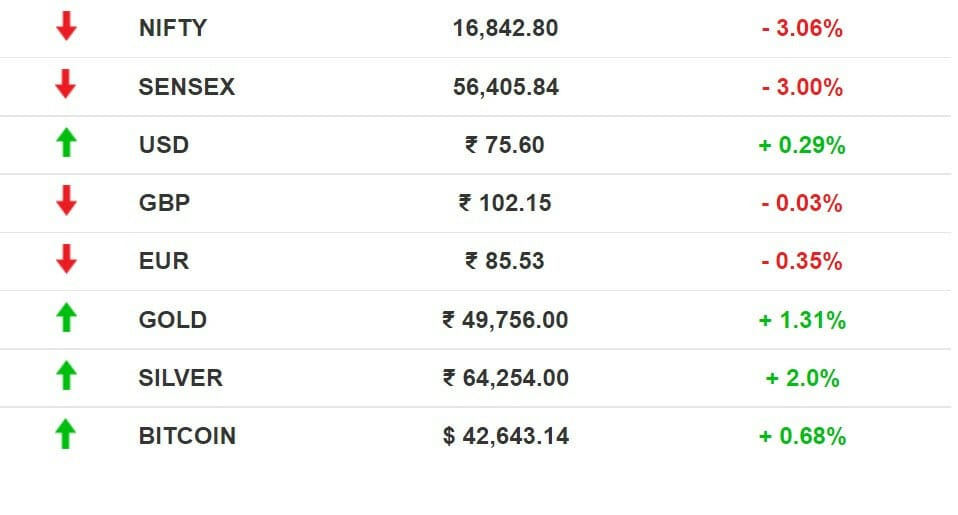 Stocks: Indian benchmark indices took a tumble (an understatement!). Nifty saw its highest single-day fall in the last 10 months. Primary causes include concerns of a possible Russian invasion of Ukraine, and its potential impact on oil prices. Investors are reported to have lost nearly ₹8.5 lakh crore on Monday.
Q-commerce Tries To Get Rich
In the least surprising move ever, quick commerce players Zepto and Swiggy are deploying the tried and tested tactic in the online grocery business: launching private labels to shore up margins.
Imitation game: This move is strategic, and one that's employed by a host of players. Unlike traditional brands, private labels can cut through the retail prices and distribution commission. Swiggy and Zepto are likely to run into rivals Dunzo and Blinkit, who already offer private label products, across categories.
Road to? There are too many players in the quick commerce segment. This comes right after Zomato decided to bolster an additional $400 million in BlinkIt. Ola entered the quick delivery space last month; BigBasket is jumping in aggressively to make up for its lost time. Overseas, Buyk and GoPuff have similar plans. Is this the path to profitability? Well, the quick commerce wars have only begun.
When A Yogi Ran A Stock Exchange
New details are emerging in market regulator Sebi's investigation against the National Stock Exchange (NSE) and its five former executives, including former CEO Chitra Ramkrishna. Ironically, Ramkrishna—who was the NSE's first woman chief—was part of the team that drafted Sebi's legislative framework in the '80s.
Puppet: Ramkrishna sought professional "guidance" from a mysterious yogi she called 'Sironmani'. Sensitive information ranging from NSE's financial data and projections to board appointments were shared with him. In short, 'Sironmani' ran the NSE.
Holy moly: Sebi's probe reveals that 'Sironmani' and Ramkrishna even holidayed together, contrary to her claim that they never met. Page 99 of Sebi's order has a particularly bizarre revelation: "The noticee [Ramkrishna] made a misleading submission that the unknown person [Sironmani] was a 'siddha-purusha' or 'paramhansa' who did not have physical persona and could materialise at will."
Sebi could not check a lot of correspondence and emails because the NSE had disposed of the computers as e-waste. That this could happen at NSE, which prides itself for its professionalism, lays bare the lack of due diligence of its management and calls into question the independence of its board.
Disclosure: The secretarial audit firm mentioned in the report, SNACO, has partners related to one of the cofounders of The Signal.
LIC's Mega IPO Gets Closer
As clichéd as it sounds, the mother of all IPOs is here. The government will sell 5% of its stake in Life Insurance Corporation to raise $8 billion.
Numbers: The insurer will sell 316 million shares of which 10% is reserved for policyholders and another 5% is employees' quota.
The sale is expected to help the government meet its FY22 divestment target, which has been scaled down from the ambitious ₹1.75 lakh crore announced in last year's Union Budget to ₹78,000 crore now. LIC's assets under management were $530 billion.
The Signal
Owning a share of LIC means owning a piece of India Inc. The insurer has a stake in practically every major Indian company. Its embedded value—a measure by which insurance companies are valued—stands at $72 billion, which, some say, undervalues its vast real estate holdings. LIC's IPO will be India's largest-ever share sale and will test the depth of the stock markets. The previous record is held by digital payments firm Paytm, which raised ₹18,300 crore in November last year.
The IPO is coming at the fag end of the fiscal year and issue managers will have to hurry to complete the sale before March 31. Going by the market capitalisation of other listed insurance companies, a successful listing should make LIC the most valuable Indian firm, ahead of billionaire Mukesh Ambani's Reliance Industries.
The Supply Chain Comes For Your Sneakers
In December 2020, Nike teased a sneakers collab with Drake. It's February 2022, and the collection is still in the dark. Sportswear maker Under Armour is also bogged down by supply chain issues. This crisis threatens to be an expensive affair. (Hello, inflation!)
Step up: Pandemic-related factory shutdowns in Vietnam meant Nike was destined to miss out on crucial inventory targets. It is now looking at a number of approaches: a dedicated train to fast track its distribution; robots to aid its packing; and a digital-first supply chain.
Not so rosy: The world is short on flowers. India lost out on exports, once a blooming (pun intended) market. There is a coffee cup shortage in the US. Video game consoles and furniture aren't spared.
A MESSAGE FROM OUR PARTNER
Are You Tired Of One-sided News?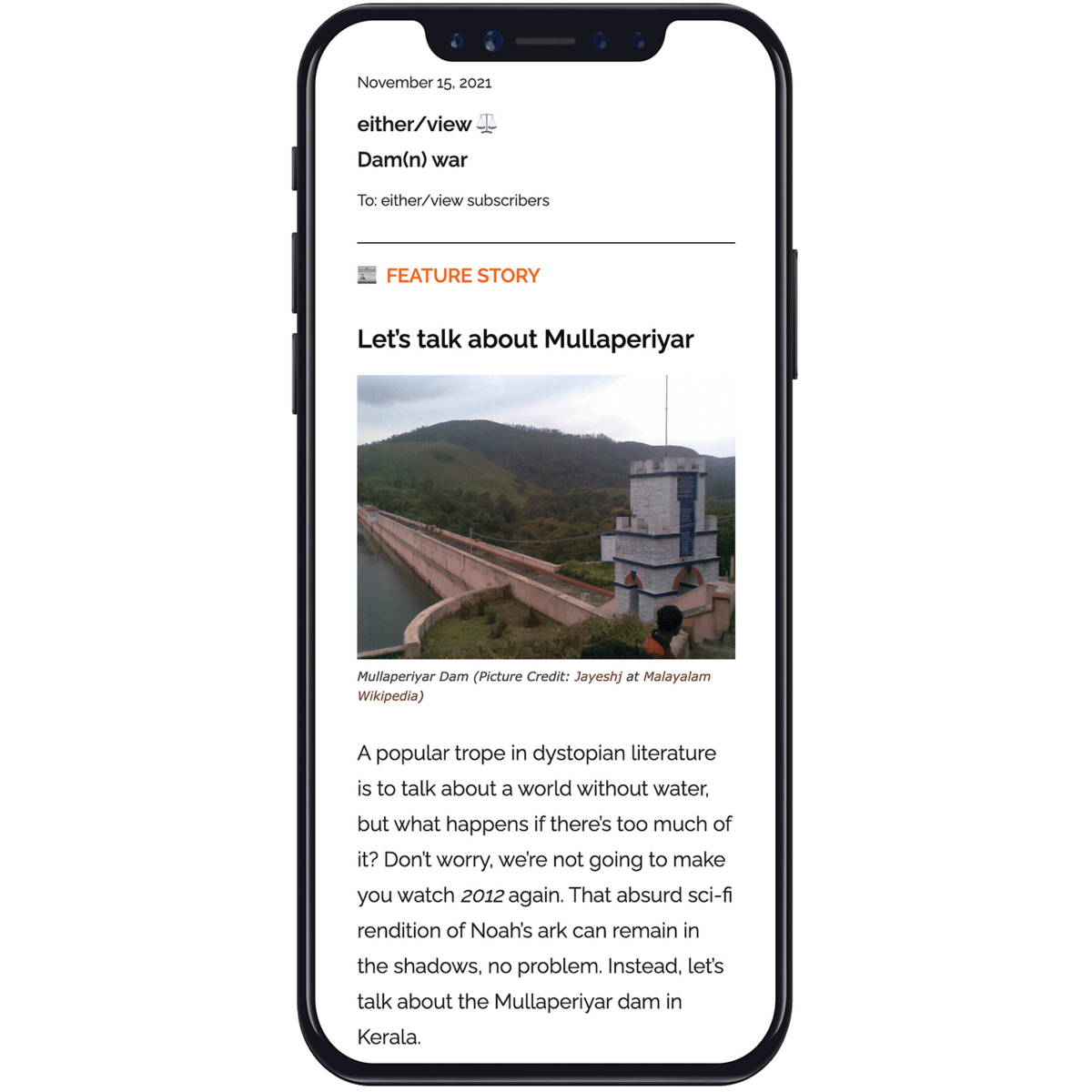 Well, us too. Every coin has two sides, and so does every story. In today's highly charged and polarised political environment, it's easy to get on one side of the knowledge bubble.
So when headlines start hitting TV channels, where do you look for information, genuine arguments and insights?
Enter either/view; a daily newsletter that dissects arguments on every side of the story to help you have an informed opinion on the news that matters.
While we at The Signal cover business and tech for you, if you're also into politics and current affairs, subscribe to either/view. It's free. We already have!
China's Metaverse Ambitions, Minus Crypto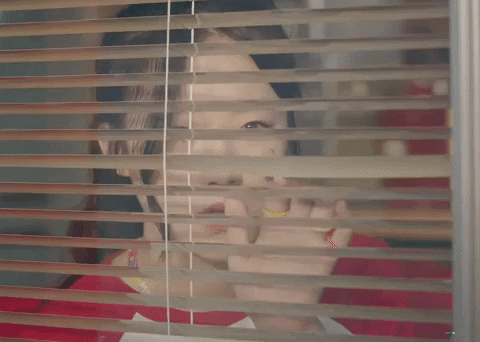 You've read about Meta, Microsoft, Epic Games, and other US firms courting the metaverse. But unbeknownst to many, China is building its own version.
Big Brother, big plans: China's 14th five-year plan mentioned blockchain in keeping with Xi Jinping's 'Vision 2035' of transforming China into a global tech innovator. Thereafter, Shanghai included the metaverse in its development plan. China now even has a Metaverse Industry Committee. So tech giants there want to make their presence felt vis-à-vis western counterparts. It remains to be seen how blockchain will be used post Beijing's crypto crackdowns.
Getting there: Chinese Big Tech firms (especially Tencent) are investing in virtual worlds that will toe Beijing's line; so much so that China now leads the world in VR and AR patents. The country's race to dominate 6G technology will give this ambition a fillip.
FYI
Done deal: Reliance's Jio Platforms has invested $200 million in InMobi's lock screen content company Glance as part of the latter's Series D round. Google is also among Glance's backers.
In the bag: Tata Digital-backed Cult.fit acquired Gold Gym's India business, while D2C Mamaearth purchased BBlunt's products and Godrej's salon business for ₹134 crore.
Uninstalled: The government of India has banned 54 Chinese apps and games, Sea Ltd's marquee game Garena Free Fire, over security concerns.
Breached: India's retail inflation rate (CPI) rose to 6.01% year-on-year in January 2022, marginally crossing the RBI's comfort zone.
Green Signal: Oyo got an interim relief from the Delhi High Court in a case filed by Zostel, which could have thwarted its IPO plans.
Fungible: UK tax authorities have seized three NFTs worth £1.4 million, besides £5000 worth of crypto assets in a probe involving 250 alleged fake companies.
Ay, ay captain: The Tata Group has appointed former Turkish Airlines CEO Ilker Ayci as Air India's new CEO.
Added to cart: Axis Bank will buy Citigroup's retail business in India for $2.5 billion.
FWIW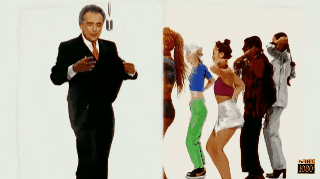 Deepfake democracy: South Korean presidential candidate Yoon Suk-yeol is going virtual to appeal to his young voters. Ahead of the March 9 election, his campaign team has created the world's first official deepfake candidate using 20 hours of recorded footage. So far, it's a huge hit. AI technology is gaining traction in South Korea, which has one of the fastest average Internet speeds.
Protest music: Authorities in New Zealand were hoping to repel anti-vax protests using earworm hits on loop. The playlist included Barry Manilow's greatest hits, Macarena, Frozen's Let It Go, Celine Dion's My Heart Will Go On and James Blunt's You're Beautiful (his own suggestion) to disperse anti-vax mandates. Protesters responded by playing Twisted Sister's We're not gonna take it.
Bitcoin bitterness: Some couples go to jail together. In some cases, bitcoin is making divorces messy. A couple is now involved in a battle concerning missing bitcoin, in what's now dubbed as the first major bitcoin divorce. Mr. deSouza kept his wife in the dark about his crypto investments. Now, it's payback time.
Want to advertise with us? We'd love to hear from you.
Write to us here for feedback on The Signal.