Discover more from The Signal
The Signal is a daily curated newsletter that helps you understand the latest developments in business, tech, finance, economy, and policy with sharp analysis and crisp insights thats fun to read arriving at 8AM daily in your inbox.
Over 81,000 subscribers
Tata says hello to UPI
Also in today's edition: Travel takes flight; Instagram gets the token treatment; Tech's Beijing woes continue; Algorithms enter the justice league
Good morning! Starbucks' trademark green-and-white cups may become history. The Wall Street Journal reports that the coffee giant is moving away from single-use disposable cups in an effort to reduce waste. Customers may either be encouraged to get their own mugs or borrow store cups that will be cleaned after each use. Will this end the era of Starbucks baristas writing your name and misspelling it on a cuppa? Only time will tell.
If you have just scrolled past the introduction, and are still intrigued about Starbucks' change of cups policy, host Farheen Khan has more on the soon-to-be-history green and white cups. But that's not all. We delve a little deeper into the inevitable Zomato-Blinkit merger, with some wild tales from the world of instant delivery. Tune in to The Signal Daily and stay till the end.
A quick programming note: We are taking a short publishing break this weekend on account of Holi. What that means is The Signal will not be hitting your inboxes at 8 am on Friday. The same applies to The Signal Daily podcast. Our Saturday offering, The Intersection, will also return next weekend. On behalf of everyone at The Signal, we wish you a very happy and safe Holi! We'll see you on Monday! 
On to the edition…
The Market Signal* 
Stocks: After a day's breather on Tuesday, equities resumed their upward march. Softening commodity prices and signs that Ukraine may adopt neutrality while junking the ambition to join NATO boosted investor sentiment. Hints that the Chinese government is easing its tough stand on foreign investment and local companies listing abroad helped buoy markets too. Markets will likely be led by the Fed rate hike and its intent to raise another six times in 2022.
TRAVEL
Acche Din
For Travellers
What are you doing this long Holi weekend? If travel isn't on your bucket list, you're doing it wrong. With declining Covid cases, travel agencies are seeing a 40-50% increase in bookings. 
That should not come as a surprise, given Airbnb's claims that its India business has nearly returned to pre-pandemic levels. Countries such as Vietnam and New Zealand are opening up for tourists. Even airlines are trying to play ball, hoping you will carry a few extra kilos on your vacays. Indigo's famous Thailand flights are back. 
What's not to like?: Probably airfares, given the soaring fuel prices. But even that isn't stopping people from flying in record numbers. Some are even okay with no masks in-flight.
Closer home, jet fuel prices surged to a record high of over ₹1 lakh per kilolitre. And hey, if you are a foreign national looking to visit India, we have news for you: the government has restored all tourist visa categories after two years.
A MESSAGE FROM OUR PARTNER
Get Rewarded For Saving

Brands reward us for spending money. Swipe your card to earn miles, shop more to get coupons, etc. But what if you got rewards for saving money? That's having your cake and eating it too.
So who's giving out these rewards? Fi is!
Fi is a neobanking app that comes with none of the hassles of opening a traditional bank account. Its customer-focused banking experience nudges you to save more and rewards you for good saving habits. 
Take the feature FIT rules for instance. These automate your savings whenever a certain event takes place– for instance, every time you order in, or every time a cricketer hits a boundary. How much and how often you want to save is entirely up to you. Best part? Setting FIT rules will get you Fi coins. You can exchange Fi coins for cool gift vouchers and other exciting goodies. 
So what are you waiting for? Download Fi today and use code SIGNALONFI to earn up to ₹250 on adding money to your Fi account!
CHINA
China Cites Chaos Theory in Crackdown Against Douban
The Cyberspace Administration of China is back! Its latest target? Douban. The regulator declared China's Reddit replica a place of "chaos" and ordered a task force to be stationed at Douban's offices to "supervise the app's overhaul".
Not again: Douban was already banned for leaking user data, besides being fined 20 times for the same offence in December 2021.
Stocks rebound: Technology stocks led a rebound in Chinese markets, with some shares in Hong Kong jumping more than 30%, recovering losses from the past three sessions. This comes after Chinese policymakers assured investors who were concerned about US delistings, geopolitical tensions, rising Covid-19 cases, and crackdowns.
Postscript: Huawei, which has been banned by several countries for providing unauthorised data to Beijing, has lost ground but still leads the global $100 billion telecom equipment market. 
FINTECH
Tatas To Climb Onto Payments Bandwagon
Tata Digital is reportedly tying up with ICICI Bank to offer digital payment services. The services, piggybacking the National Payments Corporation of India's UPI, will likely be integrated into its soon-to-be launched super app, Tata Neu.
The payment app would compete with existing players such as Google Pay, PhonePe, WhatsApp Pay, and Amazon Pay, although there is a 30% market share red line. 
The Signal
That the Tatas will get into payments is almost a no-brainer, as the group has neither hidden its ambition to run a universal banking business nor its intentions to be a major player in the Internet economy. Payments is an integral offering for digital commerce platforms. The Tatas have invested in a slew of e-commerce companies and plans to bring its make-up-to-motor car product range on Neu, a model pioneered by China's WeChat and Alibaba.
The conglomerate already has a significant presence in the traditional financial services, including mutual funds and insurance, and owns shadow banks Tata Motors Finance and Tata Capital. It is also seen as one of the likely candidates to get a banking licence from the RBI. It had applied for one a decade ago, but withdrew after realising that central bank rules would require it to revamp its group structure. At the time of bank nationalisation in 1969, the Tata group-owned Central Bank of India was one of the top ranking financial institutions in the country. However, the group is entering the payments business at a time when there is increasing regulatory scrutiny on fintech.
TECHNOLOGY
FTC Turns Algorithmic Justice Warrior
In what could become a global precedent, the US Federal Trade Commission (FTC) is enforcing a novel penalty for companies that use illicit data collection to train AI models: algorithmic destruction.
The agency penalised WW International for harvesting children's information without parental consent. Apart from a $1.5 million fine, WW has to scrub algorithms that were trained with ill-gotten data for its Kurbo app.
Context: Algorithms are intellectual property. They're critical to social media, whose models rely on collected data to keep you hooked. With algorithmic disgorgement, companies can no longer generate revenue from deceptively-sourced information.
Likelihood: Privacy violations would also fall in this ambit. Moreover, Instagram and TikTok, whose addictive algorithms are triggering a teen mental health crisis, may get sued. The FTC will be watching them closely.
CRYPTOCURRENCIES AND NFTs
Zuck Gives Tokens A Photo Op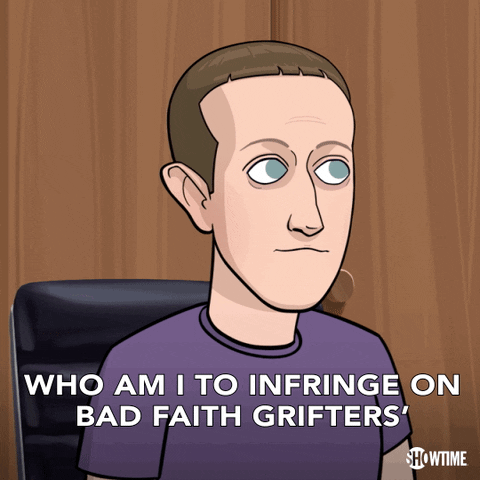 It's confirmed: NFTs are coming to Instagram. Speaking at an SXSW conference, Meta chief Mark Zuckerberg added that NFT minting and trading would also be possible in the company's metaverse. Zuckerberg's confirmation aligns with his metaverse ambition of an interconnected world with digital goods.
From the ashes: Former employees involved with Facebook's failed Diem currency project have raised $200 million for their new venture, Aptos Inc. While NFT project Bored Apes will launch its $APE token (ApeCoin) and also form a DAO.
Also rising like a phoenix are once-dead companies using blockchain for a second shot at life.
Shade: Ethereum co-founder Joseph Lubin criticised rival Solana by saying, "All projects in our ecosystem essentially fake it until they make it, or they die".
Tencent for tokens: Tencent has invested in Immutable, which specialises in gaming NFTs. The Chinese conglomerate also backs gaming-turned metaverse pundits Roblox, Epic Games, and Ubisoft, and has its own NFT platform, Huanhe.
Rift: Differences over crypto regulation are driving a wedge between US Democrats.
FYI
Hike: The US Federal Reserve increased interest rates by 0.25% for the first time since 2018 amid increasing inflation.
Camp New: The iconic home of FC Barcelona will now be known as Spotify Camp Nou following the Catalan club's four-year, $310 million sponsorship deal with the audio streaming service. The club's La Blaugrana jersey will also feature Spotify branding.
Under the scanner: The so-called Big Four auditing firms—KPMG, PwC, Deloitte, and EY—are being probed by US regulators for alleged conflicts of interest over the sale of non-audit services such as consulting.
In the bag: B2B employment platform Multiplier raised $60 million in a funding round led by Sequoia Capital India and Tiger Global. Fanclash, an esports community engagement platform, is in talks to raise $30 million from Alpha Wave for its Series B round.
U-turn: In a company filing, Future Retail said it was committed to taking all action to "seek reversal of takeover of the stores" by Reliance while admitting surprise over the latter's actions.
Getting richer: Adani Group chairman Gautam Adani added $49 billion to his wealth last year– the most among billionaires, according to the Hurun report.
Added to cart: Razorpay acquired Pune-based fintech startup IZealiant Technologies for an undisclosed sum. IZealiant is also Razorpay's fifth acquisition.
Change of guard: Starbucks' CEO Kevin Johnson will retire from the company, with two-time former CEO Howard Schultz stepping into the role on an interim basis. 
FWIW
War of the Wordles: The end is nigh for Wordle clones. Wordle Archive—which let users play previous editions of the hit word game—was taken down upon request by The New York Times. Since the media giant now owns the 'Wordle' trademark, copycats that use the name directly are at risk of being shuttered. Those that use the same design or guessing mechanic, however, may be safe since copyright is more ambiguous than trademark.
Stop the clock: The Sunshine Protection Act is now a thing. The bill, recently passed in the US senate, makes daylight savings time permanent. This means Americans no longer have to turn their clocks back and forth every spring and fall. Groggy senators fed up with the practice blamed it for ruining everything from sleep to sporting events. So relieved were they when the bill passed unanimously that one even fist-pumped in triumph.
Midas touch: Memestock hero AMC has struck gold. The theatre chain, which was struggling until Reddit's WallStreetBets forum gave it the short squeeze, now owns a 22% stake in—of all things—a gold mine. AMC CEO Adam Aron credited The Batman and Spider-Man: No Way Home for resuscitating theatrical releases and said that Hycroft Mining reminded him of the once-beleaguered AMC. One wonders why he didn't invest in something entertainment-adjacent.
Want to advertise with us? We'd love to hear from you.
Write to us here for feedback on The Signal.