Discover more from The Signal
The Signal is a daily curated newsletter that helps you understand the latest developments in business, tech, finance, economy, and policy with sharp analysis and crisp insights thats fun to read arriving at 8AM daily in your inbox.
Over 81,000 subscribers
Drama at TCS
Also in today's edition: Meter rush; Saigon blues; Swiftonomics; Google steps up its chatbot game
Good morning! Earlier this month, The Economist noted that the Indian diaspora is bigger and more influential than any in history. Indians are the highest-earning migrant group in the US. Now New York City has declared Diwali to be an official public school holiday🪔🎇, per The New York Times. However, the main day falls on November 12, a Sunday this year. Incidentally, did you know that India has the largest number of public holidays in the world?
The Signal is now on Telegram! We've launched a group — The Signal Forum — where we share what we're reading and listening through the day. Join us to be a part of the conversation!
Today's edition also features pieces by Venkat Ananth, Soumya Gupta, and Srijonee Bhattacharjee.
If you enjoy reading us, why not give us a follow at @thesignaldotco on Twitter and Instagram.
The Market Signal*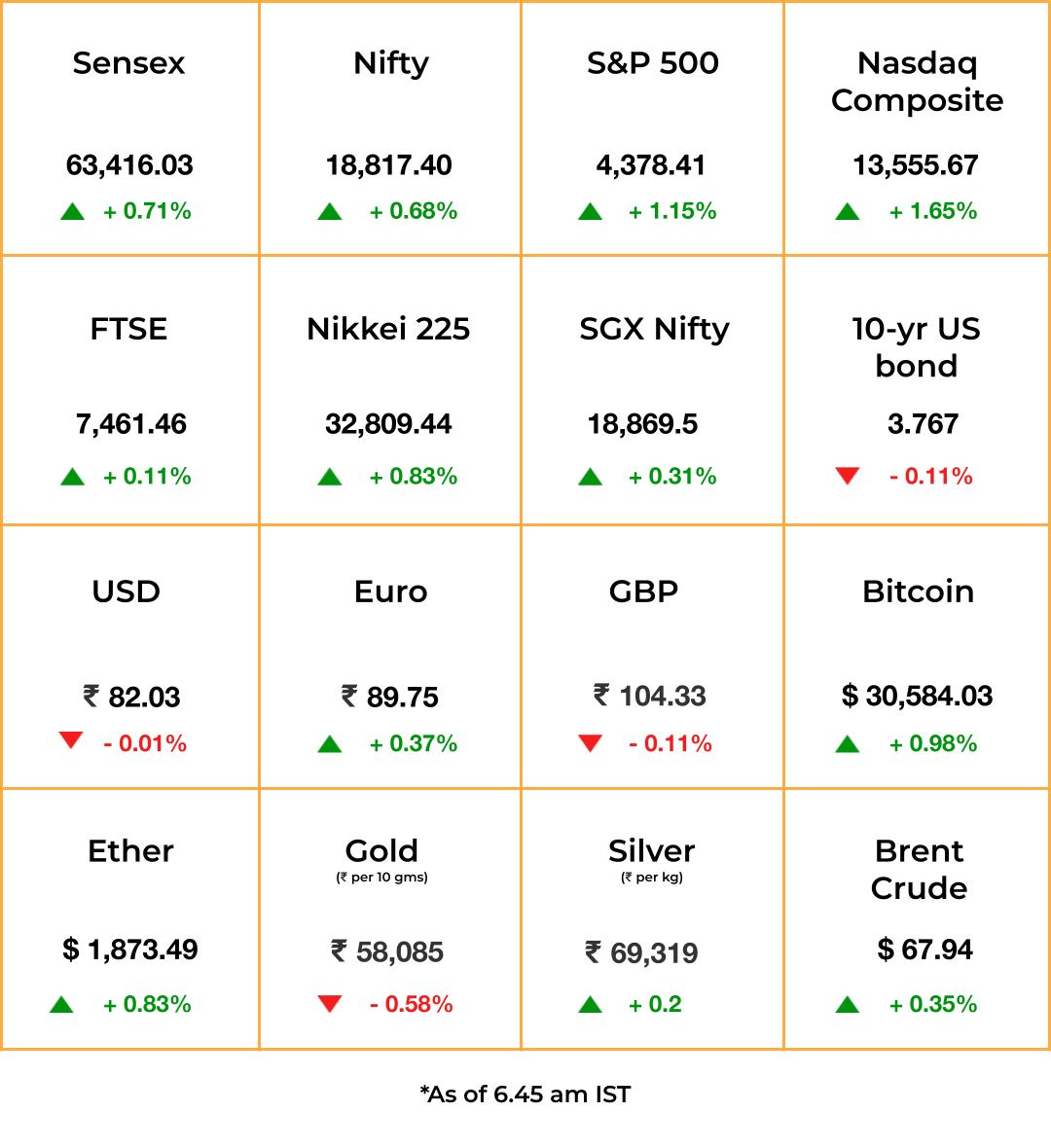 Stocks & economy: Fears of a recession receded and shares advanced globally. Consumer confidence and housing data in the US indicated the economy was resilient, triggering bond sales on expectation of further rate tightening. The US has clocked the fastest post-Covid growth among G7 countries and curbed inflation the quickest.
Tech stocks are ticking back up but returns on US shares are likely to remain flat in the next 12-18 months as they are already expensive.
Hope that the Chinese government will take more measures to support economic revival pushed European equities and oil prices up.
Later today, representatives of central banks of the US, Japan, Europe and England will speak at an event in Portugal.
Indian stocks may be off to a positive start. Tuesday's upward trend puts them back on track to reclaim record peaks, believe analysts.
INFORMATION TECHNOLOGY
More Turmoil at TCS
Tata Consultancy Services (TCS) can't catch a break this year. Three months after the unexpected resignation of former CEO Rajesh Gopinathan, prompted by a year-long organisational restructuring, a bribes-for-jobs scandal has now hit the IT services major.
TCS has named a new head of recruitment, industry veteran Sivakumar Viswanathan, to manage the hiring of temporary staff while it investigates the scandal, which was first reported on Friday. The firm has sacked at least 15 executives across India, the US, and Canada, and blacklisted eight recruitment firms, per Mint.
This was after a whistleblower alleged that ES Chakravarthy, the head of TCS' recruitment division, had been accepting bribes from staffing firms for years. He's not the only one: multiple people involved in the scandal may have pocketed at least ₹100 crore ($12.2 million) in total through commissions, per Mint. TCS has over 600,000 employees globally.
INVESTING
Flip The Meter Down
It is no doubt a smart investment. At least half a dozen global pension funds and private equity (PE) investors are evaluating options to invest in makers of smart meters that measure electricity consumption.
Why this is a big deal: Actually, it is a two-year opportunity and a no-brainer. The Indian government wants to replace 250 million old mechanical power meters with smart ones by March 2025 under its Revamped Distribution Sector Scheme (RDSS). These meters are efficient and help reduce operation and maintenance costs.
Business case: Each smart meter currently costs about $50. The RDSS scheme has an outlay of ₹3.3 lakh crore ($40 billion). That pot is for meter makers to grab, and the PE firms want some of it too.
SUPPLY CHAINS
The Vietnam Link Is Breaking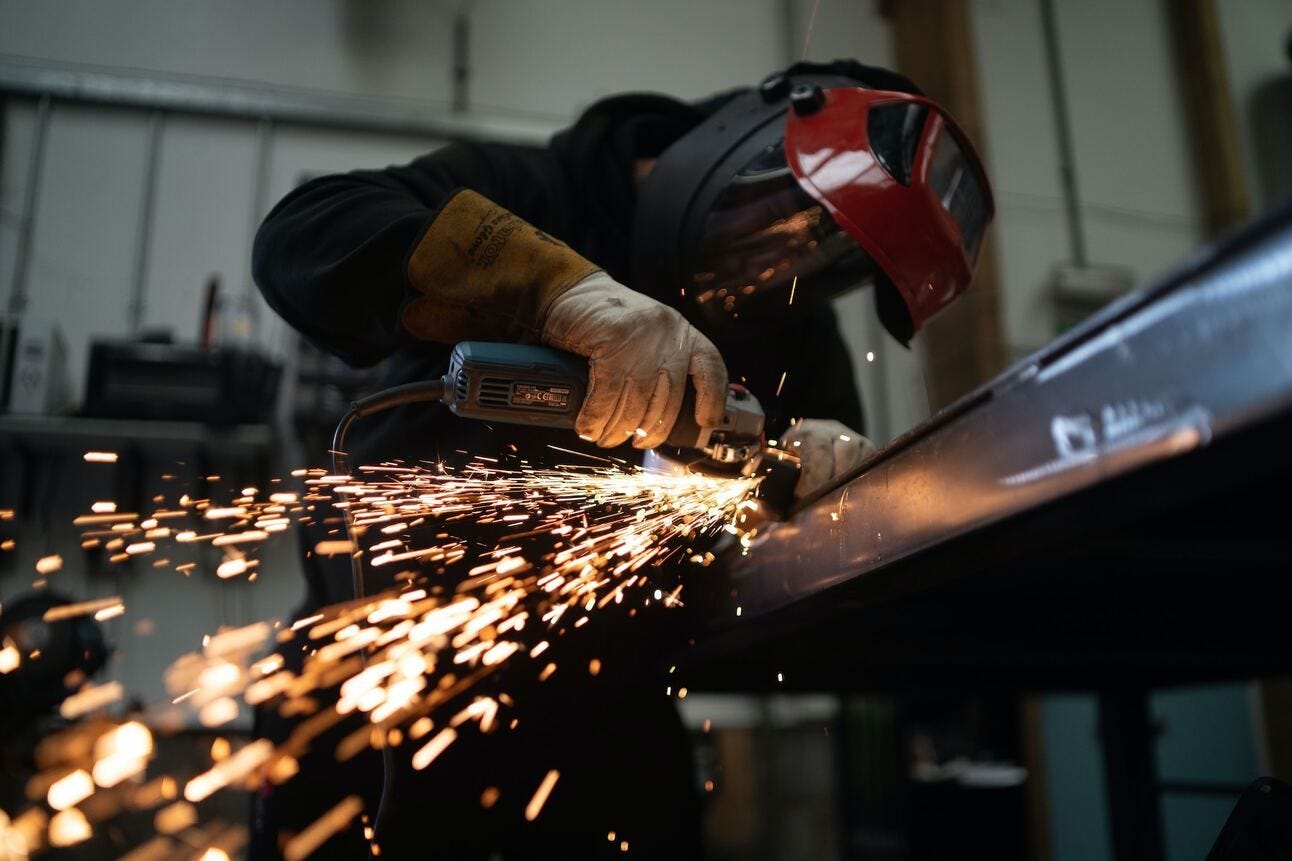 Photo by Josh Beech on Unsplash
India may pip Vietnam in the supply chain race as the latter struggles to cope with the swings in global business cycles.
What happened: Big technology companies, top among them Samsung, have laid off thousands of employees in the country because of sluggish demand in western markets. Rest of World reports that over 45,000 people have lost their jobs, and many others are working fewer hours for less pay as companies scale back production. Quiet factories have also hit the local economies that sprouted around them.
Another reason for slowing production is that companies are unable to source components from China, whose economy is struggling to regain momentum.
Why?: Western markets are heading towards recession as central banks are pushing up rates to ever higher levels to fight runaway inflation.
The Signal
Vietnam's experience lays bare the risks of becoming a part of global supply chains. Although no match for China, many large electronics companies such as Samsung, Apple, and Google gave it a try. While the country might be able to host high-tech factories, it is ill-equipped to absorb global demand shocks. In comparison, India has a huge domestic market to fall back on. It is, for instance, the second-largest smartphone market in the world. When exports weaken, companies can pivot to the local market. India's industrial ecosystem is also evolving fast to support big supply chains as contract manufacturers such as Foxconn expand their base.
MUSIC
It's Me, Hi, I'm the Economy
America is in the throes of the "TSwiftLift". Singer Taylor Swift's Eras Tour—a 52-day, 20-city extravaganza—may have lifted the US economy despite fears of a recession. Legions of Swifties are buying flight tickets and booking hotels to attend her concerts. Las Vegas' tourism sector went back to pre-Covid levels after her performance in the city in March.
Hotel revenues have risen 4x in cities with an Eras Tour stopover; in Chicago, public transport earned more as ridership rose to a post-pandemic high. Swift keeps august company: singer Beyoncé also spiked inflation in Sweden when she performed in the Nordic nation last month.
Swift Economics: Despite her seeming Midas touch, economist Paul Krugman argues that Swift may be earning a lot less than she should for these concerts. This could be because live concerts are no longer the only immersive way to experience your favourite singer.
🎧 Vietnam's tech industry, which was booming not too long ago, is facing headwinds. Also in today's edition: Taylor Swift is having an effect on the US economy. Listen to The Signal Daily on Spotify, Apple Podcasts, Amazon Music, Google Podcasts, or wherever you get your podcasts.
ARTIFICIAL INTELLIGENCE
Google Goes For The (ChatGPT) Kill
Bard, Google's AI chatbot, may not be as popular as storied rival ChatGPT, but that isn't holding the search giant back. DeepMind, Google's AI lab, is building an algorithm called Gemini, which it believes could "eclipse" ChatGPT.
Say what?: DeepMind will merge its existing large language model (LLM) capabilities with "reinforcement learning", the technique it deployed when its famous AlphaGo programme defeated a human in 2016. Simply put, reinforcement learning enables software to "take on tough problems that require choosing what actions to take," much like AlphaGo did.
China's Baidu claims to have cracked the chatbot code, with its chatbot Ernie 3.5 "outperforming" ChatGPT in several abilities.
Friendly fire: OpenAI is reportedly clashing with investor Microsoft by turning ChatGPT into a personal assistant "for work". Due to the similar offerings, the two may compete for the same enterprise customer, while Microsoft profits from OpenAI and also accessing its LLMs.
And: The Internet's Rule 34 strikes again!
FYI
Opening shot: Europe's largest fashion retailer, Zalando, has filed a complaint with the EU's general court against the bloc's Digital Services Act for classifying it as a "very large platform".
See you in…: …the Supreme Court, whose doors Google is knocking against the NCLAT order upholding the ₹1,338 crore ($163.2 million) fine the Competition Commission of India imposed on it.
Crisis?: Indian edtech giant BYJU'S is reportedly in advanced talks to raise a whopping $1 billion even as it battles multiple crises, Bloomberg reported.
Moolah: Meta Platforms has launched a subscription service, Quest+, for its virtual reality headset. Its monthly subscription is priced at $7.99 and will include access to two new games every month.
Pink slips: Online brokerage company Robinhood is laying off 7% of its workforce (~150 employees) in its third round of job cuts since 2022. Consulting giant KPMG also trimmed its US workforce by 5% owing to a slowdown in demand for its services.
And so it continues: Three months after UBS agreed to buy Credit Suisse, the Swiss banking group plans to slash about 30% or 35,000 of the latter's workforce.
In trouble: Indian cough syrup manufacturer Marion Biotech allegedly used toxic industrial-grade ingredient propylene glycol in its formulations, per Reuters. The cough syrups were blamed for the deaths of children in Uzbekistan.
THE DAILY DIGIT
$400 million
The estimated cost of pickleball injuries in the US. (Bloomberg)
FWIW
Back on the menu: It is finally the humble paneer's time to shine. Gen Zs in the US are fixated on cottage cheese. Once assumed to be "grandma diet" food, the high protein alternative is being used in ice creams (!!), savoury breakfast toast, and pasta. Dairy executives attributed this to the product's popularity on social media (mainly: TikTok) and the young'uns discovering it for the first time. Maybe, finally, former US president Richard Nixon's regular noontime meal of cottage cheese will induce fewer gasps.
It's fantastic: It is yet to be seen how Barbie fares at the box office, but for now, the movie is setting marketing goals. First, there was the selfie generator. And now, the movie's latest promotional campaign is calling on fans to live their (best) lives in plastic. Hardcore fans can stay at a life-size Barbie Malibu Dreamhouse listed on Airbnb for free. Of course, much like the movie, the mansion is splashed in everything pink and includes a slide from the balcony. Our eyes are on the Oppenheimer marketing team now.
Say yes to the dress swimsuit: The hottest new wedding trend is walking down the aisle in a swimsuit. These white bridal bathing suits are often custom-made and designed for ceremonies, honeymoons, and parties. Designer Demi Raquel Thomas, who kickstarted her ready-to-wear bridal swimwear company in 2021, says she's witnessed a 25%-30% rise in sales between 2021 and 2022. Designer Karen Sabag peddles her wares at anywhere north of $10,000. While we're all cool with this, we shudder at the thought of tux-speedos.