Discover more from The Signal
The Signal is a daily curated newsletter that helps you understand the latest developments in business, tech, finance, economy, and policy with sharp analysis and crisp insights thats fun to read arriving at 8AM daily in your inbox.
Over 81,000 subscribers
A hurdle for Millennium City
Also in today's edition: Tesla's Pune pitstop; Modular nukes; Seeing Worldcoin for what it is; Everybody loves nurses
Good morning! The "Butter Beach" in South Korea, made famous by the K-pop group BTS, is a landmark. But it's now become a bone of contention between fans and the government, per Bloomberg. Six miles away from the beach is a massive new coal-fired power plant that is set to be operational by October. Along with climate activists, the fans are piggybacking on the band's reach to highlight a local issue. For good reason. The coal plant could emit more than 13 million tonnes of greenhouse gases every year. So far, the campaign has collected about 50,000 signatures. It's unlikely that the protest will bring the coal plant to a halt, but we wonder if there's any other fanbase that could emerge as a likely activist force.
The Signal is now on Telegram! We've launched a group — The Signal Forum — where we share what we're reading and listening through the day. Join us to be a part of the conversation!
🎧 The world is facing a global shortage of nurses. Also in today's edition: we share the deets on the new Data Protection Bill. Listen to The Signal Daily on Spotify, Apple Podcasts, Amazon Music, Google Podcasts, or wherever you get your podcasts.
Today's edition also features pieces by Soumya Gupta, Srijonee Bhattacharjee, and Julie Koshy Sam.
If you enjoy reading us, why not give us a follow at @thesignaldotco on Twitter Instagram and Threads.
The Market Signal*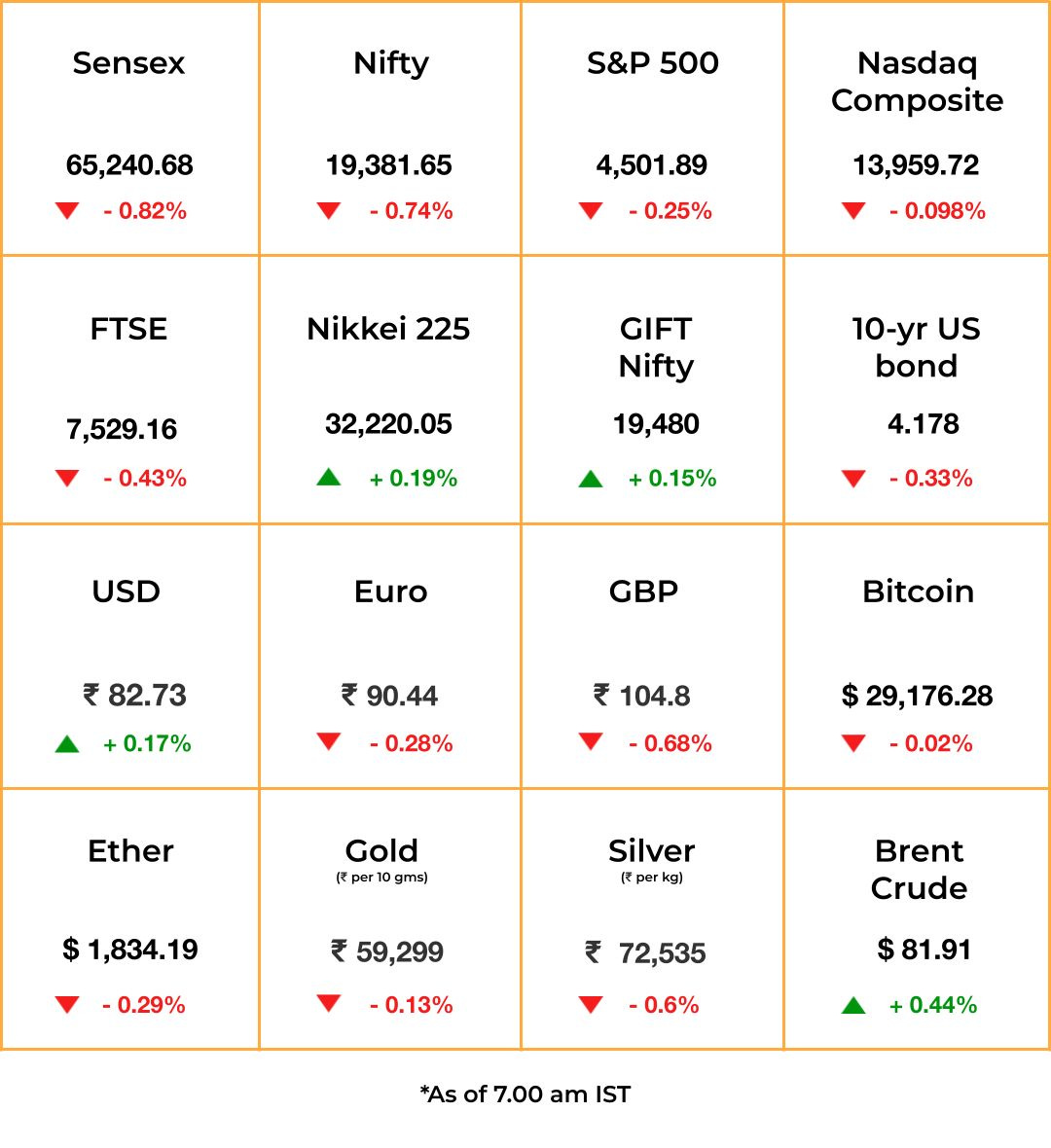 Stocks & economy: After falling for three straight sessions, Indian equities may lift themselves up today. Morgan Stanley's upgrade of Indian equities may continue to support sentiment amid uncertainty in global markets.
The firm simultaneously downgraded China.
Apple shares dropped after US trading hours as the company's revenues lagged for the third straight quarter, while Amazon shares gained on an upbeat earnings forecast.
Recession denial spread from marketplace to boardrooms as companies ploughed back profits for capacity expansion rather than share buybacks.
US treasuries shed all gains made this year as the market prepared to be swamped by fresh federal debt issuances. A monthly jobs report due later today would determine the Fed's course on hikes. That apart, Fitch also lowered ratings on local US debt by a notch, affecting power bonds and municipal bonds.
Oil prices spiked as Saudi Arabia and Russia decided to tighten supplies.
EMPLOYMENT
Growing Pains
The National Capital Region (NCR) will overtake Tokyo to become the world's largest urban agglomeration by 2030. Gurugram, which pipped Bengaluru to become India's startup capital in 2022, is a critical driver of this growth.
But Gurugram's promise is currently dented following communal clashes in its backyard, Nuh. Schools, colleges, and workplaces were shut after Haryana imposed Section 144. Over 30,000 startup, finance, and IT offices are virtually deserted as employees work from home. Founders are now evaluating moves to Bengaluru and Mumbai, especially after waking up to the fact that the gilded city is also ill-planned for the rains.
It's not just white collar workers though. Construction work has stalled as informal labourers refrain from stepping out. Delivery platforms such as Zepto and Zomato, still serving people cooped up at home, claim they're taking measures to ensure personnel safety. We hope they're keeping to their word.
AUTO
Tesla 1 - BYD 0
India's got the garland and welcome band ready for Tesla and its CEO Elon Musk. Following a June meeting between Musk and Prime Minister Modi, the company is fast-tracking private meetings with government officials to discuss investment plans for India, Reuters reported.
India wants Musk to boost its EV sector even as it blocks investment from Chinese EV makers over security concerns. Tesla has already signed a 10-year lease on an office in Pune, close to auto manufacturing hub Chakan.
Chinese challenge: Like with Apple, India will allow Tesla to use Chinese suppliers, provided it commits to partnering with local firms too. That's advantage Tesla; its biggest rival BYD had also agreed to do so, but still didn't get India's approval.

Making for tomorrow: Companies the world over are adopting the 'China Plus One' strategy. And Malaysia, India, Thailand, Indonesia, and Vietnam (collectively called 'MITI-V', pronounced 'Mighty Five') are jostling to become the world's new superfactory. India is leaving no stone unturned in courting everyone from contract manufacturing giants (Foxconn) to EV companies (Tesla). But can it dominate the global supply chain for high-end, precision, and emerging technologies? In episode eight of the TechTonic Shift, Roshni and Rajneil discuss India's rich (and tragic) history of cutting-edge tech manufacturing, and where we may be headed in the foreseeable future. Available on Spotify, Apple Podcasts, Google Podcasts, Amazon Music, or wherever you get your podcasts.
ENERGY
Nuclear Power, Private And Modular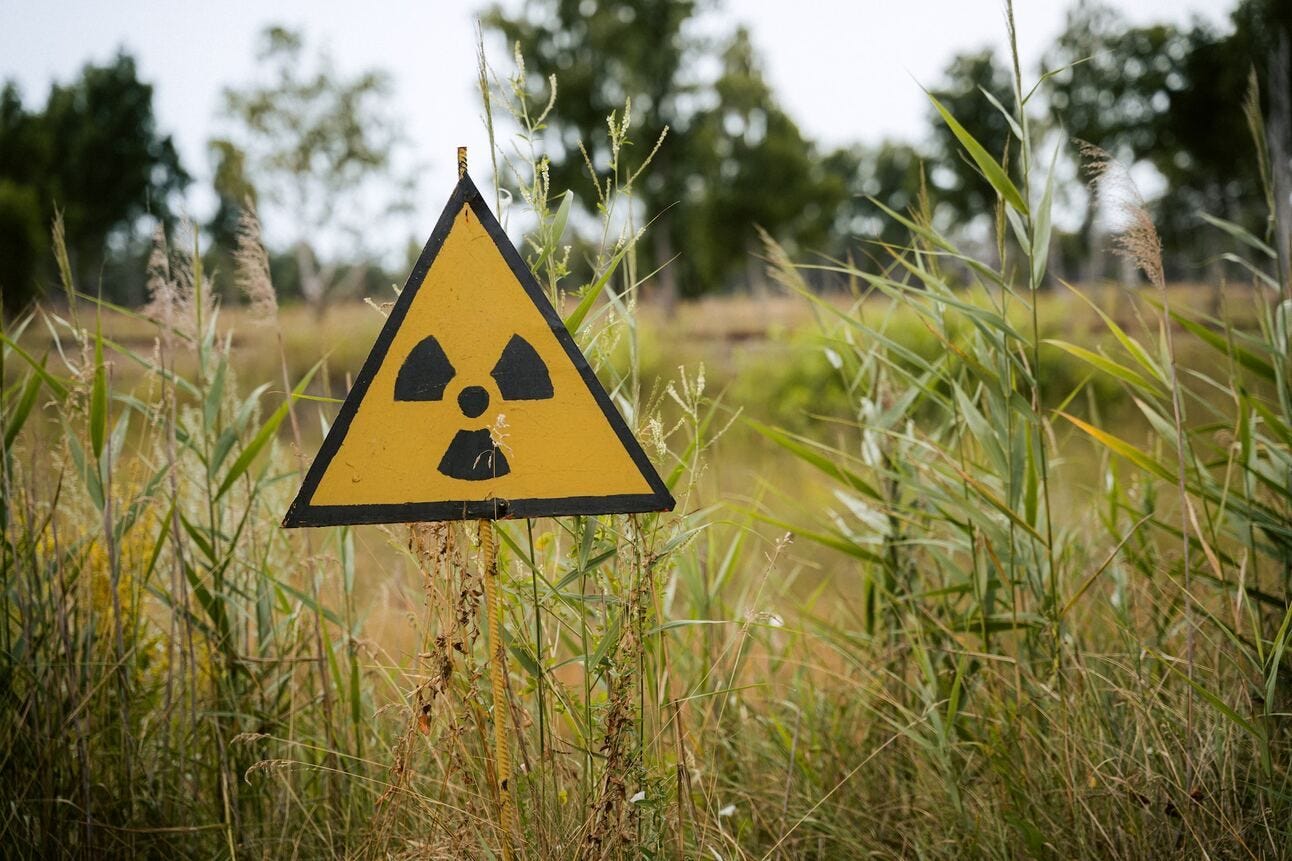 Image by Kilian Karger from Unsplash
Would you like a nuclear power plant in your backyard? The government may just allow it. We're kidding, of course. But what the government might allow is private operators to set up SMRs or small modular reactors.
Nukebox: SMRs are, as the name suggests, modular and hence relatively easy and cost-effective to factory-assemble and move to location. They can be micro-reactors as small as with single-digit capacities going up to 300 MW. Russia began operating two floating nuclear plants of 35 MW each in 2020. About 65 more plants are in various stages of development globally.
India story: Currently, the Nuclear Power Corporation exclusively operates the country's 22 reactors. There are about 21 nuclear projects under development, nine of them expected to go live in 2024-25. These units can collectively produce 15,700 MW of electricity.
The Signal
Nuclear power is one of the cleanest forms of energy. But being arguably the world's most controversial dual-use technology and horrific consequences of accidents, it is a sensitive subject. India's civil nuclear liability framework's design is a bone of contention for nuclear plant operators. The law exposes suppliers to unlimited liability in case of accidents due to faulty equipment. Companies baulk at signing Indian contracts because of the remote but real possibility of having to pay unlimited damages to nuclear accident victims. The worry has stalled construction of projects such as Kovvada in Andhra Pradesh and the world's largest single nuclear power site, Jaitapur, in Maharashtra.
CRYPTOCURRENCIES
Fool's Errand
Sam Altman, who admitted to losing sleep over unleashing OpenAI upon the world, is a good actor. How else do you explain him performing expressing concern, yet backing the comically-dystopian global blockchain project that is Worldcoin?
Comical, because Worldcoin's proclamation of building the "world's largest human identity and [decentralised] financial network" is being executed in a way that reminds us of Indian election freebies. It's paying people 25 Worldcoin tokens, supposedly equivalent to ~$50, to have their biometrics scanned by "Orbs" and become eligible for a warped version of universal basic income.
Btw: The Worldcoin token hasn't even been launched. Meaning it has no value.
Many warn that Worldcoin is disconcerting— to the point of making Aadhaar's privacy violations seem tame. Buzzfeed reported that early adopters hadn't been paid, and that Orb operators were given pyramid-scheme-like targets.
Kenya has suspended Worldcoin. It's also being investigated by several European countries.
HEALTHCARE
Nurse And Chill
That's Australia's pitch to woo nurses from around the world. Rich countries are fighting to attract nurses and doctors from poorer countries (and some rich ones like the UK) by fast-tracking visas, paying well, and advertising the perks of living in the first world.
Hands off: The nurse migration is leaving hospitals in poorer countries reeling under staff shortages. Zimbabwe has criminalised foreign recruitment of its healthcare workers. The Philippines and Nigeria are imposing similar restrictions. The World Health Organization wants rich nations to get permission before hiring doctors and nurses from 55 at-risk countries.
A better life: Healthcare workers are pushing back against these rules. Who can blame them? Nursing is a hard job, and these workers don't want to pass up on better pay and a better life.
FYI
Off the mark: The Indian government tabled the Digital Personal Data Bill, 2023 in the Lok Sabha. The bill was tabled by Ashwini Vaishnaw, India's IT minister, as a general bill amid opposition by MPs such as the Congress' Shashi Tharoor and Manish Tewari.
Full ownership: US private equity firm Blackstone may buy out the promoters, the Hamied family, from Cipla, one of India's oldest drugmakers.
Red signal: India will restrict the import of laptops, tablets, and personal computers with immediate effect, in a bid to push local manufacturing.
Pink slips: Spinny, the Tiger Global-backed online used car retailer, has fired around 300 employees as part of a cost-cutting effort. Most of the laid off employees belong to its to-be-merged Truebil and SpinnyMax divisions.
Fresh dough: Venture capital firm Pi Ventures has closed a corpus of $85 million (₹137 crore) for its second fund. Globally, Brookfield Asset Management and Sequoia Heritage have come together to form Pinegrove Capital Partners to back companies that have seen a plunge in valuations.
Douse it: Korean automakers Hyundai and Kia are recalling over 91,000 vehicles in the US over fire risks.
Trouble: French news agency Agence France-Presse has sued Elon Musk's X (formerly Twitter) under a copyright rule that requires platforms to open conversations with publishers for news content.
THE DAILY DIGIT
98,119
The number of Indian startups as of April 30, according to the Department for Promotion of Industry and Internal Trade. (Business Standard)
FWIW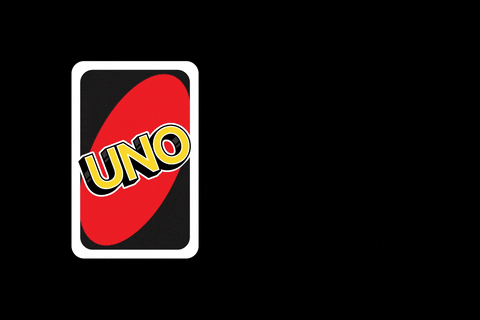 Look up: What do airplanes, pressure cookers, sewing machines, and a giant kangaroo have in common? These are just some of the unusual water tank designs in Punjab. Photographer Rajesh Vora spent five years across 150 villages documenting water tanks after he stumbled upon these quirky rooftop designs. And if you thought these "showpiece" reservoirs were mounted for no discernable reason, you're wrong. Most of these sculptures tell a deeper story. For instance, a pressure cooker could mean that the family is in the culinary business. For more such oddities, check out the visuals here.
New on the menu: Restaurants in New York City are experimenting with red lighting "for the vibes". David Yun, owner of Korean-Southern restaurant C As In Charlie chose red to set the tone and planned to change the colour periodically. But the red glow soon became the USP of his restaurant. Other spots that opted for ruby lighting or "darkroom core" include Baru in Cincinnati, Rouge Room in Las Vegas, and est.1864 in Bozeman, Montana, where the windowless basement is bathed in red. If you're wondering whether you can tell what you're eating, the answer is no. Tbh, we are seeing red. Whatever happened to dining in well-lit rooms?
Playtime: Our dream job is alive. Toymaker Mattel is on the lookout for its first-ever "chief Uno player" in the US. The move to promote the game comes after Barbie's success at the box office. The candidate is expected to popularise the iteration of its latest game, UNO Quatro. The gig, which pays $4,444 (~₹3,65,000) a week, involves starring in social media posts, introducing new rules to fans, and giving interviews. The candidate is also expected to sit for long periods (Captain Obvious here) and carry 50-pound loads (what for, we wonder). Easy peasy.