Discover more from The Signal
The Signal is a daily curated newsletter that helps you understand the latest developments in business, tech, finance, economy, and policy with sharp analysis and crisp insights thats fun to read arriving at 8AM daily in your inbox.
Over 81,000 subscribers
The blue bird is singing without paying
Also in today's edition: Dialling down the conflicts; Women are fleeing jobs; ITC is smokin' hot; The AI jugaad
Good morning! Queen Bey is more powerful than we thought. At least Sweden thinks so. Per Financial Times, Beyonce's blockbuster Renaissance tour caused an uptick in hotel and restaurant visits as concertgoers took advantage of the weak Swedish currency and low ticket prices. Named the 'Beyonce blip', the country's inflation rose by 0.2 percentage points due to the concert. An economist has predicted that Sweden could witness a similar spike when performer Bruce Springsteen makes an entry in June. It remains to be seen if Springsteen pulls off a surprise, but we already know Beyonce is that girl.
The Signal is now on Telegram! We've launched a group — The Signal Forum — where we share what we're reading and listening through the day. Join us to be a part of the conversation!
Today's edition also features pieces by Roshni P. Nair, Srijonee Bhattacharjee, and Julie Koshy Sam.
If you enjoy reading us, why not give us a follow at @thesignaldotco on Twitter and Instagram.
The Market Signal*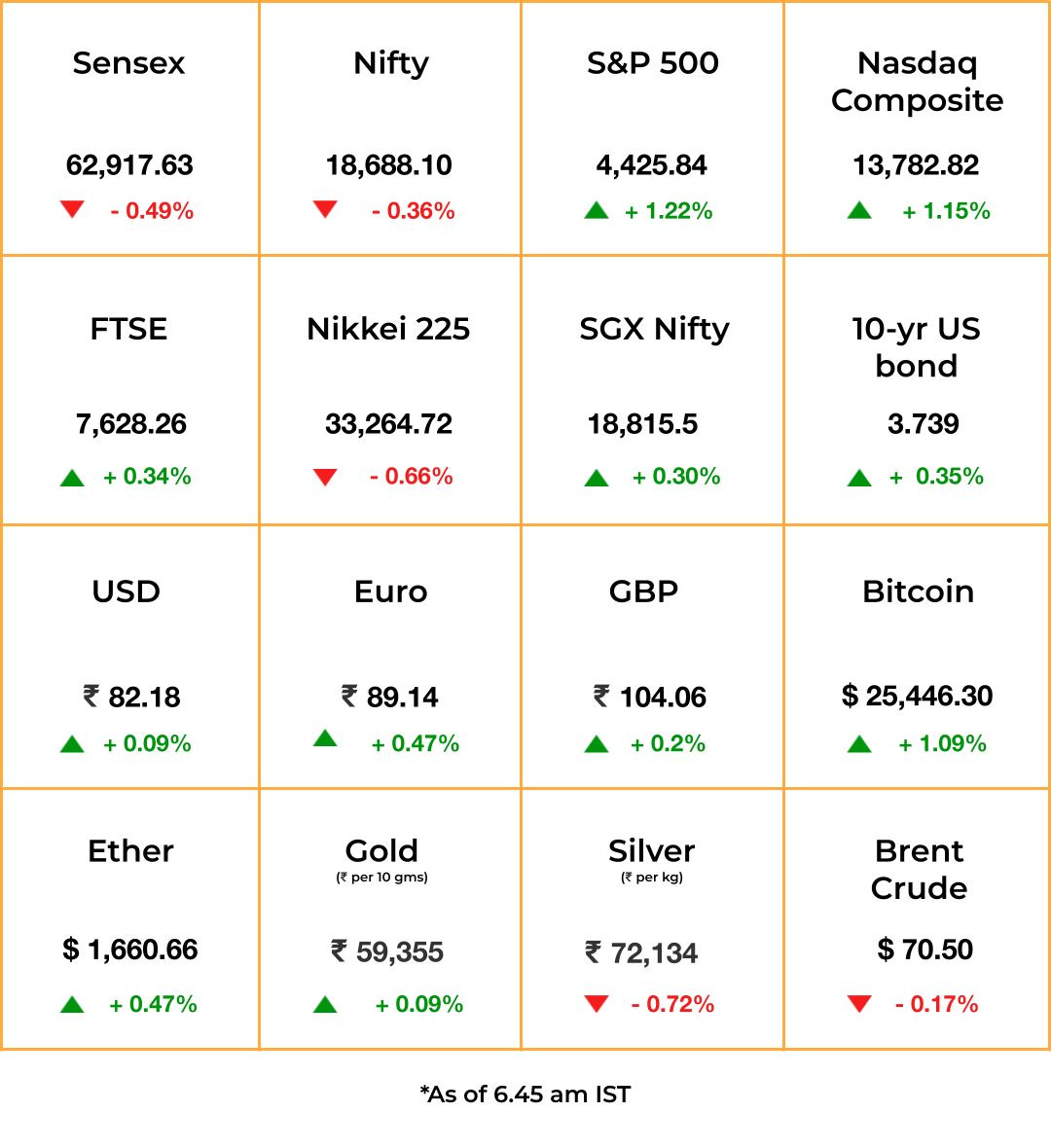 Stocks & economy: Investors gravitated towards equities in the hope that the US Fed may be near the end of its tightening cycle. A tech stocks rally pushed the Nasdaq to its highest level since March 2022.
Asian stocks followed, betting that Chinese authorities will act more to support their beaten-down economy. Oil prices found support too as traders hoped for a demand revival in the country in the latter half of the year.
The optimism is in sharp contrast with fears of a recession in the West.
Bond yield curves in Canada and Australia inverted (it's more expensive to borrow for the short term than for long periods) this week while policy tightening resumed. The Fed may have paused but the European Central Bank may not. President Christine Lagarde has said a hike in July is "very likely".
Nifty's gains may be limited by profit booking.
SOCIAL MEDIA
Please Don't Stop The Music
Twitter has now upset musicians.
A group of music publishers is suing Twitter on behalf of songwriters including Taylor Swift, Beyonce, and Rihanna. Artists have alleged that Twitter users routinely use their music while posting videos, and the platform is slow to act on copyright violations. Twitter is the only major social media platform that doesn't license music from publishers. The National Music Publishers' Association is seeking $250 million in damages.
Old problem: Publishers and platforms have long been fighting over music copyright. The most common problem is that brands and influencers often use licensed music for ads and sponsored content; licences allow users to add music only to non-commercial content.
Not available: Meanwhile, regulators in Ireland say no one is answering their calls at Twitter's European headquarters in Dublin. They're concerned about data protection policies, senior staff exits, and the rollout of Twitter Blue.
A MESSAGE FROM OUR PARTNER
How Much Is Enough?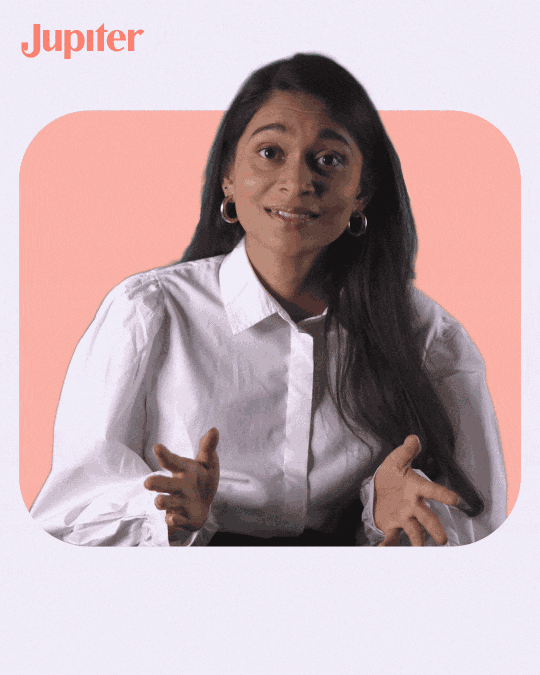 Have you ever wondered how much money is enough to get by? By this we mean, do you have enough bank balance to pursue your passions, and interests, give in to those impulse purchases, and save?
There are good and bad reasons for stumbling upon this realisation.
The good: Knowing the figure gives you a goal to work towards. It's liberating and unlocks financial freedom.
But, but: It's easier said than done. The thing is: wants, desires, and needs will always keep evolving as we get through different stages in life. Balancing these requirements can be a task, and trigger uncomfortable emotions.
That's also why we need to talk about money. It's okay to not have it figured out, but let's talk money to make it ok for you.
The Signal fam, we want to hear from you about your feelings and relationship with money. Join the conversation here or on our Instagram.
GEOPOLITICS
Taking A Shot At Peace
Competitive diplomacy when it's constructive cannot be bad, can it? The Joe Biden administration is reported to have quietly (not so quiet when WSJ and NYT have it on their front pages, is it?) restarted negotiations with Iran.
The US lifted sanctions a wee bit to let Iraq pay $2.7 billion for Iranian energy supplies. Tehran is holding some Americans and Britons as prisoners, and would only release them when Korea and Iraq redeem their huge IOUs. Fruitful talks would see Iran slowing down the development of its nuclear capability, which has Israel on pins and needles.
The Gulf states are, meanwhile, urging Europe to reset relations and help rebuild Syria.
Checkers: The key to lasting peace, however, may be forged in Beijing, where President Xi Jinping is hosting Palestinian leader Mahmoud Abbas. China hopes to play peacemaker to patch the festering gash of West Asia.
WORK
A Job Half Done And Backsliding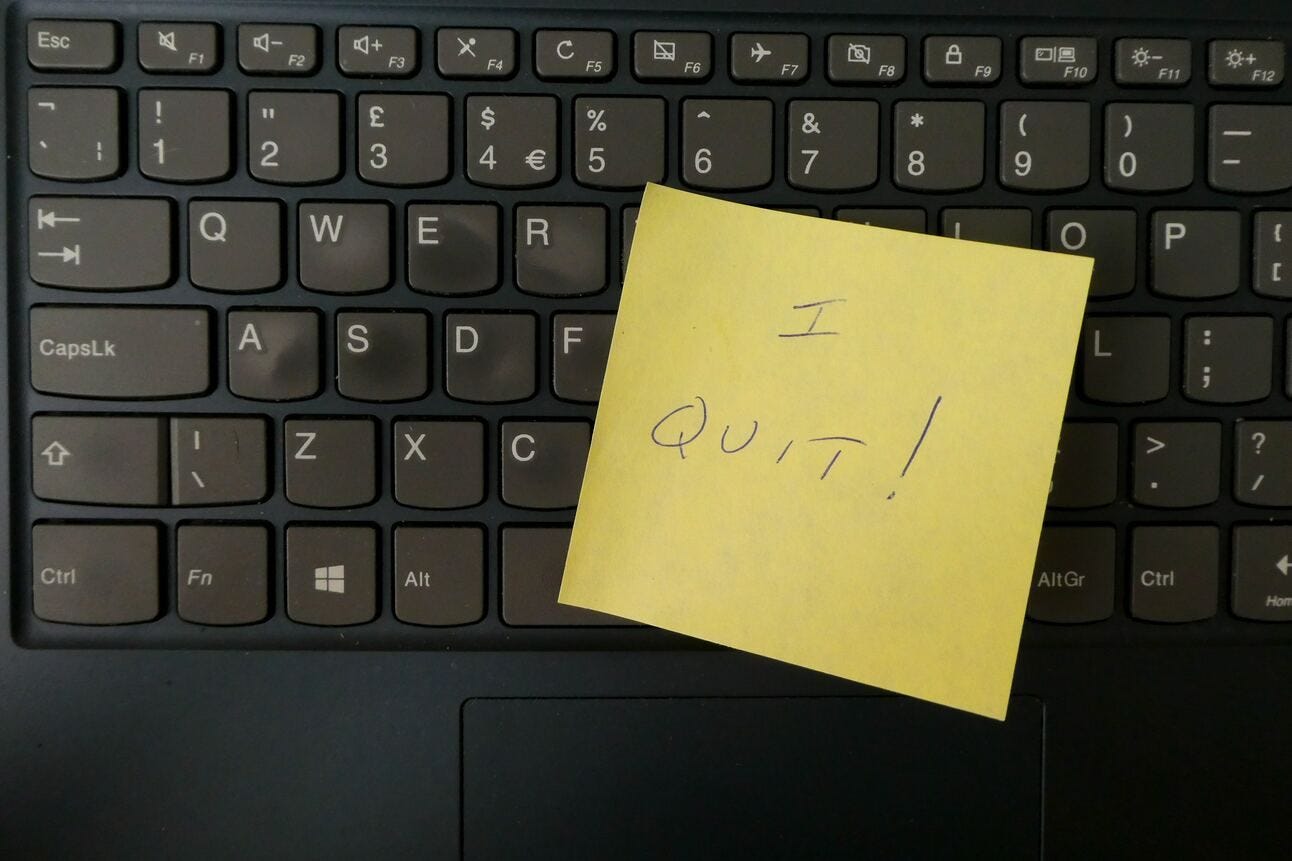 Photo by Nick Fewings on Unsplash
There is a certain, whatchamacallit, male-centricity (no shit, Sherlock) to the post-pandemic work-life balance. The initial rage of the pandemic forced flexible work arrangements that were touted to be a paradigm shift but soon broke down against the uncompromising metric of productivity. By the time they were called back to the office, employees had their eyes wide open. Especially women. Or did they?
Losing proposition: Milind Lakkad, the HR head of India's biggest IT firm and private employer of women, TCS, was quoted in the company's annual report as saying that an unusually large number of women quit their jobs this year. An Economic Times report said attrition of women tech workers has risen to 30%-40% in recent months. Mid-career women in the age group 30-40 are leaving the most.
The Signal
An uninterrupted career is mostly a mirage for Indian women. They have been leaving the workforce in droves. But the IT sector, which provided better pay and a relatively safe work environment, had lower female attrition rates. Lakkad's diagnosis hints at a backsliding of years of painfully slow progress towards building a robust female workforce. He says they may be unable to dismantle the domestic arrangements set during the pandemic and are choosing home and family over a career. Fighting a two-front battle is naturally exhausting. What would be alarming is if women are choosing to quit not because they want to but because they're unable to withstand family and social pressure.
FMCG
Add to Cart
Indians seem to be going big on ITC. And we're not talking about smokes. The company told investors this week that 'consumer spend' on its FMCG brands (minus cigarettes) grew by 20% to ₹29,000 crore (~$3.5 billion) in the year ended March 2023. Consumer spend is the sum of company sales, channel margins, and taxes paid on goods sold. In FY23, ITC earned over ₹19,000 crore (~$2.3 billion) from this vertical, up over 16% year on year.
Long bet: ITC has spent decades patiently building its consumer business to reduce dependence on its cash cow—cigarettes. It started with Aashirvaad atta in 2002, and now, its revenue from this business has grown to a third of Hindustan Unilever's, India's largest FMCG firm. Since last year, it has been investing in direct-to-consumer brands, including parenting firm Mylo and personal care brand Mother Sparsh; it also acquired healthy snack brand Yogabar earlier this year.
ARTIFICIAL INTELLIGENCE
Small Mercies
While the EU has taken a giant leap in regulating AI, India—which is yet to consider the thought—is finding interesting, if not failsafe, use cases for the thing that's otherwise spooked everyone else.
Details: Bloomberg reports that the likes of BeMyEyes, a "personal assistant for the visually impaired", are empowering marginalised people in ways that other tech platforms cannot. Domestic help and ragpickers in Bengaluru are also participating in a Kannada-language AI pilot (unnamed) that informs them of government aid and scholarships available to their children. OpenNyAI's Jugalbandi bot also offers information on government programmes in several Indian languages on WhatsApp.
But: While OpenNyAI filters out sensitive information such as Aadhaar numbers, there are concerns about user consent and information security in a country that still doesn't have a data privacy law.
FYI
Fresh dough: Indian eyewear company Lenskart has raised $100 million from private equity firm ChrysCapital. The fresh infusion includes a mix of primary and secondary capital. Home improvement company HomeLane also raised $9 million via convertible notes.
Going all-in: TikTok is planning to invest "billions of dollars" over the next three years in Southeast Asia, a market with 325 million users for the short-video app. TikTok's investments are primarily expected to bolster its e-commerce business in the region.
Ramping up: Luxury empire LVMH will partner with Fortnite-maker Epic Games to create immersive products and experiences, including virtual try-ons and fashion shows.
Winging up: Go First is hoping to resume 94% of its daily flights by June end, Bloomberg reported. The airline, in its revival plan submitted to the aviation regulator, stated that it can fly 157 of its 167 previous flights if given the nod. Rival Akasa Air is seeking $75 million-$100 million in fresh equity at a valuation of $650 million.
Under the lens: India's Ministry of Corporate Affairs is investigating Hero MotorCorp for alleged corporate governance issues. The investigation relates to Hero's relationship with a third-party vendor and alleged diversion of funds.
Say, what?: Google, the maker of Bard, has warned its employees about entering confidential information into AI chatbots, including its own. It also warned them against using chatbot-generated code.
Landing?: Taiwanese electronics giant and iPhone maker Foxconn is charting a plan to enter the electric vehicle manufacturing sector in India.
THE DAILY DIGIT
30
The number of years since the PDF filetype came into existence. (pdfa.org)
FWIW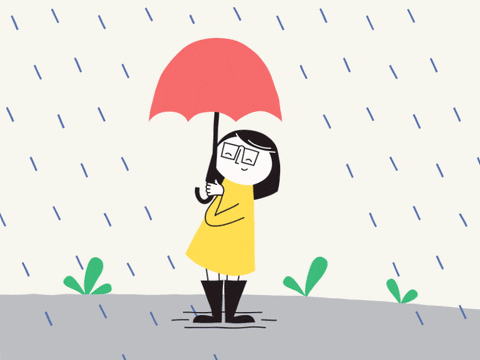 Damp squib?: Turns out, social media boycotts can dent sales. After two decades of enjoying the top spot, Bud Light is no more America's top-selling beer. That honour now belongs to the Mexican-style lager Modelo Especial. It was the best-selling beer in May after Bud Light's sales dropped 23%. Recap: the brand had employed a trans-influencer for a promotion, which invited a right-wing backlash. But here's the catch: Anheuser-Busch InBev owns both Grupo Modelo and Bud Light. Who is the loser here, then?
Fruit of the looms: By now, you must know the meaning of petrichor, what with social media ensuring it is an inescapable word on the internet today. The pleasant scent that's in the air right after a rain shower has been the subject of wonder among researchers. Two Australian researchers Isabel 'Joy' Bear and Richard Grenfell Thomas coined the term after they stumbled upon the warm, earthy fragrance when rain hits the dry ground. This is caused by terpenes, which lock in fragrance in essential oils. However, Indian perfumers in Kannauj, Uttar Pradesh have been bottling the essences for at least 1,300 years. Check out our friends at The Reading Room and follow for more such stories!
Hold on: We know you wouldn't like to read this on a Friday morning, but here we are, giving you enough reasons to hate Mondays. Turns out Monday blues can be fatal. According to research presented at the British Cardiovascular Society (BCS) conference in Manchester, heart attacks are more likely to occur on a Monday. Researchers in Ireland studied the data of 10,528 patients between 2013 and 2018 who were admitted to hospitals for an ST-segment elevation myocardial infarction (STEMI). There was a 13% rise in patients with a heart attack on a Monday. Yes, you may be additionally stressed about getting back after a two-day break. There's also the circadian element that impacts our heart health. This brings us to: take a chill pill. You deserve it.