Discover more from The Signal
The Signal is a daily curated newsletter that helps you understand the latest developments in business, tech, finance, economy, and policy with sharp analysis and crisp insights thats fun to read arriving at 8AM daily in your inbox.
Over 81,000 subscribers
Has Uber arrived?
Also in today's edition: Zuck gets a little vain, Sony and Zee sing in tune, All bets off in Karnataka.
Good morning! Retail investors have a new guru, Nancy Pelosi's financial disclosures. It doesn't really flow off the tongue. But it is what it is. So, how does this work? A few weeks ago, a few TikTokers decided to deep dive into Pelosi's disclosures, because why not, and found that the stocks her husband invested performed well. Can you see the wheels turning? Now it is a trend on TikTok. We wonder if there is an Indian parallel to this.
The Market Signal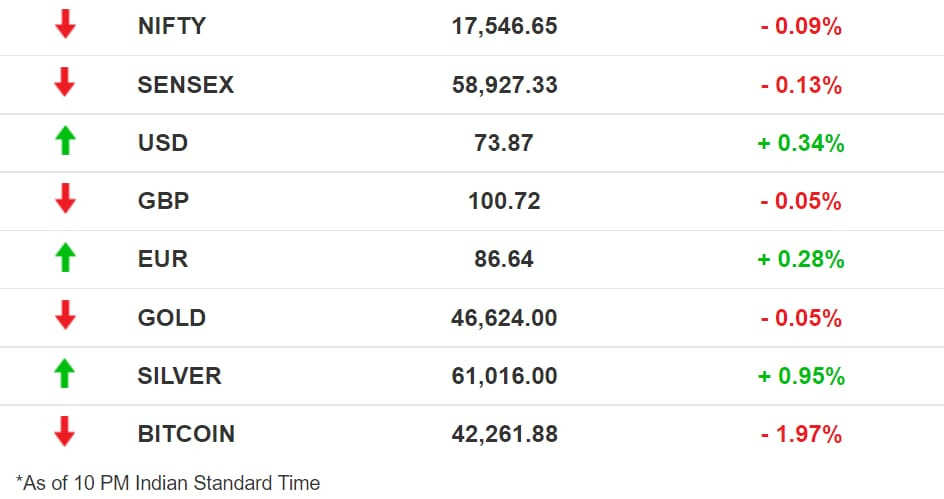 Stocks: A volatile day's trading saw Indian benchmarks swing within a narrow range throughout before settling marginally in the red. The broader market, however, saw more advances than declines. All sectoral indices except Bank and FMCG ended in the green with Realty rising a whopping 8%.
Fresh off the block: Indian SaaS firm Freshworks has listed on the Nasdaq after a successful billion-dollar IPO.
Girish Mathrubootham

@mrgirish
Today is a dream come true for me - from humble beginnings in #Trichy to ringing the bell at @Nasdaq for the FreshWorks IPO. Thank you to our employees, customers, partners, and investors for believing in this dream. #Freshworks#IPO#NASDAQ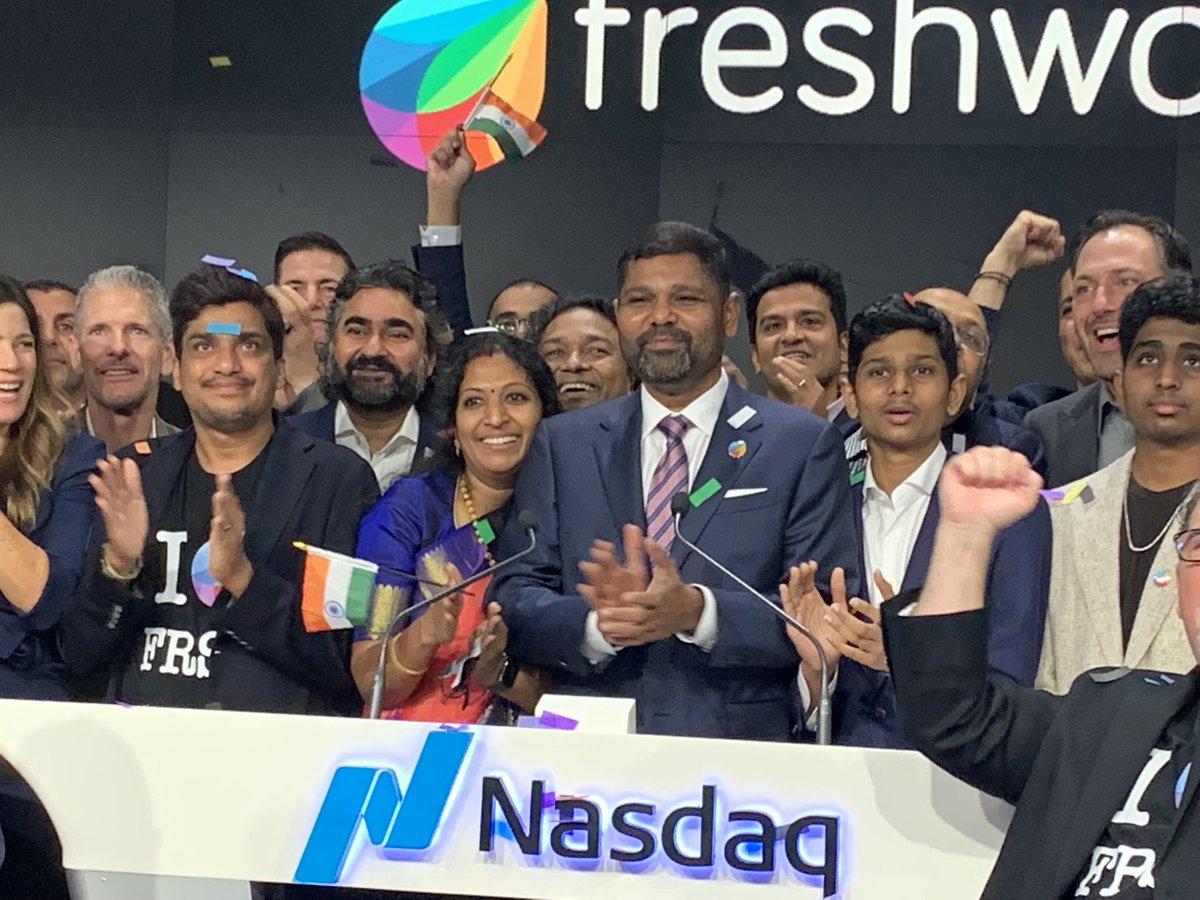 Sep 22, 2021
17.3K Likes   2.63K Retweets   682 Replies
Gaana Might Be Out Of Tune
While its users enjoy grooving to Bollywood or Punjabi tunes on Gaana, they're just not ready to pay for it. In a growing music industry, the homegrown streaming service is unable to convert its freemium users to paid subscribers, Billboard reported.
What about revenue? Although music streaming has increased considerably during the pandemic and Gaana has added users, Indians would rather put up with ads in between their music than pay for a subscription. So Gaana currently earns 68% of its revenue from ads. In contrast, Spotify has had more success in converting users to a paid model, with ~65% of its revenue coming from subscriptions.
What's different? For one, Spotify spends on marketing and promotion. Its offerings are also different – while Gaana has a lot of regional music, Spotify brings global artists to its platform. This also reveals a demographic split of sorts. To catch up to its global competitor in terms of revenue, Gaana needs to either slash prices and play by scale or provide new platform features that set it apart from the rest. Or perhaps it's just a matter of having more annoying ads.
Zee And Sony Have A Union
Soon, Sooryavansham and Hum Aapke Hain Koun may compete for the weekend slot. Zee Entertainment is merging with Sony Pictures Networks India to create India's largest entertainment network. The two firms have signed a term sheet, bringing an end to the three-year hunt by Zee to find a buyer.
Debt trap: Subhash Chandra-headed Essel Group that is Zee's promoter had been trying to monetise this asset amidst mounting debt. Chandra pared down his stake in 2019 to repay part of the loans totaling ₹11,000 crore. Under this deal, Sony Pictures' shareholders will infuse capital and hold a 52.93% stake in the merged entity. Funds of $1.57 billion will be set aside by Sony Pictures for growth needs.
Chandra's goodbye? Definitely not. In fact, Chandra's family will hike its stake from around 4% to 20%. Rakesh Jhunjhunwala also bought shares last week. In the Zee-Sony merged venture, a majority of the directors will be chosen by the Sony Group. Punit Goenka who is facing investor trouble will stay the CEO.
Facebook Doesn't Give A Zuck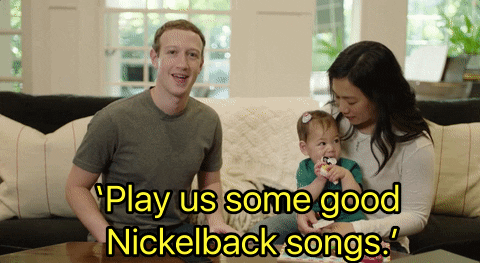 Facebook is back in the news (feed). And no, we are not talking about this. Facebook now wants to...wait for it...push propaganda about itself on the News Feed, the New York Times reported. This is through a Mark Zuckerberg-approved initiative called Project Amplify. Facebook, it appears, is done with apologising, and now wants to go on the offense. We heard something about this plan in May. On Tuesday, it stuck to "More Zuckerberg."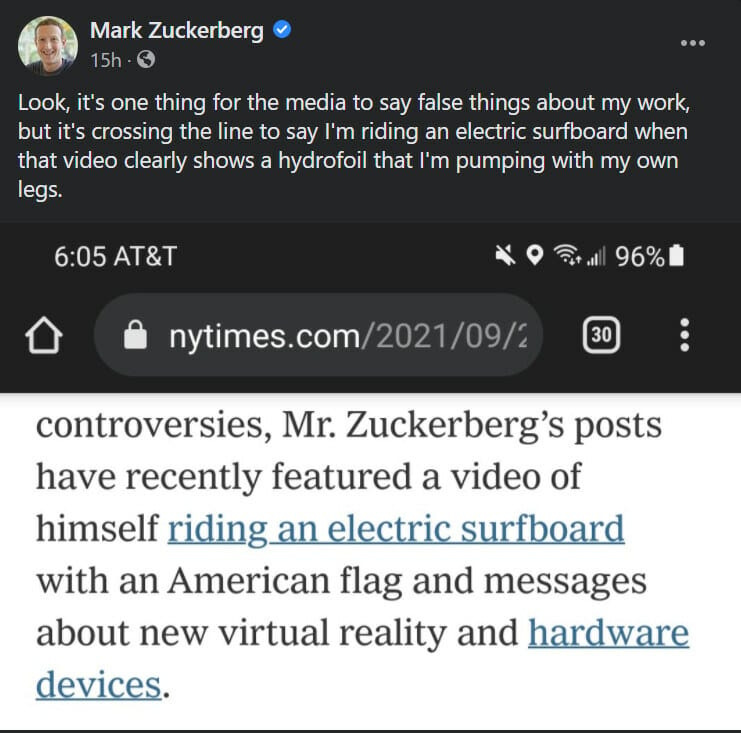 Curious timing? Just last week, we learnt a few (more) things about Facebook, thanks to the Wall Street Journal. That Facebook had an elite list of 5.8 million users for whom it had a separate set of rules, that Instagram was toxic for teen girls, that its algorithm made people angrier, that it failed to act against drug cartels and human traffickers, and that it impeded vaccination efforts in the US. And, its Marketplace, per ProPublica, is full of scammers. Phew.
The face-savers: Facebook's damage control strategy ft its politician-turned-veep Nick Clegg also flowed from the go-on-the-offensive missive. Then came another "show and tell" post to prove how it had addressed some concerns by spending billions of dollars. Apology tours might be a thing of the past.
The Signal
Currently, what's saying a lot is Facebook and Zuckerberg's (and Sheryl Sandburg's) stoic silence on what the WSJ investigations revealed: that Facebook knew about the problems its platforms were causing, and that it probably doesn't care. But this isn't going unnoticed. Its own Oversight Board sought clarity on the XCheck list from the company. Lawmakers in DC are understandably livid. "More Zuckerberg'' might sound like a narrative changer, but is quite far from a solution, especially when regulators around the world are seeking serious answers from the company.
Karnataka Says No Chance
If you are a fan of online real-money gaming and reside in Karnataka, well, you might soon need to find a different interest. Why? The Karnataka government just outlawed "games of chance".
Wolf, sheep, clothing? The Karnataka CM reportedly believes that they are games of chance camouflaged as games of skill, despite the Supreme Court agreeing with the latter. If true, he's in good company. Neighbouring Kerala and Andhra Pradesh are among the states currently enforcing bans, and Google delisting such apps from its Indian store.
Why, though? The ban has been discussed since last year in order to curb addiction after the unfortunate suicides of users that lost money on such platforms. But applying the government's decision to curb all "games of chance" — for being gambling in disguise — will be tricky and upset a lot of people.
It's currently unclear if this affects popular apps such as the unicorns Dream11 and MPL, My11Circle, Gamezy, and several others. It could leave more than 4,000 people employed by the state's 91 gaming companies in the lurch.
Uber's Going To Make A Profit. Seriously
.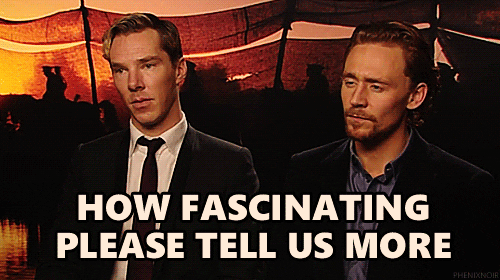 After 12 long years, Uber's heyday might finally be here. It is expecting an adjusted profit this quarter, the first in its thus far loss-making business. Dara Khosrowshahi is keeping his promise, looks like.
Do-over: Uber's early strategy was focused on aggressively growing its business. Then, the pandemic hit. With no more office-goers hailing cheap cabs, the company was forced to re-evaluate its plan.
Uber went defensive. It laid off 14% of its workforce and cut out draining side businesses like its self-driving-car division. Meanwhile, Uber Eats turned out to be a cash cow during the lockdown, with orders more than doubling from pre-pandemic levels.
Growth? Whether Uber can really keep up its profitability depends on how it grows its core business without frills. For now, cost cuts rather than revenues are driving up its bottom line. UberEats can be its diamond in the rough, if it manages to sidestep limiting fees such as in New York City, and compete with other delivery apps globally.
What Else Made The Signal?
Golden ticket: Netflix has acquired the Roald Dahl Story Company, and will now create a much wider universe than the existing deal for animated shows such as the one based on Charlie and the Chocolate Factory.
Different kind of seasoning: Italy may become the first European country to legalise cannabis with a nationwide referendum likely in early 2022.
Dump it: The Lithuanian Defence Ministry is advising citizens to dump Chinese mobile phones for having in-built censorship capabilities amid worsening ties between the nations.
Zesty: Australian BNPL giant Zip has made an entry into India with a $50 million investment in ZestMoney, which comes with a seat on the latter's board.
Energy boost: Adani Group has announced that it will invest $20 billion in the renewable energy sector over the next 10 years.
Super move: The Indian Super League is set to become the first sports league in the nation to launch NFT collectibles. Meanwhile, Crypto.com has topped $400 million in sports NFT deals in 2021.
FWIW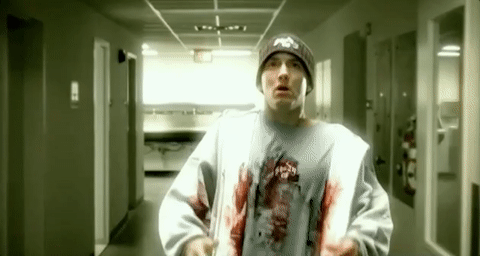 QFT: Ron Watkins, who many believe to be Q of QAnon fame, has jumped on the non-fungible tokens bandwagon. He's putting up screenshots of five of his tweets for sale and intends to use the proceeds towards "a secret project that I feel will help save America."
Curated crowd: Packing 26,000 people into a stadium during the Covid-19 pandemic sounds like a horror film waiting to happen. But, Emmy-winning series Ted Lasso managed to achieve that for an iconic shot. With unique production techniques. Ah, the things technology can do.
Happy toys: McDonald's is committing to the green movement by cutting out the plastic in its happy meals toys by 2025. Happy meals, indeed!
Write to us here for feedback on The Signal.