Discover more from The Signal
The Signal is a daily curated newsletter that helps you understand the latest developments in business, tech, finance, economy, and policy with sharp analysis and crisp insights thats fun to read arriving at 8AM daily in your inbox.
Over 81,000 subscribers
The virus is back
Also in today's edition: Amazon bows out, Big bet on small shops, UP in the air
Good morning! ITC is testing a nasal spray, which may be able to prevent Covid-19. A spray is handy because administering it doesn't require the presence of a medical professional. Small mercies for those who suffer from trypanophobia (fear of needles). Now, this has given the ITC stock wings. On an unrelated side note, Russian President Vladimir Putin claimed he got an experimental nasal spray Covid-19 vaccine. And because he seems fine, it must work. Reminds us of the time his daughter seemingly got the Sputnik vaccine before it was introduced to the Russians.
Btw, our podcast has been going strong for two months now. Tune in on your daily jog, drive to the office, or even as you WFH-ers have breakfast in bed. We promise it'll be music to your ears.
The Market Signal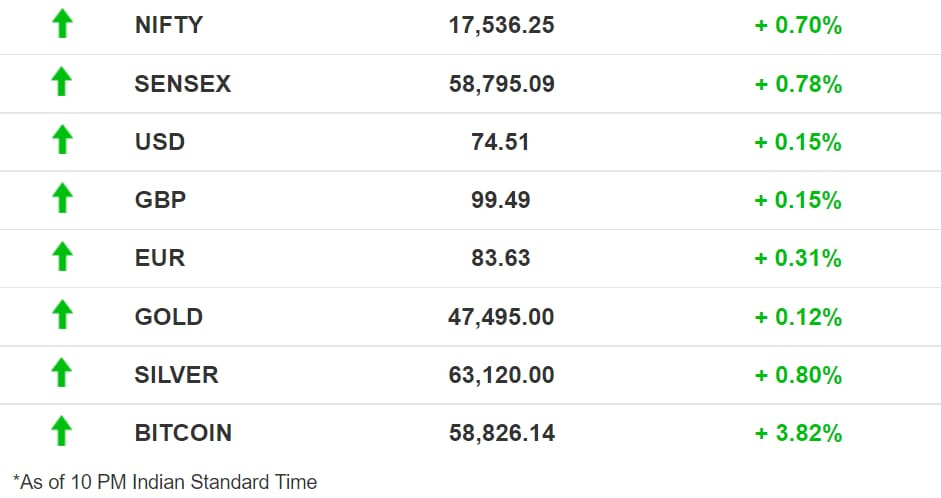 Stocks: Ducking the global market sentiment, Indian benchmarks posted healthy gains in yesterday's trading. Driving the rally were Moody's pegging India's GDP growth at 9.3% and 7.9% for FY22 and FY23 respectively, and heavy buying in Reliance Industries.
Is The Covid-19 Third Wave Upon Us?
As winter approaches, Covid-19 cases and new variants are steadily rising in many parts of the world, raising the fear that the lethal virus may wreak another round of havoc.
New variants: South Africa has found a new variant with multiple mutations that is searing Johannesburg. Botswana has spotted the most mutated variant that could even be vaccine-resistant. It may be named Nu.
Europe sweats: Europe is the worst affected. Germany has now recorded more than 1,00,000 deaths and is considering a nationwide lockdown as infections spread. The European Union is planning to restrict vaccine validity for travel to nine months. WHO warns that by March 2022, Covid-19 could kill as many as 7,00,000 in parts of Asia and Europe.
India cool: In India, top health official Randeep Guleria has said that Indians would not require a booster dose as a third wave of the magnitude that hit the country earlier is unlikely. Maharashtra health minister Rajesh Tope is expecting a 'mild' third wave in December.
However, the intensity of the pandemic is difficult to gauge now as testing is nowhere near the levels they should be.
Amazon Is Ready To Give In
Embattled Amazon wants to give up complete control of Cloudtail. South India-based real estate developer the Salarpuria-Sattva Group could take over the consumer electronics business of Amazon's largest seller. 
Owner switch: In August, NR Narayana Murthy-backed Catamaran Ventures and Amazon had decided to shelve their joint venture Prion Business Services amidst allegations of anti-competitive practices. Cloudtail is Prion's subsidiary. Now, Salarpuria-Sattva has set up Dawntech Electronics to take over Cloudtail's electronics business. 
No overlaps: Amazon may appoint sellers in other categories as Cloudtail's replacement; continuing on its commitment to not hold any stake in these ventures. Rival Flipkart has also taken a similar call to limit the dominance of preferred retailers on its platform. Even as Amazon is seeking a pause on antitrust allegations, it wants to reiterate its business strategy of being a pure 'marketplace'. Small traders aren't convinced yet.
BigBasket Bets Big With Small Stores
The pandemic's online grocery superhero BigBasket, which closed sales worth $1.1 billion in FY21, is now betting big on physical stores. After opening its first Fresho store in Bengaluru, it now wants to scale to 200 stores across the country by 2023 and triple that number by 2026.
Tech-backed pick-me-ups: In the 2,000-sq ft Fresho stores, customers can handpick fruits and vegetables. It's adding a touch of technology with self-billing counters backed by AI-video tools.
Customers can also place orders online for its 50,000 products and pick them up at the store. Becoming channel-agnostic will help BigBasket add ~500 million new users over time, the company believes.
Meanwhile: Indian unicorn Udaan has also entered the grocery space, mimicking Chinese company Pinduoduo's community-led model.
The Signal
Online grocery shopping became a habit during the pandemic. But that market appears to be stagnating. So BigBasket has come up with a growth hack. It is present in the entire grocery value chain, sourcing directly from producers and reaching it to the customers. A physical storefront similar to a kirana is a cost-efficient alternative to supermarket shelves. 
BigBasket will be up against other mom-and-pop stores that are slowly being weaned on heavily discounted supplies from Reliance Industries' JioMart. It is disrupting the retail distribution business by cutting out local, often family-owned distributors. BigBasket will also take on JioMart's online-to-offline model, which has partnered with local kiranas for product deliveries. However, JioMart does not have control over kiranas' margins. With its own stores, BigBasket will be both distributor and store-owner with end-to-end control over costs and margins.
NCR To Have India's First Two-Airport System
The Noida airport project is finally set to take off. Since it was conceived, it has seen three governments come and go in Uttar Pradesh, the state where Noida is located. It will be the first twin-airport system in any city. It would be a carbon net-zero port, Prime Minister Narendra Modi said, flagging off construction of the project. 
Not just humans: It is expected to compete with the Delhi airport which handled 68 million passengers at its peak before the pandemic. Although it is an international airport for travellers, the Noida airport will also be a major cargo hub designed to ensure quick truck-to-aircraft movement of goods. The airport is expected to cater to passengers from nearby cities and some even from Punjab because of highway connectivity.
There is a possibility of easing laws for constructing warehouses for retailers such as Amazon and Flipkart and making convention centres and residential colonies on the airport land.
Vinayak Chatterjee

@Infra_VinayakCh
🛬🛫 Foundation Stone 2day of NOIDA Intl Airport signals 7 +ives : (1) Good planning -  2 airports in NCR (2) transparent PPP  (3) speedy project devlpmnt (4) overcoming traditional hurdles like land acquisition (5) Political will  (6) centre-state cooperation (7) local goodwill
Nov 25, 2021
100 Likes   22 Retweets   6 Replies
Growing Gig Has Few Women
The gig economy in India, primarily driven by startups, is expected to triple in size in the next 3-4 years. The new work culture has paved the way for specialised skilled workers, hired on a contract basis for a specific period. Not just companies, Gen-Z workers, for whom work-life balance and quality of work are important, are also choosing gig roles over permanent jobs.
Where's equality? The rise of the gig economy was supposed to boost the employment of Indian women. But even within large gig economy employers such as Swiggy and Zomato, women representation is only 0.5% of the total workforce.
What Else Made The Signal?
Meta vs Congress: Instagram chief Adam Mosseri will testify before the Congress in the US for the first time next month as part of a series of hearings on protecting kids' mental health online. 
Google tax: The 2% equalisation levy imposed by India on digital enterprises will continue for US companies until 2024. 
No trust: Even as crypto legislation reaches Parliament, more than 50% of Indians surveyed want a ban on cryptocurrency but want them taxed on par with digital assets held abroad. 
Bye Dubsmash: Reddit will shut down its short-form video platform, Dubsmash. But they are rolling out new video features in the Reddit app.  
Another unicorn: Financial tech startup Upstox crossed the billion-dollar valuation mark after raising $25 million from its latest and ongoing funding round.
Tech crackdown: After regulatory scrutiny, some Chinese companies are limiting the use of Tencent's messaging app Weixin for work purposes.
Big suitors: Some of the biggest global investors, including Blackstone, Blackrock and Abu Dhabi Investment Authority have queued up for a slice of Life Insurance Corporation.
Abandoned: About 80 million cats and dogs are homeless in India.
FWIW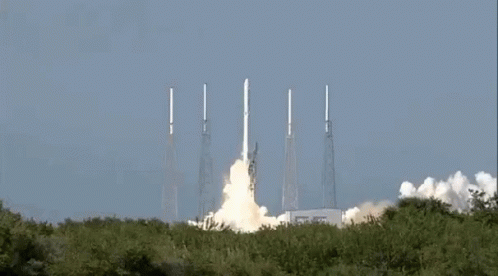 Rocketry: An Indian company will likely soon join SpaceX and Blue Origin in space-faring. Skyroot Aerospace has successfully test-fired a locally developed cryogenic rocket engine. This rocket engine called Dhawan-1 in honour of scientist Satish Dhawan will help power the upper stages of its Vikram-2 Orbital Launch Vehicle.
Black Santa: There are at least four black Santas this year at Disney's theme parks, reflecting the diversity of "surrounding communities". Representation of Santa Claus is changing in books, toys, and kids' media too. 
More than football: In a good environmentalist stunt, colourful shipping containers and a modular steel structure make up Stadium 974, in Doha, Qatar ahead of the 2022 Fifa World Cup. The sustainable and innovatively designed stadium is the first fully dismantlable stadium in World Cup history.
Want to advertise with us? We'd love to hear from you.
Write to us here for feedback on The Signal.