Discover more from The Signal
The Signal is a daily curated newsletter that helps you understand the latest developments in business, tech, finance, economy, and policy with sharp analysis and crisp insights thats fun to read arriving at 8AM daily in your inbox.
Over 81,000 subscribers
Who wants to follow Powell?
Also in today's edition: Zomato wants bigger portions; Affordable mobility hit hard; Foreign investors change China strategy; Shady biz in the environment ministry
Good morning! Everything blockchain is radioactive now, so it's no surprise that companies operating in the space are rebranding even the terms that once shot them to fame. Decrypt reports that folks on Instagram and Reddit have rechristened NFTs as "digital collectibles". Even the World Bank's chief of blockchain and digital assets has suggested rebranding the space to "decentralised systems". We call bs. At the end of the day, Meta is still Facebook is still Mark Zuckerberg, "nutri cereals" and "Sri anna" are still millets, and feculence by any other name is still feculent by function.
Today's edition also features pieces by Soumya Gupta, Srijonee Bhattacharjee, and Jaideep Vaidya.
If you enjoy reading us, why not give us a follow at @thesignaldotco on Twitter and Instagram.
The Market Signal*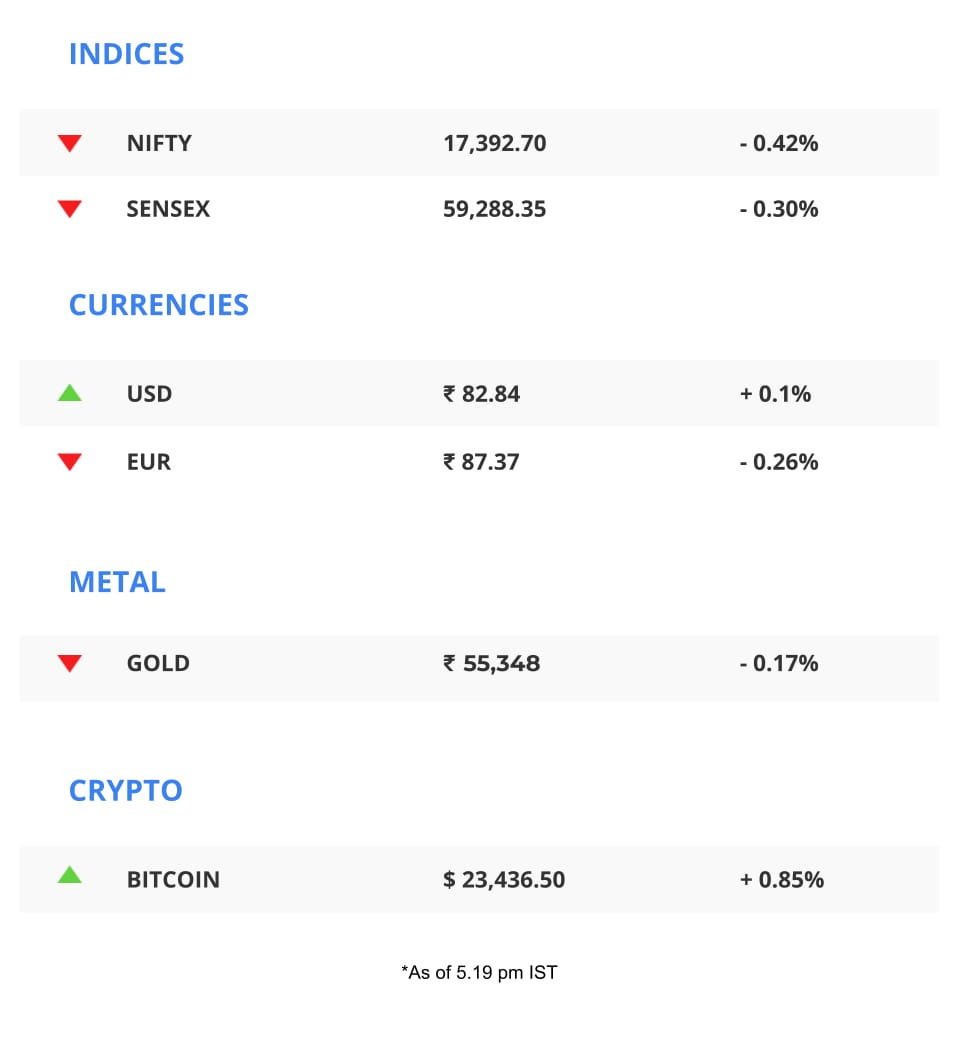 Stocks: Tracking small gains in global stocks, Indian shares may find respite from the sell-off seen in the last few sessions. The SGX Nifty and early trends in Asian trade point at a flat to a tad higher opening.
The three major US stock indices scraped gains on Monday as investors bought after sharp losses in the last few sessions. Last week, S&P 500 and Nasdaq posted the largest weekly losses since December 2022.
The slight gains in shares and benchmark US treasury prices may be fleeting as there is expectation of more rate hikes this year. Upbeat US economic data and commentary from member of the Federal Reserve Board of Governors, Philip Jeffferson, Monday underlined that. To add to consumer spending, businesses bought more equipment than they did in the past five months.
Back home, gains will be limited. Stocks of Adani Enterprise companies will be in the spotlight.
FOOD DELIVERY
Hungry For More
Zomato is asking restaurants for more commission, up from the 15-25% it already charges per order. Restaurants are upset, saying they risk losing visibility in app search results or a reduction in delivery radius if they don't comply.
Speedbreaker: Zomato said earlier this month that food delivery orders have been slowing down since Diwali, especially in the top eight cities. Its (adjusted) revenue from food delivery fell marginally from the September to the December 2022 quarter to ₹1,565 crore (~$190 million). But some equities analysts told Zomato they didn't see a uniform slowdown (pdf) across the F&B (food and beverage) industry.
Pushback: With pressure to hit breakeven by September this year, Zomato's priority will be increasing revenues from its main business. But if there's indeed an industry-wide slowdown, restaurants may get together to fight back, as they have in the past.
A MESSAGE FROM OUR PARTNER
Fintech By Design
As a diligent taxpayer if you have used ClearTax to file GST, we have met before. If you have checked out your CIBIL score, you've interacted with us. If you have ever taken out a loan on multiple apps, our paths have crossed.
NetBramha: You may not be aware of it but we mark our presence every time you hit that conveniently placed button or intuitively pull down the options menu on these apps. Name a well-designed fintech interface—digital commerce, digital banks & wallets, loyalty programs, stock trading apps, commodity trading apps, or investment platforms—and it's likely our transformational design thinking and deep research are behind it. Check some of our work here
Want to chat about product strategy? The Signal readers get a free design audit or consultation to customise your design transformation journey!
Unlock the power of design transformation now!
MOBILITY
A Regulatory Scramble
The Delhi government's decision to ban bike taxis is leading to disgruntled passengers and confused drivers. Fearing police fines, drivers are asking passengers to cancel rides on the app and pay by cash, which could be a safety concern as the rides won't be tracked. Some drivers are even saying the bike taxi companies haven't informed them of the ban.
What's the issue?: Bike taxis, operated by companies like Rapido, Ola, and Uber, were banned in Delhi and Maharashtra recently for mainly two reasons—private vehicles are being used for commercial operations, and passengers aren't insured.
Meanwhile: Used-car platforms have raised concerns about the Indian government's proposed amendments to motor vehicle rules, including the mandatory registration of second-hand dealers by showing GST registration. They're saying that 70%-80% of the smaller dealers fall below the cutoff for having a GST registration.
🎧 Why are classics being rewritten? Also in today's edition: bike taxi services hit a roadblock in India. Listen to The Signal Daily on Spotify, Apple Podcasts, Amazon Music, Google Podcasts, or wherever you get your podcasts.
ECONOMY
Don't Follow The Fed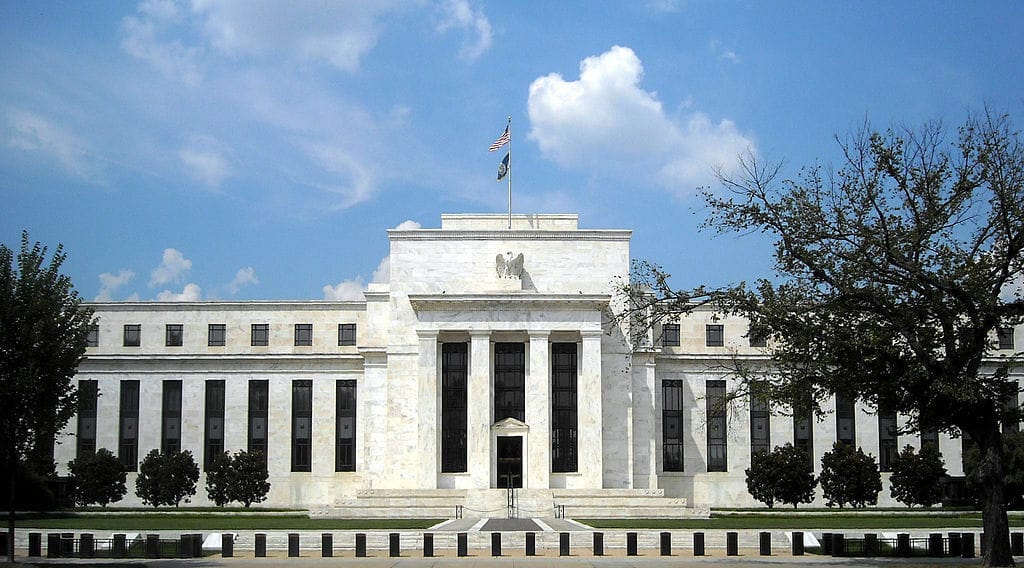 AgnosticPreachersKid/Wikimedia Commons (CC BY 3.0)
There is a feeding frenzy in the US. Literally. Jobs are aplenty and wages are rising. Roads are packed and restaurants are full, as Americans splurge on vehicles and food.
Eye-popping: Personal expenditure rose 1.8% year-on-year to $312 billion in January 2023, a cue for the Federal Reserve to raise rates again. But what really caught our eye in the US Bureau of Economic Analysis' personal consumption data is the dry powder that citizens have. Disposable personal income rose 2% to $387 billion.
Slowdown? Where? It has been nearly a year since economists and markets have been heralding a recession. Yet, the US economy has defied them with strength, growing five times faster than the Fed anticipated just five months ago.
The Signal
The US central bank has pretty much plotted the global anti-inflation campaign route, and most central banks have followed. But others are growing jittery following Fed chair Jerome Powell's lead. While interest rates are hurting home owners in other countries, home buyers in the US, chastened by history, are locked into fixed rates and are rather immune to Fed hikes.
A member of the Reserve Bank of India's rate-setting panel, Jayanth Verma, has warned that the country's growth is fragile and that mindless rate hikes would extend the cracks even more. Chances of job and wage growth diminish with every rate increase, and that is bound to hit demand.
What's worrying many is the possibility of the Fed panicking into doing something more drastic.
INVESTING
The Haves And Have-Nots Of China's Economy
The latest thumb rule for foreign investors in China is to tap the Chinese market but not invest in Chinese companies.
Explain: Foreseeing a demand boom after the lifting of zero-Covid restrictions, consumer-facing businesses in F&B and fashion/lifestyle are expanding brick-and-mortar outlets in China. Starbucks will open 3,000 stores by 2025. McDonald's will open 900 outlets this year—more than in any other country. Lifestyle giant Ralph Lauren is also focusing global expansion efforts on China.
Conversely: Venture capital (VC) giants such as Sequoia and Tiger Global (US), and Temasek and GIC (Singapore) are paring back China investments. The number of VC deals in Chinese startups fell from 22% in 2021 to 16% last year. This will decline further as US-China relations worsen. Funds are already making strategic investments in startups that'll benefit from US government contracts and subsidies for climate change, manufacturing, and procurement.
ENVIRONMENT
Saga Of The Missing Minutes
India's Ministry of Environment, Forest and Climate Change (MoEFCC) has withheld information from the public about forest clearances for the Great Nicobar Development Plan (GNDP).
What's the big deal?: The ₹72,000 crore ($8.7 billion) infrastructure project is facing fierce opposition for its impact on the indigenous flora, fauna, and people of the ecologically-sensitive Great Nicobar Island.
The home ministry reportedly wanted recorded minutes about the GNDP's airport component to be kept confidential for "strategic" purposes. But for whatever reason, the MoEFCC has withheld the agenda and minutes pertaining to a lot more.
In other news: India has reported 30 tiger deaths already this year. The National Tiger Conservation Authority claims there's no cause for alarm since tiger deaths peak between January and March due to seasonal territorial conflicts. That said, concerns are mounting over poaching in Tamil Nadu and mining projects in tiger country.
FYI
Boost: Kunal Shah-led CRED has rolled out a buy-now-pay-later service, and tap-to-pay feature on Android smartphones.
Another Pe on the block: Ashneer Grover's latest venture, Third Unicorn, is a fantasy sports platform for cricket fans, according to Entrackr.
Press pause: After Joyalukkas, ethnic wear retailer Fabindia has shelved its $482 million (₹4,000 crore) IPO due to "non-conducive" market conditions. In related news, nine companies will debut at the bourses to raise over ₹17,000 crore in March.
Splashed: Air India is shelling out $70 billion for its record 470-jet order from Airbus and Boeing.
On hold: Foxlink, an Apple supplier in Andhra Pradesh, halted production at its facility due to a fire on Monday. About 50% of the machinery was damaged at the site which assembles iPhone charger cables.
Breakthrough: The UK and European Union have struck a deal which could resolve trade rules in Northern Ireland caused by Brexit.
Blow: After the US, Canada banned Chinese-owned app TikTok from government devices over security concerns. The European Commission slapped a similar ban last week.
THE DAILY DIGIT
PKR 6.22 trillion
Or $24 billion. That's Pakistan's revised budget deficit projection—the highest it's ever been. (The Express Tribune)
FWIW
The audacity: In February 2021, Lady Gaga announced a $500,000 reward after her bulldogs were stolen from her dog walker at gunpoint. Now Jennifer McBride, one of the five people arrested in connection with the dog theft, is suing Gaga for not issuing the reward for returning her pets. You read that right: McBride wants to be paid for the crime she helped commit. We hope the jury isn't out too long on this one.
Scrubbed: After Roald Dahl's classics were tweaked and then reinstated, Ian Fleming's James Bond books are next in line. Ahead of the re-release of Fleming's original James Bond novels, the texts have been rewritten to remove racist references. The new versions will also carry a disclaimer. Btw, Enid Blyton's popular books have also been rewritten. We can't help but wonder if this is a publicity stunt to sell more books.
2.0: Move over hide, and make way for biodegradable leather. TômTex is crafting alternative leather that's made from mushroom waste and shrimp shells but mimics the actual stuff. It doesn't smell either. The catch? TômTex's leather is nearly as expensive as luxe animal hides, and product performance hasn't been proven yet.