Discover more from The Signal
The Signal is a daily curated newsletter that helps you understand the latest developments in business, tech, finance, economy, and policy with sharp analysis and crisp insights thats fun to read arriving at 8AM daily in your inbox.
Over 81,000 subscribers
Westland was a bubble waiting to burst
It took five years for Amazon to realise that its acquisition wasn't worth the time, money, and effort
Good morning! A big hello to readers who signed up this week. Welcome to The Intersection, The Signal's weekend edition. This weekend we talk about why Amazon decided to do away with Westland Books. Spoiler alert: "brave" books aren't the reason. Also in today's edition: we have curated the best weekend reads for you.
Krishna Gowda's phone won't stop ringing. The proprietor of Bookworm—one of five bookshops that turned Bengaluru's Church Street vicinity into a mecca for bibliophiles—is burning the midnight oil to fulfil requests for Westland Books. Under ordinary circumstances, such demand would be a dream come true for independent bookstores. But for Gowda, each Westland title flying off the shelf is a step closer to an irreconcilable eventuality for booklovers across India.
February 1, 2022 brought with it the news that Westland is shutting shop. 
In a market dominated by international giants such as Penguin, HarperCollins, and Hachette, Westland made its mark as a homegrown publisher with a best-in-class team. It started life as Affiliated East West Press, grew up as East West Books, then came into its own as Westland after a 50-50 partnership with Landmark, the Tata Trent-owned chain of bookstores. The Tata Group took over in 2007, but couldn't capitalise on Westland's decades of experience in publishing, distribution, and bookselling. One would think Amazon, which has a publishing arm comprising 16 imprints, would make the most of the  ₹40 crore it paid for Westland in 2016.
But after just five years, Amazon dropped it like a hot potato.
"Around 15% of my new book sales were Westland titles. Their people, right from Karthika [publisher] to Satish [sales head] went out of their way to foster relationships with bookshops. Large publishers don't do that today," Gowda laments.
Westland's closure is a shocker because nobody in Indian publishing, including Westland's employees, saw it coming. The publisher had ended 2021 with a slew of lauded titles, including Whole Numbers and Half Truths, The Silent Coup, and JCB Prize winner Delhi: A Soliloquy.
Indian Twitter is aflame with the theory that Westland's demise could be due to the "brave" books it published.
Sunit Arora

@sunitarora
Westland has been coming out with books critical of the Modi regime, including by @jaffrelotc and @Aakar__Patel .
lifestyle.livemint.com/news/talking-p…
Feb 1, 2022
40 Likes   28 Retweets   1 Replies
But this theory holds no water. For one, Westland published Smriti Irani, Ram Madhav, and Rajeev Mantri as much as it did liberal journalist-authors. Second, other publishers also had "brave" books (Aleph's Coming Out As Dalit and other politically-engaged titles; HarperCollins' The Murderer, The Monarch and The Fakir and No Land's People: The Untold Story of Assam's NRC Crisis; Penguin's Kannur: Inside India's Bloodiest Revenge Politics, etc.).
So why did Amazon draw the curtains on a company it was once "very excited" to work with? The answer is simpler than it's made out to be: Westland's business model wasn't something to write home about.
All advance, no recovery
Westland has been in the red for a long time.
The Intersection sourced the company's financials from Tofler. Here are its losses over the last five years (for financial years ending March 31):
2017: ₹2.3 crore
2018: ₹14.7 crore
2019: ₹46.3 crore
2020: ₹33.8 crore
2021: ₹19.2 crore
Westland recorded revenues (sales) of ₹31 crore in 2020. Its revenues in 2021 were ₹25 crore. While its otherwise-mounting losses declined last year, so did its sales.
To understand how things went awry, we must go back in time to 2018. That was the year Westland, fresh off the Amazon acquisition, paid the highest signing amount for an Indian fiction writer. That writer is Chetan Bhagat, and he'd been with Rupa Publications for 14 years. The signing amount was never publicly disclosed, but if two publishing insiders are to be believed, Bhagat got ₹36 crore for a six-book deal. This agreement dwarfed Amish Tripathi's (₹5 crore in 2013, an eye-popping sum back then). Westland also had Rujuta Diwekar, Devdutt Pattanaik, and Ashwin Sanghi on its roster at the time. It's likely that it paid astronomical advances to them as well.
Paying a limb for the movers and shakers of the literary mass market isn't unheard of. What is, is going five years without being able to recover those costs.
"These Big Five [authors] comprised about 80% of their sales. You can't run a business on the backs of a few and ignore your midlist," says one of the insiders cited above. He requests anonymity since he doesn't want to risk his equations with his publishing network.
"It's a wonder Amazon acquired Westland. No one was interested after Tata exited, because it wasn't making money even back then," he continues.
That Amazon paid big money for Westland (₹40 crore), which then paid big money for Chetan Bhagat (₹36 crore, allegedly) was eyebrow-raising, considering his book sales were already reported to have declined in 2018.
That Westland had the Big Five in its arsenal and had revenues of just ₹25 crore last year says much about the authors' sales, too.
Royalties, returns, and relationships
It would be prudent to skim the surface of how publishing works before diving deeper into all things Amazon-Westland, because it takes one to grasp the other. The sequence of events below is a generalisation and varies from publisher to publisher:
Authors are either commissioned directly by publishers or represented by literary agents who make a case for them. An offer is made once a book proposal is greenlit. Everyone then signs a contract after terms are agreed upon.
Debutants typically submit their first manuscripts within four to six months of signing a contract. Writers such as  Chetan Bhagat, Amish Tripathi, etc. don't have such obligations. All they have to do is submit a chapter or a few; after all, these are marquee names for whom publishers pay plum signing amounts, as we mentioned earlier.
The manuscript process is where editors shape a book's outcome, in much the same way a potter shapes wet clay. Writing a general romance title? You may have to keep it to around 250 pages because that's the golden ratio for the genre. Non-fiction books are sent for a 'legal read' to avoid the looming spectre of lawsuits.
The release schedule and print run (number of copies) is finalised after manuscript completion. Then comes the brainstorming over book jacket design and publicity. Distributors are roped in to push the book to sellers. After which the title is finally announced to customers.
It takes years for publishing houses to build their catalogues of both local and international titles. As Hachette India managing director Thomas Abraham says, "In India, it takes about 25-35 years to build a good list with enough backlist drivers." In publishing terminology, backlists are older books that are still in print; think those bestseller titles by Vikram Seth, Michelle Obama, Marc Maron, and Yuval Noah Harari.
Homegrown publishers such as Rupa and Roli Books are completely local title-driven, but they've also been around for decades.
The first three months are crucial for a local title because its performance during this time dictates whether a publishing house can recover marketing costs, as well as expenses in the form of advance royalties paid to authors. If a book doesn't pick up—say, if just 3,000 copies are sold against the publishers' print run of 5,000 copies—a publisher will adjust the writer's additional royalties from each book sale against the advance (say, ₹1 lakh) that was already paid.
In 2021, Westland paid authors approximately ₹4 crore in royalties. But here's the kicker: these were "considered good"; the publisher recorded nearly ₹7 crore worth of royalties as "doubtful". This probably means the company spent more on advance royalties than it could afford.
The Intersection reached out to Westland CEO Gautam Padmanabhan and publisher Karthika VK for this story. Neither responded. 
Westland also averaged ₹2 crore-₹2.7 crore in promotional expenses over the past two years. One must note here that this is a blip compared to the marketing budgets of international publishers in India. We also spoke to three authors across HarperCollins, Penguin Random House, and Westland. They all maintained that Westland went to great lengths to promote debutant authors, unlike its bigger rivals who lavish attention on safe bets (read: the big-ticket names).
"New writers want to work with Karthika because she and her team nurture books to completion. The outpouring you're seeing from authors is because Westland was the writer's publisher in the truest sense. Unlike the others, who treat [lesser-known] writers pretty badly," says a Westland author, who asks not to be named.
That Westland invested in fostering relationships is a point echoed by Bookworm's Krishna Gowda. Remember the sequence of events outlined above? When publishers and distributors move inventory to booksellers, they do so under agreement that unsold books can be returned within a certain timeframe. This insulates a bookseller against the costs incurred on overstocking. Such returns are exchanged for cash or credit, depending on the publisher.
"Westland's sales executives were flexible with credit deadlines. They also let me display [new] books before invoicing. Who operates on such trust anymore?" Gowda asks.
Amazon's Achilles heel
No amount of superlatives—"behemoth", "colossus", "world's largest online retailer", and so on—can take away from the fact that Amazon finds itself in a bind in India. Its marketplace division Amazon Seller Services recorded losses of ₹4,748 crore in 2021 (although its revenue shot up by nearly 50%). Amazon Wholesale (India), which is attracting regulatory attention for the wrong reasons, is doing worse and scaling down operations. Not to mention that Amazon is locked in a dispute with Future Group.
One can argue that Westland was a drop in the ocean of Amazon's setbacks here. Well, that's precisely the point. The conglomerate is too large and too powerful to bother with anything less than a gargantuan ambition. It will happily swallow its 11-figure losses for the sake of scale. What it won't swallow is both losses and lack of scale, as was the case with Westland. The rest of us remember with great fondness the pavement booksellers and bookshops that shaped our formative years; Amazon cares nought that it was the humble book that breathed life into its once-fledgling marketplace. It's not a company that looks back. If it did, it'd recoil over its failures: the Fire Phone, Amazon Destinations, the Kindle e-reader (who even uses them anymore?), and several others.
Amazon may have a publishing division, but its publishing history has its pockmarks. In 2018, it shuttered both Kindle Worlds (fan fiction publishing unit) and Kindle Scout (crowdsourced platform where authors posted their titles in a bid to be published by Amazon). But even before that, it had a track record of overbidding for authors with lacklustre sales. As someone once told former The New Yorker staff writer George Packer in 2014: "There are certain things it takes to be a publisher. You have to have luck, but you also have to have judgment, discernment."
Amazon does not seem to have exercised said judgment and discernment in the five years it was Westland's parent company. There's no doubt Westland's books became more visible on the Amazon platform. The question is whether the partnership could take even a page out of Amazon Publishing's big moves in the US. The answer is Westland's closure and Amazon's seeming disinterest in a market where educational and academic books account for 95% of all publishing.
31 March 2022 will be the last day of Westland's operations. Writers contracted to the publisher will have their rights reverted to them, except in the event that someone acquires Westland.
Karthik 🇮🇳

@beastoftraal
Here comes the email from Westland. Sad to see them shutting down. If they don't get acquired and my book rights come back to me, perhaps I should update the material and pursue another publisher... or self-publish, if need be :)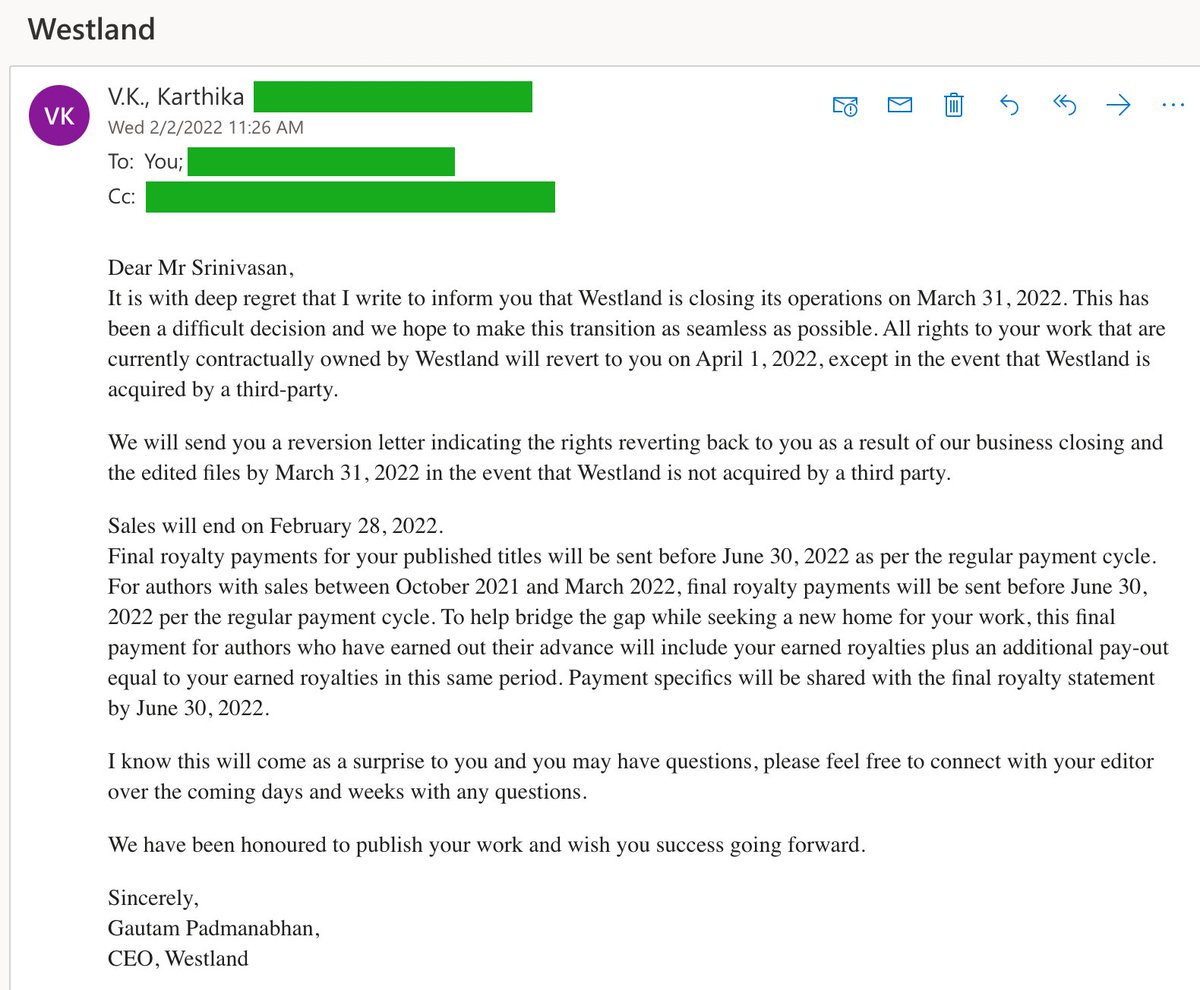 Feb 2, 2022
19 Likes   1 Retweets   1 Replies
But one published author (who also wants to remain unnamed… the nebulous world of publishing is quite something) claims that HarperCollins was in the running to evaluate Westland's business. The publisher allegedly balked and backed out after hearing the asking price of ₹20 crore.
Until there's a buyer on the horizon, Westland's saleable authors will be scouted by those keen to pick the biggest chunks of the carrion that was once a formidable English language publisher—if not in business, then in reputation. Writers whose works were in the publishing pipeline may not be so lucky.
It says a lot about us, however, that we bemoan the demise of an English language publisher while Indian languages have it worse. At least 10 Hindi publishers have ceased operations in the past two years.
"The pandemic finished them, but there was no sadness, no outrage, no mainstream reactions to this development," says Piyush Kumar. Kumar is co-owner of Prabhat Prakashan, which publishes books in Hindi and English. "The benchmark for Hindi bestsellers is now 2,000 copies, versus 5,000-10,000 in English. That's how bad things are."
Despite the bleak outlook, Kumar maintains that Amazon has driven Hindi book sales more than brick and mortar outlets. We'd be remiss to overlook that for all the joy it's sucked out of the book-buying experience, Amazon's reach enables people in smaller cities and towns to read the books we so badly want to save.
Having a bookshop in your city is a privilege, though it shouldn't be. Even Krishna Gowda, who once sold books on a pavement, maintains so. He'd know; it wasn't until he rented a shop that he was able to stock Harry Potter and the Goblet of Fire all those years ago.
ICYMI
Counter-hacking DPRK: North Korean spies thought they could hack Western security researchers and get away. But independent hacker PX4 taught the spies a lesson by taking down their internet. Every North Korean website was down during this phase. This story chronicles the simmering resentment of PX4 and how he identified the vulnerabilities within North Korea's systems to launch a series of attacks.
Heart Matters: It is often said that heartbreaks are painful. Turns out, the pain is real. This article explores the physiological effects of being dumped. When a romantic relationship ends, parts of the brain that are linked to physical pain get activated and happy hormones like dopamine and serotonin drop off. There is also a book for those interested in exploring this topic further.  
NFT Sea: In the era of the NFT boom, one cannot avoid interacting with OpenSea. Even as it has become a quintessential part of the digital creators, the platform is facing concerns of stolen tokens and security issues. But no competition has emerged. This deep-dive looks at the rise of OpenSea and how despite the skepticism, the platform is hard to miss. 
Pre-loved Boom: Second-hand clothes are not a bad word. Especially for Malaysians. The country has slowly become a hub from where branded pre-loved clothes are being shipped to the world. Find clothes on Etsy or eBay and you will find that the majority of the sellers are from Malaysia. The answer to its rising popularity in this space lies in the country's thrift-shopping culture where discarded items are segregated to find sought-after labels. 
Forever Locked-Down? The Covid-19 pandemic is slowly seeing a reduction in cases globally but some countries seem to have taken an unfair advantage of the situation. Amidst restrictions to curb the virus spread, China had introduced a series of technology-led controls to track people movement at all times. It looks like these surveillance measures are here to stay. 
UK's Ouster-Man: He is termed as the man who exists to destroy prime ministers. Looks like he is staying true to the word. Political strategist Dominic Cummings is now out to expose the failings of UK Prime Minister Boris Johnson. Cummings, who was the former chief advisor to Johnson, has taken on the mantle to oust the PM. This piece looks at Cummings' end plan amidst the PM's 'Partygate' scandal.   
— By M Saraswathy
Want to advertise with us? We'd love to hear from you.
Write to us here for feedback on The Signal.