Discover more from The Signal
The Signal is a daily curated newsletter that helps you understand the latest developments in business, tech, finance, economy, and policy with sharp analysis and crisp insights thats fun to read arriving at 8AM daily in your inbox.
Over 81,000 subscribers
What makes a city 24x7?
Nightlife isn't so much about extending curfews as it is about urban design.
Good morning! A big hello to our readers who signed up this week. Welcome to The Intersection, The Signal's weekend edition, where we report a story on business, economy, technology, policy, entertainment and culture. In today's edition, we discuss why a 24x7 plan for a city in India will remain a distant dream. Also in today's edition: we have handpicked the best weekend reads for you.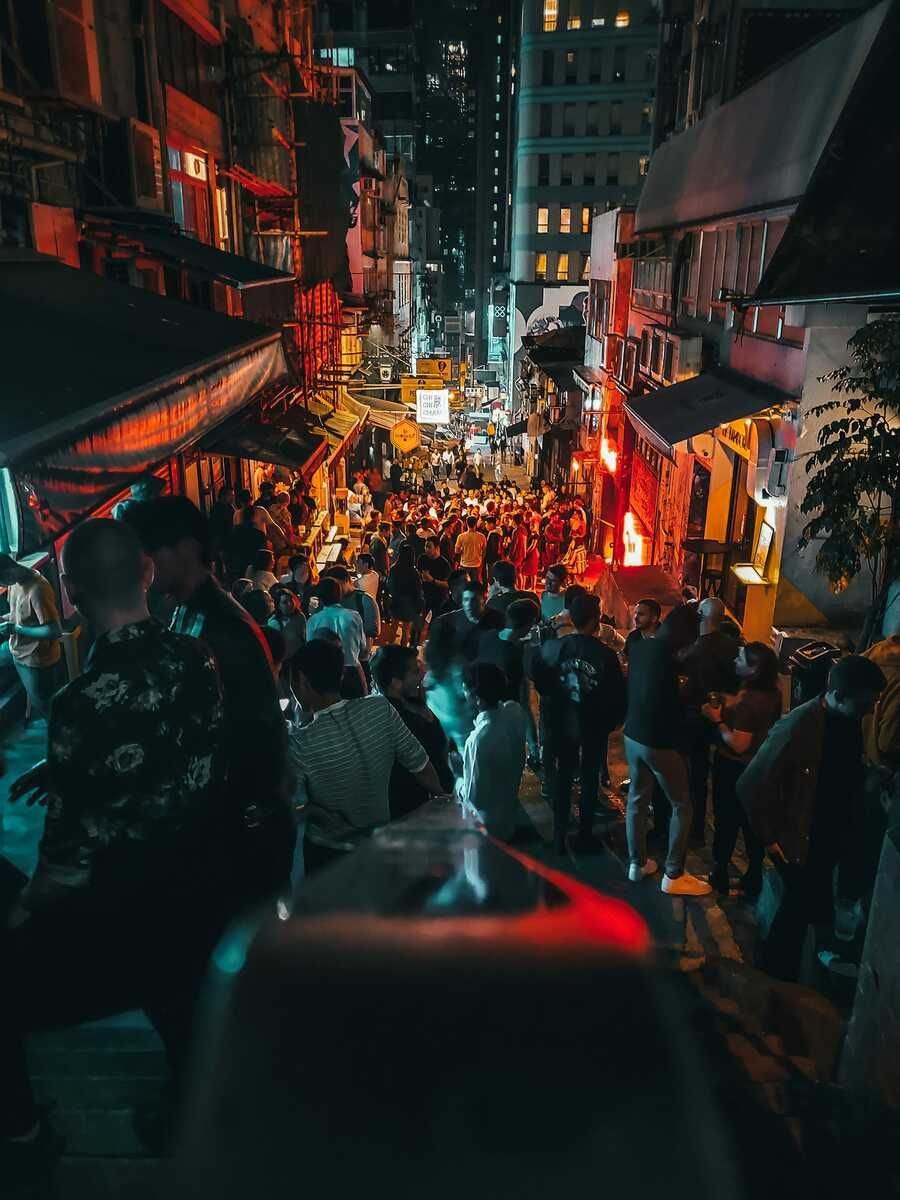 There was a common promise in the two-horse race that was the recently-concluded Municipal Corporation of Delhi (MCD) elections. It was the promise of a "night-time economy", and it was made by both the Aam Aadmi Party (AAP) and the Bharatiya Janata Party (BJP). AAP won 134 wards over the latter's 104, ending the BJP's 15-year-rule of the civic body—a milestone hammered home by loudspeakers blaring "Acche honge paanch saal, MCD mein bhi Kejriwal".
In ruling one of the world's largest municipal corporations, AAP may now blitz through its long-mooted 24x7 plan. For what it's worth, the BJP would've also executed its vision of a nocturnal-friendly capital if it'd won another term.
The fervour to turn Indian cities into microcosms that never sleep isn't a recent phenomenon. In 2020, Maharashtra's former tourism minister Aditya Thackeray, who's wanted a 24x7 plan for Mumbai since time immemorial and has been opposed (2015), supported (2017), and opposed again (2020) thanks to the state's political musical chairs, permitted commercial establishments in non-residential zones to stay open all night. The Madhya Pradesh government has also gunned for a 24x7 Indore since 2019, specifically to turn the city's Bus Rapid Transit System corridor into an economic nucleus. Indore's Sarafa Bazar, a gastronomic hub, is famous for serving dahi bade, garadu, bhutte ki khees, batla kachori, and khopra patties to night owls.
What sets the capital's night-time economy proposal apart is its explicit mention in the Draft Master Plan for Delhi 2041 (pdf), which is due to be notified in April 2023. Even so, the outline is vague at best. Take this mouthy one-liner on nightlife circuits:
"Public space networks promoting an active night life by improving safety, reducing congestion by staggering activities, utilising spaces for different activities optimally, and improving productivity for formal as well as informal economic activities and creating night economies."
And on night economies:
"Various economic activities providing alternative time and space for continuing work and production in the city and the areas that remain open for cultural activity and entertainment to attract tourists and locals at night time."
Nevertheless, Delhi's labour department has paved the way for warehouses to operate round the clock. And Lieutenant Governor (LG) VK Saxena formed a committee to ease licensing requirements for food and beverage operators.
(The Intersection reached out to the National Restaurant Association of India about the second development, only to be told that it'd received no update on the matter.)
How such ambition will morph into reality in a city like Delhi warrants a closer look. It also begs the deeper questions: what makes nightlife tick, and what is nightlife, really?
Design versus planning
From her vantage point at 555 Hudson Street, New York City, Jane Jacobs became privy to, and participated in, a distinct form of sidewalk ballet.
She'd step outside in the morning to place her garbage can, and in doing so, witness locals—school kids, white-collar workers, and hardware store, fruit shop, delicatessen, laundry, and barber shop proprietors—kickstarting their day. Come afternoon, the sidewalk was dotted with strangers doubling as patrons in local eateries and watering holes. Then, the kids played, returning locals bought groceries, and teenagers prepped for an evening out. 
Post sundown, night workers and strangers alike thronged neighbourhood establishments again. The strangers, Jacobs noted, were a vital cog in Hudson Street's frenzied ballet. They helped women who were harassed and rushed the injured to hospitals. They, together with the residents and local businesses, were the eyes on the street.
"Intricate minglings of different uses in cities are not a form of chaos. On the contrary, they represent a complex and highly developed form of order," Jacobs wrote in The Death And Life Of Great American Cities (1961). "The district, and indeed as many of its internal parts as possible, must serve more than one primary function; preferably more than two. These must ensure the presence of people who go outdoors on different schedules and are in the place for different purposes, but who are able to use many facilities in common."
The Death And Life Of Great American Cities isn't merely the bible for urban design. It is conventional wisdom that articulates what we experience in places that pulse with nightlife: the beating heart is humans engaging with their surroundings, not sterile planning or free-flowing liquor.
"Driving density is a challenge for Delhi. When it comes to the eyes on the street principle, restaurants or watering holes with closed doors aren't as secure as, say, neighbourhood shops," Madhav Pai tells The Intersection. Pai is the interim CEO and executive director of the sustainable cities programme at the World Resources Institute (WRI).
Mumbai's heterogeneous land use is an eyesore. Delhi's zoned enclaves and recreational districts are a sight for sore eyes. But the former has buildings, slums, kirana stores, chemists, and nukkads in the same radius, meaning something or the other is almost always open, or someone is almost always around. Diverse interactions drive safety. Safety drives density. And density drives (more) public transport out onto the streets. This is why extending the Delhi Metro curfew and commissioning night buses aren't one-stop solutions for a safe night out, although both should nevertheless be considered.
Delhi was the first city in independent India to have a master plan. Its grids, majestic roads, and sprawling gardens are courtesy English architects Edwin Lutyens and Herbert Baker. So are its imposing boundary walls, which the Centre For Urban Design And Mental Health argues was an imperialist concept to restrict Old Delhi and its inhabitants from the new, planned capital. This silo approach informs much of the city's values.
Mumbai's own South Bombay district—also planned by the British—is a sight to behold, but near-deserted after midnight. Ditto the office district that's Bandra Kurla Complex and the residential enclave of Royal Palms, so isolated that even rickshaws don't venture there. Remember what Jane Jacobs said about why districts should have more than one primary function? Ghost towns are so because they're devoid of the layers that come with organic growth.
"Urban design and planning dictate urban behaviour, so changes have to be slow," says Anuradha Parmar, executive director of the Urban Design Research Institute (UDRI). "Build on notes that already exist. Ideally, background research should be done to find out what the enablers for nightlife are so you can enhance what already is."
Tl;dr: you cannot impose a night-time economy where it doesn't exist.
Us versus them
If urban design gives a district its pulse, regulation serves as its circulatory system. By regulation, we mean policing and zonal implementation.
Most coverage about Indian cities' 24x7 proposals mentions global counterparts like London and Melbourne in the same breath, perhaps because both have detailed plans for an after-dark economy. The office of mayor Sadiq Khan claims the '24 Hour London' project—overseen by a 'Night Czar'—accounts for one in eight jobs in the megapolis and generates £26.3 billion ($32.2 billion) every year. The UK is so enthusiastic about the concept that its Night Time Industries Association wants advisors to be appointed from Belfast to Swansea. The country uses the international Purple Flag standard, an accreditation granted only to those towns and cities that meet the criteria for a great night out.
In order to boost Melbourne's post-Covid fortunes, the city's Night Time Economy Advisory Committee wants to simplify and digitise the permits system. Melbourne even has a 'Dusk Till Dawn' grants programme to fund endeavours that are most likely to "bring vibrancy" between 6 pm and 6 am.
Suffice to say all this is only possible with public-police partnerships. Take London's Clapham district, where licensed businesses have a briefing every Friday to share intelligence with volunteer constables (pdf). The seaside town of Weston-super-Mare has a night-only ambulance and mobile police service called the 'MAVIS bus'. Chester city publicly funds extra police patrols (pdf). And we haven't even got to the planning for additional fire rescue and healthcare services.
Unsurprising, then, that a senior Delhi Police official scoffs at the 24x7 plan.
"We'd need a manpower increase of at least 35%-40% for night deployment. That and the likely spike in crime is why we'd voiced our opposition in the LG committee," he tells The Intersection on condition of anonymity. A 2021 audit by former police commissioner Rakesh Asthana revealed that Delhi Police had a 21% staff shortage across 15 districts. The staff crunch was most concentrated in south Delhi, which has nightlife clusters such as Dhan Mill and GK2 M Block. Incidentally, the short-staffed Mumbai Police had also objected to Aditya Thackeray's 24x7 plan back in 2017.
Then, there's the boring but critical issue of zonal implementation. Delhi's city plan operates as a top-down hierarchy, starting from the master plan to zonal plans and, finally, local area plans. KT Ravindran, veteran urban designer and former professor at the School of Planning and Architecture, says this approach ignores critical inputs from the local area or ward level. Complicating matters is the fact that plans are notified not by the MCD but by the Delhi Development Authority, which comes under the central government. This means development or expansion is likely to sprint before utilities like water and power can catch up.
"Electricity demand will be more at night, and we can barely manage during wakeful hours as it is. There's no proper management from the consumption side; in certain pockets, one metre is shared by 10 people, adding to the shortfall in arrears collected by the state," Ravindran says. Delhi had a severe shortfall earlier this year and currently owes ₹18,000 crore (~$2.2 billion) to power distribution companies.
Ward-level plans matter because they also take hyperlocal insights into account… which the capital's labour department, spurred by the LG, doesn't seem to have done when it effectively allowed warehouses to function round the clock.
Formal versus informal
Atul Goyal, like most Residents Welfare Association (RWA) types, thinks mixed or heterogenous land use ruptures a neighbourhood's "social and structural character". Do we need more dark stores to facilitate more online deliveries in the dead of the night? How many people even want nocturnal deliveries unless they're for emergency reasons, he wonders. If the office of the labour commissioner doesn't limit after-dark warehouse operations to industrial districts, he'll lodge a formal complaint in his capacity as president of the United Residents Joint Association, which bills itself as Delhi's "largest civil society initiative".
Goyal reasons that he isn't against a night-time economy, but against the current approach to nightlife.
"In the '90s," he says, "you'd get something to eat at Pandara Road dhabas and Connaught Place in the middle of the night. You still see glimpses of this outside railway stations, where vendors operate throughout."
Some areas in and around Old Delhi come alive when the city sleeps. Flower markets bloom in the twilight hours and retire by 7 am. Residents who live near some katras or traders' quarters in Chandni Chowk hear goods being loaded and unloaded long before sunrise. This is also when some sweepers and sanitation crews clean neighbourhoods. In every metropolis—and towns and cities inching their way to becoming one—construction workers build roads and highways in the dead of night. And what would night-shift employees do without cigarette vendors and chaiwalas on bicycles?
Ratoola Kundu, assistant professor at the Centre for Urban Policy and Governance, Tata Institute Of Social Sciences, cites Mumbai's Kamathipura as one of the best examples of a bustling, informal night-time economy. That fabric has withered after what was once India's second-largest sex-work district was 'cleansed' in the name of redevelopment. But vestiges remain. The late-night theatres and playhouses that catered to labourers have given way to small rooms and garages that still serve the purpose, she says.
"Current 24x7 policies aren't inclusive because they don't visibilise such informal functions. We need to re-engage with the idea that cities are fully asleep at night and improve things like rest, sustenance, and toilets for such people," Kundu stresses.
As Jane Jacobs would say, protect the eyes that belong to the natural proprietors of the street. Else, let sleeping dogs lie.
ICYMI
Real shock: Blackstone, one of the biggest private equity groups in the world, recently faced a minor run on its Blackstone Real Estate Income Trust (Breit). As the global economy cooled, investors withdrew 2% of net assets from the fund in July. The fund had hoped that withdrawals would reduce, but they didn't. Over 70% of withdrawals came from Asian investors. It has now imposed a pullout limit. Wealthy investors had poured money into the fund when it was floated five years ago, and it has given them spectacular returns. But analysts say that it's past its peak. Here is the Financial Times analysis of what's happening to the behemoth with $69 billion in assets under management. 
Maximum deal: A few days ago, the property development arm of the Adani Group bagged the rights to redevelop Dharavi, the 2.5 square kilometres of slum-covered land in the heart of Mumbai. Likely to be one of the most valuable properties in the world once developed, it entails rehabilitating some 90,000 families and numerous tiny industrial units. While the plan has been mulled for long, a tender was actually floated in 2019 and won by UAE-based Seclink Technologies. However, it never got the award. In the past three years, the Maharashtra government had a rethink and the project was re-tendered. It finally landed in billionaire Gautam Adani's lap. The Morning Context has put together how Seclink was eased out, and Adani slid in to pocket what could be one of the world's most lucrative real estate development projects.
Every step they take…: Bodyguards have come a long way from the time Emperor Augustus created the occupation. Today, it's an industry that's grown by at least 500% in the last 20 years. It's lucrative, partially due to the (very) popularised rich lists and social media. The brief is simple: follow clients like a shadow and protect them from kidnapping, robbery, the public, *and* take a bullet if need be. Residential protection that includes drone surveillance can accumulate a bill of £1 million per annum. The only rivals to these close-protection officers are close-protection dogs. This story in the Financial Times talks about the growing demand for bodyguards. Fun fact: intimidating, muscular blokes are a stereotype at best.
Under pressure: Uber is giving its drivers a tough time. According to an MIT Technology Review survey, the ride-hailing major's facial-recognition algorithm is flawed. Over half of the 150 people surveyed revealed that they were locked out of their accounts for 18 hours, if not a whole week, due to a change in their facial appearance. The grievance mechanism is another roadblock that drivers say requires a masterclass in patience. Uber is already facing legal action over indirect racial discrimination. This story is a reminder of a cautionary tale that is AI.
The VPN wars: When Russia clamped down on independent media and social media websites during its invasion of Ukraine, average Russians found workarounds with virtual private networks or VPNs. One them, the Switzerland-based Proton, saw a spike in usage: going from 25,000 daily users to 850,000. And then, Russia banned Proton sometime towards the end of March. Thus began a "high-stakes chess match" between Russian regulators and a team of 25 engineers in Geneva, with the latter working overtime to evade Russian censors, who kept striking every now and then. This New York Times story has the details. 
Enjoy The Signal? Consider forwarding it to a friend, colleague, classmate or whoever you think might be interested. They can sign up here.
Want to advertise with us? We'd love to hear from you.
Write to us here for feedback on The Signal.