Discover more from The Signal
The Signal is a daily curated newsletter that helps you understand the latest developments in business, tech, finance, economy, and policy with sharp analysis and crisp insights thats fun to read arriving at 8AM daily in your inbox.
Over 81,000 subscribers
Zomato 🤝 Blinkit
Also in today's edition: Softbank is playing it safe for now; Bollywood's latest splits audience; US-Russia tag team in space; Movies eat into Netflix's earnings
Good morning! Never say Ever. History repeated itself as the 1,050-foot-long Ever Forward ran aground along the US east coast. Efforts are on to free the stranded vessel. Its bigger cousin, the Ever Given, had brought global trade to a grinding halt and launched a thousand memes after choking the Suez Canal last year. Both cargo liners are owned by Taiwanese maritime company Evergreen Marine Corporation. Talk about running a tight ship.
Pizza lovers won't like this news. Officials in Haryana are planning to levy 18% GST on pizza toppings. Why? The toppings aren't pizza and hence should be subject to tax. We won't blame you if you opt for the Margherita. We also take a closer look into SoftBank's worries. Tune in to The Signal Daily.
The Market Signal*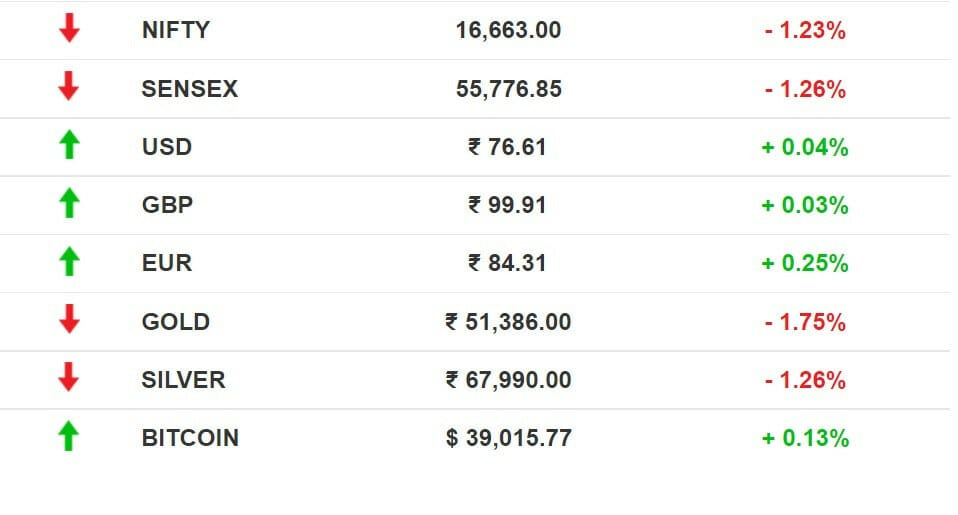 Stocks: Domestic equity markets ended their five-day positive streak after Ukrainian Presidential Adviser said that the war was at a "crossroads". The new sanctions imposed on Russia didn't help. Brent crude slid below $100 per barrel, a first since March 1. Metal, oil & gas and IT stocks dragged down the Nifty.
STRATEGY
Hard Times Befall SoftBank (Again)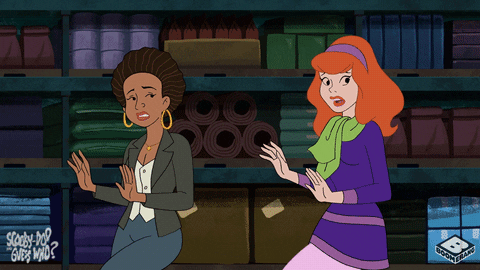 A conservative flair seems to be sweeping the VC world. Japanese Softbank joins Tiger Global and Sequoia in rewriting their investment playbooks following the global tech stock rout.
The shake-up: SoftBank's big-ticket public portfolio companies—read Didi, Grab, Alibaba, and Paytm parent One97—are all trading below their listing prices. Alibaba is laying off 20% of its employees. Its British investee, chipmaker Arm, is navigating choppy waters enroute its IPO.
Exits: Managing partner Munish Varma is exiting the boards of Paytm and Policybazaar, in line with the investor's policy of stepping back after portfolio companies are publicly listed. SoftBank sold shares worth $1 billion in Amazon's South Korean rival, Coupang. It is also backing out of one of Asia's most ambitious but long-gestation projects, building a new capital for Indonesia in Borneo called Nusantara.
Going soft: It had already become cautious after the WeWork debacle. Now the investment giant is looking to buy into blue-chips such as the Tata and Mahindra groups, which may not break the bank but won't erode capital.
ENTERTAINMENT
The Perils Of Popularity Ratings
For a day or two, Bollywood movie The Kashmir Files enjoyed a 10-star rating on IMDb, higher than all-time world favourites Frank Darabont's The Shawshank Redemption (9.3), Francis Ford Coppola's The Godfather (9.2) and Christopher Nolan's The Dark Knight (9.1).
Tl;dr: The perfect score was a result of 94% of the 1,35,000 voters rating it 10. About 4% gave it a measly 1. IMDb, the Amazon-backed digital register of the global movie industry, quickly tweaked the methodology to reflect "unusual voting activity" and the rating settled to 8.3. Director Vivek Agnihotri called it "unusual and unethical". The film, which highlights the plight of Kashmiri Pandits, has polarised viewers into for and against camps.
joyojeet pal

@joyopal
Rejoicing an Indian film winning IMDB's GOAT rating?
As someone who studies these things, we only won the population war.
You can go watch Kashmir Files to confirm if it is the greatest film ever, or I can explain with data, if that does anything for you, why @IMDb is broken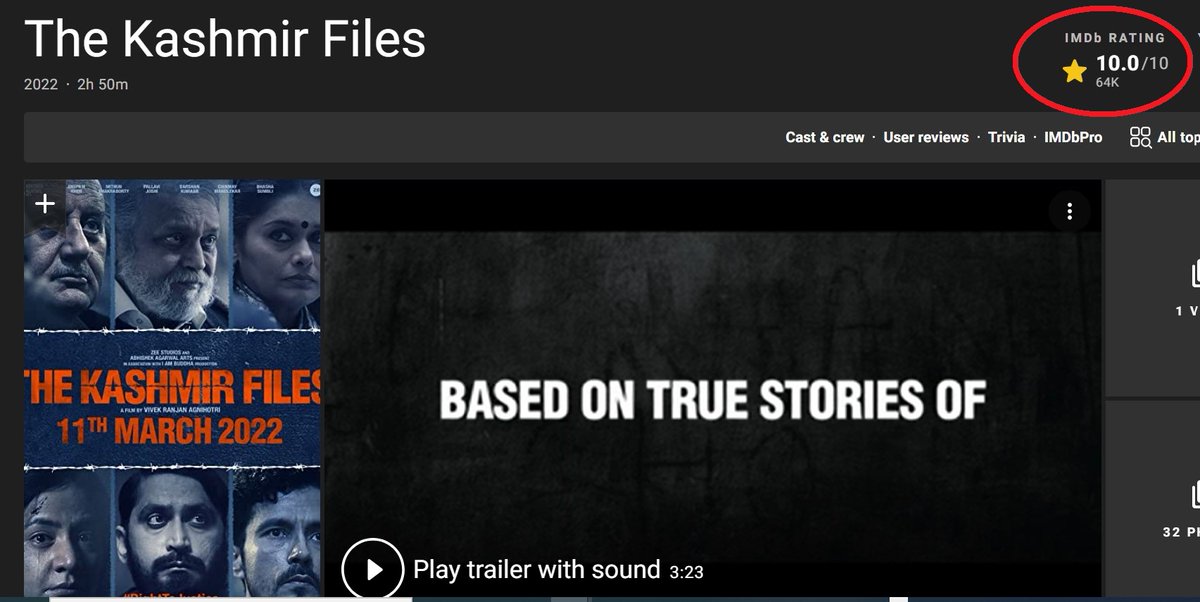 Mar 13, 2022
1.43K Likes   441 Retweets   351 Replies
Stamp of approval: Prime Minister Narendra Modi endorsed the film as factual and slammed critics. Six BJP-ruled states have made it tax-free. Social media influencers are boosting the movie. Opportunists are cashing in. So are the movie's producers. It collected more than ₹42 crores till Monday.
STARTUPS
Blinkit's High Burn Treated With Merger Cold Compress
The inevitable has happened four months after Grofers rebranded to Blinkit. Reports say that Zomato will absorb the ultrafast delivery platform in an all-stock deal valued between $700 million and $800 million. The food tech company will also extend a loan of upto $150 million to Blinkit.
Recap: Blinkit raised $100 million from Zomato just last week. This, months after the food tech company poured $100 million into Blinkit. The 2021 capital infusion—in which Tiger Global also participated—had turned Blinkit into a unicorn. There were talks of more funding and a merger last year, but those didn't materialise.
Blinkit recently raised $10 million in debt from Innoven Capital too. Founder Albinder Dhindsa had pivoted to quick commerce and insisted that his model was a "path to profitability", but to no avail. Delayed vendor payments, shuttering of 50 dark stores, and layoffs were a clear sign that Blinkit wasn't just unable to turn a profit; it was in need of a lifeline.
Deal hungry: Blinkit wasn't the only deal Zomato was involved in on Tuesday. The company also picked up a 16.66% stake in food robotics company Mukunda Foods for $5 million.
The Signal
Business models revolving around 10-minute deliveries of deeply-discounted essentials were always unsustainable. One reprieve was introducing additional charges for varying reasons (high demand, inclement weather, or as a premium for hyperfast delivery). But Blinkit didn't levy surcharges until a few days ago; belated, considering Dhindsa had admitted to The Intersection that there's 'abuse' of the zero delivery fee system.
Ultrafast delivery platforms either need deep pockets (read: Dunzo-Reliance Retail) or a pivot (Swiggy becoming a logistics provider). Blinkit tried both and failed. Consolidation was the only way out.
For Zomato, this is a take three in grocery, an area it hasn't cracked in prior attempts. With a familiar face in Blinkit cofounder Dhindsa (formerly Zomato's head of international ops), it now hopes to correct that.
Blinkit investor SoftBank will now get a stake in Zomato (besides being an investor in rival Swiggy). But the big question is what Zomato investors make of a liability being absorbed by the company. Its stock is on a steady decline.
RUSSIA-UKRAINE WAR
War Is On Earth, All Is Well In Space
The invasion of Ukraine has heightened tensions between the United States and Russia, but that has not affected the countries' partnership in space. Dismissing threats that Russia will keep NASA astronaut Mark Vande Hei stranded on the ISS, Russia's state space corporation Roscosmos said that it will bring home the astronaut as planned.
Healthcare at risk: The war has left drugmakers scrambling to find ways to continue clinical trials and patient enrolment. With 250 ongoing trials, Ukraine is an important country for studying new drugs related to cancer, neurological disorders and Covid-19.
Anti-war protester: Marina Ovsyannikova, an employee on Russia's state-run Channel One —who burst onto the set of the evening news programme, chanting "stop the war" and denouncing government "propaganda"—has been detained. It is a striking moment of public protest as Russia muzzles government critics.
STREAMING
Nielsen Seeks Patrons for TV Dinner
Nielsen Holdings, whose 'Watch' TV ratings have measured American media trends and consumption since 1950, is due for a $15 billion takeover. Activist fund Elliott Management is leading investor discussions for prospective buyers.
Steamrolled by streaming: Nielsen Watch—whose clients include The Walt Disney Company and a host of cable TV broadcasters—operates in 47 countries. Its data is critical for advertisers who purchase slots based on viewing patterns. But the streaming boom upended its business, despite Nielsen expanding to offer digital media metrics.
Combo: Speaking of streaming, HBO Max and Discovery Plus will be bundled into one service, following Discovery's merger with WarnerMedia.
No chill: Netflix's pandemic gains have gone poof as economies open up and customers embrace theatrical releases. Its co-CEO Ted Sarandos, however, remains optimistic about India.
FYI
More meat: Fresh meat and seafood startup Licious raised $150 million as part of an extended Series F round led by Singapore-based Amansa Capital. Omnichannel jewellery company Bluestone also closed $30 million in fresh funding.
In the bag: Fintech software company Perfios will acquire Mumbai-based banking and financial intelligence solutions company Karza Technologies for ₹600 crore.
Punished: Meta Platforms was fined $19 million for violating the European Union's privacy rules for its failure to prevent data breaches on Facebook in 2018. South Africa's anti-competition regulator is seeking to prosecute the company for blocking a government startup from using its WhatsApp Business API.
Impasse: Attempts to resolve the Amazon-Future dispute through talks have failed, seemingly because Amazon wanted Future to return the $200 million it invested into the company. The US e-commerce giant published newspaper advertisements accusing Future and its promoters of fraud.
Deadline: Over 200 interested groups for sanctioned football club Chelsea, have until Friday to finalise their offers. Its owner Roman Abramovich has been sanctioned by the EU and is also suspected of being part of a "£2 billion organised crime scam" according to a BBC report.
Tense: The mistaken firing of a BrahMos missile from Ambala nearly led to a retaliation by Pakistan, Bloomberg reported.
Nosedive: Chinese billionaires saw their wealth plunge by $53 billion, courtesy a brutal stock sell-off over fears of backlash against Chinese companies, and further regulations.
FWIW
Professional piggybackers: Santa Marta harlequin toads spend a lot of time waiting for a miracle. So when the males do find a chance to get lucky, they're determined. The toad latches himself around the female until she releases an egg. It's a wait so long, males may even fall off dead. But the embrace is the last shot of passing on their genes.
Razed: A pub dedicated to American novelist Ernest Hemingway now lies in ruins in Ukraine's Kharkiv. The locally popular haunt was founded in 2012. The pub turned into a makeshift bomb shelter after Russian president Vladimir Putin declared war on Ukraine. The owner hopes he can get back to the city to rebuild the bar one day.
More twists in the tale: Anna "Delvey" Sorokin, who scammed New York's elites, was found guilty of theft. The inspiration behind the Netflix series Inventing Anna was to be deported to Germany on Monday. We say it was, because she didn't board the flight after all. (Bonus: If you aren't quite over Anna yet, we recommend this 2019 BBC podcast, Fake Heiress)
One last thing before you go…
A quick heads up: We are taking a short publishing break this weekend on account of Holi. What that means is your favourite morning newsletter will not be hitting your inboxes at 8 am on Friday.
The same applies to your coffee-time audio companion, The Signal Daily podcast. Our weekend offering, The Intersection will also return next Saturday. We look forward to seeing you soon!
Want to advertise with us? We'd love to hear from you.
Write to us here for feedback on The Signal.